Nebraska vs. Michigan State: Recap, Analysis and Results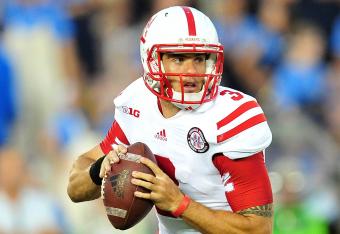 Nebraska 28, Michigan State 24 - Final

A pass interference penalty set up the games first score, a Le'Veon Bell 11-yard run. Nebraska was able to respond on its next drive tying the score at 7-7. Andrew Maxwell connected with Tony Lippett on a 46-yard play action TD pass in the second quarter to pull the Spartans back in front. Martinez then responded with a spectacular 73-yard touchdown run making it 14-14.

Michigan State got the ball to start the third, and capitalized on the possession by scoring a field goal to take a 3-point lead. Michigan State pushed their lead to 10 on a 1-yard touchdown run by Le'Veon Bell in the opening minutes of the 4th quarter. Michigan State had actually been stopped on third-and-goal, which would have set up a field goal, before a controversial personal foul call on Daimion Stafford extended the drive. Nebraska pulled within a field-goal after a 35-yard Taylor Martinez run.
The waning seconds of the game saw Nebraska drive close the the length of field (with the help of a controversial pass interference call) and win the game off a Jamal Turner TD reception.
Nebraska 28, Michigan State 24 - Final

Michigan State led this game for almost all of it before Nebraska moved the ball the length of the field in the waning seconds of this thriller to snatch a victory from the jaws of defeat. Nebraska looked like the more dominant team for most of the matchup, the reason for the close score was a number of Taylor Martinez interceptions.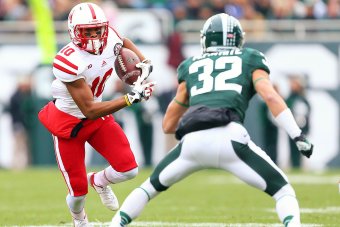 Mike Carter-US PRESSWIRE
Touchdown Nebraska


Jamal Turner grabs a Taylor Martinez TD pass in the final seconds of the fourth quarter to give Nebraska the lead.

Nebraska 28, Michigan State 24
Pass interference called on Darqueze Dennard. First-and-goal Nebraska with :17 left in the fourth.
Nebraska moves deep into Spartan territory. It's surprising how quickly the MSU defense broke down when it mattered most.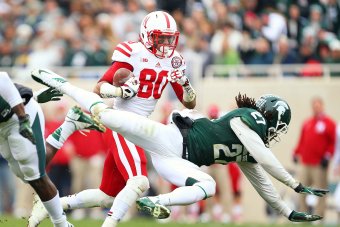 Mike Carter-US PRESSWIRE
Look for Kenny Bell, because you know Martinez will.
22-yard gain Nebraska. How did Michigan St. leave a receiver that wide open?
4th-and-2 Michigan State near mid-field. Looks like Michigan State will punt and try to pin the Huskers deep as opposed to trying to convert and seal the game.
First down Michigan State, looks like time might be running out for Nebraska.
Husker fans are still a little peeved about the 4th-and-9 call.
WHAT WAS THAT?!?!?!?!?!Is Pelini concussed, too???????#Huskers

— John Bishop (@JohnBishop71) November 3, 2012
Gutsy decision going for it on 4th-and-9. A terrible decision to go for it on 4th-and-9 if you planning to hit your receiver on a 4 yard route. Bo Pelini cannot be happy.
Taylor Martinez is the FBS version of Dr. Jekyll and Mr. Hyde.
With how easily Taylor Martinez has been able to carve up the Spartan defense with his legs, it is imperative that Michigan State eat up some clock if it wants to hang on for the win.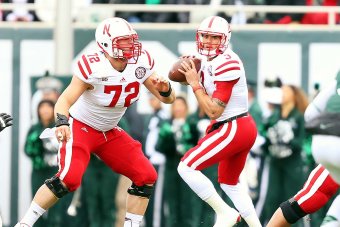 Mike Carter-US PRESSWIRE
Touchdown Nebraska


Taylor Martinez scores on a long run to move the Cornhuskers within three.

Michigan State 24, Nebraska 21

Nebraska converts 4th-and-1. It was a crucial play, as it kept Nebraska in the game.
Playing what may be the best team in your conference is great time to bring your A-game.
Michigan State's 3 TD are its most in a home game this season. #NEBvsMSU

— ESPN Stats & Info (@ESPNStatsInfo) November 3, 2012
Taylor Martinez intercepted. It's Martinez's third pick of the game. He might simultaneously be the best and worst QB in college football. The pick was originally returned for a Michigan St. TD which was negated because of a MSU penalty.
Illegal shift called on Nebraska. This team just seems to love shooting itself in the foot.
Taylor Martinez fumbles, Nebraska recovers. Is that ball buttered? Martinez fumbles it twice, it slips threw the hands of a couple Michigan State players before Nebraska recovers.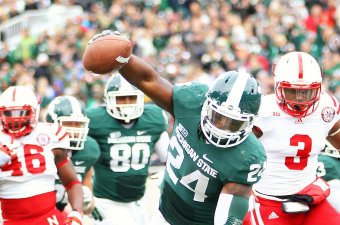 Mike Carter-US PRESSWIRE
Touchdown Michigan State


Le'Veon Bell smashes the ball in from the 1-yard run to put the Spartans up 10.

Michigan State 24, Nebraska 14



That was easily the worst call of the night.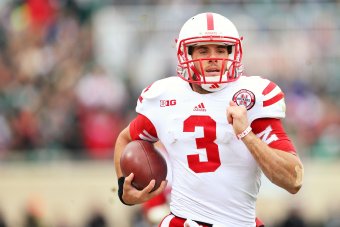 Mike Carter-US PRESSWIRE
Taylor Martinez throws a pick. It is amazing how Martinez can take over a game with his awesomness and destroy his team's chances due to his ineptitude.


That play could not have been designed that way. The two Michigan State receivers should not have been so close to each other. The sloppy play of both these teams has been pretty surprising.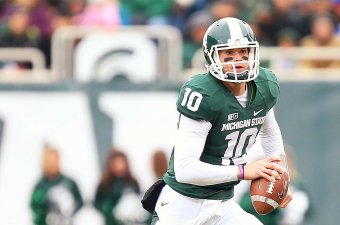 Mike Carter-US PRESSWIRE
Nebraska is stacking the box, daring the Spartans to throw. Looks like the game will come down to how well Andrew Maxwell performs under pressure.
Nebraska goes three-and-out. It is hard to win a game if you squander good field position.
Michigan State fumble, Nebraska recovers. It seems like neither team can sustain any momentum.
This article is
What is the duplicate article?
Why is this article offensive?
Where is this article plagiarized from?
Why is this article poorly edited?