Texas vs. Texas Tech: Live Scores, Analysis and Results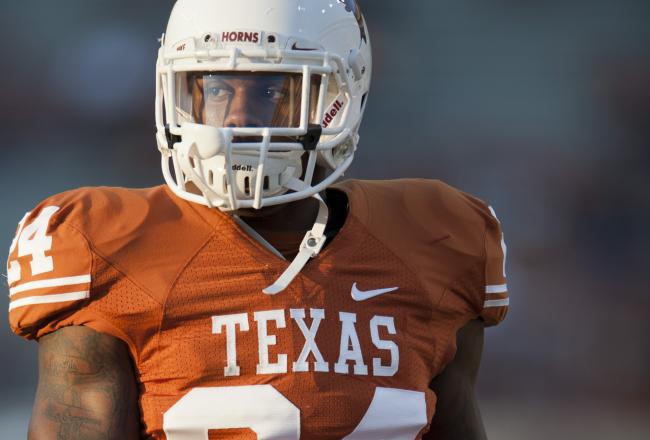 Cooper Neill/Getty Images
Texas 31, Texas Tech 22 -- FINAL
We're final in Lubbock, and the Longhorns were the much better team Saturday.
Texas utilized a wealth of offensive looks, but a strong defensive performance to hold a very talented Texas Tech offense proved to be the catalyst that brought Texas to a 7-2 mark on the season.
The Red Raiders had their chances, but a couple of key mistakes at critical times left them unable to come up with the rally to defend their home turf.
With three games to go, there is still plenty of room for growth with bowl season very much in the picture.
From the Box Score
Texas
-David Ash finished 11-of-19 for 264 yards and three touchdowns (9-of-13 in the first half).
-Johnathan Gray rushed for 106 yards on 20 carries.
-Ash was Texas' second leading rusher with 25 yards on five carries.
-Mike Davis posted a career-high 165 yards on four catches and two touchdowns.
-Gray had two catches for 41 yards.
-Texas put up 427 yards of total offense, while securing almost half of its 163 rushing yards in the final 30 minutes.
-Eight penalties for 64 yards. That is uncharacteristically Texas.
-The Longhorns won the time of possession 30:17 to 29:30.
-Zero turnovers.
Texas Tech
-Seth Doege threw for 329 yards and a touchdown on 26-of-44 passing.
-Kenny Williams rushed for 71 yards and a score on 18 carries.
-Eric Ward and Darrin Moore combined to catch 15 balls for 134 yards, but no touchdowns.
-Texas Tech committed nine penalties for 85 yards, most of which killed drives.
-Tech's offense converted just 4-of-14 third downs, but 2-of-3 fourth downs.
-Tech racked up 441 yards of total offense, but its running game was shut down in the second half.
-Tech's missed 2-point conversion would have made it 11 unanswered points in the third quarter to bring the game level.
-Zero turnovers.
Post-game Thoughts
Texas
-Big, big win for a Texas team that looked so lost after last weekend.
-The Longhorns were stronger in all three phases of the game, although they did waver at times.
-Huge defensive outing for the Longhorns, and it's one where the opponent's scoreboard says it all.
-All day, Texas got the right stops at the right times, but Texas Tech did plenty to hurt themselves.
-Lubbock is not an easy place to win, and Texas really grinded that one out.
-Carrington Byndom had a career day.
-As did Mike Davis.
-Johnathan Gray topped 100 yards for the second straight game.
Texas Tech
-Really tough loss after getting throttled by Kansas State.
-I thought Tech's rhythm was there all game, but it was so fleeting that it escaped them at times, forcing the offense into bad situations.
-Tech did an amazing job converting on so many 2nd- and 3rd-and-longs, but Texas didn't help itself with its lax coverage.
-For as much offense as Tech put up, the scoreboard does little justice. That's where credit has to go to the Texas defense.
-Three times Tech had to settle for field goals instead of touchdowns.
We're final in Lubbock!
Texas 31, Texas Tech 22
Post game thoughts coming soon.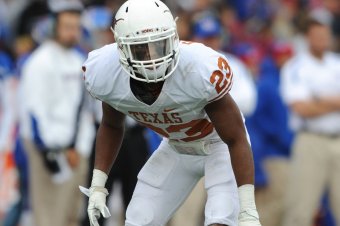 John Rieger-US PRESSWIRE
What a HUGE shift in momentum.
Texas Tech was pinching the goal-line, but a holding penalty negates a touchdown. Then Carrington Byndom comes up with Texas' seventh blocked kick of the season that could very well have sealed the game for the Longhorns.
Byndom came to play today.
23-Yard Field Goal Attempt: No Good for Texas Tech
Carrington Byndom blocks the kick
UT 31, TTU 22 -- 5:15 4th QTR
What a roller-coaster ride kind of drive right now...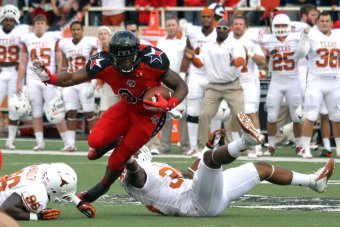 Michael C. Johnson-US PRESSWIRE
The Texas Tech offense is wide awake and kicking.
Don't look now, but both teams have eclipsed the 100-yard mark on the ground.
We knew it would be a pass-heavy game, but the running games have played huge roles in the successes of both offenses.
Four catches, 165 yards for Mike Davis. This kid came to play.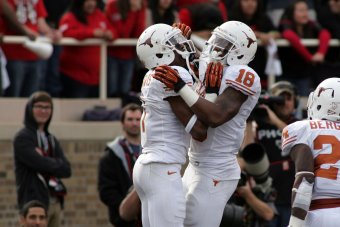 Michael C. Johnson-US PRESSWIRE
Another great throw from David Ash, but credit Mike Davis for getting some air to come down with that ball in the endzone.
That was a perfect drive for Texas: run, run, run, throw for a score.
For Texas Tech, not so much.
The Longhorns ran over four minutes off the clock, and with a two-score lead, the pressure is on Texas Tech to respond quickly and cleanly.
Touchdown Texas
After seven straight running plays, the Longhorns find the endzone from 25-yards out.
UT 31, TTU 22 -- 5:14 4th QTR
Texas going back to its roots on the ground after a lull in the game.
It was an unfortunate injury for Texas with Kendall Thompson getting carted off with a head injury, but that dead spot in the game did well to kill the crowd's energy.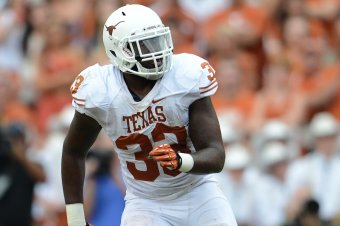 Matthew Emmons-US PRESSWIRE
That's the kind of pass coverage that so many heard about from Steve Edmond. Perhaps that's a flash of brilliance to file away for the linebacker's future.
How do the referees miss a head-to-head penalty like that? You would think that for a game that started off with some fire and personal foul calls, the refs would be on the lookout for some ugly stuff.
David Ash was 2-for-5 for 11 yards in the third quarter, quite the change from his super-productive first half.
We're heading to the fourth quarter, and you can feel the energy start to build. The momentum looks to be all towards Texas Tech.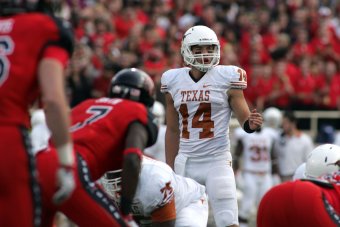 Michael C. Johnson-US PRESSWIRE
The Longhorns might be getting away from their running game a little too much.
David Ash finished the first half 9-for-13, but has struggled to maintain that efficiency in the second half.
That reverse on fourth down was pretty clever for Texas Tech, and it worked perfectly.
Carrington Byndom is having a very nice game. Who knows where Texas Tech might be if not for three pretty critical pass break-ups from the junior cornerback.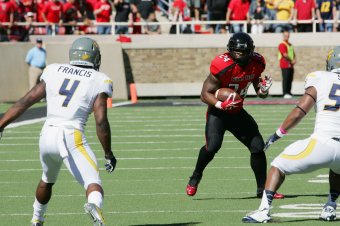 Michael C. Johnson-US PRESSWIRE
Touchdown Texas Tech
The Red Raiders finally crack the endzone, as Eric Stephens strolls in after a screen pass.
UT 24, TTU 22 -- 1:35 3rd QTR
Texas is getting beat badly over the middle. Below or above the linebackers, it doesn't really matter, Texas Tech is finding enough space to really move the ball effectively.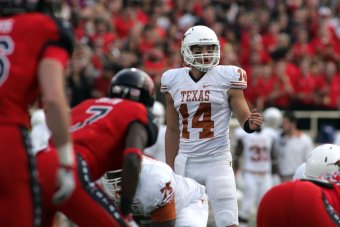 Michael C. Johnson-US PRESSWIRE
This next drive is a critical moment in this game.
A scoring series for Texas Tech could be a big swing in momentum, but a defensive stand could have the game move into the fourth quarter to create even more pressure.
Texas Tech looks to have stepped up its game defensively, but the Longhorns will be patient with their running game.
Unfortunately for Texas, the Red Raiders' offense is really picking up steam. It's one thing to trade field goals for touchdowns, but it's another thing if that offense continues to drive. At some point, Texas Tech is going to score a touchdown.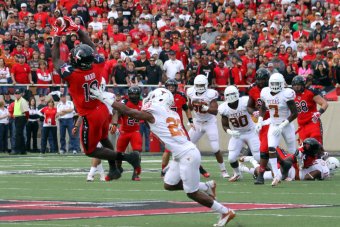 Michael C. Johnson-US PRESSWIRE
That defensive stand probably come down to Carrington Byndom getting a hand on that slant pass. More of that from Texas looks even more promising late in the game.
33-Yard Field Goal Attempt: Good for Texas Tech
The Red Raiders fail to get into the end zone for the third time, settling for three.
UT 24, TTU 17 -- 6:39 3rd QTR
This article is
What is the duplicate article?
Why is this article offensive?
Where is this article plagiarized from?
Why is this article poorly edited?