Washington vs. California: 10 Things We Learned from Huskies Win vs. Bears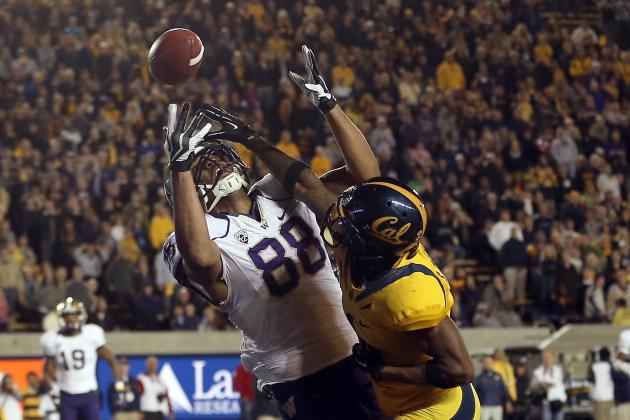 Ezra Shaw/Getty Images

The Washington Huskies defeated the California Golden Bears 21-13 in a tough, hard-fought contest. They rode a great running game and a ball control offense to defeat the Golden Bears in a ridiculously sloppy game that was dominated by a streak of turnovers.
Once both teams settled down, a late game injury to Cal quarterback Zach Maynard took the Golden Bears completely out of the game.
There were 10 things that stood out in this game though.
Begin Slideshow

»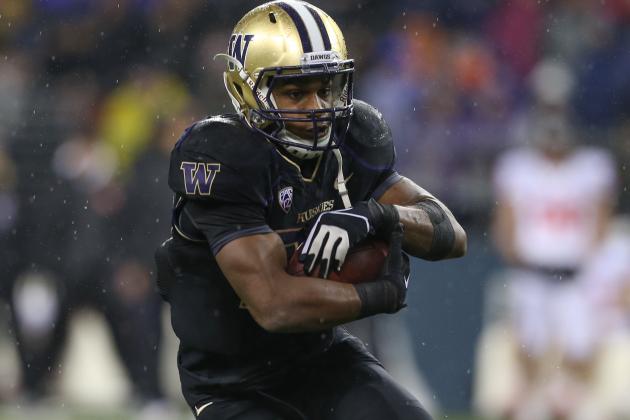 Otto Greule Jr/Getty Images

Bishop Sankey was the workhorse that the Huskies rode to victory. He had 29 carries for 189 yards and a pair of touchdowns. The 6.5 yard-per-carry average was tremendous against the Cal defense. Especially considering his longest run was only 27 yards.
Sankey has excellent vision and runs angry. He is a good all-around back and his 5'10", 200 pound frame gives him excellent size for a potential pro prospect.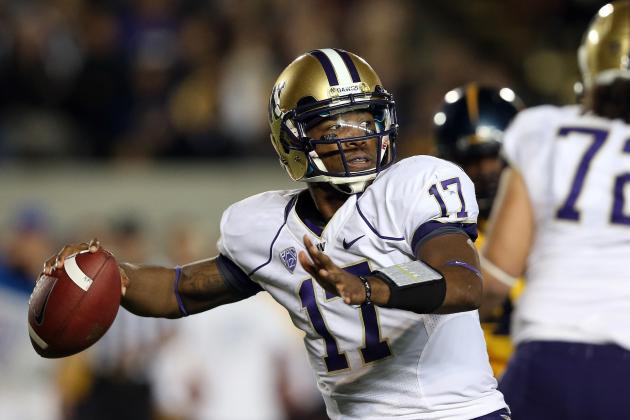 Ezra Shaw/Getty Images

Keith Price is a quarterback that can win a team games. He has good pocket presence and is an accurate thrower. However, he doesn't have the big time arm to dominate teams. He also doesn't have the ability to lead his team to domination.
His line of 16-for-29 (55.2 percent) for 235 yards, one touchdown and one interception showed that he won't lose a team a game. It also showed that he won't win it either.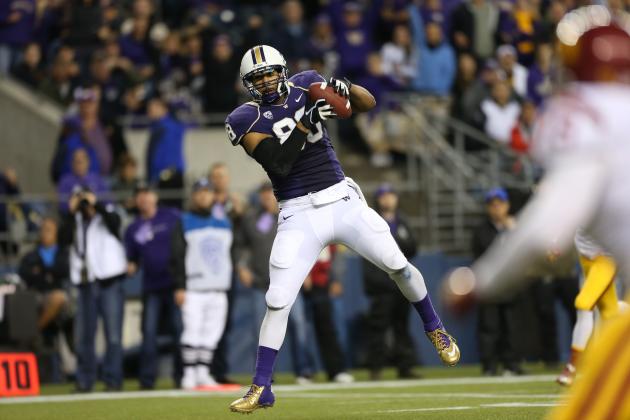 Otto Greule Jr/Getty Images

Austin Seferian-Jenkins is a man among boys. He is a 6'6", 266 pound tight end who can both block and catch. He runs excellent routes and can create separation and use his body to box out defenders.
His eight catches for 152 yards and a touchdown showed that he could dominate a game. He had multiple long catches and was clutch throughout the game. His talent will be recognized by NFL teams and he should go early in the draft when he leaves Washington.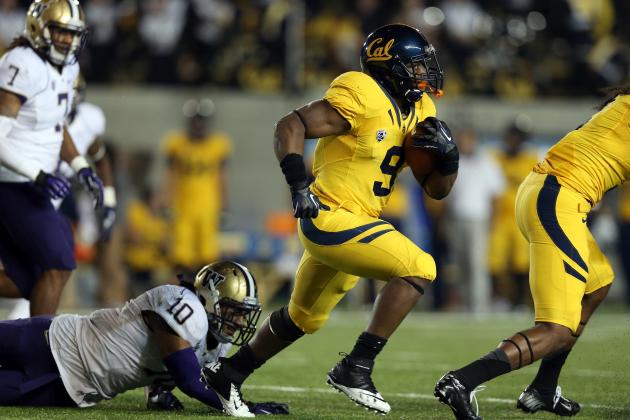 Ezra Shaw/Getty Images

Washington had a day on defense that could have been much better than it was. They allowed 249 yards on the ground at a 5.9 yard clip.
In order to be competitive with legitimate teams in college football, they can't let opposing teams be so effective rushing the ball against them.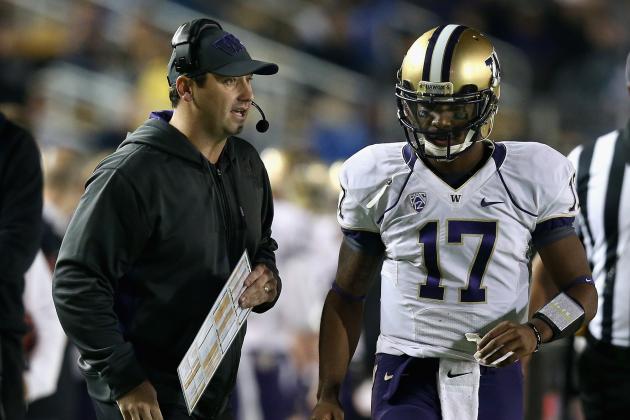 Ezra Shaw/Getty Images

Steve Sarkisian gave the Huskies the perfect game plan to win this week. Even more, he called plays perfectly, and the Huskies executed them.
Outside of turnover issues throughout the game, Washington was more than able to take over and dominate. Execution is what stopped them from doing so.
Ezra Shaw/Getty Images

His stat line of 15-for-29 (51.7 percent) for 175 yards, no touchdowns and one interception is an accurate depiction of how his play on the field looked. He was very Jekyll-and-Hyde out there, being able to lead the offense down the field and then folding after three or four plays.
Combine this with the fumbles and interceptions by the rest of the offense, and Maynard looks like a backup-caliber quarterback at the college level.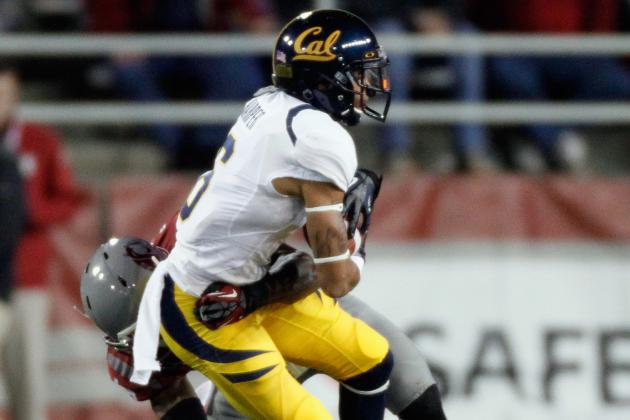 William Mancebo/Getty Images

Chris Harper made many acrobatic catches and bailed out Zach Maynard multiple times in the passing game. Despite the Cal offense missing potential first-round pick Keenan Allen for this game, Harper proved he could be a No. 1 option.
His seven catches for 101 yards and his one run for 14 yards also yielded Cal's only touchdown of the game. Harper could be a good fit for the long-term No. 1 wide receiver in Berkeley.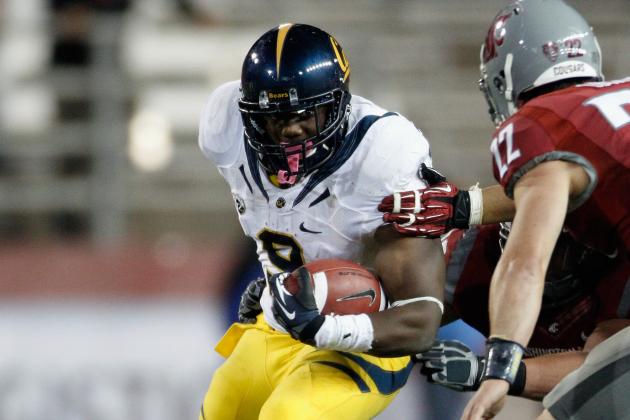 William Mancebo/Getty Images

This game had two tremendous running backs in it. Bishop Sankey was great for Washington, but C.J. Anderson showed that he could be a feature back in any offense. He was able to build a good average on a combination of steady gains and the tremendous 64-yard run.
Even when you take out his 64-yard run, he had a 4.57 yard-per-carry average on every other run. He also looked good catching the ball out of the backfield for short gains and could end up as a starting back in the NFL when he goes pro.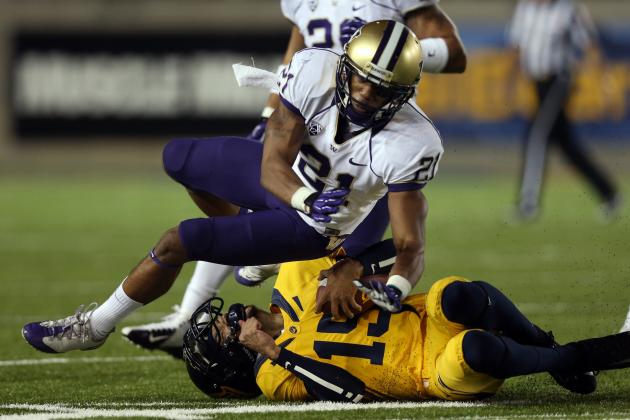 Ezra Shaw/Getty Images
Maynard got dominated vs. the Huskies.
Zach Maynard was completely inaccurate and couldn't lead the offense against a mediocre Washington defense. Allan Bridgford did a better job later in the game, but with multiple drops by his receivers, the sophomore couldn't earn the win.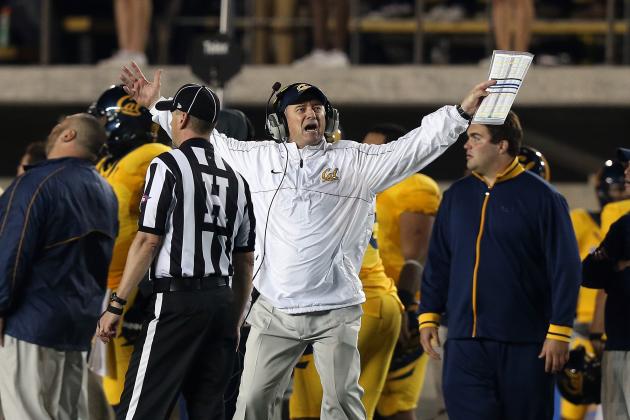 Ezra Shaw/Getty Images

Jeff Tedford made Steve Sarkisian look like Vince Lombardi in this game. His continually terrible calls and inconsistent strategy forced the Golden Bears into a hole that he couldn't scheme his way out of. The best example of this was a goalline situation before Vincenzo D'Amato's second field goal.
It was a drive punctuated by big time runs by C.J. Anderson and Isi Sofele. Then when it got to 3rd-and-goal from the three, Tedford calls a set with no running backs and forces Zach Maynard into a situation where he had to throw.
In pure Maynard fashion, he missed the throw and the field goal was kicked. The terrible play call to abandon the run or even running backs in the backfield is a large part of why the Golden Bears lost the game. If Tedford is losing games with his calls, it's time to let him go and find someone new.
Scott Carasik is a Featured Columnist for Bleacher Report. He covers the Atlanta Falcons, NFL and NFL Draft. He is also the Falcons analyst at Drafttek, runs the NFL Draft Website ScarDraft.com and hosts Kvetching Draftniks Radio.