Vikings vs. Seahawks: Live Game Grades, Analysis for Seattle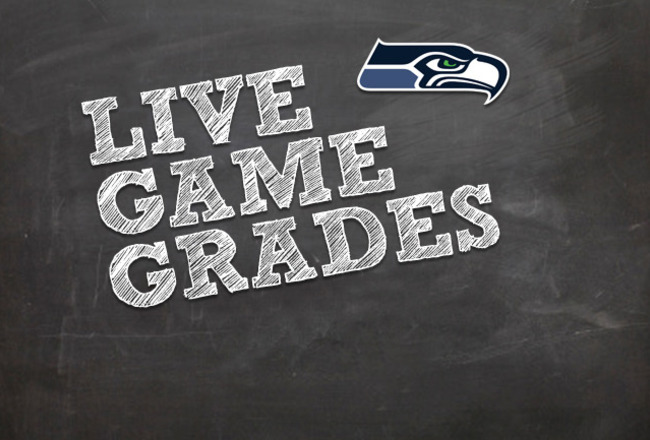 Adrian Peterson proved to be a handful, but the Seattle Seahawks had enough defensive juice to get it done against the Minnesota Vikings. By a final score of 30-20, Seattle has officially ended its losing streak and improved its record to 5-4.
Now, let's turn our attention to how each unit performed throughout the game.
Russell Wilson: A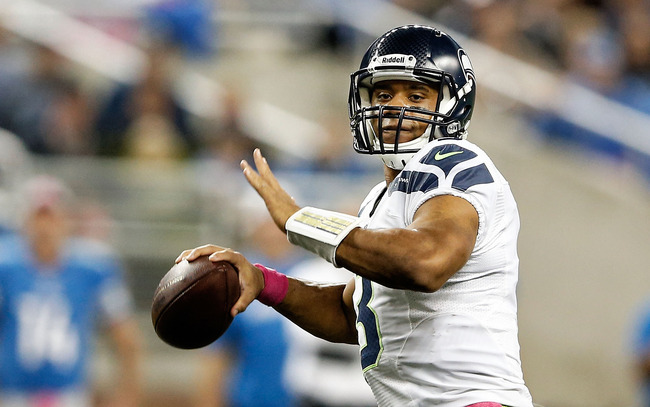 Leon Halip/Getty Images
Overall Game Grade: A
Russell Wilson is not a gaudy yardage type of quarterback at this point of his progression. However, he did account for three touchdowns through the air and led the Seahawks to another three field goals. No turnovers, a 123.6 quarterback rating and his amazing ability to sidestep pressure will will earn an A every time.
Q4: B+
Not a whole lot for Wilson to do in the fourth. He completed a few passes for a couple more yards, but his damage had already been done. His big play was a fourth down conversion to put the game away.
Q3: A-
Wilson did what was asked of him in the third quarter. His yardage numbers are not huge, but he has thrown three touchdowns. He kept his passes short and allowed the running game to handle the rest. Was anyone else nervous when he met those defenders at the three-yard-line that he may attempt a helicopter?
Q2: A+
He earned the plus. Seattle needed a few first downs after Minnesota seized the lead. No problem. Wilson danced away from pressure and hit open receivers to keep the chains moving despite a daunting third and long. All told, he ended the first half with a 132.7 rating.
Q1: A
Russell Wilson has continued his hot streak. His overall numbers don't accurately reflect his impact, but his two touchdown passes certainly do. Once his teammates realize that their job is to catch the ball, his numbers will only improve thanks to his accurate throws.
Offense: B+
Thearon W. Henderson/Getty Images
Overall Game Grade: B+
A B+ is a very good game and that's exactly what the Seahawks offense had against the Vikings. They ran the ball extremely well as they rolled up 195 yards on the ground. The passing offense was not explosive, but the aerial attack did methodically move the ball when needed. Most importantly, not a single turnover was committed.
Q4: B+
The unit did its job: burn up clock and get a few extra insurance points. The Seahawks continued to keep the passes short and hand off to Lynch. The strategy worked well as Seattle did not commit a costly turnover and coasted to the win.
Q3: B+
Three and outs will always keep a team from achieving an A of any type, but the offense executed on its second drive to get Lynch into the end zone. Lynch has been his tremendous self as he went over 101 yards for the game and added the mentioned touchdown.
Q2: A-
The quarter didn't start especially well as Seattle went three and out on three straight rushing plays. Wilson, despite having the hot hand, was ignored on the first drive but responded when his number was called to end the half. He drove the boys down the field and the possession was punctuated with a crazy helicopter touchdown by Golden Tate.
Q1: B
The offense is on the cusp of an A considering they've scored two touchdowns on three drives. But three dropped passes requires a drop of an entire letter grade. Had they held onto the ball, Wilson would only have one incompletion on a pass he threw away under pressure.
Defense: B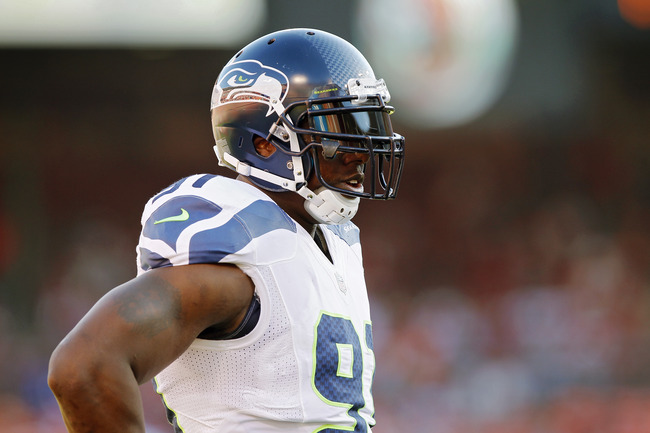 Brian Bahr/Getty Images
Overall Game Grade: B
It wasn't always pretty, but the defense got job done. Adrian Peterson was a problem for the first three quarters of the game as he was allowed to rush for 182 of Minnesota's 243 rushing yards. However, his impact was completely nullified by the defensive line harassing Christian Ponder into a puny 63 yards rushing.
Q4: A
When it came down to it, the defense stepped up and shut down the Vikings. Peterson was no longer much of a factor due to the Seattle's lead, so the defense was able to shine. Additionally, there was a beautiful interception by Brandon Browner.
Q3: B
The effort this quarter was much more reminiscent of the first quarter. The defense did a much better job against Peterson, although he still had a couple of nice runs. However, the pressure on Ponder has been consistent and the reason the Seahawks limited Minnesota to a field goal.
Q2: C-
Yikes. Peterson is downright dominating the Seahawks defense right now. Defenders fell off AP like raindrops off of a roof. It didn't help that the Vikings scored 10 points and briefly took the lead. However, they were able to get pressure on Christian Ponder to slow the bleeding so a D isn't warranted.
Q1: B+
The first drive was horrendous. Adrian Peterson will abuse people, but the defenders were flying around without any semblance of control. However, the unit calmed down and did a much better job tackling afterwards. The defense also forced and recovered a fumble to earn the plus.
Special Teams: B+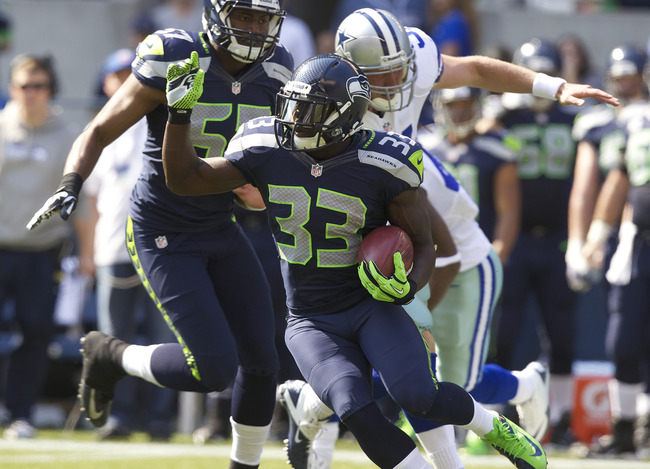 Stephen Brashear/Getty Images
Overall Game Grade: B+
Basically, everyone did their job for the most part. With the lone exception of a blocked extra point, the special teams unit was on par with expectations.
Q4: A+
Finally something worth mentioning. There was the punt downed inside the 20 and a 52-yard field goal by Steven Hauschka.
Q3: B
Maybe I'm being too harsh on the special teams, but I'm reserving As for difficult matters. Each member handled his job, especially the coverage units.
Q2: D
Another quarter and another booming Ryan punt. The coverage unit did its job, but Steven Hauschka had his extra point blocked. The point could become too important later to not dramatically affect the grade now.
Q1: B
Nothing particular to note with the special teams. Jon Ryan is still booming punts as evidenced by his 55-yarder. No extra points were missed and Leon Washington did a decent job returning the rock.
Coaching: B-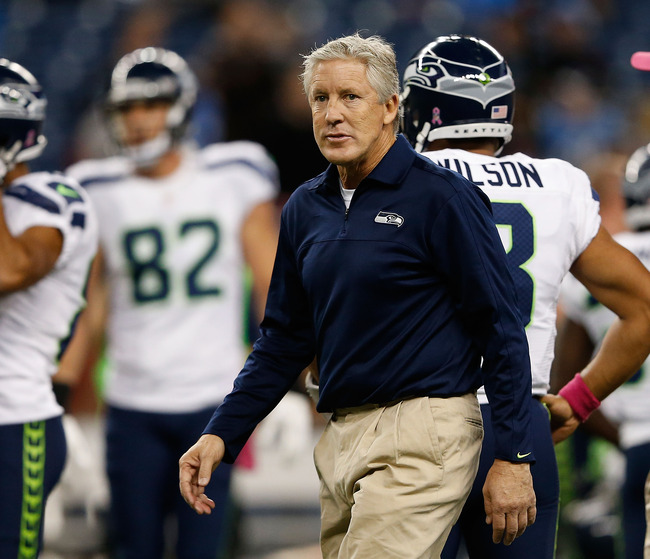 Leon Halip/Getty Images
Overall Game Grade: B-
The offensive strategy was generally very solid. The mix of runs and short passes kept the chains moving in a methodical manner. However, there were plenty of questionable decisions, especially when it came to not giving Lynch the ball on two different occasions. The defense couldn't tackle, but that's not on the coaches during the game. And the blitzes stopped Minnesota in its tracks.
Q4: C
When you need one yard to convert a key third down, don't have your miniature quarterback attempt a quarterback sneak. That's just boneheaded. Especially when you have Marshawn Lynch in the same backfield.
Q3: B
I'm not a fan of challenging ball spots when the opponent is on their own side of the field. Your defense has played well, let it handle its business. The offensive strategy was very solid, mixing runs and passes that kept the Vikings on their heels.
Q2: B
I was not impressed with the three straight runs on the first drive of the second quarter. Even more so because only one of those rushes was given to Marshawn Lynch. For shame. On defense, the staff has been excellent as far as creating pressure through well-timed blitzes. It isn't on the coaches when the defenders don't tackle.
Q1: A-
Aside from the defense coming out too pumped up and thus over-pursuing, the game plan has been perfect. In classic Pete Carroll fashion, the Seahawks busted out a trick play when Wilson threw backwards to Sidney Rice and then he threw again. So far, so good.
Keep Reading

Seattle Seahawks: Like this team?