50 Things We Learned from Week 10 in College Football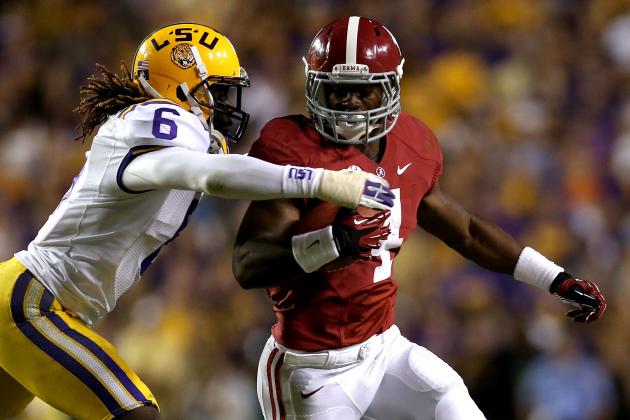 Matthew Stockman/Getty Images

Week 10 of the college football season is complete, and there is no question that fans, players and coaches learned a lot about their respective teams over the weekend.
A few teams proved themselves once again, while others suffered big-time disappointment.
Simply put: No week may go further toward determining a national champion than this one.
We had everything from thrilling overtime finishes to come-from-behind victories.
Here are 50 things we learned from Week 10 of the college football season.
Begin Slideshow

»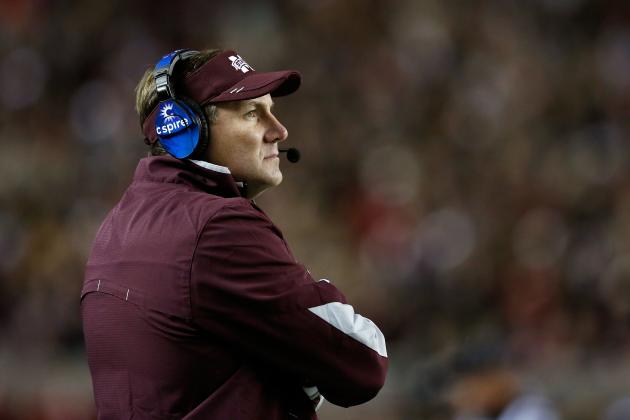 Kevin C. Cox/Getty Images

While it was still not certain after a blowout loss to Alabama, it is now evident that Mississippi State is nowhere near as good as its No. 11 ranking in the BCS standings indicated just a few weeks ago.
The Bulldogs were dominated from start to finish by Texas A&M and were never in the game during a 38-13 loss.
Aggies quarterback Johnny Manziel had his way with a defense that was supposed to be a lot better than this.
With LSU next on the schedule, it is only going to get worse for the Bulldogs next week.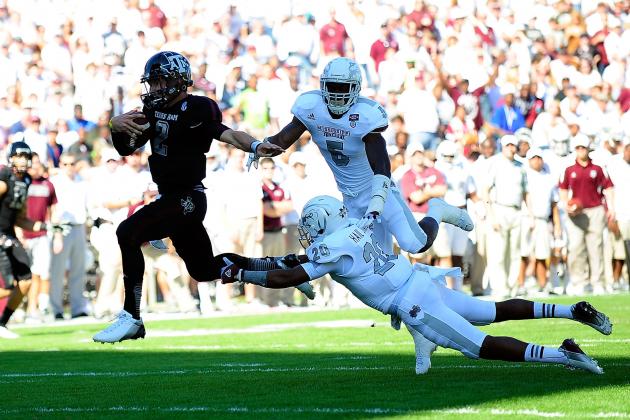 Stacy Revere/Getty Images

Johnny Manziel might have had the best game of his collegiate career, as he went 30-of-36 for 311 yards and also rushed for 129 yards and two touchdowns in the dominating 38-13 victory over Mississippi State.
The freshman is only going to get better, and he may be a Heisman contender as soon as the 2013 season.
While he still has some things to work on, the SEC better watch out for this kid in the years to come.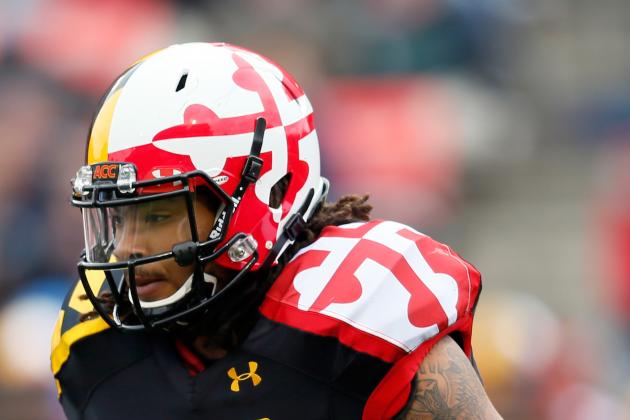 Rob Carr/Getty Images

It was no surprise that Maryland lost 33-13 to Georgia Tech. After all, the Terrapins were playing with a linebacker at the quarterback position.
No matter how good a team is, having a solid quarterback is necessary to win football games.
Shawn Petty took the snaps under center and did not perform too poorly, all things considered. He was 9-of-18 for 115 yards with two touchdowns and an interception. He also carried the ball 17 times for 24 yards.
It is hard to win without a quarterback at any level, especially in college.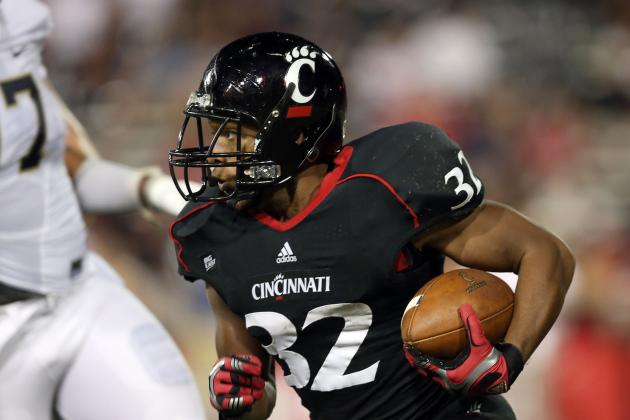 Andy Lyons/Getty Images

With all due respect to Rutgers running back Jawan Jamison and the rest of the running backs in the Big East, George Winn out of Cincinnati is the class of the league.
The senior totaled 165 yards on 30 carries with three touchdowns on the ground in a 35-24 victory over Syracuse. He also threw a 37-yard touchdown pass on a trick play.
So far this season, Winn leads the league in rushing with 897 yards and is averaging right at six yards a carry.
Those are impressive numbers, as Winn has helped Bearcats fans forget about Isaiah Pead.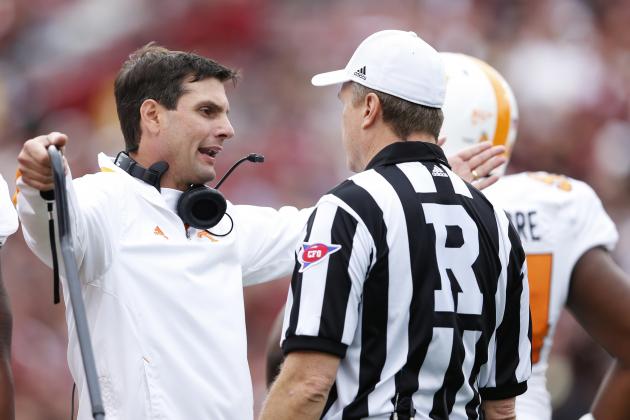 Joe Robbins/Getty Images

After an 0-5 start in SEC play, Tennessee stepped outside of the conference and nearly lost a home game to a 4-5 Troy team.
The Vols came out with a 55-48 victory. While quarterback Tyler Bray was excellent, passing for 530 yards and five touchdowns, the defense was atrocious.
Troy actually led the game 48-41 with under three minutes remaining until two late Tennessee touchdowns won the game for the Vols.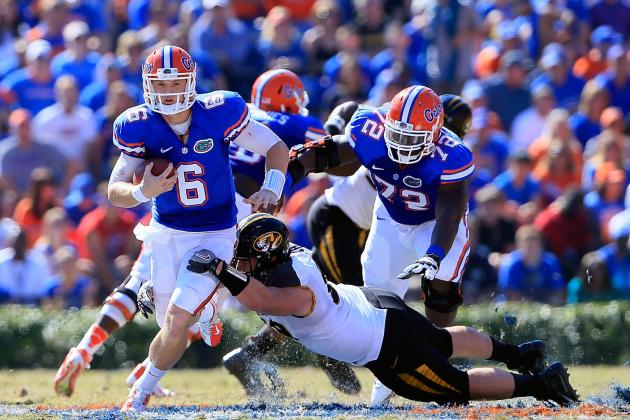 Sam Greenwood/Getty Images

Florida struggled on the offensive side of the ball this week, but was able to come out with a 14-7 victory over Missouri thanks to a defense that forced four interceptions.
The Gators were out-gained drastically on the offensive side of the ball, and quarterback Jeff Driskel only passed for 106 yards on the day.
If the Gators are going to win their remaining games, they are going to have to do a much better job on offense.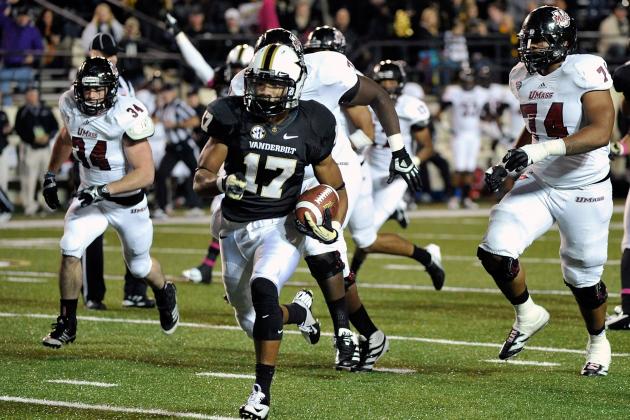 Frederick Breedon/Getty Images

Even though it was against Kentucky, Vanderbilt looked very good on Saturday and has been getting better every week.
The Commodores knocked off Kentucky 40-0 and have outscored their opponents 89-7 over the last two weeks.
With one of the toughest schedules in the country at the beginning of the season, Vanderbilt has rebounded during the middle part of the year and is looking like another bowl game is in its future this year.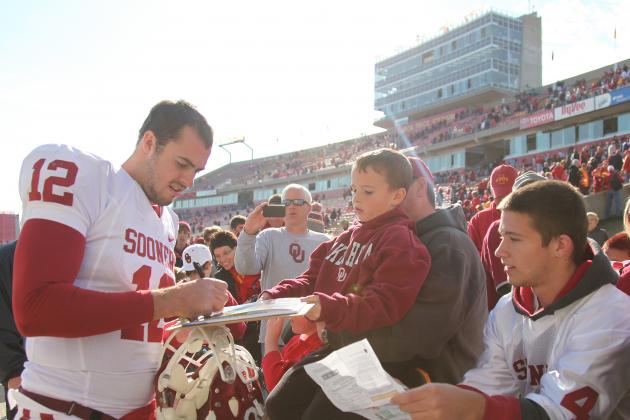 Matthew Holst/Getty Images

Landry Jones and Oklahoma went on the road to knock off Iowa State 35-20, but the win was once again filled with turnovers by quarterback Landry Jones.
The senior threw two interceptions, but Oklahoma just had too much talent in this one.
Oklahoma has some tough games ahead in the coming weeks, and Jones can not turn the ball over if the Sooners plan on staying in the Big 12 race.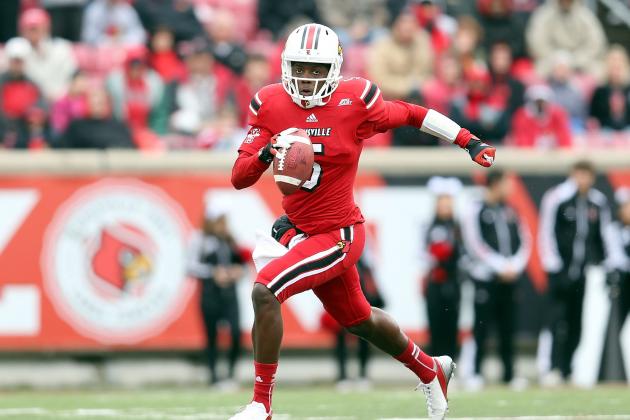 Andy Lyons/Getty Images

Another week and another gigantic game for Louisville quarterback Teddy Bridgewater.
The sophomore passed for 324 yards with five touchdowns on 19-of-28 passing. The Cardinals offense put up 45 points and were virtually unstoppable all day long.
Bridgewater is going to continue to improve in the coming weeks and will be one of the best in the country over the next few years.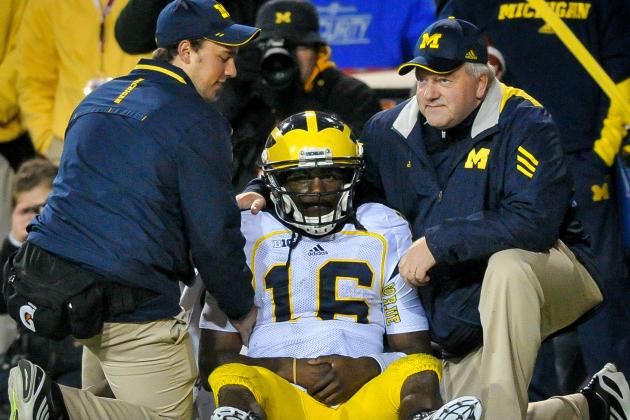 Eric Francis/Getty Images

After being knocked out of the Nebraska game, Denard Robinson did not play against Minnesota on Saturday—but that didn't matter one bit, as the Wolverines rolled to a 35-13 victory at Minnesota.
Devin Gardner, who is typically a receiver, took the snaps for Michigan and did an admirable job in the absence of Robinson.
While Michigan is clearly better with Robinson on the field, it is good for its fans to know that without Robinson, there is still hope on the offensive side of the ball.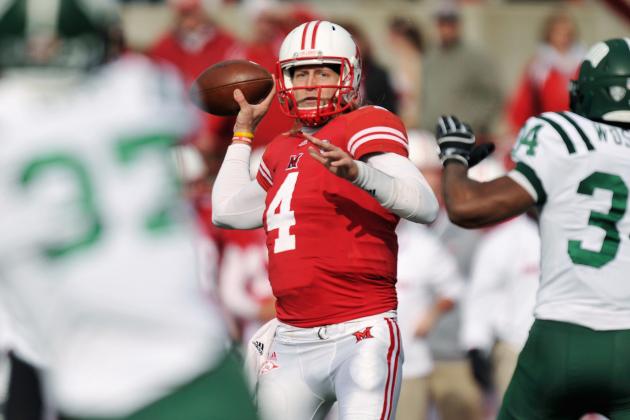 Jamie Sabau/Getty Images

A week after knocking off the undefeated Ohio Bobcats, the Miami Redhawks laid an egg against Buffalo on the road, losing 27-24 to the Bulls.
Buffalo is not only one of the worst teams in the conference, but also one of the worst in the entire country.
The MAC is quickly turning into one of the most unpredictable conferences in college football.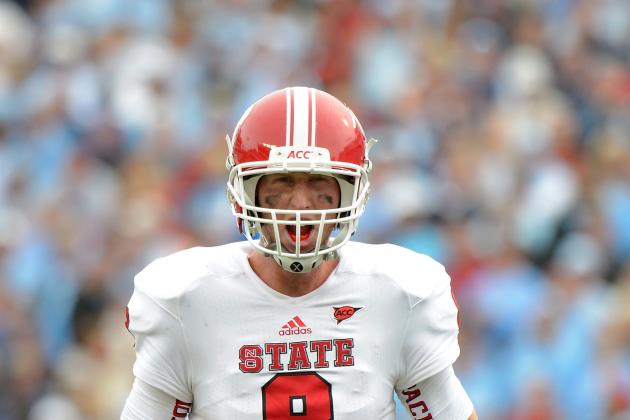 Grant Halverson/Getty Images

North Carolina State was manhandled by Virginia in one of the biggest upsets of the entire week.
The Wolfpack fell 33-6 to a 3-6 Cavaliers team and have now lost two games in a row. North Carolina State is as up and down as any team in the country.
Less than a month after upsetting Florida State, the Wolfpack have now lost two games in a row.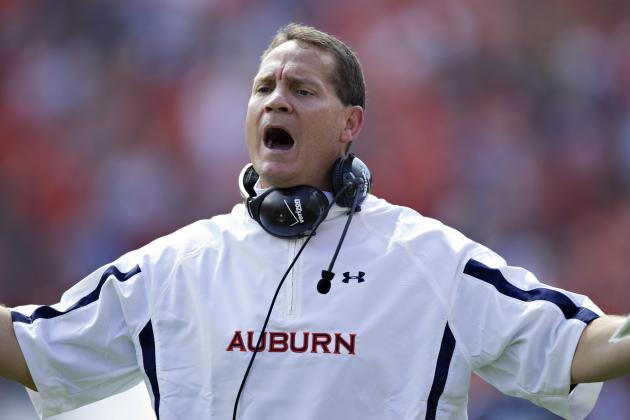 Wesley Hitt/Getty Images

Even though Auburn knocked off New Mexico State 42-7, it was by no means a dominating performance for the Tigers.
The game was scoreless until Auburn put together a touchdown drive midway through the second quarter. The Tigers only led 7-0 at the half.
Unless Auburn somehow knocks off Alabama, this could be the end of the line for Gene Chizik once the season is complete.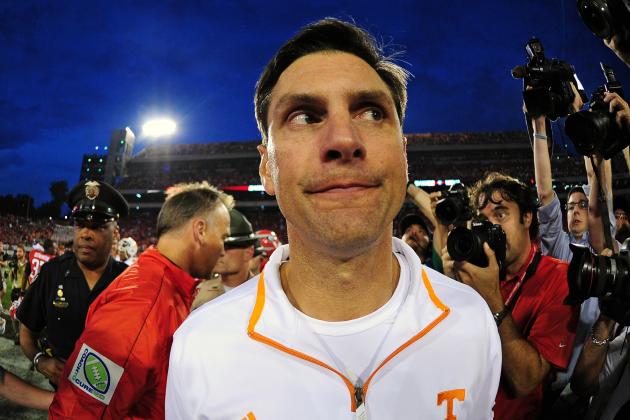 Scott Cunningham/Getty Images

There is no question that Derek Dooley is on the hot seat more than any coach in college football.
Tennessee nearly lost at home to Troy on Saturday, and at 4-5 the Vols are going to need something to change drastically for Dooley to keep his job.
Unless the Vols win out and pick up a victory in a bowl game, the 2012 season could be the end of the road for Dooley in Knoxville.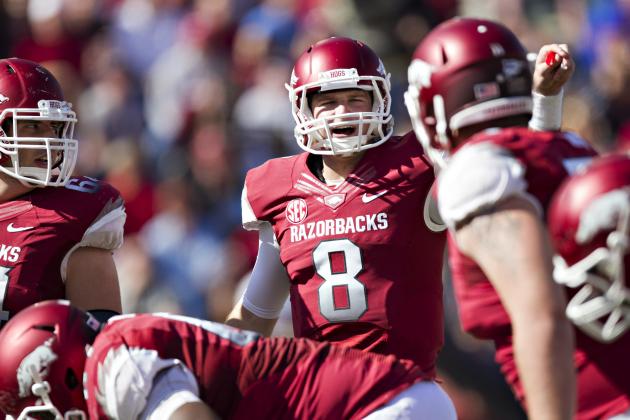 Wesley Hitt/Getty Images

Coming into its game against Tulsa, Arkansas had a defense that allowed more than 30 points a game.
Against a talented Tulsa offense, the Razorbacks defense finally came to play, only allowing the Golden Hurricanes 15 points.
The defense needed to play that well, as the offense struggled en route to a 19-15 victory. Arkansas still needs two more wins to become bowl-eligible, and that does not look like it is going to happen with South Carolina, Mississippi State and LSU looming as its final three opponents.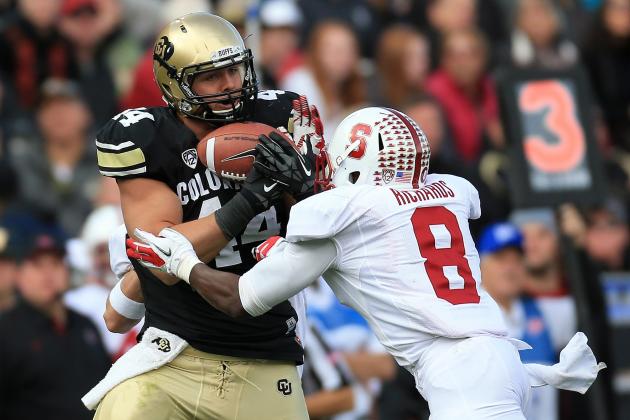 Doug Pensinger/Getty Images

Colorado fell to Stanford 48-0 on Saturday, and the Buffaloes continue to show why they are one of the worst teams in the country—and by far the worst from a BCS conference.
The Buffaloes are not just losing football games—they are being dominated from start to finish nearly every week.
Stanford was up 35-0 on Colorado at the half. That has typically been the score for most of the Buffaloes games, and they seem to continue to get worse every week.
A 1-11 record seems likely for this team.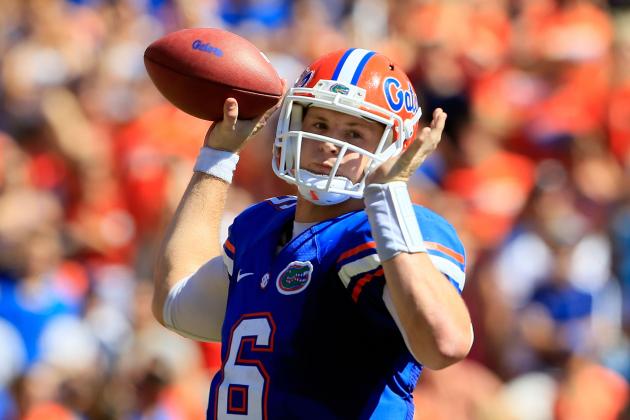 Sam Greenwood/Getty Images

While not a lot has been asked of Florida quarterback Jeff Driskel, it is becoming more apparent as to why that is.
He has plenty of potential, but Driskel still has a lot of work to do in order to climb into the upper-echelon of SEC quarterbacks.
Driskel completed only 12-of-23 passes against Missouri for 106 yards and a touchdown. He has not passed for more than 219 yards in any game all season.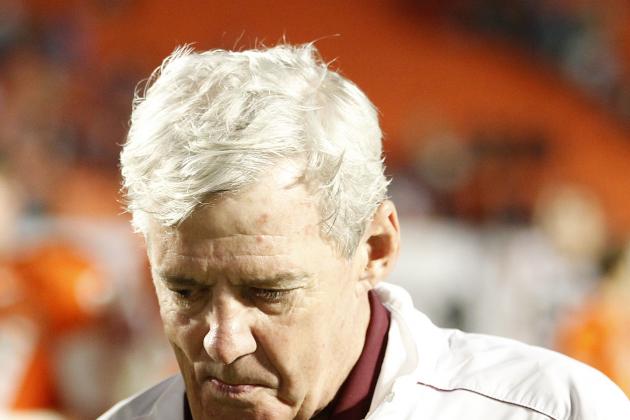 Joel Auerbach/Getty Images

Coming into the season, Virginia Tech was a perennial Top 15 team. As of right now, the Hokies may not even qualify for a bowl game.
A 30-12 loss on Thursday night in Miami against the Hurricanes was a perfect example of what has gone wrong for the Hokies for most of the season.
Turnovers and special teams miscues were the story of the game on Thursday and have been the problem all season long for Virginia Tech.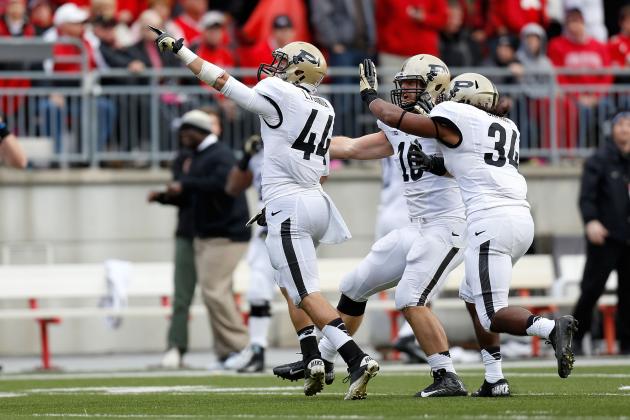 Kirk Irwin/Getty Images

We all know the Big Ten is having a down year, but there are some teams at the bottom of the league that are downright awful.
While there are plenty of teams that are not playing well, Purdue and Illinois are playing on a whole new level—not a level any team wants to be on.
Both teams are 0-5 in conference play and appear headed in the completely wrong direction. These two squads are getting dominated week in and week out in Big Ten play.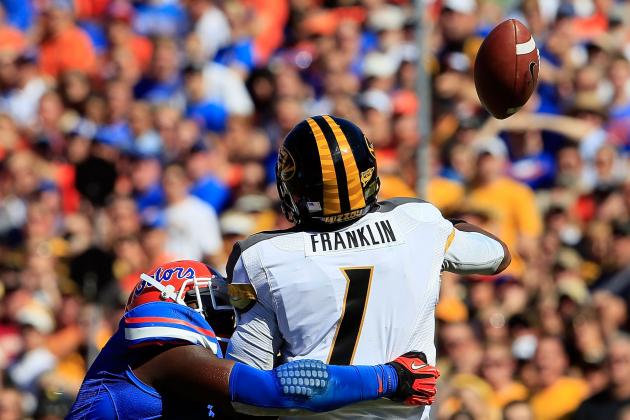 Sam Greenwood/Getty Images

It is clear that Missouri quarterback James Franklin has been playing through injuries for most of the season.
On Saturday against Florida, he might have had the worst game of his life. Franklin threw four interceptions with no touchdowns.
He has not thrown a touchdown pass since September, and as of right now, the Tigers don't even look like a bowl team with three games remaining.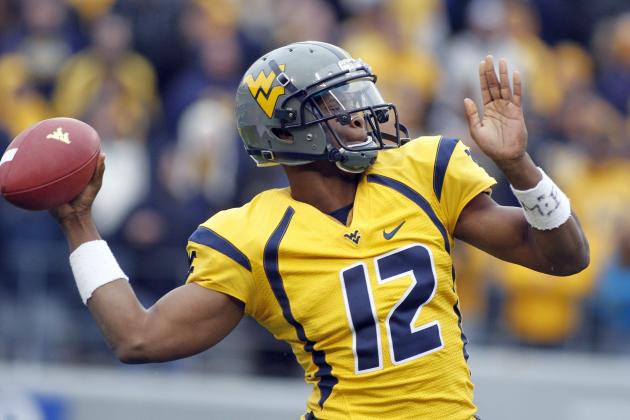 Justin K. Aller/Getty Images

West Virginia certainly had this one in the bag with less than two minutes to go until that 94-yard touchdown pass from Trevone Boykin to Josh Boyce.
That sent the game into overtime, and the Horned Frogs went for a two-point conversion to win it 38-37.
The Mountaineers have now lost three games in a row. The season is in a downward spiral right now for West Virginia.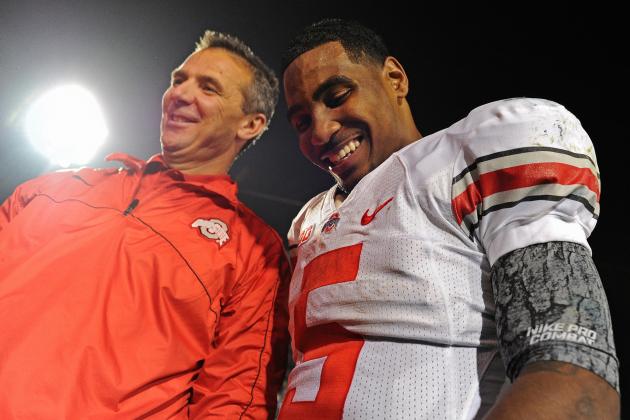 Patrick Smith/Getty Images

Braxton Miller was all over the field during a dominating 52-22 Ohio State victory over Illinois.
The sophomore quarterback rushed for 73 yards and a touchdown on 18 carries. He also passed for 226 yards and two scores.
He continues to improve and is one of the most explosive players in the entire country. Miller is certain to be a contender for the 2013 Heisman Trophy.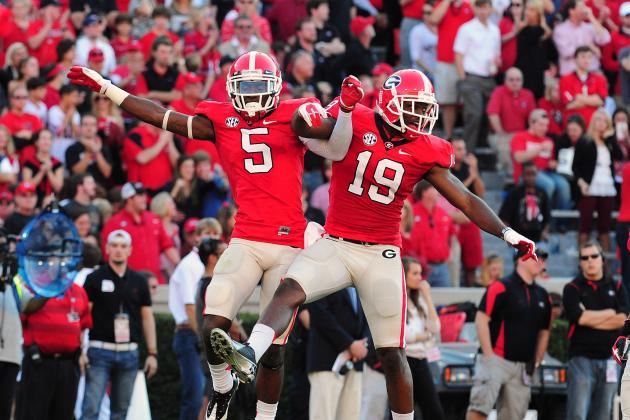 Scott Cunningham/Getty Images

Georgia started off rather slowly against Ole Miss, but came on strong beginning in the middle of the second quarter on its way to a dominating 37-10 victory.
The Bulldogs were led once again by running back Todd Gurley. The true freshman carried the ball 18 times for 117 yards.
Quarterback Aaron Murray played perhaps his best game of the season, throwing for 384 yards and four touchdowns on 21-of-28 passing.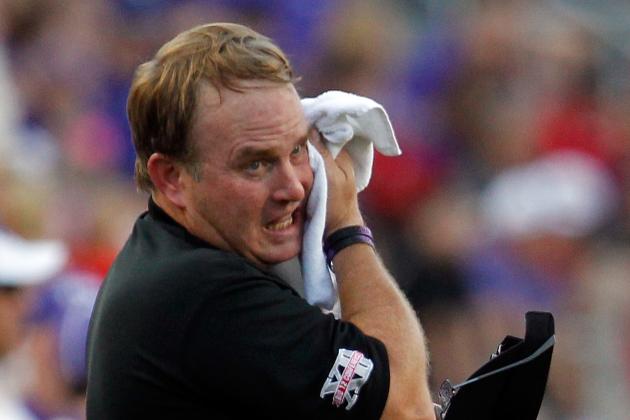 Tom Pennington/Getty Images

After a touchdown by West Virginia in the second overtime to go ahead 38-31, TCU responded with a touchdown of its own.
Instead of kicking the extra point to send the game into triple-overtime, the Horned Frogs and head coach Gary Patterson decided to roll the dice and attempt a two-point conversion.
Wide receiver Josh Boyce came down with a diving catch, and after the play was reviewed, the call stood, giving TCU the win.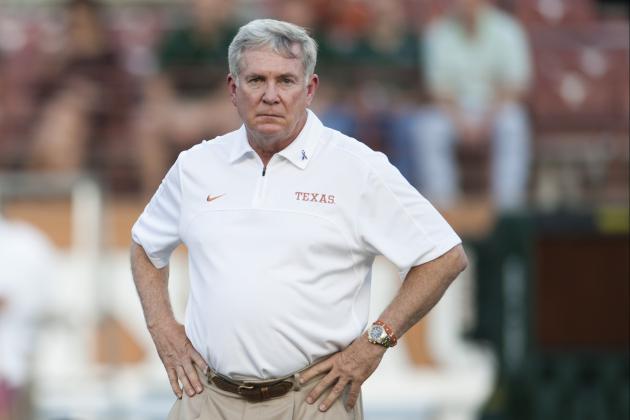 Cooper Neill/Getty Images

Who would have thought that the Texas Longhorns actually had a defense? The group that has been much-maligned for most of the season showed up during a victory on Saturday.
The explosive Texas Tech offense did manage 441 yards of total offense, and when it had to, the Texas defense held.
A few more games like this, and Texas will be in for a better bowl game than it thought it would a few weeks ago.
Gregory Shamus/Getty Images

It appeared as if Nebraska was going to go down in defeat at Michigan State, but the Cornhuskers pulled off some magic in the end on their way to a 28-24 victory.
Michigan State was trying to do rival Michigan a favor but was unable to do so, and Nebraska is still in the driver's seat to play in the Big Ten Championship game.
Just when it looked like Michigan State had found its stride, the Cornhuskers put the Spartans right back in their place.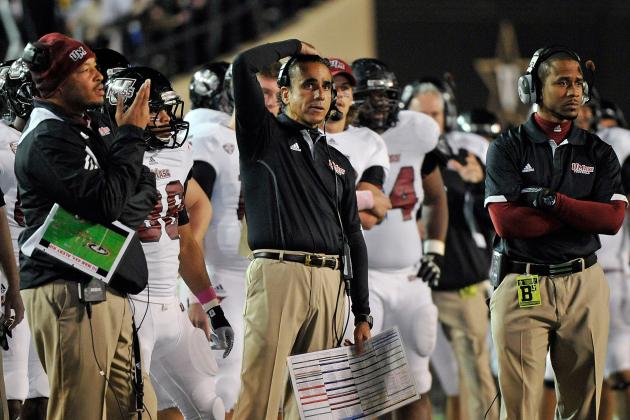 Frederick Breedon/Getty Images

There are some bad teams around the college football landscape, but it has now become apparent that the worst of them all is Massachusetts.
In defense of the Minutemen, it is their first year at the FBS level. That is evident, judging by their play.
UMass fell 48-0 to Northern Illinois over the weekend, dropping to 0-9 overall and 0-5 in MAC play. Hard to imagine this team winning a game anytime soon.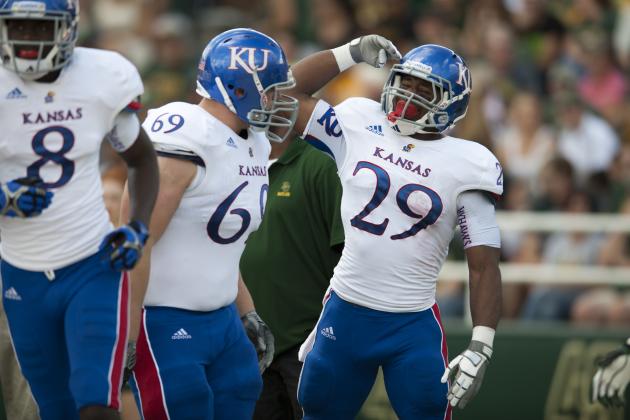 Cooper Neill/Getty Images

After somewhat of a fast start, Kansas did nothing on offense after the second quarter and was dominated 41-14 at Baylor.
The quarterback play continues to be an issue for the Jayhawks, as Michael Cummings threw two interceptions with no touchdowns while only passing for 81 yards.
As expected, Baylor had its way with the Jayhawks defense for most of the afternoon.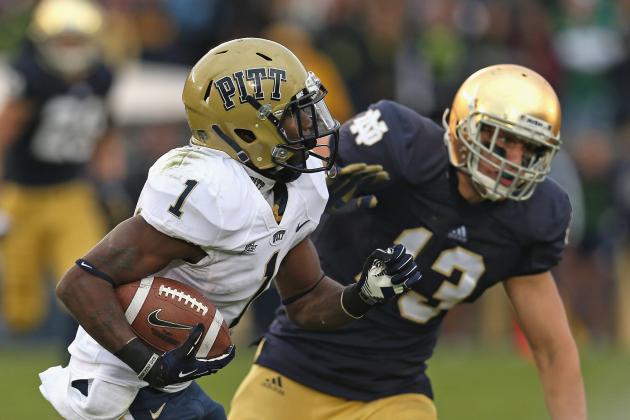 Jonathan Daniel/Getty Images

In a game Notre Dame should have lost more than a few times, the Fighting Irish came out with a dramatic 29-26 triple-overtime victory.
Pittsburgh did everything it could to throw the game away and did just that, missing a 33-yard field goal to lose the game in double-overtime.
It is looking more and more like the luck of the Notre Dame Fighting Irish is not going to run out anytime soon.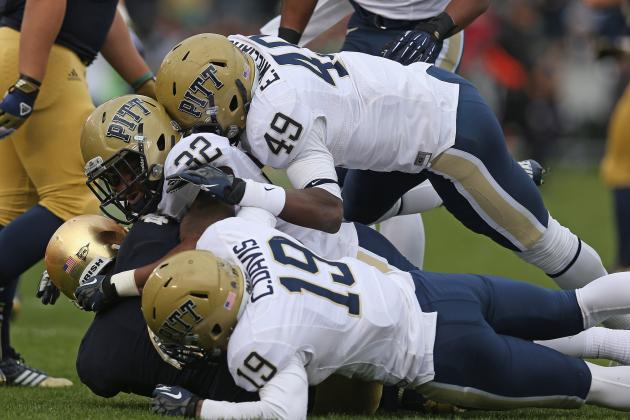 Jonathan Daniel/Getty Images

Pittsburgh did not look at all like itself for the first three quarters of its 29-26 triple-overtime loss to Notre Dame, but from that point on, the Panthers looked like the team we have all come to know.
The Panthers squandered a huge fourth-quarter lead on their way to a devastating loss.
This one has to be tough to swallow for Pittsburgh and head coach Paul Chryst.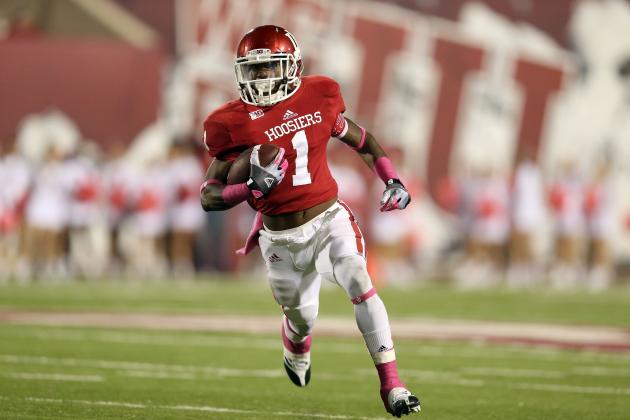 Andy Lyons/Getty Images

Don't look now, but if Indiana wins its remaining four games, the Hoosiers will be in the Rose Bowl.
With a 24-21 victory over Iowa on Saturday, the Hoosiers improved to 4-5 overall and 2-3 in Big Ten play—only one game behind Wisconsin for the top spot in the Leaders Division.
This weekend the Hoosiers take on the Badgers, with a win putting Indiana in the driver's seat. Four more wins and the Hoosiers will find themselves in the Rose Bowl.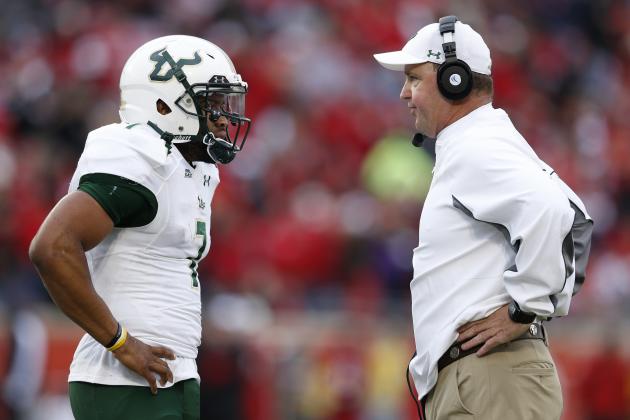 Joe Robbins/Getty Images

After losing six straight games—three of them by four points or less—the South Florida Bulls were finally able to win a close game, knocking off Connecticut 13-6.
The win was the first in Big East play for the Bulls and keeps them in contention for a bowl berth with three games remaining.
Skip Holtz and the Bulls have to feel good, finally winning one after letting so many slip away.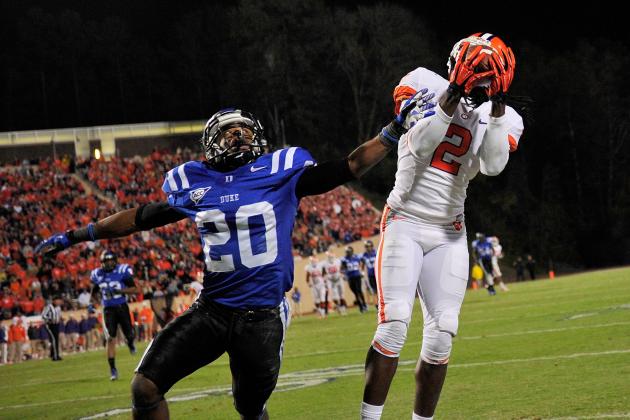 Grant Halverson/Getty Images

After starting off the season 6-2, Duke has now lost two games in a row and appears to be headed in the wrong direction.
The Blue Devils were dismantled 56-20 against Clemson, a week after losing 48-7 to Florida State. With a road game against Georgia Tech and a home game with Miami remaining, Duke has to be happy it is already bowl-eligible.
Winning its final two games would also ensure an ACC Coastal Division championship and a berth in the ACC title game.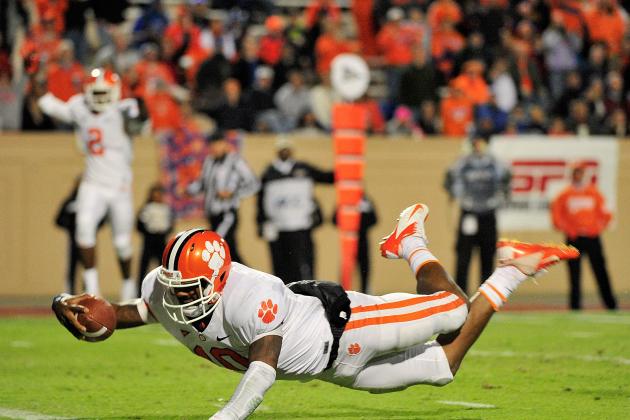 Grant Halverson/Getty Images

The way Clemson is playing right now, it is not only one of the top teams in the ACC, but one of the best in the entire country.
Clemson is playing great football right now, as evidenced by its 56-20 victory over Duke. The only loss so far for the Tigers came at Florida State.
If Clemson wins its final three games of the season, a berth in a BCS bowl will be very likely.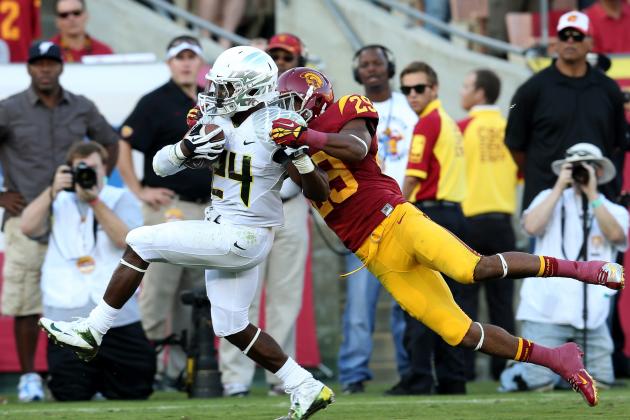 Stephen Dunn/Getty Images

Kenjon Barner might have had the best game of any college football player this season. The Oregon running back rushed for 321 yards on 38 carries to go along with five touchdowns against USC.
He has now rushed for nearly 1,300 yards this season with 19 touchdowns, while averaging over seven yards a carry.
He has not been mentioned in any Heisman conversation, but it might be time right about now.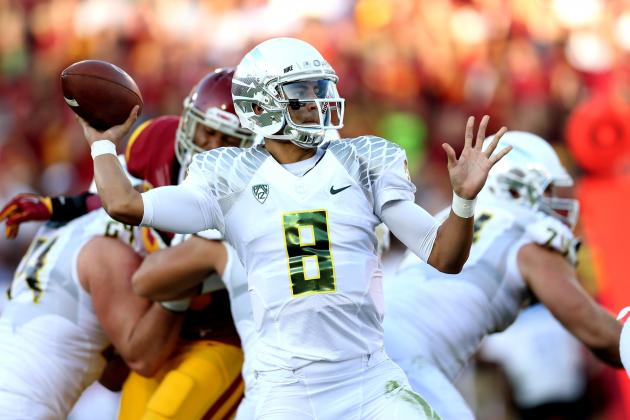 Stephen Dunn/Getty Images

Oregon played an excellent offensive game even by its standards on Saturday, knocking off rival USC 62-51.
The Ducks totaled 730 yards of total offense, including 426 on the ground. That is quite a performance against anybody—particularly against a talented USC team.
Oregon was 9-of-13 on third- and fourth-down conversions, which led to its success on offense. The Ducks ran an amazing 83 offensive plays.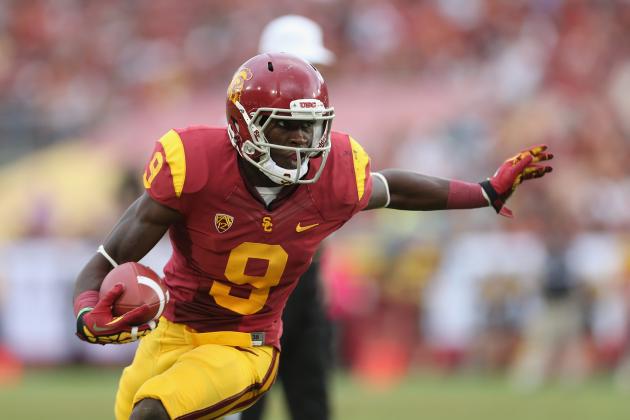 Jeff Gross/Getty Images

USC wide receiver Marqise Lee had another outstanding game against Oregon, catching 12 passes for 157 yards and two scores.
So far this season, Lee has 12 touchdown receptions and nearly 1,300 yards on 88 catches.
While Barkley was the front-runner for the Heisman Trophy before the season began, Lee is showing why he is not only the best receiver in the country, but also one of the best players in the nation.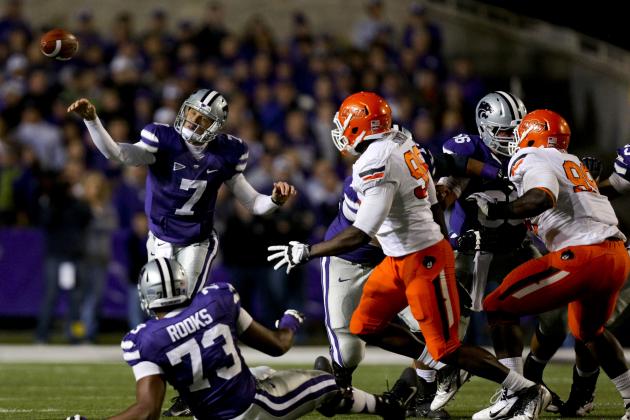 Ed Zurga/Getty Images

Collin Klein did not have his best game of the season and didn't even play very well, according to his standards, but he did lead Kansas State to another victory over a ranked opponent.
If the Wildcats can win their remaining three games, they will in all likelihood play for the national championship, and Klein will be bringing home the Heisman Trophy.
Klein helped Kansas State knock off Oklahoma State 44-30, while passing for 245 yards and rushing for 64 more with a touchdown before leaving the game with an apparent injury.
The Heisman Trophy is his to lose right now.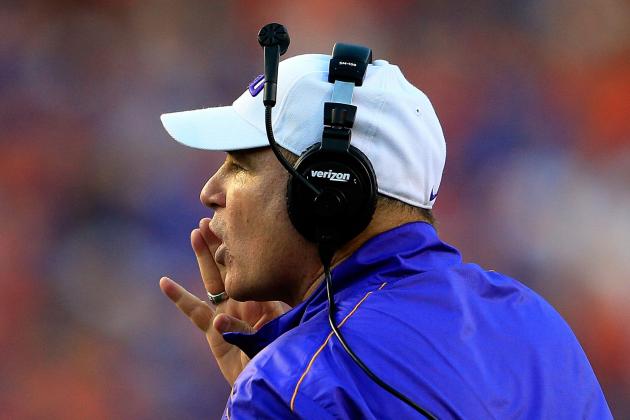 Sam Greenwood/Getty Images

Les Miles has been known to make some boneheaded decisions, and Saturday night was no different, as the quirky LSU head coach tried a little bit of everything.
Whether it was a failed onside kick, going for it on fourth down, faking a field goal or trying a field goal his kicker had no chance to make, Miles failed in every aspect of the game.
He might be the reason LSU finds itself with two losses today.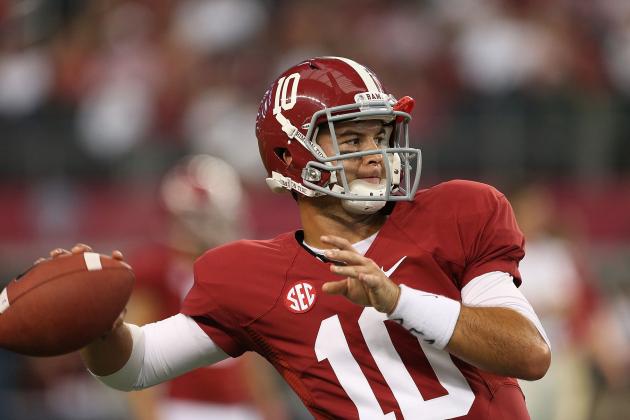 Leon Halip/Getty Images

Nobody would have ever expected Alabama to put together a touchdown drive in the final two minutes of the game, especially with the way the LSU defense had played the entire night.
That is why the Crimson Tide are the No. 1 team in the country and favorites to win the national championship.
They have the heart of a champion and found a way to win even when they did not play all that well. Quarterback A.J. McCarron struggled mightily in the second half until that final drive.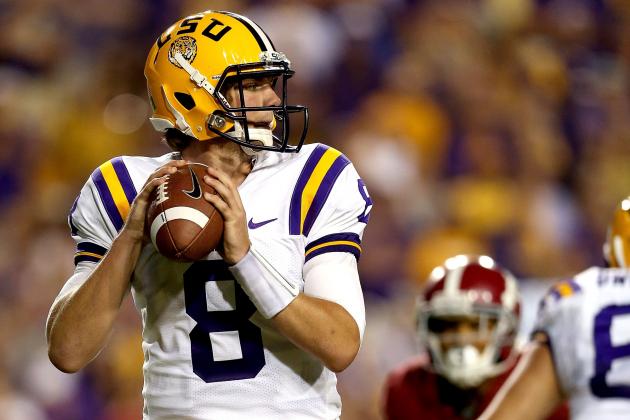 Matthew Stockman/Getty Images

There is no question that LSU quarterback Zach Mettenberger had the best game of his LSU career, passing for 298 yards while going 24-of-35 with a touchdown and no interceptions.
He looked very comfortable throughout the game and made all the plays against the best defense in the country.
Even though LSU did not come out with the victory, this might be the turning point in the season—at least for Mettenberger.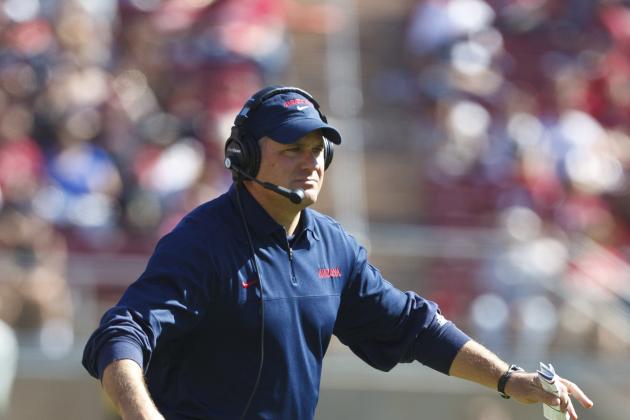 Jason O. Watson/Getty Images

A week after knocking off USC, the Arizona Wildcats had by far their worst performance of the season, losing 66-10 at UCLA.
Defense was not on display for Arizona, as UCLA totaled 611 yards of offense—including 308 on the ground.
Coming into the game, Arizona still had a shot to win the South Division of the Pac-12. Now those hopes are all but gone, and a winning season is now in question.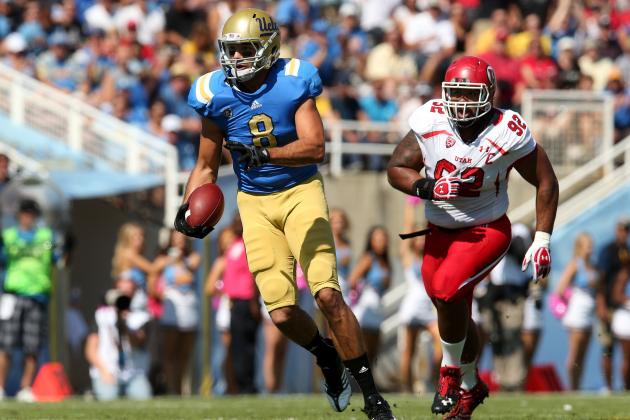 Stephen Dunn/Getty Images

The UCLA Bruins not only beat Arizona on the road, they dominated them 66-10 on their way to the top of the Pac-12 South.
With three games remaining, UCLA controls its own destiny and has a legitimate shot to take on Oregon in the Pac-12 title game.
The Bruins appear to be hitting their stride at just the right time, having won three games in a row. There are still some challenging games remaining, including home games against USC and Stanford to finish out the year.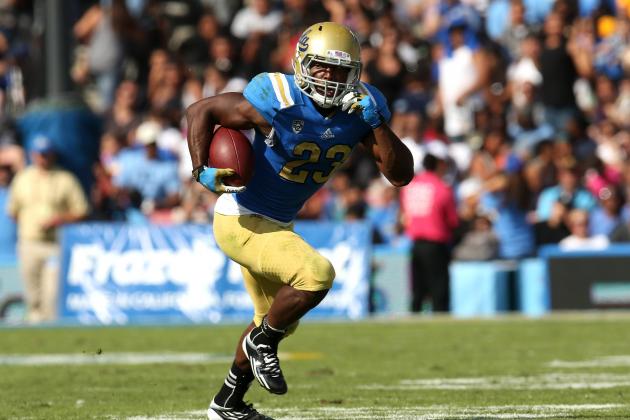 Stephen Dunn/Getty Images

While Kenjon Barner certainly had the best game of not only anybody in the Pac-12, but anyone in the entire country, UCLA running back Johnathan Franklin played very well also.
The running back carried the ball 24 times for 162 yards with two touchdowns.
The senior has now rushed for 1,204 yards with eight touchdowns. If he was not in the same conference as Kenjon Barner, he would be a first-team All-Conference selection.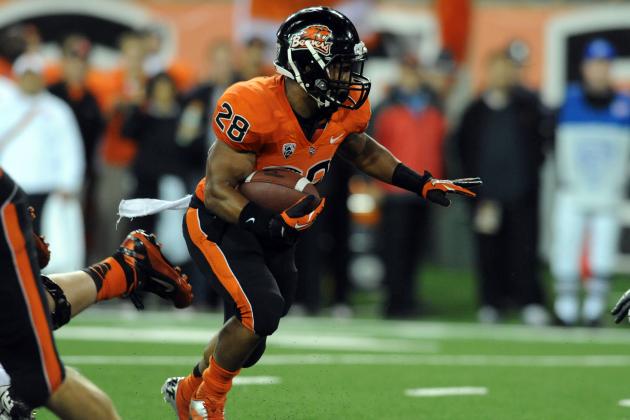 Steve Dykes/Getty Images

Even though Oregon State is 7-1, most people are still not believers in the Beavers. After another convincing win in comeback fashion, Oregon State is in prime position for a BCS bowl game.
The Beavers trailed early, 19-10, but then rattled off 26 straight points and cruised to a 10-point victory.
With injuries on the offensive side of the ball, Oregon State has managed to right the ship and continue to win football games.
Otto Kitsinger III/Getty Images

San Diego State proved on Saturday night that special teams can single-handedly win a football game. That is what the Aztecs did on their way to a 21-19 victory at Boise State.
The Aztecs took the opening kickoff 100 yards to jump out to a 7-0 victory only 13 seconds into the game.
Boise State also went for a two-point conversion after potentially tying the game later in the quarter. That failed, and it turned out to be the difference in the game.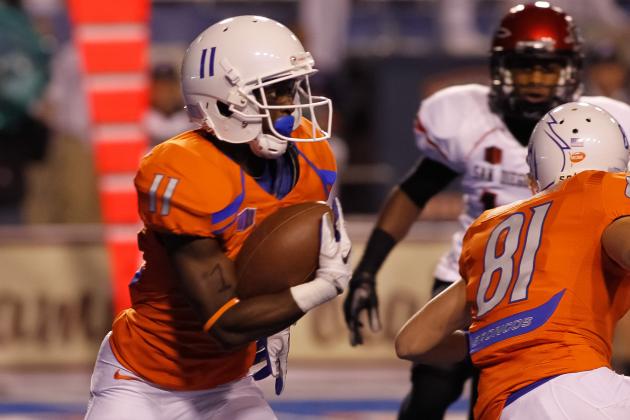 Otto Kitsinger III/Getty Images

Boise State came into its game against San Diego State 7-1 and winners of seven in a row. It seemed like another typical Boise State season, only the Broncos were doing it in a completely different style.
After a loss to San Diego State, it has become more evident that the Broncos are nowhere near what they have been in years past.
While they have a good shot to win their remaining games, this is certainly the worst Boise State team we have seen in quite some time.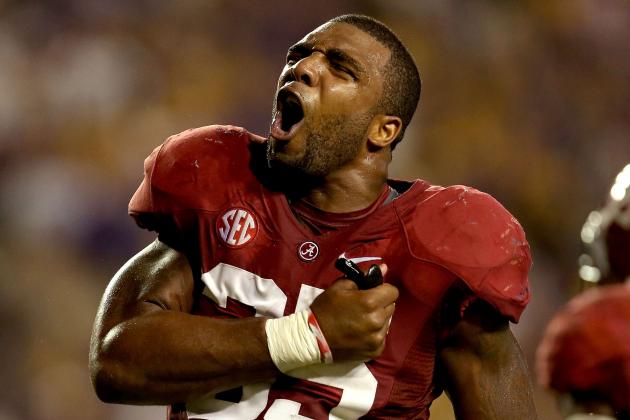 Matthew Stockman/Getty Images

There is no tougher place to play in the country than Death Valley at night. Alabama took the biggest punch LSU could throw and still came out with a victory.
Toward the end of the game, nobody thought Alabama would be able to march down the field and score a field goal, let alone a touchdown.
The Crimson Tide proved it is still the best team in the country, and did it in dramatic come-from-behind fashion.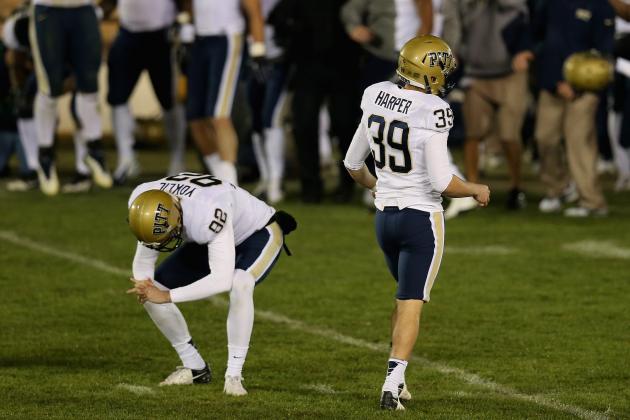 Jonathan Daniel/Getty Images

While there is only a month remaining in the college football season, there is still a long way to go.
With four teams having a legitimate shot to play for a national championship, it is not known exactly what is going to happen if all four teams win out.
What happens if three of the four lose? Who will be the one-loss team to play for the national championship?
Stay tuned, because there is still a long way to go.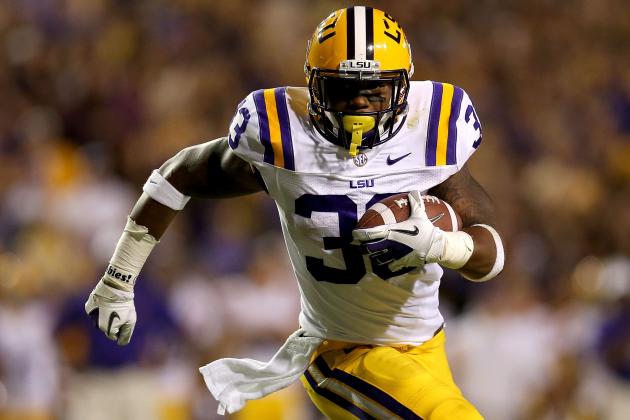 Matthew Stockman/Getty Images

There was a moment toward the end of the Alabama-LSU game where thoughts began to creep into the heads of SEC fans that there was a chance LSU would knock Alabama out of contention for a national championship.
An LSU win would have given every SEC team at least one loss, and it would have taken some huge upsets to get one of those teams back into the national championship conversation.
That didn't happen, and it appears the SEC will still have a team playing for a national championship two months from now.