When the No. 4 Oregon Ducks travel to Los Angeles to play the No. 17 USC Trojans in their building, these Pac-12 rivals will put on one of the best offensive showcases of the entire college football season.
With the familiarity between these programs and the similarity in style and philosophy, there is little doubt that both offensive units will be out in force for this conference battle.
Even if you don't have a horse in this race, this nationally televised game will have every college football fan—from the hardcore to the casual—on the edge of their seat with excitement.
Don't be the only one to miss what everyone will be talking about.
Where: Los Angeles Memorial Sports Arena and Coliseum, Los Angeles, CA
When: Saturday, November 3 at 7:00 p.m. ET
Watch: Fox
Streaming: GoDucks.tv; USC All-Access
Radio: Free Football Radio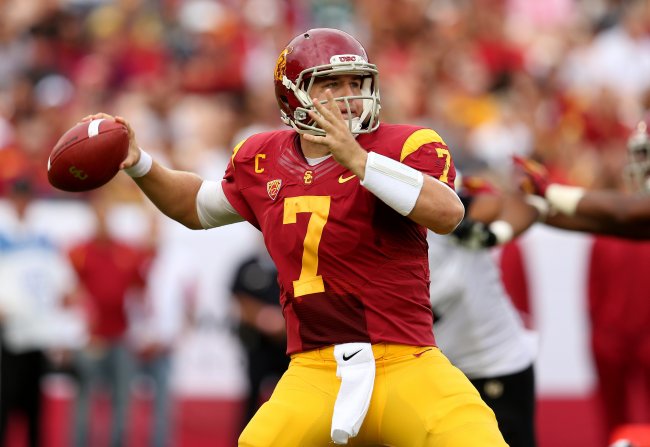 Stephen Dunn/Getty Images
USC's Biggest Key to Victory: Matt Barkley and the Pass Attack
After the most devastating loss the Trojans could have imagined last week against the Arizona Wildcats, USC must bounce back against the No. 4 Ducks to keep their spot in the Top 25.
That effort will be led by senior QB Matt Barkley and the USC pass attack. Barkley and the Trojans average 291.3 yards per game this season—23rd-best in the nation. They'll have to exploit an Oregon secondary that has outperformed expectations.
The Ducks defense is better than most give it credit for, sitting at 24th in the nation and allowing just an average of 19.4 points per game. But the Trojans passing attack will have redemption on its mind.
If USC has any BCS hope left, it needs to beat Oregon with the air attack.
Jonathan Ferrey/Getty Images
Oregon's Biggest Key to Victory: Running the Football
As much as USC depends on its passing attack, the Oregon Ducks lean just as heavily on their own rush offense.
With an amazing 330.6 rushing yards per game this season for Oregon, the team is currently ranked third in the nation in that category.
The tandem of Kenjon Barner and De'Anthony Thomas has been tearing up the opposition's defense week after week, and the overmatched and flimsy USC run-stoppers are in serious trouble.
Oregon boasts an amazing yards-per-carry average of 6.2, which makes it one of the best teams at extending drives and controlling the clock.
In what will become an offensive display, controlling the clock will be paramount.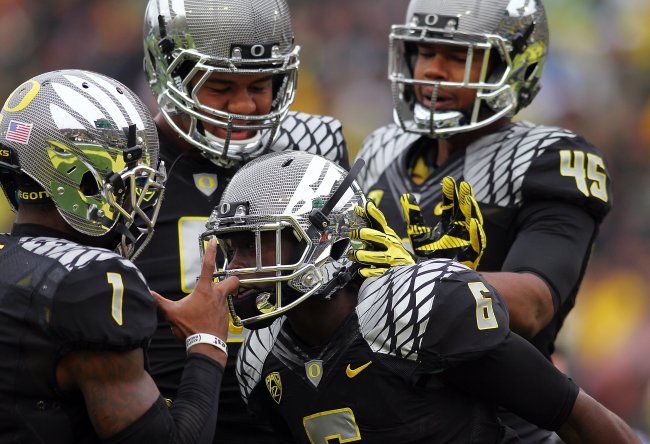 Jonathan Ferrey/Getty Images
Prediction: Oregon 37, USC 31
Despite each team bringing into this game a vaunted top 25 defense, neither will look that way as the offenses bring their best for this meeting. While USC and Oregon will each have great games, it will be the Ducks that stand tall at the end of the night.
These Pac-12 rivals will give each other everything they have, but it will be the control Oregon posses with its elite running game that allows the Ducks to put this game away in the fourth quarter.
Check back for more on the NCAA Football as it comes, and don't miss Bleacher Report's College Football page to get your fill of college football.