Week 9 NFL Picks: Last-Minute Predictions for Every Game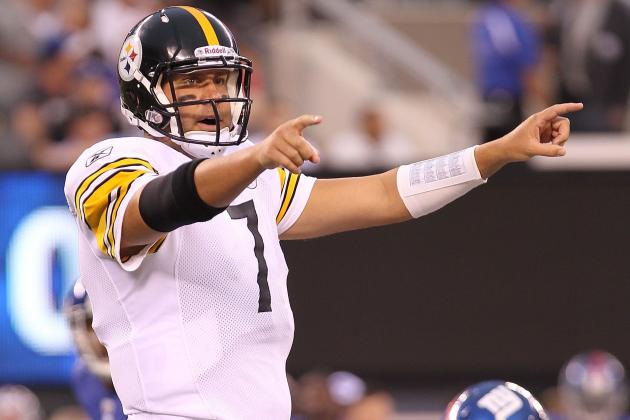 Nick Laham/Getty Images

Week 9 of the NFL season offers up another exciting batch of games to pick and predict.
Cam-RG3 in the nation's capital. Surprise AFC teams in Indy. Elite quarterbacks in New York. An unbeaten killer in Atlanta. Do-or-die time in New Orleans.
These are just some of the many storylines pouring out of Week 9.
In the following slides, we break down and predict each of the remaining games on this week's NFL schedule.
Begin Slideshow

»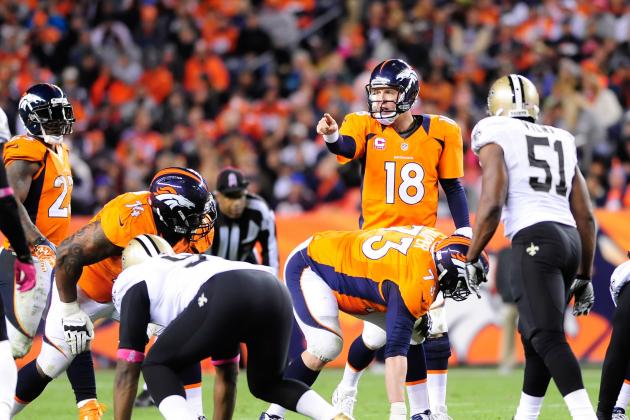 Byron Hetzler-US PRESSWIRE

There are reasons to like the Cincinnati Bengals at home in this one: The Denver Broncos are just 1-2 on the road this season, Cincinnati has had two weeks to prepare, and there should be a sense of urgency for the team, which has lost three straight games.
But there's only one reason to pick the Broncos, and it's Peyton Manning.
The hottest quarterback in football has thrown for 12 touchdowns and over 1,250 yards the last four games. On the other end, the Bengals have allowed three straight quarterbacks to crack 225 yards, including two rookies.
Prediction: Broncos 31, Bengals 21
Final Score: Broncos 31, Bengals 23
Mitch Stringer-US PRESSWIRE

Recent history between these two would indicate that Sunday's AFC North clash will be a close one. Since 2010, only one game in six has been decided by more than 10 points. That trend was already served this season when the Baltimore Ravens knocked off the Cleveland Browns by seven in Week 4.
However, history also indicates that the Ravens will be on the winning side of the equation. Since drafting quarterback Joe Flacco, Baltimore is a perfect 9-0 against the Browns.
It may not be pretty, especially with all the injuries for the Ravens, but Flacco should make it 10 Sunday.
Prediction: Ravens 21, Browns 17
Final Score: Ravens 25, Browns 15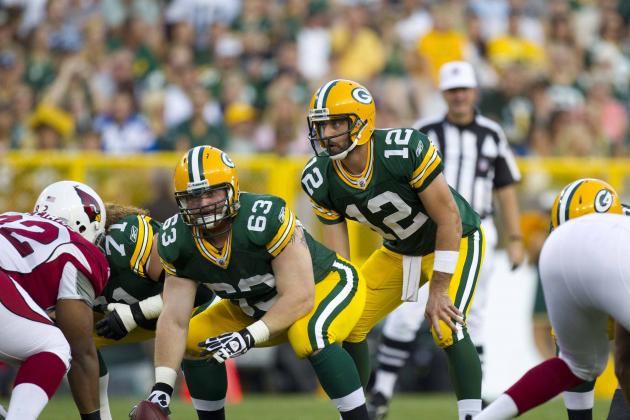 Jeff Hanisch-US PRESSWIRE

The last time the Green Bay Packers and Arizona Cardinals played a meaningful game, the two teams combined to score 96 points in the highest-scoring game in postseason history. Don't expect another shootout Sunday.
In fact, it's more likely that the defenses rule Sunday.
The Cardinals and Packers lead the NFL in both sacks (26) and sacks allowed (Cardinals 39, Packers 28), so points could come at a premium. Hard for either quarterback to score points on their back.
In the end, the Packers have more on offense, even without Greg Jennings and potentially Jordy Nelson. The Cardinals will need turnovers and a play or two on special teams to win in Lambeau Field.
Prediction: Packers 24, Cardinals 9
Final Score: Packers 31, Cardinals 17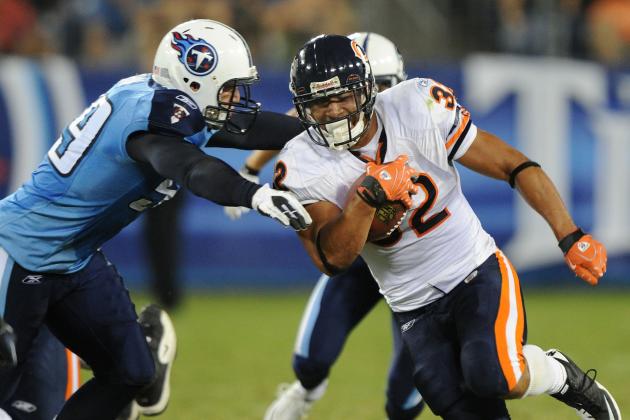 Don McPeak-US PRESSWIRE

Who needs offense when you have the Chicago Bears defense? Through seven games, Chicago's defense has scored as many total touchdowns (six) as running back Matt Forte (two) and receiver Brandon Marshall (four) have combined.
Eventually, the Bears are going to cross an opponent that requires the offense to win a game on its own. I doubt it happens Sunday, especially considering that the Bears are allowing an NFL-best 77.9 rushing yards a game this season.
Without Chris Johnson (385 yards last three games) engineering offense, the Tennessee Titans can't beat a Bears team that has won five in a row.
Prediction: Bears 23, Titans 13
Final Score: Bears 51, Titans 20
Jonathan Daniel/Getty Images

If the season ended today (and yes, I know it doesn't), both the Indianapolis Colts and Miami Dolphins would be in the playoffs as AFC wild-card qualifiers.
Considering that neither team made drastic personnel changes, besides drafting a quarterback, the improvement is notable. Credit both coaching staffs.
In this battle of rookie quarterbacks, however, I'll take Andrew Luck and the Colts. Indianapolis is 3-1 overall and 2-0 at home since coach Chuck Pagano left the team, and that emotion has showed up in surges when the Colts have played in Indianapolis.
Prediction: Colts 23, Dolphins 21
Final Score: Colts 23, Dolphins 20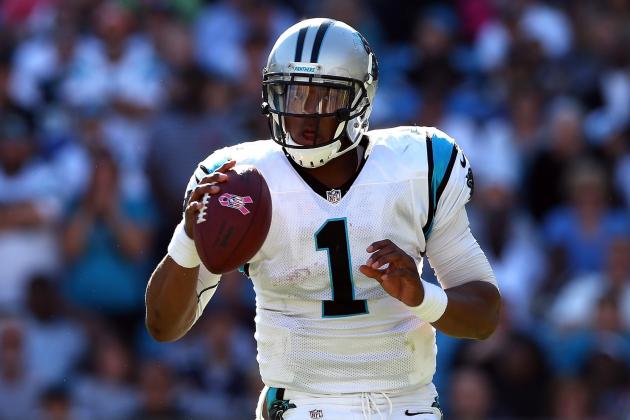 Streeter Lecka/Getty Images

If you took a snapshot of the Washington Redskins right now and the Carolina Panthers in 2011, the two pictures would look very similar. Both feature athletic quarterbacks, a strong running game and defenses that struggled in stopping anyone.
That said, it's time for the 2012 version of Cam Newton to break out of his slump. He's too talented, and the Panthers really have nothing to lose after a 1-6 start. Besides, what better week for Newton to do it than in front of the quarterback who has stolen all of his thunder?
Robert Griffin III should provide the final tug on Superman's cape. Newton will do the rest Sunday against a defense that is allowing over 400 yards and 28 points a game this season.
Prediction: Panthers 34, Redskins 27
Final Score: Panthers 21, Redskins 13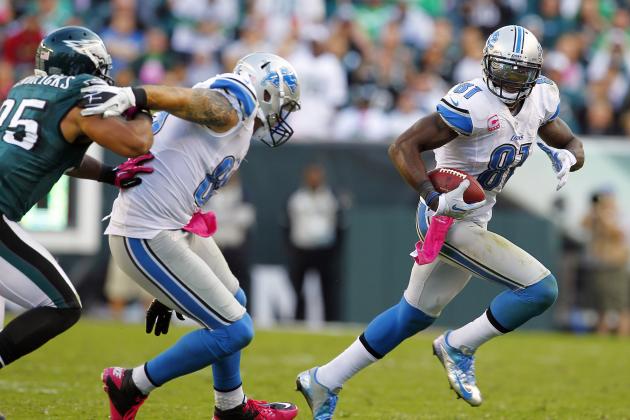 Rich Schultz/Getty Images

The Detroit Lions may need a former Jacksonville Jaguar to play a significant role Sunday when Detroit travels to Jacksonville.
Receiver Mike Thomas, who was traded to the Lions this week, could see a number of snaps if Calvin Johnson (knee) is ruled out or limited. Johnson has missed three straight practices and is questionable for Sunday.
The Lions also lucked out injury-wise. The Jaguars won't have either starting cornerback, so Matthew Stafford should be able to find the matchups he wants Sunday on the road. Close game, but Stafford is starting to heat up.
Prediction: Lions 21, Jaguars 13
Final Score: Lions 31, Jaguars 14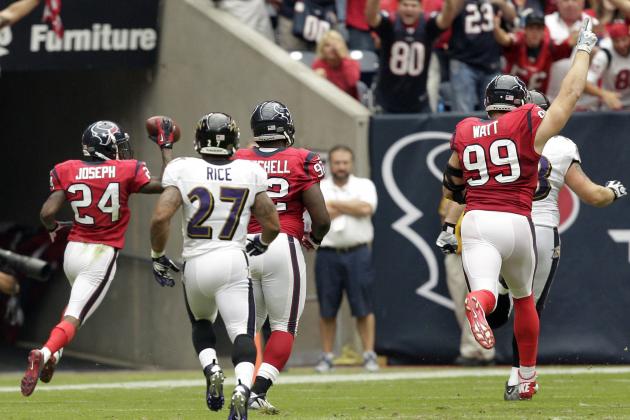 Bob Levey/Getty Images

Undeniable strength meets undeniable weakness Sunday in Houston.
The Houston Texans running game, which has produced 140.9 yards a game this season, will face a Buffalo Bills rush defense that is allowing the most yards (176.9) per contest of any team in the NFL. The results should be fairly predictable.
Expect a heavy dose of Arian Foster, which, in turn, should lead to efficient play-action passing, as the Texans roll a Bills defense that hasn't shown any signs of life in 2012.
Prediction: Texans 31, Bills 14
Final Score: Texans 21, Bills 9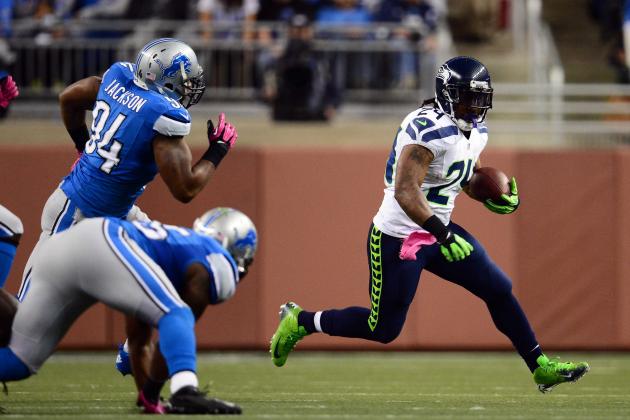 Andrew Weber-US PRESSWIRE

Each offense in this game tailors its plan every week around protecting the quarterback, so don't expect a lot of passing fireworks. In fact, Adrian Peterson (775 yards) and Marshawn Lynch (757) lead the NFL in rushing through eight weeks.
That said, the difference here comes at the quarterback position.
Christian Ponder has taken several steps backward (seven interceptions in his last four games) after a promising start, while Russell Wilson is starting to figure out how to play quarterback at a high level. Wilson has been much better at home too (six touchdowns, zero interceptions).
Prediction: Seahawks 26, Vikings 13
Final Score: Seahawks 30, Vikings 20
Kim Klement-US PRESSWIRE

The loss of guard Carl Nicks (IR) is a tough blow for the Bucs offense, especially with fellow Pro Bowl guard Davin Joseph already out for the season. However, the skill players give Tampa Bay a chance to keep this offense rolling in Oakland.
Running back Doug Martin (467 total yards in his last three games), Vincent Jackson (322 yards) and Mike Williams (217, two touchdowns) combine with an evolving quarterback in Josh Freeman (nine touchdowns) to make an underrated but explosive unit.
The Oakland Raiders, while winners of two straight, may not have the corresponding firepower to keep up on the scoreboard, even at home. Bucs score 28 or more points for the fourth straight week.
Prediction: Buccaneers 31, Raiders 23
Final Score: Buccaneers 42, Raiders 32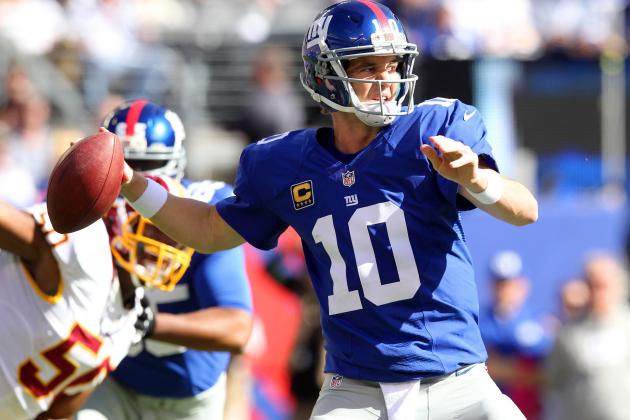 Brad Penner-US PRESSWIRE

Two elite quarterbacks should make New York Giants-Pittsburgh Steelers the game of the week.
But I'll be perfectly honest: I'm picking the Giants here for the sole fact that I've taken trendy upsets against New York far too often this season (Carolina, Washington, Dallas) and been burned. Not this week.
Eli Manning and the Giants overwhelm the Steelers through the air, and Victor Cruz gives us two renditions of the salsa.
Prediction: Giants 28, Steelers 18
Final Score: Steelers 24, Giants 20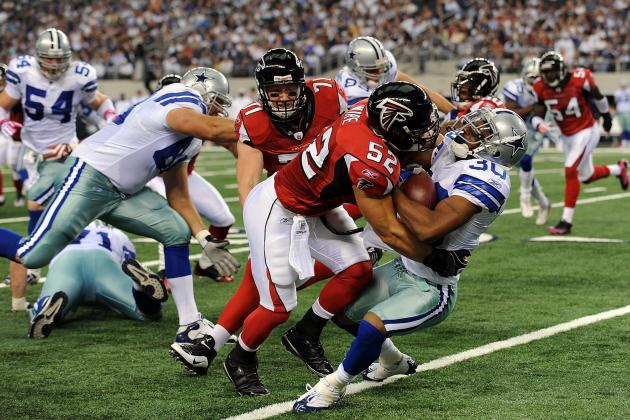 Ronald Martinez/Getty Images

The Dallas Cowboys have been good at ruining perfect seasons lately, beating both the Indianapolis Colts (9-0 record in 2006) and New Orleans Saints (13-0 in 2009) over the last six years. Could the Atlanta Falcons (7-0) be next?
Not if Dallas continues turning the football over. The Cowboys had six giveaways in Week 8, the most for Dallas in one game since 2007. If quarterback Tony Romo throws the ball away Sunday night, the Falcons will almost certainly start the season 8-0.
Cowboys desperately need a win, but the Falcons have something special about them. They've also been a trendy upset pick too many times this season.
Prediction: Falcons 27, Cowboys 24
Final Score: Falcons 19, Cowboys 13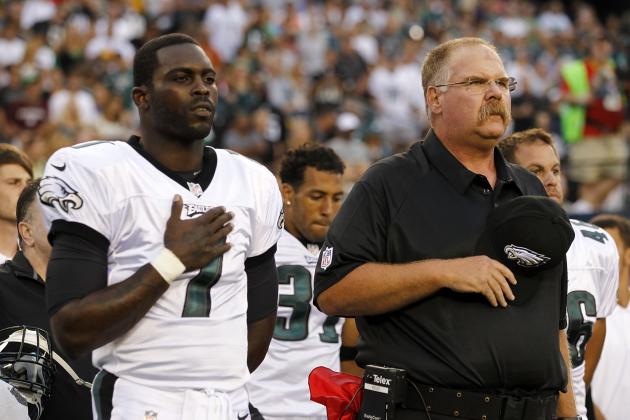 Jeff Zelevansky/Getty Images

Jobs are on the line Monday night in New Orleans.
Quarterback Michael Vick could easily find himself on the bench in Week 10 if he can't score (and score big) against the NFL's worst defense. And the hot seat of head coach Andy Reid is likely hotter right now than at any previous time in his tenure with Philadelphia.
A loss, even on the road in New Orleans, would put serious internal pressure on the Philadelphia Eagles to make changes.
Expect Reid and Vick to put together their top combined performance, outgunning Drew Brees and the Saints in the process.
Prediction: Eagles 34, Saints 30