5 Troubling Signs from the Chicago Bulls' Early Season Games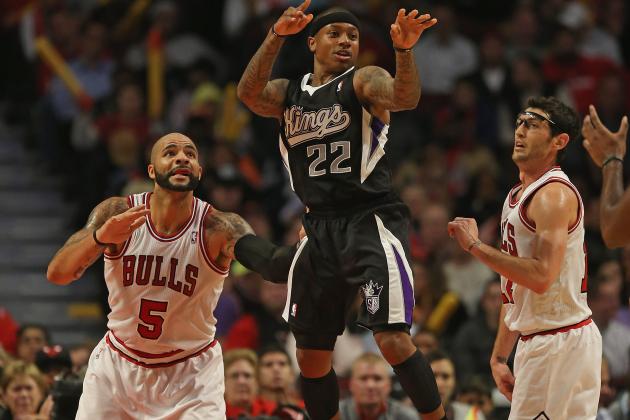 Jonathan Daniel/Getty Images

While there are many positive things pertaining to the Chicago Bulls this season, there are also a handful of troubling signs. Inconsistency and horrid outside shooting are just a few examples.
The Bulls are off to a great start so far, posting a 3-1 record without superstar point guard Derrick Rose (knee injury). They were victorious against the Sacramento Kings, Cleveland Cavaliers and Orlando Magic. And their lone loss of the season came at the hands of the rebuilding New Orleans Hornets.
Here are five not-so-great signs surrounding the Bulls through their first four games of the 2012-13 season.
Let's get started.
Begin Slideshow

»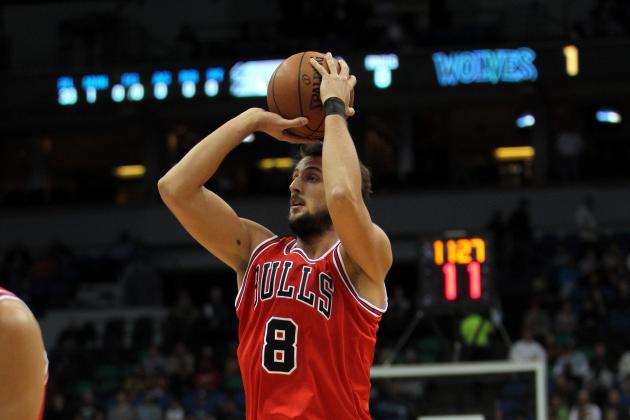 Brace Hemmelgarn-US PRESSWIRE

Chicago ranks among the league leaders in categories such as assists and points allowed.
However, three-point shooting is a totally different story.
The Bulls have knocked down just 11 of their 42 attempts from downtown (26.2 percent).
In addition, the team is averaging only 2.8 three-pointers made, as well as 10.5 attempts per game.
Marco Belinelli (3-for-8) and Nate Robinson (4-for-11) have been decent from downtown this season, while Luol Deng is just 1-for-11 and Rip Hamilton has yet to hit one.
Losing players like Kyle Korver, C.J. Watson and John Lucas in the offseason has obviously hurt the Bulls in terms of outside shooting.
Finishing fourth in the league in three-point percentage last season, the Bulls certainly need to get on track this season.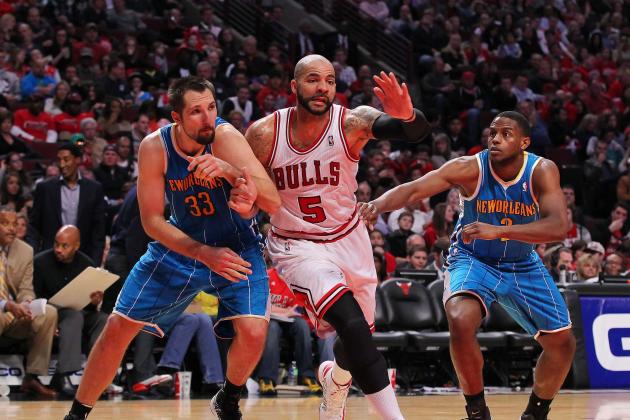 Dennis Wierzbicki-US PRESSWIRE

Bulls Alpha Dog Derrick Rose is expected to miss the majority of the season due to suffering an ACL injury in last season's playoffs.
With that said, Carlos Boozer is one of the main guys who needs the step up and lead the team in scoring.
Boozer looked sharp in the Bulls' first two games this season, scoring 18 points against the Sacramento Kings on opening night and then 19 versus the Cleveland Cavaliers.
However, he wasn't so brilliant in the loss to the New Hornets Hornets, finishing with a lousy four points and shooting just 1-for-8 from the field.
If the Bulls want to have a winning season without Rose in the lineup, they're going to need a lot more from Boozer, that's for sure.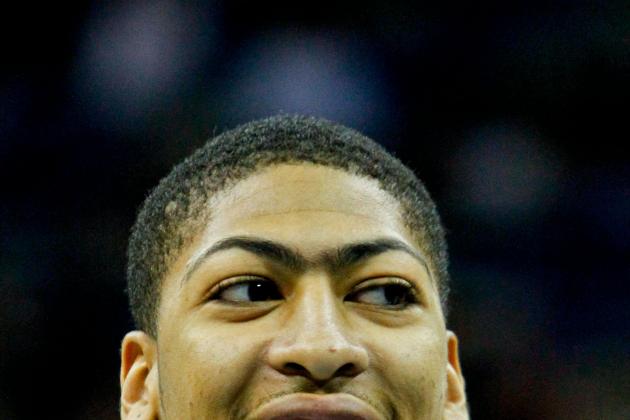 Derick E. Hingle-US PRESSWIRE

Although the Bulls own a 3-1 record, they should really be 4-0 right now.
The team simply shouldn't have lost to New Orleans, especially with their best two players—Eric Gordon and rookie Anthony Davis—out with injuries.
That was just an embarrassing loss and it came at home in front of the United Center crowd.
The Bulls shot a horrid 33 percent from the field and connected on only three of their seventeen attempts from three-point land (17.6 percent).
Sure, you can't win every game, but you have to avoid losing to teams who are without their star players.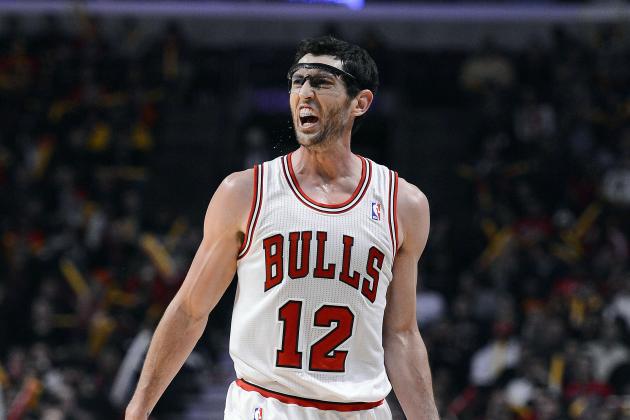 Mike DiNovo-US PRESSWIRE

Kirk Hinrich, who was acquired to replace the injured Derrick Rose at point guard, has shot the ball extremely poorly this year.
In fact, the former Kansas Jayhawk is shooting 33 percent from the field though the Bulls' four games.
He was 1-for-7 on opening night versus Sacramento and 1-for-8 in the loss to New Orleans.
Although he was a perfect 2-for-2 from beyond the arc in the Orlando game, Hinrich failed to knock down a three in his first three contests.
And when it comes to the free-throw department, Hinrich has struggled as well, shooting 44 percent.
Look for his shooting to improve here shortly.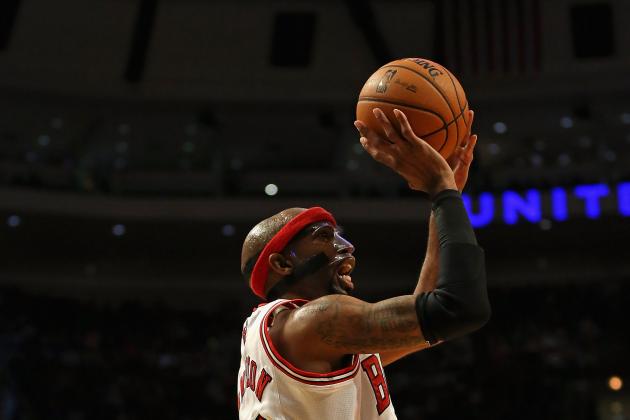 Jonathan Daniel/Getty Images

Rip Hamilton was bitten hard by the injury bug last season as he missed a total of 38 games.
Luckily, the former Detroit Pistons star is healthy so far this season.
Hamilton looked rather impressive in the Bulls' first two contests, scoring 19 points in both wins versus Sacramento and Cleveland.
Unfortunately, he would muster just four points against New Orleans and then seven against Orlando.
Hamilton isn't going to contribute 19 points every night, but hopefully he can be a little more consistent and help the Bulls pick up some victories.
And hopefully he can stay injury-free this year as well.