7 Things We Learned About the Chicago Bulls After Week 1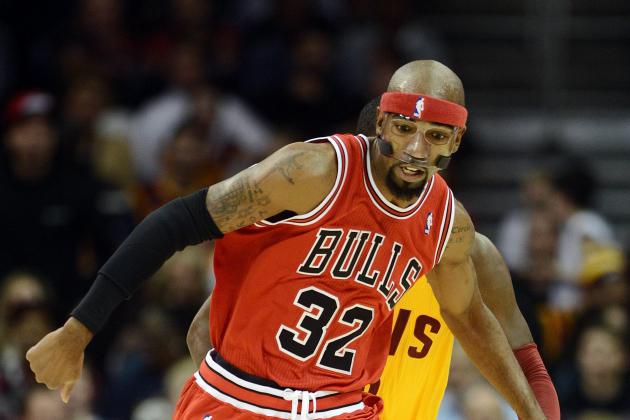 Eric P. Mull-US PRESSWIRE

What have we learned about the Chicago Bulls so far this season? Well, one thing's for sure—they're definitely not a title contender like the last two years, but they don't resemble a lottery-bound team either.
The Bulls currently own a 2-1 record. They opened the season with wins over the Sacramento Kings and Cleveland Cavaliers, and then went on to lose to the Anthony Davis-less New Orleans Hornets.
A 2-1 start is rather impressive for Chicago, seeing that they're playing without the services of point guard Derrick Rose. Rose, of course, is expected to miss the first half of the season due to a knee injury which he suffered during last season's playoff opener.
Here are seven things that we've learned about the Bulls following their first three games of the 2012-13 season.
Begin Slideshow

»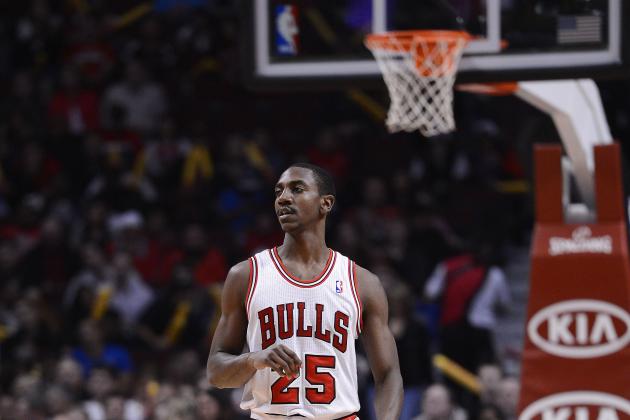 Mike DiNovo-US PRESSWIRE

Bulls coach Tom Thibodeau rarely played rookie Jimmy Butler last season. In fact, Butler only logged 8.5 minutes per game.
Now, first-year player Marquis Teague is the victim.
Teague, selected by the Bulls 29th overall in this year's draft, has played just four measly minutes this season. And all four of those minutes came during the win against Cleveland.
Sadly, Teague will not receive much playing time all year unless fellow point guards Kirk Hinrich and Nate Robinson are bitten by the injury bug.
Coach Thibs just isn't a fan of playing rookies. If a guy like Anthony Davis or Damian Lillard was on the roster, it would be a different story.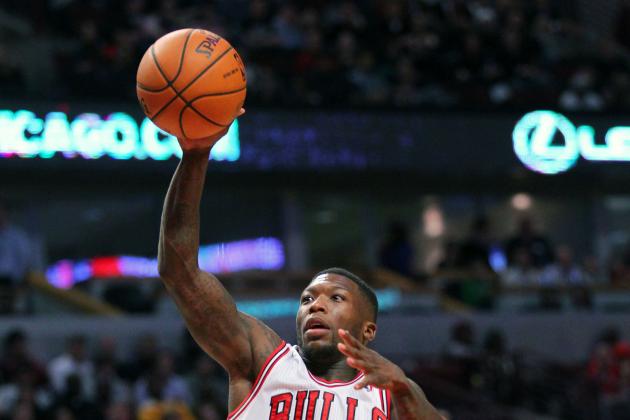 Dennis Wierzbicki-US PRESSWIRE

Since joining the NBA in 2005, Nate Robinson has never been considered a pass-first point guard.
He's always been known for providing energy and scoring off the bench, whether he was playing in New York, Boston, Oklahoma City or Golden State.
Robinson, now a backup point guard for the Bulls, looked like the ultimate floor general in the team's huge win over the Cleveland Cavaliers this season.
In that particular game, the 5'9" speedster dished out 12 assists, the most since his career-high 15 back in 2009.
Robinson is averaging a career-best five assists per contest so far this season.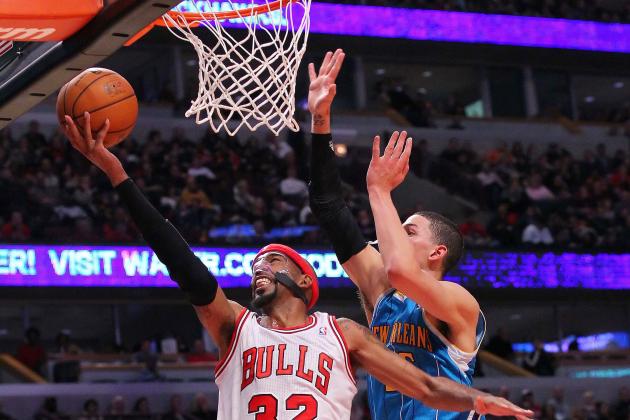 Dennis Wierzbicki-US PRESSWIRE

The Bulls signed Richard Hamilton last December, hoping that he would upgrade the shooting guard position.
Unfortunately, the three-time All-Star would have an injury-plagued debut season in Chicago, missing 38 games.
And even when he did play, Hamilton was a disappointment, averaging only 11.6 points per game (the worst numbers since his rookie year).
Hamilton has looked rejuvenated so far this season. Before his forgettable four-point outing against New Orleans, he poured in 19 points in each of his first two games against Sacramento and Cleveland.
Maybe this will be Hamilton's first injury-free campaign in quite a while. Fans in Chicago definitely hope so.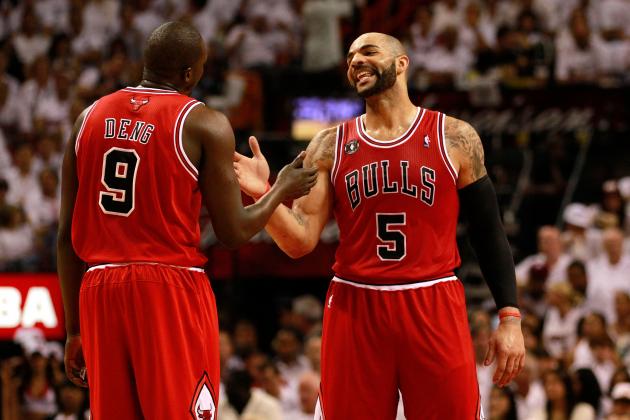 Marc Serota/Getty Images

With Derrick Rose—easily the Bulls' top scorer—expected to miss a huge chunk of the season, somebody has to step up and be the team's go-to-guy.
Through the Bulls' first three contests, a different player has led the team in scoring each night.
Joakim Noah's 23 points led the way on opening night versus Sacramento. Carlos Boozer and Richard Hamilton each dropped 19 in the Cleveland game, and Luol Deng scored a team-high 19 in the loss to New Orleans.
While none of these four players can put up 25 points a night like Rose, each guy can contribute when healthy.
As the season progresses, you will likely see role players like Nate Robinson, Taj Gibson and Marco Belinelli lead the team as well.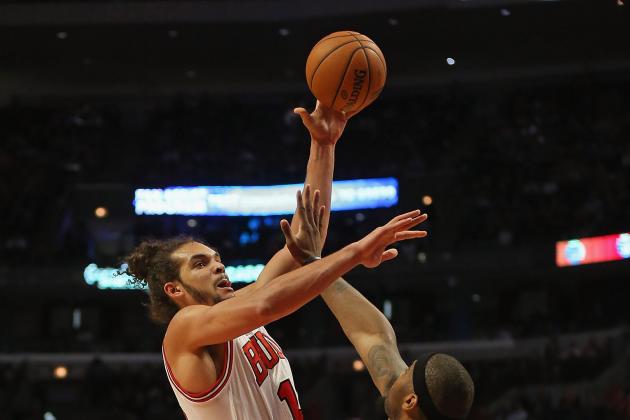 Jonathan Daniel/Getty Images

Bulls center Joakim Noah has never been an All-Star, but he sure looked like one on opening night.
Against the visiting Sacramento Kings, Noah put up 23 points, the most since his career-high 26, which he scored two years ago versus Boston.
Currently leading the Bulls in scoring with 14.7 points per game, the sixth-year big man has certainly improved in terms of offense.
Noah worked out with Hall of Famer Kareem Abdul-Jabbar during the offseason. Yes, the same Kareem Abdul-Jabbar who's the NBA's all-time leading scorer and arguably a top-five player in league history.
Spending time with Abdul-Jabbar has obviously paid off for Noah. It will be interesting to see if he can reach the 20-point mark several more times this season.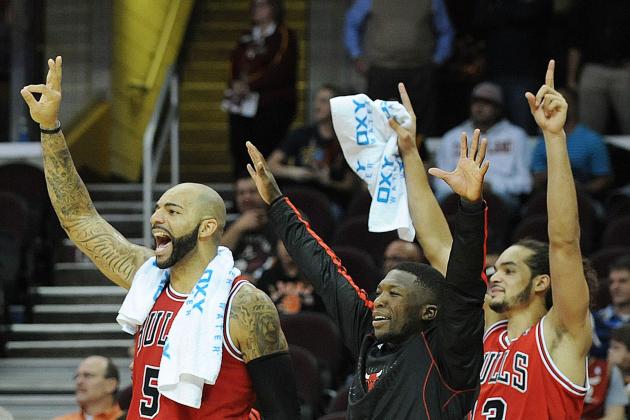 Eric P. Mull-US PRESSWIRE

The Bulls simply crushed the Cleveland Cavaliers in their second game of the season. Shooting nearly 64 percent from the field, Chicago beat their Central Division rival 115-86.
Outscoring the Cavaliers 32-16 in the first quarter, the Bulls pretty much dominated the game from start to finish.
Following the game, Cavs coach Byron Scott spoke about his team's blowout loss.
That's what you call a good, old-fashioned butt-whipping. I thought we were going through the motions. You can't play the Chicago Bulls going through the motions. They're just too good.
The Bulls' 29-point win over Cleveland was impressive. Sure, it wasn't against an elite ball club like the Miami Heat or Oklahoma City Thunder, but it was still a nice victory, especially since they did it without Derrick Rose.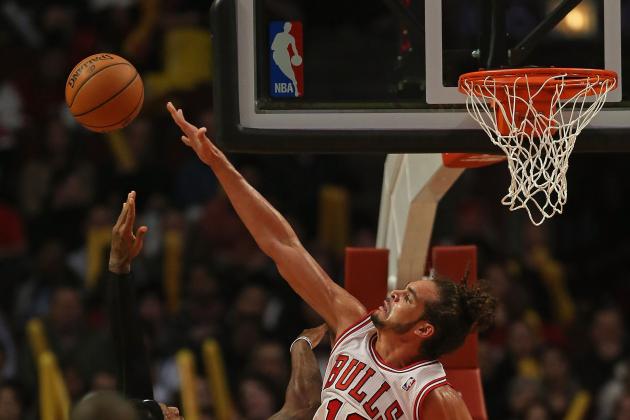 Jonathan Daniel/Getty Images

With coach Tom Thibodeau on the sidelines, the Bulls were one of the league's top defensive clubs the past two seasons.
Thibodeau's squad is playing stellar D this season as well, despite losing solid defenders Omer Asik and Ronnie Brewer in the offseason.
Chicago has held opponents to just 87.3 points per game and currently owns a defensive rating of 93.4. The team is also averaging 6.7 blocks, 8.7 steals and forcing 18.3 turnovers per contest.
Although the Bulls don't possess the personnel to lead the league in scoring, their play on the defensive end of the floor will keep them in games throughout the season.