Winter Classic Cancelled: NHL Fails to Follow NBA's Admirable Example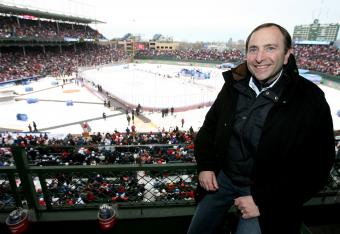 Tasos Katopodis/Getty Images
While not all hope is lost for a 2012-13 NHL season, the league will not be able to hit the ice nearly as smoothly from a PR perspective.
Seemingly snail-paced efforts to resolve the lockout have amounted to Friday's cancellation of the sixth annual Winter Classic, as announced by NHL.com.
That marquee midseason event could have easily been saved as recently as two weeks ago, if not even more recently. Now that it has been relinquished to the rapids, the NHL has officially failed to match the prudence of its primal wintertime fanfare competitor, the NBA.
Recall that around this time last year, David Stern's league was in its own labor stalemate and had already lost a portion of its 2011-12 campaign. Yet a collective urge to resume normal business on the court no later than Christmas, a day that reputedly marks the NBA season's true arrival on the national radar, effectively brought an end to the dispute and allowed a booming tipoff on the day in question.
Since at least 2007-08, both of the major winter sports circuits have fostered a habit of gripping the better part of their fanbase's attention within the first 10 days post-Solstice and not letting go until summer.
The NBA does it with a spicy sprinkling of nationally televised matchups complete with its most radiant individuals and teams on Christmas Day.
The NHL does it precisely one week later on New Year's Day by drawing in-person, NBC and CBC viewers to a unique display of world-class hockey played in genuine hockey weather.
Naturally, that is not the preferred way to actually start the season altogether for either league. Under normal circumstances, in a full-length 82-game campaign, the diehards come in October and November and are subsequently joined by the second and final wave once baseball and football are done or dying down and national TV turns to the NBA and NHL.
But in the face of a harrowing work stoppage, one should at least be sure that the landmark holiday showcase is there to lend an insurance shot in the PR arm. Under those circumstances, that showcase is a must in order to sweep away the shards of the recently-ended lockout as quickly and effectively as possible.
The NBA was sure of that last year. The NHL was not this year.
As a consequence, even if there is a season, the league will have to work longer and harder to redress any and all damages it continues to inflict on itself. The best-case scenario in that department may be to make more like the NBA on Christmas and piece together two or three big-name matchups to televise all day on New Year's.
Even in that event, no quantity of stimulating action is guaranteed to make up for the lost, one-game outdoor spectacle.
The NHL could try to go from noon to 9 p.m. with―for example―a tripleheader of Flyers-Penguins, Blackhawks-Red Wings and the new-look Minnesota Wild taking on the defending champion Los Angeles Kings. All of that still would most likely not be the same to some prospective fans as a Winter Classic.
Furthermore, whereas the NBA has Christmas all to itself, trading in the Winter Classic for a copycat marathon on New Year's would be problematic for the NHL. Whereas the Winter Classic has resisted the previously prognosticated futility of competing with college football bowl games, a series of successive games would be more likely to brook low ratings because of that competition.
It would be much better than nothing, but not nearly as effective as the original plan to pit the Red Wings and Maple Leafs at Michigan Stadium.
In most years, the NHL has a natural edge on the NBA in that it can catch more eyes with a temporary change of venue. But without that aspect of the Jan. 1 showcase, the leagues are deadlocked, at best, with their respective winter holiday television boosters.
With no Jan. 1 games altogether, the NHL will slip all the more. There will be no more days thereafter where the same dense aggregation of fans will be away from their normal routine and thus collectively inclined to tune in to any network TV matinees.
In turn, the late-April or early-May arrival of the Stanley Cup playoffs would be the last hope of stopping the bleeding and restoring vitality. But ideally, the postseason should be part of a follow-up that builds on a foundation laid no later than in December or January, just as it was for the NBA last year.
Simply put, the later, the worse, and there may already be some irreparable damage courtesy of a lack of a 2013 Winter Classic.
Or, at the very least, the NHL has officially lost something by blowing an opportunity to gain. And that is all the more mortifying when its 2012-13 saga is lined up with that of the 2011-12 NBA.
This article is
What is the duplicate article?
Why is this article offensive?
Where is this article plagiarized from?
Why is this article poorly edited?