New Mexico State vs. Auburn: Live Scores, Analysis and Results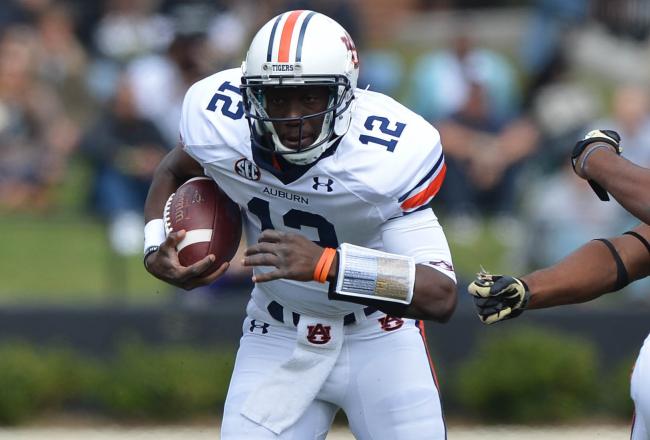 Don McPeak-US PRESSWIRE
Auburn got off to a slow start, but scored 35 points in the second half to defeat New Mexico State, 42-7 on Saturday. Auburn improved to 2-7 on the season.
Jonathan Wallace had a solid appearance in his first start as Auburn's QB.
Onterio McCalebb and Tre Mason combined for 265 yards and three TD's against the Aggie defense.
The Auburn defense had a shot at a shutout until midway through the third quarter. Daren Bates provided the defensive highlight of the game as he returned a fumble for a school-record 63 yard touchdown. Demetruce McNeal also played great on defense and special teams.
Auburn will be back in action next week against UGA in Jordan-Hare Stadium.
Thank you for joining us today as we provided live stats, analysis and results for Auburn's victory of New Mexico State. Make sure you join us next week as we provide live scores and analysis for "The Deep South's Oldest Rivalry," as Auburn and UGA renew their rivalry.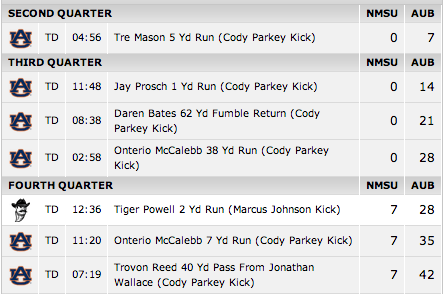 Here is the scoring summary from New Mexico State vs. Auburn (via ESPN.com)
Auburn fans agree.
Gene Chizik: "Great to get a win today. As simple as I can put it." #Auburn

— Aaron Brenner (@wareagleextra) November 3, 2012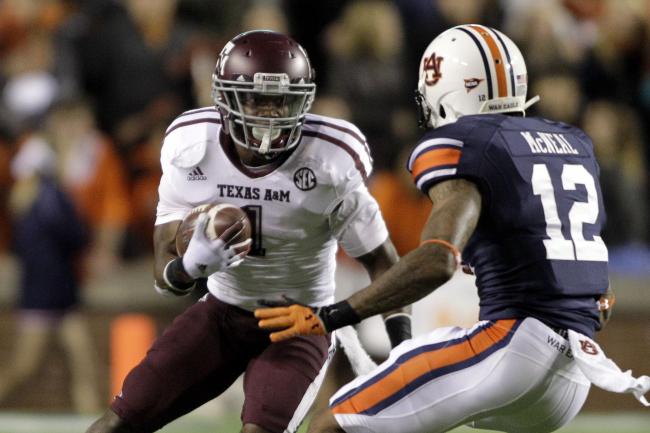 My defensive MVP is Demetruce McNeal. McNeal was all over the field today for the Auburn defense and special teams.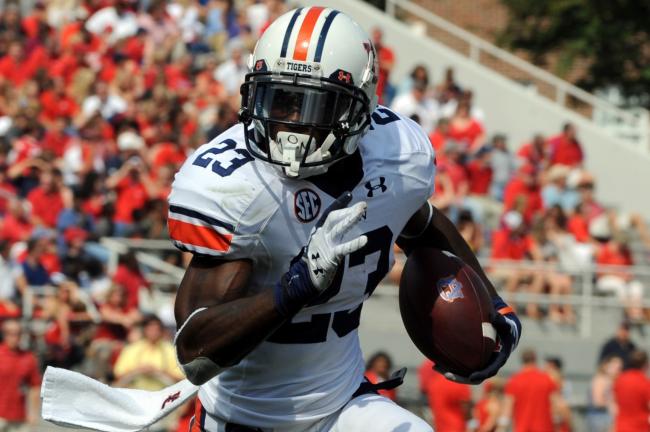 My offensive MVP today is Onterio McCalebb.
He was the man that got the heart pumping for the Auburn offense on the first drive of the third quarter. That was the beginning of the game getting away for New Mexico State.
Auburn stays at home to take on UGA next weekend. The game will be at night on ESPN2. I think it's safe to say that UGA is a little better than New Mexico State.
Auburn will need to play like it did against LSU earlier in the year.
UGA does run a pro-style offense that Auburn usually has success against, but it will take the best game Auburn has played all year to spring the upset against the likely SEC East champs.
Auburn players enjoying the sweet taste of victory.
From the media room, you can hear (inaudibly) #Auburn players chanting. Sounds like a joyful locker room.

— Ryan Wood (@AUBlog) November 3, 2012
The Auburn defense got off to a little slow start but had by far its best and most complete performance of the year.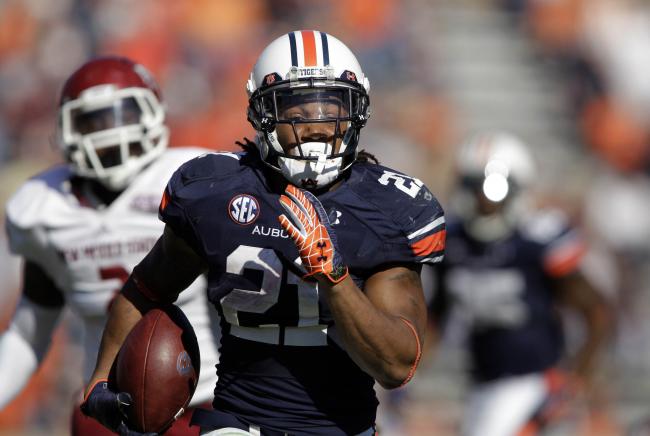 Tre Mason had 22 carries for 152 yards and one TD. He averaged 6.9 yards per carry. Onterio McCalebb rushed for 113 yards on eight carries and two TD's.
Wallace had some accuracy issues but not a bad day for the freshman.
Jonathan Wallace finishes 9-16 for 164 yards, TD and INT. Emory Blake finishes with four catches for 78 yards.

— Justin Hokanson (@JHokanson) November 3, 2012
Season highs for Auburn on offense.
Auburn's 459 yards is easily a season-high (previous 418). Ditto for the 42 points (31).

— John Zenor (@jzenor) November 3, 2012
It was against one of the worst teams in the WAC, but this is a big win for Auburn to build confidence and just to feel the hard work that these players put in year-round to pay off.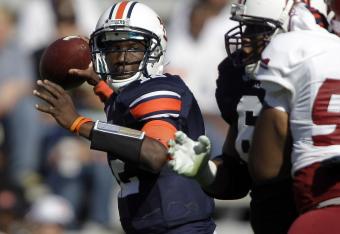 Auburn improves to 2-7 and NMSU falls to 1-8 on the season.
Final. NMSU – 7, Auburn — 42
So Auburn will have a little bit of confidence heading into UGA. Those rivalry games are definitely unique and anything can happen, but can Auburn shock the dawgs?
Does this make anyone feel better?
Texas A&M had 671 yards offense against Auburn last week, worst ever allowed by an AU defense. TAMU had 693 vs. Miss State today.

— Stephen Atkinson (@StephenAtk) November 3, 2012
I don't understand why Auburn coaches took Wallace out of the game. Frazier is supposedly injured and Wallace needs to get all the experience he can.
New Mexico State turnover. Auburn ball after a muffed punt.
Scoring usually helps.
Auburn will now win its 76th consecutive game when scoring more than 30 points. Last loss when scoring 30+ was to Georgia in 4 OTs in 1996

— Mike Szvetitz (@Szvetitz) November 3, 2012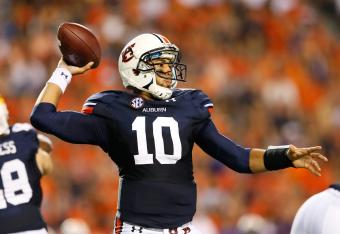 Regardless of the situation, Kiehl Frazier still can't find the accuracy even on simple throws.
And here is Corey Grant getting some touches as Auburn RB. Kiehl Frazier is also taking snaps in mop-up duty.
It is almost like the Auburn secondary doesn't want to get its second interception of the year. That was right in the numbers.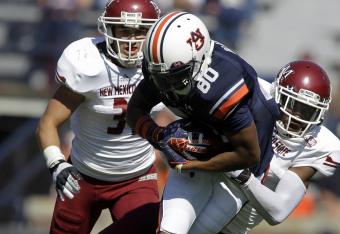 How much stock are you putting into this offensive performance, Auburn fans?
I am not putting much into it. The commitment to the running game is there but will Scot Loeffler revert back to his old ways next weekend against UGA?
Touchdown, Auburn. NMSU — 7, Auburn — 42. 4th quarter — 7:19
Trovon Reed and Jonathan Wallace connect for a long TD.
I agree with the commentators here. I'd like to see Wallace throw some more as well. I'd like to see him better with looking defenders off with his eyes.
This article is
What is the duplicate article?
Why is this article offensive?
Where is this article plagiarized from?
Why is this article poorly edited?

Auburn Football: Like this team?