Michigan vs. Minnesota: Live Scores, Analysis and Results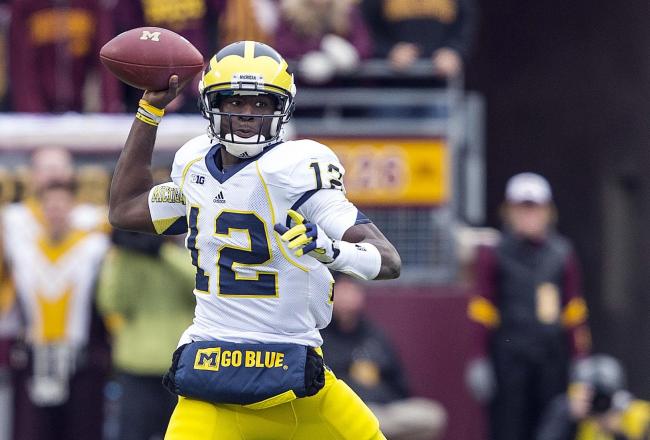 Michigan 35, Minnesota 13 -- final

Devin Gardner couldn't have performed better in relief of Denard Robinson.
Very few mistakes were complemented by accurate passing, strong rushing and overall great sense of the pocket and surroundings.
Michigan did what was expected today, but Gardner most definitely exceeded expectations.
Be sure to stick around for the latest updates, commentary and game-related content. And don't forgot to visit this blog shortly after the game. A link to a follow-up will be posted.
Thanks for joining me this week. See you next Saturday.
Follow Bleacher Report's Michigan Wolverines football writer Adam Biggers on Twitter @AdamBiggers81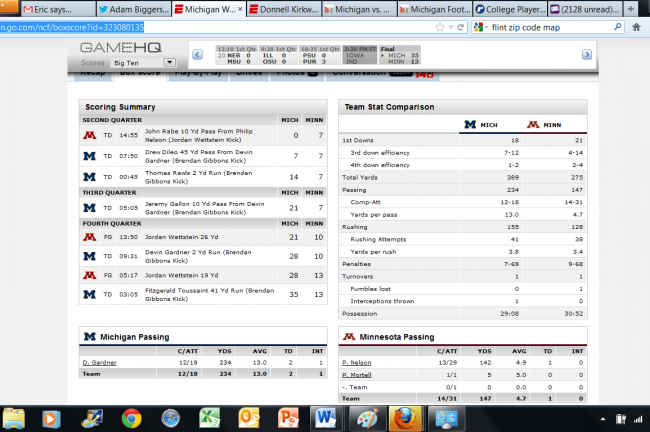 Box score courtesy of ESPN.com
No Bellomy?!
What does this say about Michigan's confidence in him? If anything?
Score update: Michigan 35, Minnesota 13
Fitz Toussaint needed that...
Great balance on that 41-yarder. Oh yeah, Toussaint needed that one.
Score update: Michigan 28, Minnesota 13
Michigan is lucky that the Gophers stumbled on that last drive. After three pass interference calls, it was all but expected that Minnesota would score a touchdown; it was given by Michigan.
This was gift wrapped by Michigan. If Minnesota doesn't score a touchdown... wait a minute.
JT Floyd has to be smarter than that. Gray is a big guy, but Floyd has to look back at the ball. He's had a problem doing that this year.
Minnesota's play calling borderlines desperation and insanity.
Score update: Michigan 28, Minnesota 10
Just like Denard Robinson, Devin Gardner takes a broken play and turns into a touchdown. What a stretch by Gardner after making something out of nothing.
We've officially had a Roy Roundtree sighting. Took long enough, but it was a nice 48-yard catch, nonetheless.
Minnesota averages two sacks per game, and already has three today. Gophers defense was a bit a of a surprise for me.
Score update: Michigan 21, Minnesota 10
Jordan Wettstein's field goal was the result of a busted drive by Minnesota.
This stop will be crucial for Michigan. Not that I have a ton of faith in Minnesota's offense from here on out, but I do think stopping the Gophers on this drive will basically win the game.
Jake Ryan read that play all the way -- Nelson had nowhere, and I mean nowhere, to go on that.
Marquise Gray is still at Minnesota?! How many years of eligibility does that guy have?! Seems like he's been there since about '04.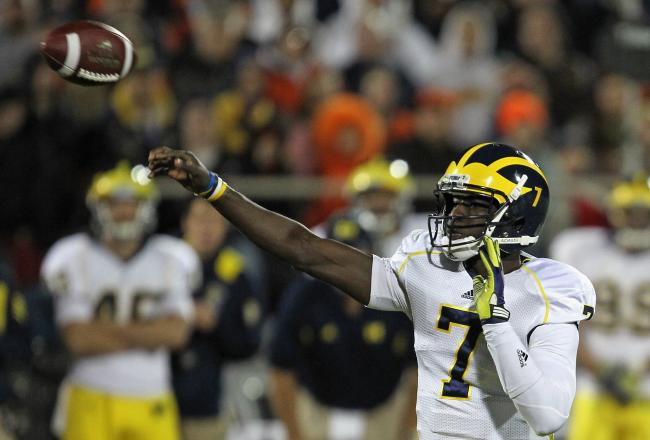 Score update: Michigan 21, Minnesota 7
Devin Gardner continues to drive Michigan down the field, capping a seven-play, 86-yard drive with a 10-yard touchdown pass to Jeremy Gallon, who nearly had to juggle the ball to retain possession before being pushed out of bounds in the far right corner of the end zone.
Like I said, Jeremy Gallon was due for another big play. This touchdown catch will be reviewed. Beautiful grab in the back right corner of the end zone, though.
Most definitely a catch.
Smart throw by Gardner. Throwing the ball away was the best option. Run Rawls.
Find me a linebacker in FBS this year not named Manti Te'o who is better than Jake Ryan... I don't think you can do it
#GoBlue
Can't say I disagree.
Not the smartest call right there, Minnesota. Take points. Take points. Take points. Way too early for a fake field goal, and to top it off, Minnesota was in good range for a kick. No need for that right now.
Huge stop of Donnell Kirkwood on that 3rd-and-1. Kirkwood hasn't been a factor today, and Michigan has to make sure Kirkwood continues to have no impact.
But giving Nelson a lane on 4th-and-1 was incredibly (fill in the blank)
Gardner has to throw that ball away or risk being pinned far back in his own territory prior to a punt... which just happened.
I've been impressed by Devin Gardner so far; he's completed 8-of-12 passes for 119 yards and a touchdown. Despite the one interception, he's been as close to perfect as hoped for, given the situation, of course.
In case you missed it, here's the latest on Michigan quarterback Denard Robinson.
I'd like to see Michigan get Devin Funchess involved in the game plan; he's been targeted twice, but Michigan should go to him at least three more times today.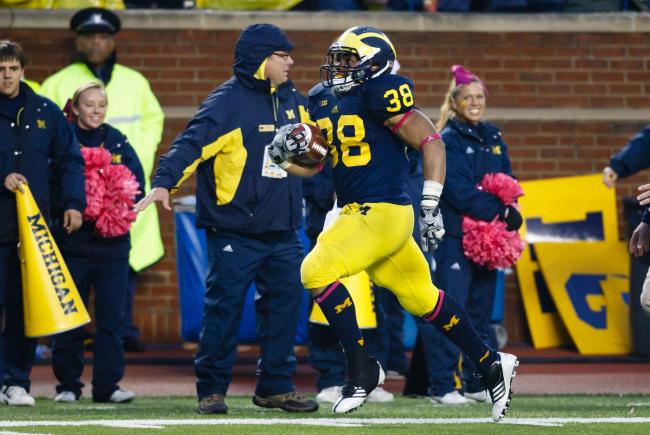 Michigan 14, Minnesota 7 -- halftime
Thomas Rawls' two-yard touchdown gives Michigan a 13-7 lead (Brendan Gibbons PAT).
Michigan's offense doesn't look too off-kilter, but it certainly misses Denard Robinson. Fortunately for the Wolverines, Devin Gardner has done a suitable job running the show; his 45-yard touchdown pass to Drew Dileo helped tie the game at 7-7.
This article is
What is the duplicate article?
Why is this article offensive?
Where is this article plagiarized from?
Why is this article poorly edited?

Michigan Wolverines Football: Like this team?