Missouri vs. Florida: Live Scores, Analysis and Results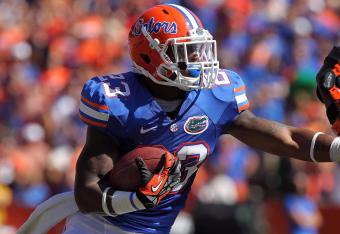 Final: Missouri 7 Florida 14
Missouri scored first but it was Florida who score the last 14 points of the game and survived in the Swamp.
Missouri got on the board in the second quarter on a Kendial Lawrence one-yard touchdown run. While Missouri moved the ball effectively throughout the game, they wouldn't put up any more points. James Franklin was playing at less than 100% and it showed in the way he threw the ball today. Franklin finished the game with four interceptions and missed on a handful of passes that could have gone for big gains and touchdowns.
Florida's offense struggled again and had to rely on their defense to pull this game out. Florida tied the game before halftime on an Omarius Hines 36-yard touchdown run from the wildcat formation. Jeff Driskel connected with Mike Gillislee on a 45-yard screen pass that would end up being the deciding touchdown in the game.
Despite driving into Florida territory six times in the second half, Missouri wasn't able to put any points on the board. Florida's defense stepped up in a big way against Missouri and are the reason Florida moved to 8-1 on the season.
The game marks the end of Florida's SEC schedule, they will finish 7-1 in the SEC and still have a chance to play for the SEC Championship. Florida's attention will turn to Georgia, who must win their next two games to clinch the SEC East.
Missouri will travel to Knoxville to take on the Vols next week.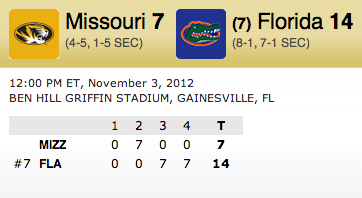 Here's the final box score for the game today. (h/t ESPN)
Thanks for everyone who followed the game with us here.
I'll stick around in the comments section to answer any questions.
Stay tuned for "Final Team Grades" and "10 Things We Learned" coming up shortly.
Here is a quick highlight video from the game today.
Final: Missouri 7 Florida 14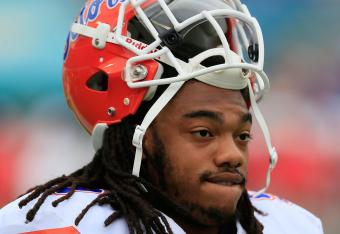 Franklin is picked off for the fourth time of the day this one by Josh Evans.
Florida will line up in victory formation and survive a scare from Missouri.
Franklin overthrows Washington in the endzone.
Washington was covered pretty well on the play and the pass would have had to be perfect.
Missouri is on the Gators' 25 with :26 seconds left.
This is what is great about college football.
Mizzou moves into Florida territory with :57 left in the game.
Josh Evans is down after the play. Evans was able to walk off the field on his own.
Franklin finds Washington for a 14 yard gain on third down.
Big first down pick up for the Tigers.
Missouri 7 Florida 14
Brad Phillips is on for the injured Caleb Sturgis and he misses badly right. That kick never had a chance.
Missouri has life.
Two runs from Jeff Driskel and Matt Jones have the Gators in position to put points on the board.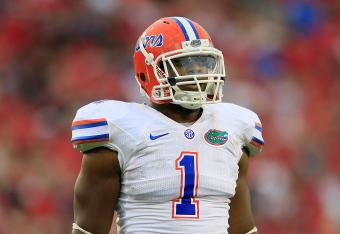 The answer is yes.
Jon Bostic picks off James Franklin and returns the ball into Mizzou territory.
Driskel throws a pass into tight coverage and the Gators will punt from deep in their own territory.
Missouri will have 4:30 to work with and all three timeouts. Florida's defense is being forced to carry the team today can they make another stop?
Losing Hunter Joyer and Mike Gillislee is just awful for Florida's running game.
Missouri's offensive line, which had played very well today, is starting to wear down late in the game.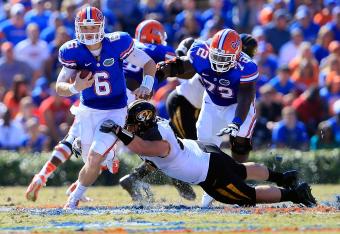 Florida's offense manages -2 yards on the drive so Missouri will start their next offensive series in positive field position.
Mizzou has had three consecutive drives into Florida territory and have yet to come away with points on any of those drives.
After an intentional grounding the Florida defensive line engulfs Franklin on third-and-long for the sack. Florida will start at their own 11 with 9:36 left in the game.
James Franklin has the Mizzou offense driving on Florida. Missouri is into Florida territory.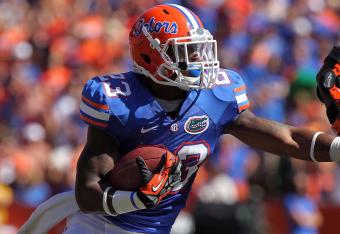 Missouri 7 Florida 14
Mike Gillislee makes up for the touchdown that was called back as he takes a screen pass over 40 yards in for the score.
Jeff Driskel hits Frankie Hammond for a huge touchdown off of play action but the play is called back for holding on Jon Halapio. Sheldon Richardson drew the holding.
He's making a big impact on the game today.
Matt Elam intercepts a ball that was badly overthrown by James Franklin.
Franklin has missed high a lot today and both interceptions came on passes he overthrew.
This is a big break for the Gators offense, can they capitalize?
Missouri is putting together some long drives. Florida's defense looks like they are starting to get tired out on the field.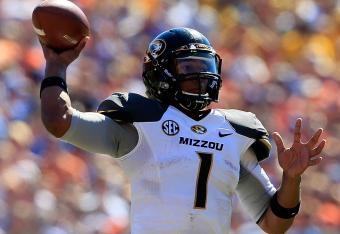 If James Franklin can have three throws back where he overthrew his receivers this game would look a lot different.
Will Muschamp must really trust his defense. Going for it on fourth down at your own 29 especially with how bad Florida's offensive line has played is a huge risk.
This article is
What is the duplicate article?
Why is this article offensive?
Where is this article plagiarized from?
Why is this article poorly edited?