Michigan vs. Minnesota: Postgame Grades from the Wolverines' Win vs. the Gophers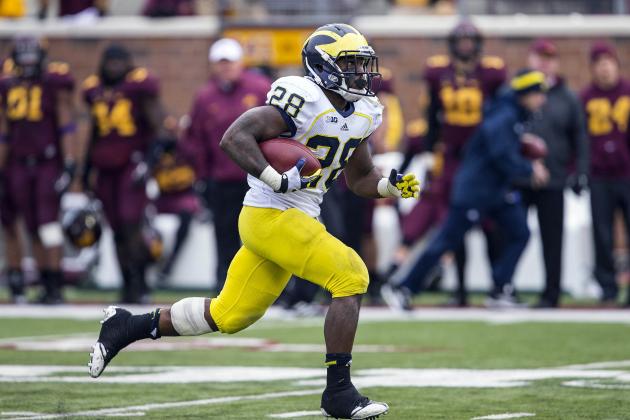 Jesse Johnson-US PRESSWIRE

The Minnesota Golden Gophers fought hard, but the Little Brown Jug will remain with the Wolverines after Michigan pulled out a dominant, 35-13 win at TCF Bank Stadium.
Starting quarterback Denard Robinson was ruled out just prior to today's game due to a nerve injury in his elbow. Instead, Devin Gardner took the reigns under center for the Wolverines. Michigan advances to 6-3 overall and 4-1 in the Big Ten. The Gophers, on the other hand, fall to 5-4 overall and 1-4 in conference play.
Scroll through the following slides for updated postgame grades and analysis of Michigan's road win.
Begin Slideshow

»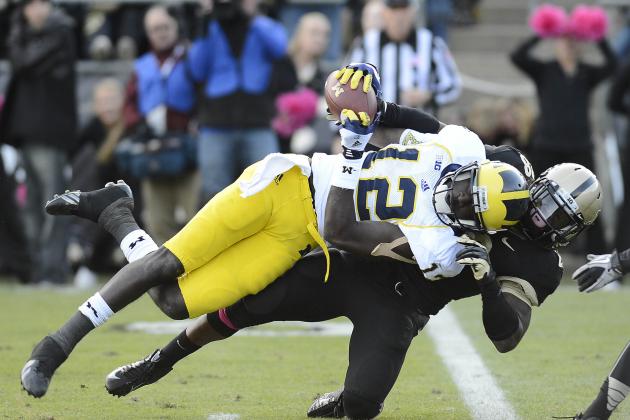 Mike DiNovo-US PRESSWIRE

Overall Game Grade: A-
Having Devin Gardner under center for today's game was an unexpected sight for many. After the first quarter, it seemed as though he wasn't prepared for it, either.
Brady Hoke announced that Gardner, who had been starting at wide receiver all season, would be replacing Robinson in the lineup just before kickoff. The Wolverines' offense mustered up a measly total of nine yards in the first quarter, highlighted by an interception on an ill-advised throw by Gardner on the second drive of the game.
It seemed as though Michigan's offense was in for another 60 minutes of ineffectiveness, but a 45-yard passing TD to Drew Dileo on 3rd-and-17 turned the Wolverines' fortunes around. Gardner, pressured like he had been all of the first quarter, used his scrambling abilities to extend the play and found a wide open Dileo waiting in the end zone.
From then on, Gardner was masterful. Yes, given his experience and the time he had to prepare, masterful is a suitable word to describe his play. Gardner's crisp downfield throws were on point much of the afternoon and three of them went for 45 yards or more. In turn, that opened some breathing room for the running backs and Fitzgerald Toussaint finally broke through in the fourth quarter for a 41-yard scamper into the end zone.
For the game, Gardner finished 12-for-18 through the air with 234 yards, two touchdowns and one interception. He also picked up 21 yards and a score on the ground.
Most, including myself, figured Michigan would need a huge day from its defense if Robinson couldn't go. While that looked to be the case early, it was far from it as the game carried on. It was a refreshing performance for the Maize and Blue after failing to put up a touchdown in the two games leading up to this weekend.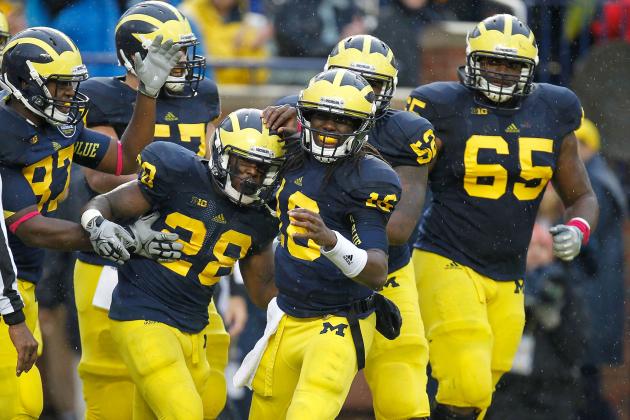 Gregory Shamus/Getty Images

Overall Game Grade: B
Before Toussaint's big TD, there wasn't a ton of room to run for any Michigan ball-carriers. Nonetheless, Toussaint and sophomore Thomas Rawls kept a nice, low pad level and consistently pounded out small gains that could've easily went for a loss.
Toussaint, Rawls and Gardner each found the end zone on the ground. By no means does Rawls' 2.7 yards per carry do him justice on this day. A surprisingly tough Gophers' defense was relentless in pursuit, and Michigan's offensive line struggled to open up holes big enough for anyone to get through.
That, of course, has been the story much of the year. Had Gardner and the passing game not been so effective, the lack of ability to get big gains on the ground would've stuck out like a sore thumb. But it was clear Minnesota was intent on pressuring the QB and stopping the run. Gardner's big throws (and big catches as well) made them pay dearly for their defensive approach.
Altogether, Wolverines' ball-carriers totaled 155 yards on 41 carries, good for 3.8 yards per attempt. Punching it across the goal line three times was key in giving this unit the overall grade they received.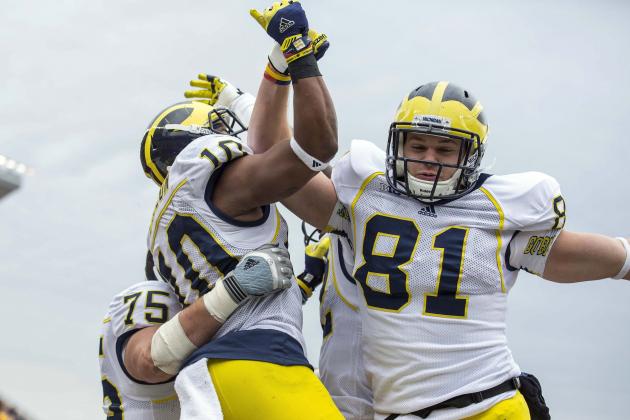 Jesse Johnson-US PRESSWIRE

Overall Game Grade: A-
What a turnaround for this unit.
Several dropped passes crippled Michigan's offense in the loss to Nebraska, but that wasn't the case today. 5'8" Jeremy Gallon's leaping TD catch in the corner of the end zone was a thing of beauty. He leaped over the defender, grabbed the ball at its highest point and avoided an attempt to dislodge the ball to secure possession. This came just after a 47-yard catch by none other than Gallon put the Wolverines inside the 20-yard line.
Dileo's TD wasn't a difficult grab, as he was wide open. But that wasn't the case when he hauled in a tough pass over the middle late in the game. Roy Roundtree snagged a deep ball just shy of the goal line as well, seemingly making up for the one that officials ruled a drop in the Nebraska game.
Gallon, Dileo and Roundtree accounted for over 60 receiving yards apiece and together combined for 10 receptions. The only other receiver to haul in a pass was sophomore Jerald Robinson, which went for 22 yards.
Gardner was magnificent in this game, but it wouldn't have turned out so well if not for some clutch grabs from his receivers. If my memory serves me right, Gallon had the only drop of the day.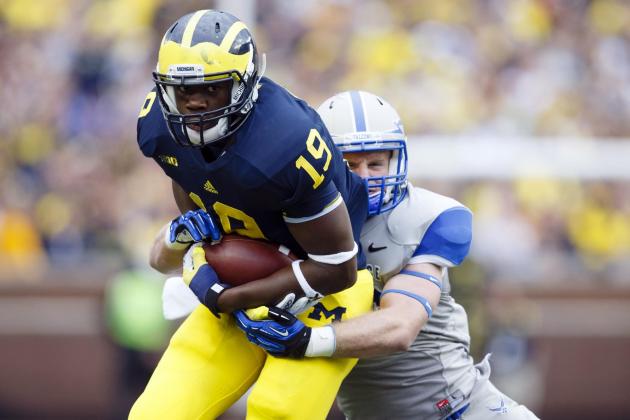 Rick Osentoski-US PRESSWIRE

Overall Game Grade: C
It was another quiet day for Michigan's tight ends. Realistically, it's tough to even grade them at all. The only catch from the position came from true freshman Devin Funchess, which went for seven yards. Much like the offensive line, there were struggles with blocking in the run game. But the production on that front seemed to improve later in the game.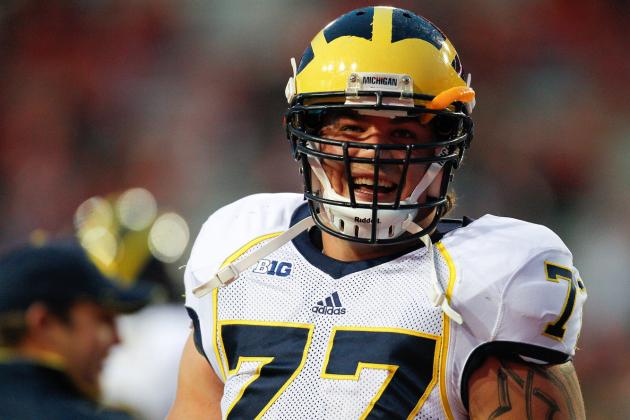 Bruce Thorson-US PRESSWIRE

Overall Game Grade: C-
Elliot Mealer and Ricky Barnum struggled mightily to start the game, as Minnesota brought pressure from up the middle relentlessly in an effort to disrupt Michigan's inexperienced quarterback. The entire offensive line failed to open up holes for running backs as well.
Once the big plays started rolling in, everybody began playing better. But without Gardner's scrambling abilities, it could've been a long, tiresome day for he and the rest of the offense. Gardner was sacked three times, though one was a result of him failing to throw the ball away when he should've.
It wasn't an atrocious performance, but Michigan's O-line isn't proving to be as effective as it should, especially against a defense that wasn't all that great coming into this game. It was encouraging to see few complications in terms of penalties and chemistry with Gardner being in the game, but it's hard to be a dominant running team when you can't control the line of scrimmage.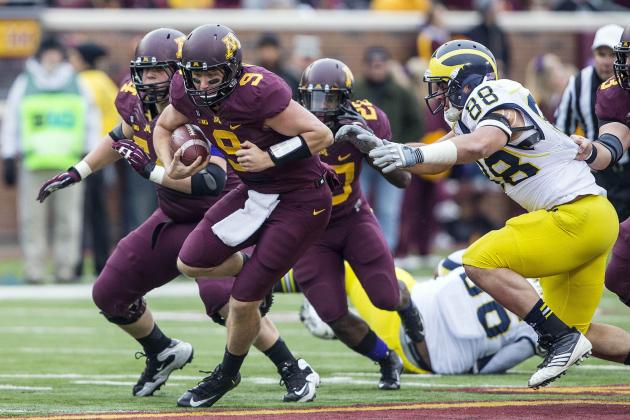 Jesse Johnson-US PRESSWIRE

Overall Game Grade: B+
Despite being given a short field to work with numerous times in the first half, Minnesota failed to move the ball efficiently against a Wolverines' defense that clearly rose to the occasion in the absence of its starting QB.
For the most part, Michigan was stout up the middle. Head coach Jerry Kill and the Gophers seemed intent on a conservative approach early on, calling several QB draws and attempting to chip away on intermediate routes.
When they did test the Wolverines' secondary, there was little room for receivers to roam. Credit that to solid pressure from the defensive line and a monstrous first-quarter hit from safety Jordan Kovacs on a backside blitz. That blast, which cause a fumble (though it was recovered by the offense), had to rattle Minnesota's freshman QB.
Quinton Washington, all 300 pounds of him, was a force in the middle. The Gophers couldn't get anything going in the run game until it was too late. Craig Roh and Brennen Beyer had solid performances, though it did look like Beyer suffered some sort of a stinger in the second half.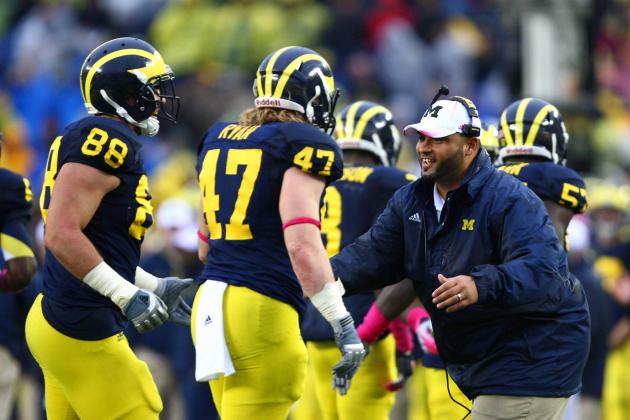 US PRESSWIRE

Overall Game Grade: A
Michigan's corps of linebackers continues to be a dominating force in Big Ten play.
Led by Jake Ryan, this unit stepped up all game. Minnesota found itself in prime position to put points on the board time and time again. Thanks to a high level of discipline and relentless pursuit, the Gophers never reached the end zone after the first quarter.
Pass breakups near the goal line, key stops on third downs, these guys did it all. Ryan was unblockable at times, which is nothing new. He sniffed out numerous plays headed for the sideline, including a reverse, and kept the Gophers from gaining chunks of yards and sneaking back into the ball game.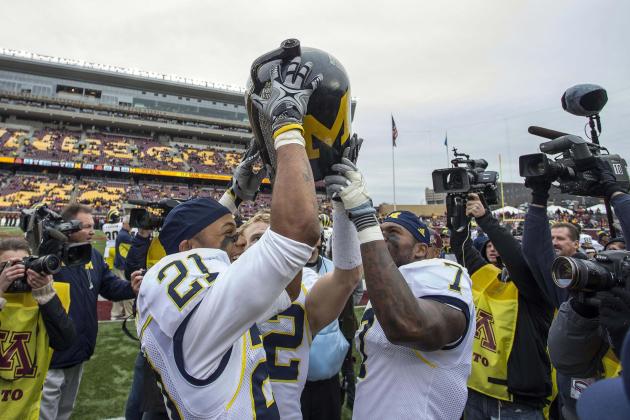 Jesse Johnson-US PRESSWIRE

Overall Game Grade: A-
I was initially intending on dishing out a lower grade for Michigan's defensive backs, but only because of three consecutive pass interference calls in the final quarter. One, however, was a debatable call (one I wouldn't have made) and the other was called on Ryan just three yards past the line of scrimmage.
Cornerback J.T. Floyd batted down multiple pass attempts that likely would've ended up being first downs. Raymon Taylor helped keep the Gophers out of it late with a pass breakup followed by a key stop in run defense. Courtney Avery made a nice play late in the game as well.
Perhaps the MVP of this unit, though, should be Kovacs. He destroyed Minnesota QB Phillip Nelson early in the game on the previously mentioned safety blitz, and put several other good licks on Minnesota ball-carriers throughout the game.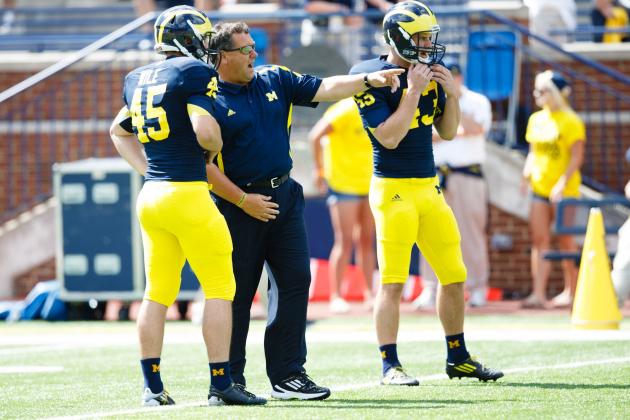 Rick Osentoski-US PRESSWIRE

Overall Game Grade: D-
The special teams' unit was by far Michigan's worst group on Saturday, starting with punter Will Hagerup. Compounding the offense's early troubles, the Wolverines' punter flubbed all three of his punts, averaging an abysmal 29.3 yards combined.
Two penalties cost the Wolverines on kick returns as well, forcing Gardner and the offense to dig themselves out of consistently crappy field position. Against a tougher opponent, this would've hampered Michigan much more than it did.
Even kicker Brendan Gibbons had his struggles, who didn't attempt a field goal but missed an extra point attempt in the fourth quarter. Luckily for him, a Minnesota defender was offside and he was granted another try.
Nevertheless, an all around day to forget for Michigan's special teams.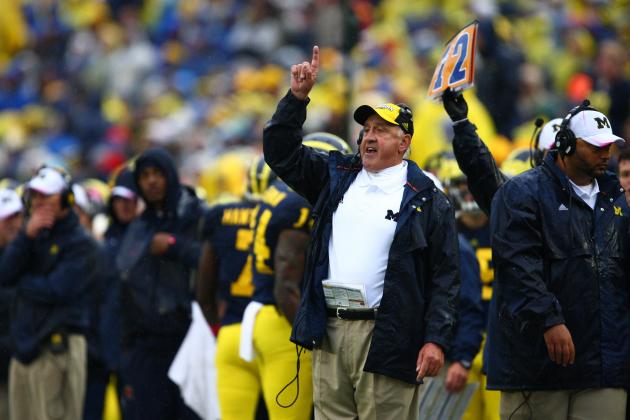 US PRESSWIRE

Overall Game Grade: A-
Credit Brady Hoke and offensive coordinator Al Borges for trusting Gardner to wing the ball down the field without fear. After the first-quarter interception, this seemed like a terrible idea, but it proved to be a crucial factor in breaking the game open.
As you can tell by Michigan's 41 carries, though, Borges was adamant about establishing a run game. While it wasn't as effective as some expected, it visibly wore down Minnesota's defense late in the game.
Defensively, Greg Mattison was on his game, as usual. Michigan's defense fought through bad field position all game. Holding the Gophers to 13 points is a miraculous feat, given the circumstances.
No matter the opponent, coming away with a road win against a Big Ten foe is a difficult chore. Credit the coaching staff and the players for not only keeping the Little Brown Jug in Ann Arbor, but allowing the Wolverines to remain in the hunt for a Big Ten title as well.