Miami Dolphins vs. Indianapolis Colts: Live Score, Highlights and Analysis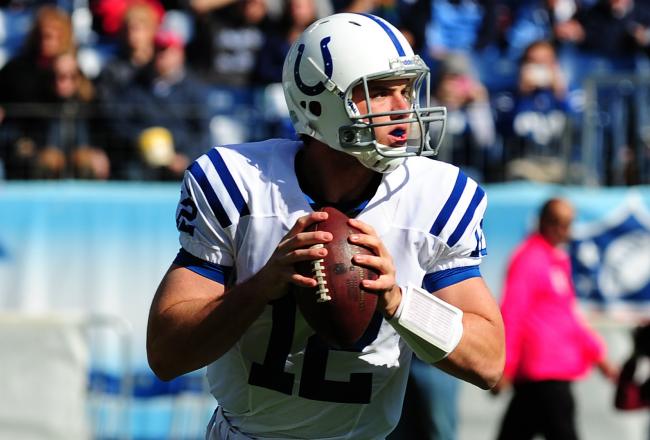 Scott Cunningham/Getty Images
Andrew Luck.
Wow.
Just wow.
Any doubt that Luck wouldn't live up to the hype was squashed today. He broke Cam Newton's record for most passing yards in a game by a rookie quarterback by slicing up the Dolphins secondary with 433 passing yards.
Luck was virtually perfect and he simply outsmarted and outmaneuvered Miami's secondary and front seven.
The other rookie QB wasn't too shabby, either.
Despite playing on a hobbled left knee, Ryan Tannehill threw for 290 yards and posted a 90.9 quarterback rating. However, the Dolphins offensive line failed Tannehill, surrendering at least six quarterback hits, a few of which could've easily sent him to the hospital.
With today's victory, the Colts improve to 5-3 and further cement themselves as a legitimate Wild Card contender. The Dolphins, meanwhile, fall to 4-4 but have an easy schedule ahead of them, so their playoff dreams are far from obsolete.
Dolphins 20 - Colts 23
Final box score: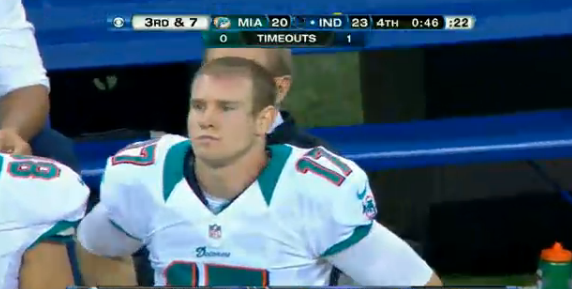 Ryan Tannehill struggleface
Incredible performance from both rookies. We'll be seeing these two go at it aplenty in the future: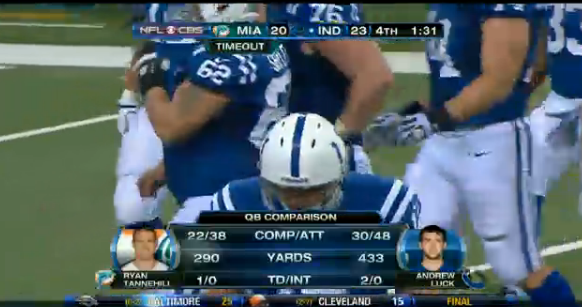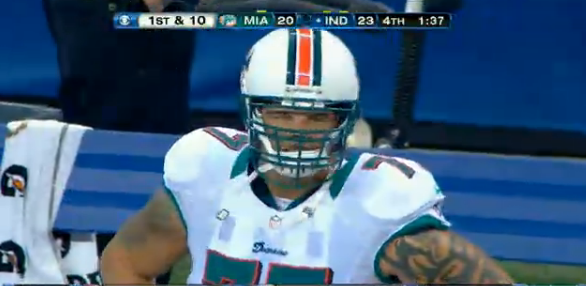 Jake Long struggleface
And that's all she wrote.
Ryan Tannehill connects with Daniel Thomas shy of the first-down marker and Jake Long is flagged for holding.
It's a turnover on downs and the Colts pick up their fifth win of the season while the Dolphins fall to 4-4.
Dolphins use their second timeout with 1:48...this suspense is killing me.
4th-and-15 coming up.
Here's the game.
Dan Carpenter's career-long is 60 yards. The Dolphins won't hesitate to let him attempt a similar-distance try, especially because the roof is closed at Lucas OIl Stadium: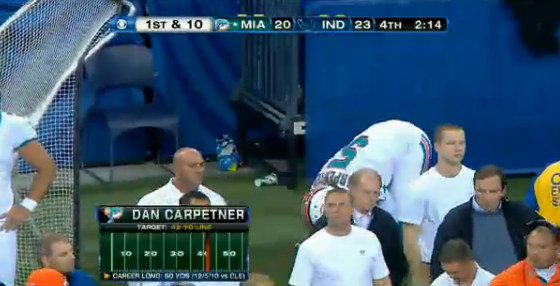 4Q - 2:00
Ryan Tannehill has the Dolphins cruising downfield.
At the two-minute warning, Miami is at midfield thanks to an 18-yard grab by Jabar Gaffney.
Sean Smith could've made up for his miserable day with this interception but he couldn't hold on. Dolphins take over at their own 17 yard-line with 2:39 to go: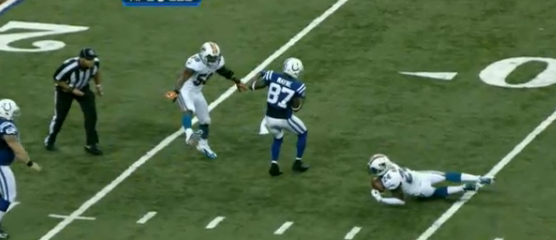 The Dolphins use their first timeout with 3:45 remaining.
Bad, bad series from the #Dolphins. Had 2nd and 1, went false start, incomplete, incomplete. Forced to punt with 4 minutes left

— Ben Volin (@BenVolinPBP) November 4, 2012
Arians' conversation with the ref is once again piped into the pressbox. "WHAT THE F*** ARE YOU DOING???" Hahahaha

— Ben Volin (@BenVolinPBP) November 4, 2012
Dolphins need to take advantage of this attrition:
#colts jerraud powers questionable with toe injury. cassius vaughn at right corner, darius butler at left corner

— Mike Chappell (@mchappell51) November 4, 2012
I've never seen a rookie quarterback who is this impervious to pressure in the pocket. It's gonna be a fun ride with Andrew Luck.

— BobKravitz (@bkravitz) November 4, 2012
4Q - 4:58
FIELD GOAL COLTS
Adam Vinatieri hits his third field goal of the afternoon, this one from 43-yards out.
The Colts retake the lead, but Ryan Tannehill now has a chance to upstage the quarterback who has been stealing the spotlight all year long.
Dolphins 20 - Colts 23
Andrew Luck hits Dwayne Allen for a two-yard connection, which breaks the record for most passing yards in a game by a rookie.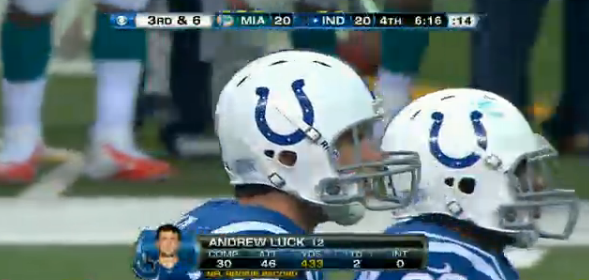 Luck is amazing.
Luck now has 431 passing yards. He's going to break Cam Newton's record for most passing yards in a game by a rookie.
The question now is whether or not Luck will eclipse 500 yards.
The Dolphins came into today's game as the NFL's BEST 3rd down defense. Andrew Luck has picked them apart.

— Omar Kelly (@OmarKelly) November 4, 2012
Sean Smith tried to arm tackle Dwayne Allen on that third-down. Miserable performance from Smith today: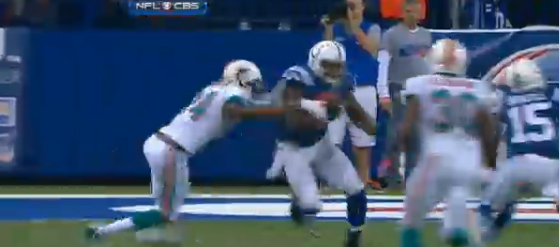 Colts are literally unstoppable on third down. Now 11-of-15.
#Dolphins keep rushing 3 and dropping 8, giving Luck all day to throw. Just picked up a third and 11 conversion

— Ben Volin (@BenVolinPBP) November 4, 2012
Injuries piling up for both teams.
Paul Soliai back in the game for the Dolphins, though.
#colts RT winston justice questionable with knee. replaced by bradley sowell.

— Mike Chappell (@mchappell51) November 4, 2012
4Q - 13:17
FIELD GOAL DOLPHINS
A promising Dolphins drive stalls inside of the 15 yard-line after a drop by Jabar Gaffney and an incompletion to Daniel Thomas.
Dan Carpenter converts from 31-yards out, tying the game up at 20.
Dolphins 20 - Colts 20
This article is
What is the duplicate article?
Why is this article offensive?
Where is this article plagiarized from?
Why is this article poorly edited?