UFC 154: Georges St-Pierre vs. Carlos Condit by the Numbers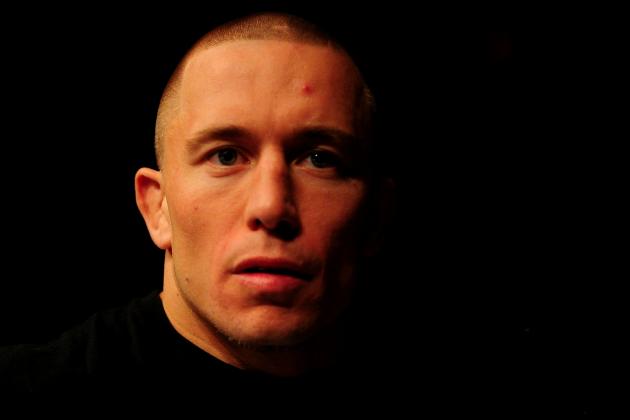 Mark J. Rebilas-US PRESSWIRE

It's been a long time since we have seen Georges St-Pierre compete inside the Octagon, but the wait is almost over as the UFC welterweight champion will meet interim welterweight champion Carlos Condit in a title unification bout on November 17.
The fight between the top-two 170 pounders in the UFC will be the headlining bout of UFC 154, a card that will take place in Montreal, Quebec, Canada.
Not that you need anything to get you pumped for the upcoming bout, but just in case your looking for some light reading heading into the bout, here are some numbers for you to mull over prior to the St-Pierre versus Condit bout.
Begin Slideshow

»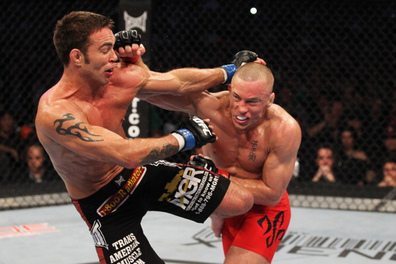 Al Bello/Zuffa LLC/Zuffa LLC via Getty Images
When GSP steps foot in the Octagon on November 17, it will be the first time he has done so since defeating Jake Shields on April 30, 2011, more than 18 months ago. Since making his professional debut in 2002, he has never experienced a layoff of that length between bouts.

Normally this would be an area of concern, but we are talking about GSP here, a fighter that isn't afraid to focus on his weaknesses and turn them into his strengths. Knowing the work ethic that St-Pierre possesses, no one should be surprised if he shows no hint of ring rust once the bell rings to begin his bout against Condit.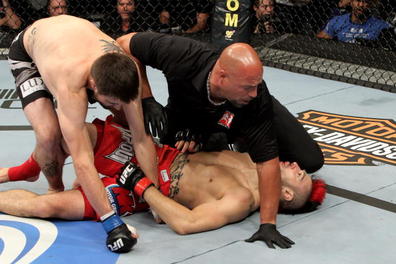 Josh Hedges/Zuffa LLC UFC via Getty Images
Looking at the fights the two competitors in UFC 154's main event have finished, you will find the number 13 is very prominent.
Condit has 13 knockouts, as well as 13 submissions during his professional career, while GSP has a total of 13 finishes (eight knockouts and five submissions).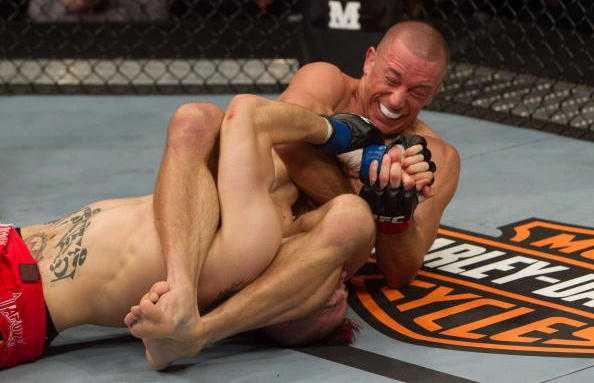 Josh Hedges/Zuffa LLC UFC via Getty Images
GSP has not finished a fight via submission since earning Submission of the Night honors at UFC 79, when he earned the verbal submission from Matt Hughes. That victory was almost five years ago.

Despite the fact that he has developed a reputation as a "safe" fighter, St-Pierre is ranked fifth all-time in submission attempts in the UFC with 22. He hasn't attempted any submissions since he ran up six when he faced Dan Hardy in March 2010, but he has said he wants to finish fights going forward, so he may look to add to his number of submission attempts when he faces Condit.

One additional attempt will tie him with Hermes Franca for No. 4 on the all-time submission attempt list, while two will tie him with Joe Stevenson. If St-Pierre wants to tie with Jim Miller, who is No. 2 all-time, he's going to need five submission attempts. If he wants to get the top spot, St-Pierre is going to have to go pretty wild, as Chris Lytle sits in the top spot with 31 submission attempts.
Marc Lecureuil via Getty Images
In addition to being active with his submission attempts, GSP is not shy with his strikes. Throughout his UFC career, he has racked up an impressive number of significant strikes landed, 977 to be exact—a UFC record.
St-Pierre's nearest competitor in the significant strikes landed department is Rich Franklin, who has landed 844, a full 133 fewer than St-Pierre.
If past bouts are any indication, St-Pierre will easily break 1,000 significant strikes landed when he faces Condit at UFC 154. In his last five fights, the lowest number of significant strikes St-Pierre landed was 59.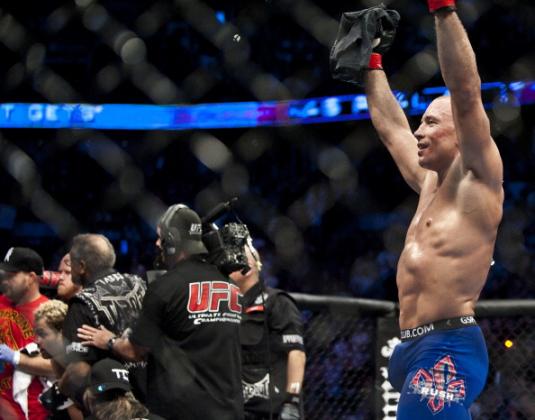 ROGERIO BARBOSA/AFP/Getty Images
The last time the UFC was in Canada, UFC president Dana White ran down a list of the UFC's top pay-per-view draws, GSP was one of the names on that list.
In total, St-Pierre has headlined eight UFC PPV cards. The total buys on those events, according to MMAPayout.com's MMA Blue Book is 5.345 million.
The last time St-Pierre fought in Montreal was UFC 124, that card drew 800,000 buys. If one is to listen to St-Pierre's trainer Firas Zahabi, UFC 154 could not only top that number, but it could be a record breaker. Zahabi told MMAJunkie.com, "I think he'll break a record when he comes back...I think GSP fans are going to be interested in watching him make his return and see how the story turns out."
The current UFC PPV buy record is held by the Brock Lesnar vs. Frank Mir headlined UFC 100, which had 1.6 million buys.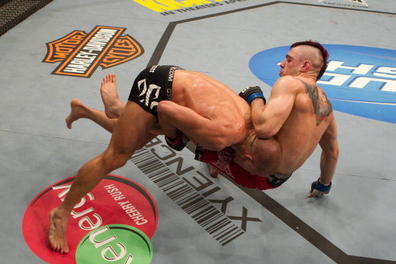 Josh Hedges/Zuffa LLC UFC via Getty Images
This is where GSP will have his biggest advantage over Condit. Condit's takedown defense comes in at 58 percent, and when his opponents have been aggressive in their takedown attempts, they have succeeded. The most recent examples of this fact were Martin Kampmann (5 for 5), Jake Ellenberger (3 for 4) and Rory MacDonald (3 for 8). Look for St-Pierre, who has the highest takedown accuracy in UFC history at 77.3 percent as well as the most takedowns in UFC history with 68, to be very aggressive in his takedown attempts.
If, for whatever reason, Condit thinks he can surprise St-Pierre with some takedown attempts of his own, he should think again. St-Pierre has the third best takedown defense in UFC history, thwarting 88 percent of his opponents attempted takedowns.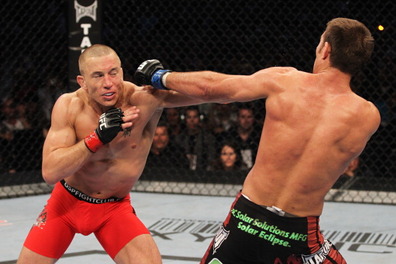 Al Bello/Zuffa LLC UFC via Getty Images
We know that Condit is no slouch in the striking department, but GSP has been the more active striker in most of his UFC bouts, while also being pretty good at avoiding the striking attempts (only counting significant strikes) of his opponents.
In fact, if you look at St-Pierre's past history, he has only been outstruck once in his UFC career, when Matt Serra landed 20 strikes to St-Pierre's six when Serra took the UFC welterweight crown from him on April 7, 2007.
Other than the Serra fight, Shields came closest to outstriking St-Pierre at UFC 129, landing 78 strikes to the champion's 85.

All of the above puts St-Pierre in the top seven in two important defensive categories. In strikes absorbed per minute, he has the seventh lowest total in UFC history, averaging 1.21 per minute. While in significant strike defense, he sits second all time, avoiding 75.6 percent of his opponents attempts.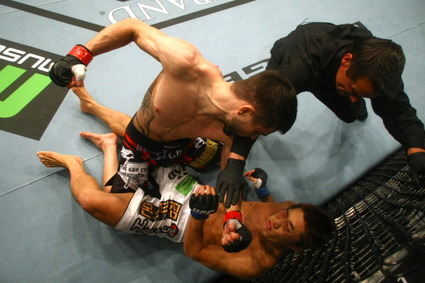 Donald Miralle/Zuffa LLC UFC via Getty Images
Condit has 33 professional bouts to his name, putting together a record of 28-5. Of those 33 fights, a grand total of four have gone the distance, the most recent being the 5-Round unanimous decision win he took over Nick Diaz at UFC 143. Putting that as a percentage, 88 percent of Condit's fights have failed to go the distance. In victory, he has finished 93 percent of his opponents, numbers that any fighter would be more than happy to display.

As for GSP, he hasn't finished a fight since January 2009 when B.J. Penn's corner threw in the towel between Rounds 4 and 5 of their title bout at UFC 94. As far as finishing fights outside of the championship rounds, St-Pierre hasn't done that since stopping Serra in the second round of UFC 83 back in April 2008.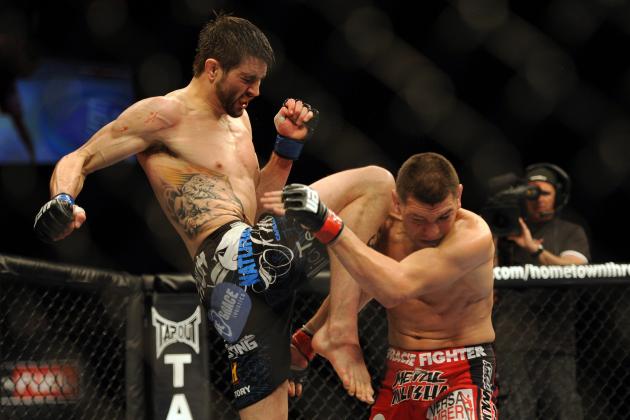 Kelvin Kuo-US PRESSWIRE

Between them, GSP and Condit have fought in a total of 57 professional bouts. Of those 57 fights, St-Pierre and Condit have won 50 of them.
The last time Condit tasted defeat was April 2009, when he dropped a split decision to Kampmann in his UFC debut. As for St-Pierre, his last loss was when he was upset by Serra in April 2007.
Since that defeat, St-Pierre has run off nine-straight wins, while Condit is on a five-fight winning streak.
If you are looking at past history to tell you who will win the UFC welterweight title unification bout at UFC 154, I'm sorry to tell you that you're out of luck.
In interim title bouts, the standing champion has won two, while the interim champ has also won two.
Lesnar defeated two interim champions during his heavyweight title run, besting Mir at UFC 100 and Shane Carwin at UFC 116.
As for the two interim champions to win unification bouts, St-Pierre defeated Serra at UFC 83 and Randy Couture took the light heavyweight crown from Tito Ortiz at UFC 44.
If you want to take something away from the four unification bouts, you can take this with you, only one went the distance, the Couture versus Ortiz bout.
**Thanks to Fightmetric.com for many numbers and statistics in this slideshow.