Pittsburgh vs. Notre Dame: Live Score, Analysis and Results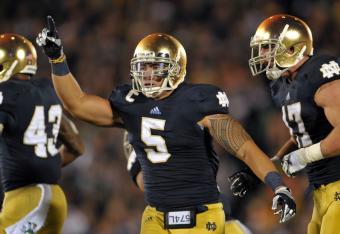 FINAL—3OT: Notre Dame 29, Pitt 26
In one of the wackiest, most suspenseful college football games of the 2012 season, Notre Dame overcame a 14-point deficit to defeat Pittsburgh 29-26.
There were several moments where the Fighting Irish appeared dead in the water, but some strokes of good luck—and some help from the officials—allowed Notre Dame to escape with a thrilling victory and remain undefeated at 9-0.
On fourth down and Notre Dame trailing by 14 in the fourth quarter, quarterback Everett Golson threw it up to tight end Tyler Eifert, and a controversial pass interference call kept the drive alive. On the very next play, the Irish punched it in, and just like that, there was new life for Notre Dame.
Eventually, the Irish would tie the game and go on to win in overtime, but there were plenty of close calls and heart-stopping moments that will help this game go down as a classic.
As promised, here are 10 things we learned from today's instant classic. I hope you enjoyed following along during the game!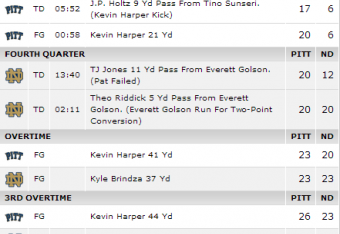 Here is how each team scored in the second half and overtime of today's ballgame.
IT'S OVER! GOLSON KEEPS IT FOR THE SCORE! Notre Dame steals victory from the jaws of defeat and avoids the big-time upset to stay undefeated. Whew.
Notre Dame 29, Pitt 26, FINAL—3 OT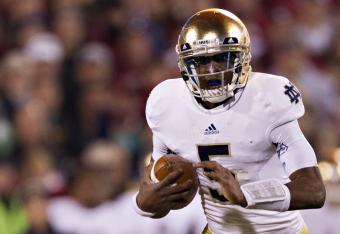 Notre Dame is inches away from ending this ball game. Golson runs it inside the 1-yard line. What a thriller.
THE FIELD GOAL IS GOOD! Harper drills a 44-yard field goal, and he is probably wondering where that was in the second overtime. Pitt retakes the lead...again.
Pitt 26, Notre Dame 23, 3OT
Pitt starts with the ball for the third overtime period. If this game never ended, I think I would be okay with that.
Unbelievable! Kevin Harper pushes a 33-yard attempt wide right! A third overtime is upcoming!
WOW! IT'S A FUMBLE BY CIERRE WOOD! Was he in the end zone? Replay shows...NO! It's a touchback, and now all Pitt needs is a field goal to win it.
I'm sure no one needs reminding, but that 4-OT game was a field-goal fest in overtime.

— Sam Werner (@SWernerPG) November 3, 2012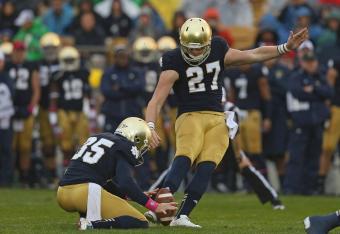 Brindza's kick is up...and it sneaks inside the left upright! Notre Dame ties it back up, and we're heading into the second overtime period.
Notre Dame 23, Pitt 23, Second Overtime
The 41-yard field goal attempt for the Panthers...IS GOOD! Pitt goes ahead by three, but Notre Dame gets a shot to win it here.
Pitt 23, Notre Dame 20, First Overtime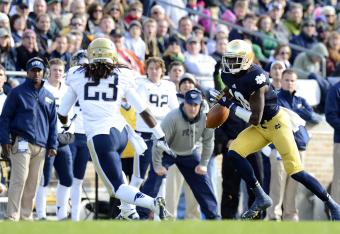 Are we heading to another four-overtime thriller?
Overtime. Gotta love college football.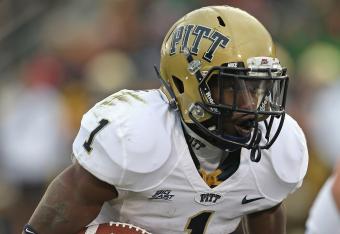 Eifert falls down on his route, Notre Dame punts and Pitt takes over at its own 25-yard line with :58 seconds remaining. Here we go.
Notre Dame facing a 3rd & 8. Will it be conservative or take a chance?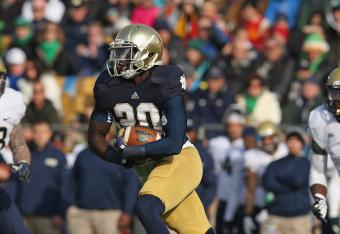 This Notre Dame crowd is electric. Pitt fails to convert on 3rd & 18, Notre Dame uses its final timeout with 1:44 remaining. The Irish are going to have a chance to win this thing in regulation!
A lot of #Pitt fans criticize Sunseri because he hasn't led the team on a game-winning drive. Ahem...

— Sam Werner (@SWernerPG) November 3, 2012
TOUCHDOWN NOTRE DAME! Two plays in a row are kept alive by Golson's feet, and the elusive QB finds Theo Riddick in the back of the end zone. He then runs it in himself for the 2-point conversion! What a game!
Notre Dame 20, Pitt 20, 2:11 remaining in the Fourth Quarter
3:09 remaining and Pitt is forced to punt. Can the Irish mount a comeback?
Karma? Williams was called for the controversial pass interference, and he gets the INT in the end zone.
Controversial pass interference call in Notre Dame vs. Pittsburgh: GIF: ble.ac/SjKVmP

— Bleacher Report (@BleacherReport) November 3, 2012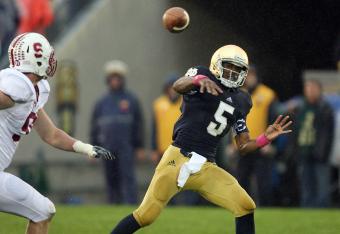 INTERCEPTION FOR PITT! WOW. Golson had a man but instead found Williams, and that puts an end to what was shaping up to be an epic drive for Notre Dame. The Panthers are 4:34 away from pulling off a stunner.
This could be the drive of Notre Dame's season. Golson's dual-threat ability is keeping it alive as the ground game is thriving for the Irish. Another first down puts Notre Dame inside the Pitt 25-yard line.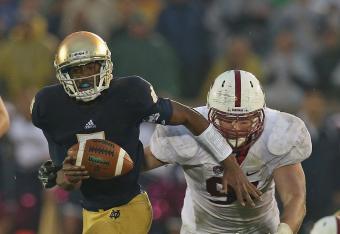 And just like that, Golson rips off a 27-yard run to get Notre Dame out of its own end zone.
This article is
What is the duplicate article?
Why is this article offensive?
Where is this article plagiarized from?
Why is this article poorly edited?