Miami Heat vs. New York Knicks: Live Score, Results and Game Highlights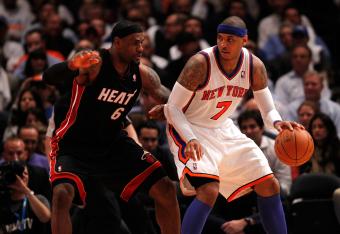 LeBron James and Carmelo Anthony take center stage in tonight's marquee matchup between the Miami Heat and New York Knicks.
Jeff Zelevansky/Getty Images
Final Score: Knicks 104, Heat 84
Carmelo Anthony leads the way for New York with 30 points and 10 rebounds.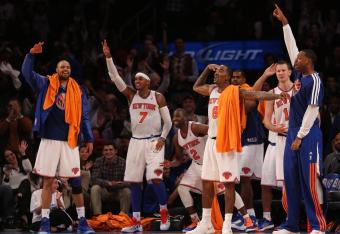 No one saw this one coming. Just days after Hurricane Sandy shut down New York City, the Knicks opened their season with a resounding 20-point home thrashing of the defending champion Miami Heat.
Carmelo Anthony shot 10-28 from the field en route to 30 points and also grabbed 10 boards to lead the shorthanded Knicks. Raymond Felton was solid in his first game back as a Knick and Steve Novak dropped in 17 off the bench.
Reigning MVP LeBron James paced the Heat with 23 points to go along with seven rebounds, five assists and three blocks. Dwyane Wade scored just 15 and Chris Bosh mustered only 12 points. Between the two, they scored a paltry four points total in the second half.
What won the game for the Knicks was their three-point shooting and the turnover margin.
New York was lights out from deep, connecting on 19 of their 36 three-pointers. Novak was 5-8 on threes and Anthony hit four of his eight triples. The Knicks outscored Miami by 36 points from beyond the arc.
The Knicks also won the turnover battle 21-14. They kept Miami from getting into any sort of offensive rhythm all night and as a result netted themselves an extra 13 field goal attempts.
Miami drops to 1-1 on the season while New York moves to 1-0.

The New York Knicks were triumphant in their season opener. Carmelo Anthony poured in 30 points (on 10-28 shooting) and grabbed 10 rebounds in nearly 39 minutes, coming in at +24 on the night.
Starting guards Raymond Felton and Jason Kidd were +19 and +20 respectively and combined for 26 points and 12 assists, making six three-pointers.
Steve Novak was hot off the bench, contributing 17 points and making five of his eight three-point attempts. He played nearly 26 minutes and was a +9 on the night.
It was a disappointing night for the Heat. LeBron James scored an efficient 23 points to go along with seven rebounds, five assists and three blocks. However, he also turned it over five times and finished the game at -21 in just under 37 minutes of action.
Chris Bosh recorded a double-double with 12 points and 11 rebounds, but didn't get much action. He played less than 27 minutes and was -13.
Meanwhile, Dwyane Wade made seven of his 10 field goals to tally 15 points. He also added five rebounds and four assists but turned it over four times and came in at -16 in almost 35 minutes played.
Sheed knocks down New York's 19th three-pointer. Both teams have emptied their benches. Result is beyond doubt now.
Knicks 104, Heat 84 0:31 4Q
Knicks fans chanting for Rasheed Wallace. Why not? Knicks are cruising. And here he comes! HUGE ovation from MSG crowd as Sheed gets off the bench.
Knicks 96, Heat 77 3:06 4Q
Chris Bosh's airball takes the air out of Miami's comeback attempt.
Of all the places I would not want to airball a 3, I think MSG would be the worst.

— Hardwood Paroxysm (@HPbasketball) November 3, 2012
Mario Chalmers gifting Jason Kidd three free-throws just now doesn't help either.
Knicks 93, Heat 74 5:57 3Q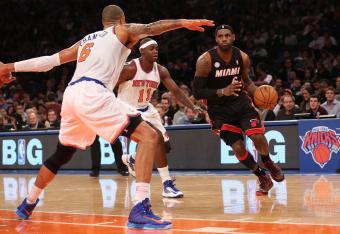 Mike Woodson calls a timeout early in the 4th after some sloppy play from the Knicks who have yet to score in the period. New York still shooting 50 percent (15-30) on threes, but just 35 percent (14-40) on twos. Miami shooting better from the field overall but still trail by a sizable margin.
Knicks 81, Heat 65 9:23 4Q
As we head to the final quarter, the Knicks are well out in front behind a barrage of three-pointers. Fifteen of them to be exact. Melo pacing New York with 26 and 9. LeBron James leads the Heat with 20-6-4. Dwyane Wade (13 points) and Chris Bosh (12 points) combined to score just two points in the third quarter.
Knicks 81, Heat 63 End 3Q
Dwyane Wade said that he didn't think the NBA should play the game tonight. The Heat decided to play like it. Knicks rolling.

— Eye on Basketball (@EyeOnBasketball) November 3, 2012
If the Heat want to get back into the game, now is the time.
A Steve Novak three has the Knicks up 23! New York is an astonishing +33 from behind the three-point line.
Knicks 75, Heat 52 3:11 3Q
Timeout Miami. The Knicks have opened up a 17 point lead early in the third after some sharpshooting from Jason Kidd.
Knicks 63, Heat 46 7:38 3Q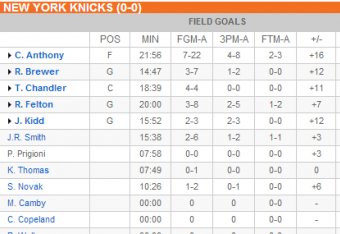 Not surprisingly, Carmelo Anthony had New York's highest +/- at +16 in nearly 22 minutes played. Tyson Chandler, Ronnie Brewer and Jason Kidd were also in double digits in terms of +/-. No Knick had a negative differential in the first half.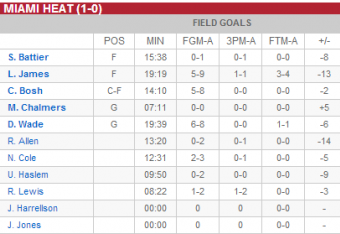 For the Heat, only Mario Chalmers had a positive +/- in the first half at +5 in about seven minutes of action. LeBron James was at -13 in 19 minutes played and Ray Allen had a team low of -14 in just over 13 minutes.
Gotta love this one.
Carmelo Anthony took 19 shots in the first half. In other words, he's restraining himself.

— Ethan J. Skolnick (@EthanJSkolnick) November 3, 2012
Brian Mahoney giving us some insight.
Ball stopped a lot when Kidd wasn't on the floor in final minutes. Knicks' lead is 55-44 at the break.

— Brian Mahoney (@briancmahoney) November 3, 2012
Does this mean the Knicks offense will grind to a halt in the second half? At the rate Melo is shooting the rock, it very well may.
We've reached halftime in New York. Carmelo Anthony's 20 points (on 19 shots) has the Knicks out to a double digit advantage. LeBron James, Dwyane Wade and Chris Bosh all in double figures for the trailing Heat.
Knicks 55, Heat 44 Half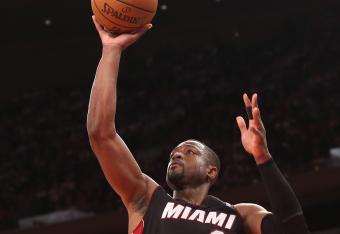 Ridiculous circus shot by Wade. MSG crowd starting to quiet a bit. Heat starting to get into the game.
Knicks 55, Heat 44 0:02 2Q
Carmelo Anthony leading the way with 20 points and six boards. LeBron James has 11 points to go along with three rebounds and four assists for the Heat.
Knicks 51, Heat 35 3:53 2Q
Knicks maintaining that double digit lead behind a strong shooting effort. Currently shooting 56 percent from the floor.
Knicks 45, Heat 33 5:42 2Q
Ouch...
You know what? The Knicks are making the Heat look old out there.

— Tom Haberstroh (@tomhaberstroh) November 3, 2012
The Knicks have come out on fire. That three-point percentage has to come crashing back to Earth eventually though.
Knicks on fire from downtown so far, shooting 8-12 from deep. Melo alone is 4-5 from distance.
Knicks 41, Heat 26 8:23 2Q
Some advice for 'Melo...
ICYMI: Time for Carmelo to embrace the 4 like LeBron. es.pn/U3WaFI

— Tom Haberstroh (@tomhaberstroh) November 2, 2012
Hasn't he already? The guy was at his very best playing PF last season, and it's no surprise he's doing it again.
Knicks 33, Heat 17 End of 1st Q
Ira Winderman of the South Florida SunSentinel with a Dwyane Wade update.
Dwyane Wade went to the bench for the first time at minus-11 plus/minus, 0 for 2 from field, with two turnovers.

— Ira Winderman (@IraHeatBeat) November 3, 2012
Knicks take a timeout with 3:00 left in the 1st after four straight points by Miami. Knicks lead 19-12.
Melo fired up so far. Aggressive on offense and just played great D on Wade. So far, Melo has eight points, four rebounds and an assist. NY up 19-10.
This article is
What is the duplicate article?
Why is this article offensive?
Where is this article plagiarized from?
Why is this article poorly edited?