RFA 4: Escudero vs Griffin Live Results and Commentary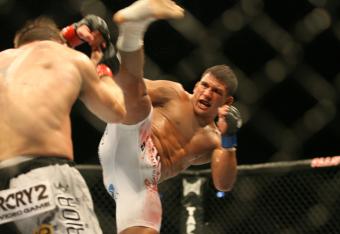 Tasos Katopodis/Getty Images
Resurrection Fighting Alliance 4 will be airing tonight on AXS TV (formerly known as HDNet). The promotion recently made news after purchasing the Kansas City-based Titan Fighting. The seven-fight main card features some of the best talent outside of the UFC as well as some former-UFC fighters.
The card kicks off at 10:00 p.m. ET. Join Bleacher Report for live reactions from the fights.
MAIN CARD
Tyson Griffin vs. Efrain Escudero
Chidi Njokuani vs. Phil Dace
Marcio "Pe de Pano" Cruz vs. Joe Yager
Fredson Paixão vs. Lance Palmer
James Krause vs. Guilherme Trindade
Dakota Cochrane vs. Derrick Burnsed
Sergio Pettis vs. Jimmy Jones
I'm not all that excited about this fight. James Krause is super talented and shouldn't be fighting at the regional level. His opponent is good but doesn't offer much. Krause lands a head kick and then follows up with punches on the ground. Those punches were thrown with bad intentions.
Dakota Cochrane vs Derrick Burnsed
Round 1: Dakota Cochrane takes the fight to Burnsed and shoots a takedown. He falls into a guillotine and that looks tight. Burnsed has full guard and it's close but Cochrane rides it out and is able to escape. Cochrane is staying active on top and passes to mount. Cochrane lands a vicious elbow which causes Burnsed to react poorly. Cochrane is able to take Burnsed's back and slowly sets up an armbar. Dakota Cochrane wins by armbar.
Solid affair between two highly touted regional level bantamweights. Jones is very talented but always had issues with motivation during training camps. He got tired and just didn't react well to punches.
Pettis has a big future in MMA. He's super young and is developing into a very good striker. Expect to see him in the majors sometime in 2013. My only big concern is that he's too small for bantamweight and may be better served as a flyweight.
Sergio Pettis vs Jimmy Jones
Official Result: Sergio Pettis defeats Jimmy Jones by Unanimous decision. The scores were 29-28, 29-28, 30-27.
Sergio Pettis vs Jimmy Jones
Round 3: Pettis lands a short right hand as he walks him down again. Jones has lost confidence after that cut. Pettis is owning the cage and forcing Jones to fight against the cage. Pettis is attacking the body with kicks and Jones is just taking them to the ribs. Jones finally responds with punches but they're having little effect on Pettis. Pettis throws a kick to the thigh and it lands to the groin. Action continues and Jones just allowing Pettis to attack whenever he wants. Pettis lands a really nice right hand that opens a cut over Jones' left eye. It's a gusher and Jones looks again for a lazy takedown. Pettis stops the takedown and keeps landing punches to that cut. Jimmy Jones calling for more punches and Pettis responds with about 10 punches to the head. Jumping knee from Pettis. Jones has the laziest takedowns. Pettis won this fight because of workrate. Pettis drops Jones with a high roundhouse that lands to the head. Pettis rides out the round on top. 10-9 Sergio Pettis
Sergio Pettis vs Jimmy Jones
Round 2: Pettis successfully backs Jones up but doesn't attack. Jones is able to keep him at the end of his jab Sergio is much more active this round, taking a lot of risks to fight inside. Sergio is bleeding from the nose but staying competitive. He lands two nice inside elbows against the cage. Sergio drops Jones and lands a knee to the body as he stands. Pettis cuts Jones and Jones is looking for a time out? The Maz tells him to keep fighting and he's just retreating. I've never seen that over a cut on the nose. Bettis is pushing forward and lands a beautiful kick to the head. The tide of the fight has changed and Pettis has all of the momentum. Lazy takedown from Jones and it was terrible. Just lazily reaching for a double leg. Spinning hook kick from Pettis drops Jones. Pettis owned that round. 10-9 Sergio Pettis
Sergio Pettis vs Jimmy Jones
Round 1: Jones is landing his right hand whenever he throws it. He's reddened the eye of Sergio Pettis which speaks to his power. Pettis is having trouble with range and Jones lands to the chin. Pettis is using leg kicks to counter and throws two chopping leg kicks. Pettis' whole face is bright red. I've never seen anything like that before. The bruising is starting to swell. Pettis is able to walk Jimmy down and land a really nice combination. That's how he needs to fight if he wants to win the fight. Jones tags Sergio several times and Pettis can't get inside. Pettis is able to back Jones up again and is tagging him with punches and knees. Still a 10-9 Jimmy Jones round.
Sergio Pettis vs Jimmy Jones
This is going to be a great fight. Both of these fighters are legitimate prospects. Jones is the bigger fighter. Pettis is the favorite.
I always dig the production values on AXS broadcasts. The booth tonight is The Voice and Pat Miletich. That's a great team combining enthusiasm and knowledge.
This article is
What is the duplicate article?
Why is this article offensive?
Where is this article plagiarized from?
Why is this article poorly edited?