Oklahoma City Thunder: Alternative James Harden Trades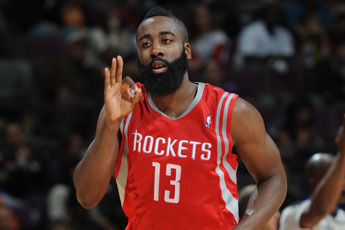 After a drawn-out negotiation in an attempt to keep reigning Sixth Man of the Year James Harden, the Oklahoma City Thunder ultimately could not find a way to keep their budding star. After a series of offers for The Bearded One were repeatedly denied, it was clear to general manager Sam Presti that the team was going to lose a vital piece to their young core.
Not wanting to lose Harden for nothing in restricted free agency next summer, Presti did what he was forced to do: he swung a last-minute, blockbuster in which he shipped out his star shooting guard.
Presti knew that in order to get full value for Harden, they needed to act before the October 31 deadline, so that any team acquiring him could agree to a max offer sheet immediately and would have him on his affordable rookie contract for the entire 2012-13 season.
Trading Harden when Presti did also gave his return package of Kevin Martin and Jeremy Lamb more time to adjust to playing on a new team, and this unit will have a full season to mesh before the playoffs, which would not have been the case if Harden were traded midseason.
With all the rumors that would have been swirling around Harden's potential restricted free agency, this team would have faced plenty of distractions throughout the entire season.
What other moves could the Thunder have swung for Harden? Obviously, you're not going to get market value for a player of his caliber. But what realistic moves could the Thunder have made?
Begin Slideshow

»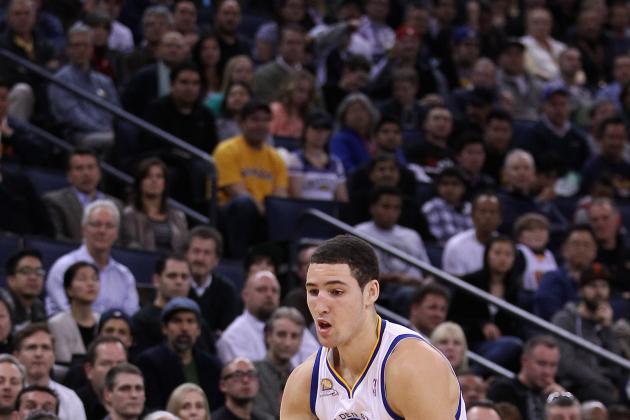 Ezra Shaw/Getty Images

This is a very intriguing deal, and one that could have greatly benefited a team like the Thunder.
The Warriors need a star, and badly. Relying on oft-injured Stephen Curry and Andrew Bogut is not going to take a team to a championship. They are making significant strides and have some solid role players, but I think they're a star away from making that leap to contender.
Harden could have been that star.
A lineup of Curry, Harden, Harrison Barnes, David Lee and Bogut with Carl Landry, Brandon Rush, Jarrett Jack, Festus Ezeli and Draymond Green has a solid combination of depth and youth, allowing a team like this to grow due to their upside.
For the Thunder, Klay Thompson is an ideal fit.
Many said that Harden didn't fit as well in Oklahoma City because he played on the wing, and Durant can already do that effectively.
Thompson could have provided a plethora of points from a bench role, but is a different type of scorer than Harden. Less of a driver, Thompson has a great three point shot. Granted, so does Harden. But Thompson's presence would allow the Thunder to space the floor more and would tally assist totals for Westbrook and Durant, as this is a team that struggled to create assists last year.
Oklahoma City also wouldn't have to worry about extending Thompson anytime soon, as he was just drafted in 2011. This would effectively reset the clock for his development.
Just as the Thunder did with Martin, they would acquire a hefty contract, albeit not as enticing of one, in Richard Jefferson. They would likely be stuck with him for a year and a half, and could ship him out at the 2013-14 deadline to a team seeking cap relief. If they are less patient, the Thunder still have the amnesty clause and could use it here.
To make the numbers work a little better, the Thunder could do what they did with the Rockets and give up Cole Aldrich, Lazar Hayward and Daequan Cook, ensuring that the Thunder could have the cap room to take on Jefferson's deal. They might even be able to get the Warriors to send them some cash to cover part of the contract.
For the picks, the Thunder could net a first and second rounder, but likely couldn't snag two first rounders as they did with the Rockets. After all, Thompson is much more of a sure thing than Jeremy Lamb.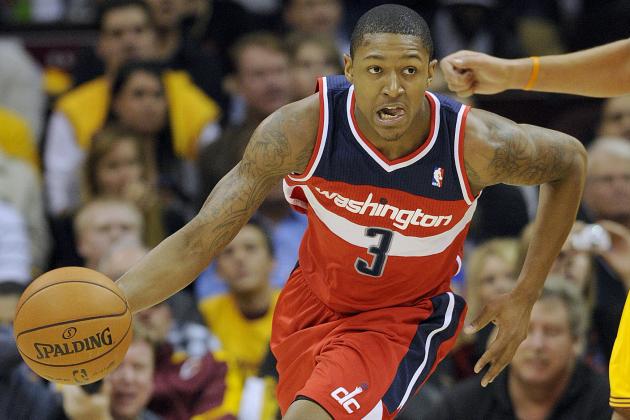 Jason Miller/Getty Images

Another situation in which a young three point specialist comes to Oklahoma City.
Bradley Beal was widely regarded as one of the best players in the 2012 NBA draft. His three point shooting is a superb asset. As he proved in the preseason, Beal can find other ways to score when his three isn't falling.
Similar to Thompson, Beal would allow the Thunder to space the floor and find the open man, increasing their assist rate as a team. And Beal comes at a discount because he is still on his rookie contract.
To a team like the Thunder, affordability is a crucial part of the equation, so this is certainly a bonus as they won't have to go through a similar situation with Beal for quite some time.
The Thunder also acquire Trevor Ariza, who is almost certain to exercise his player option after this season, so is likely under control for two years. A more affordable contract than Jefferson, Ariza is also a better player, and would help the defense of the second unit.
Oklahoma City could also net a pick, likely a second rounder though because Beal was just a top three pick.
The Wizards would lose two starters, but at the same time would gain a premier scorer. An immediate go-to guy, Harden and John Wall would be a disaster of a tandem for opposing teams, especially with an underrated frontcourt of Emeka Okafor, Nene Hilario, Jan Vesley, Trevor Booker and Chris Singleton.
With Jordan Crawford off the bench and Harden taking over as the starting shooting guard, Wall would have plenty of assists with such a dynamic scorer in Harden. Like the Warriors, the Wizards could use an elite player.
Harden could have been that guy.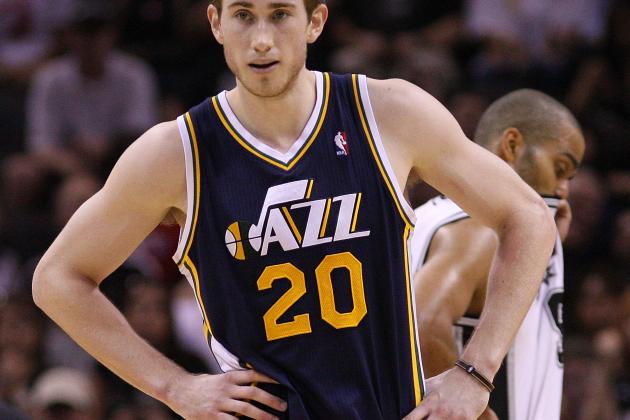 Ronald Martinez/Getty Images

The Thunder would love to net an up and coming talent such as Derrick Favors, but the Utah Jazz are unlikely to part with such an asset, especially given the fact that they gave up Deron Williams to get him.
However, Gordon Hayward would be a solid consolation prize.
A solid wing player, Hayward can provide some solid depth off the bench. Capable of playing both the 2 and the 3, Hayward has plenty of potential as he is just 22, with the wingspan and tools to evolve into a solid defender.
Hayward is also affordable because he is still on his rookie contract as well.
Oklahoma City would also grab a large contract in Marvin Williams. Although the Jazz just acquired him, getting rid of him would be beneficial. With expiring contracts in Paul Millsap and Al Jefferson, the Jazz could swing a couple of deadline deals that would allow them to acquire some serious long term assets, while at the same time creating a surplus of cap room.
The Thunder would likely have Williams for two years as he is likely to opt into his player option, and he would serve a similar role as Ariza in terms of a forward off the bench. Williams has plenty of upside, as he never reached his full potential in Atlanta, and could be a steal if Oklahoma City were to acquire him.
OKC could also try and get a first and second round pick, though these picks have less value than the ones they acquired from the Rockets.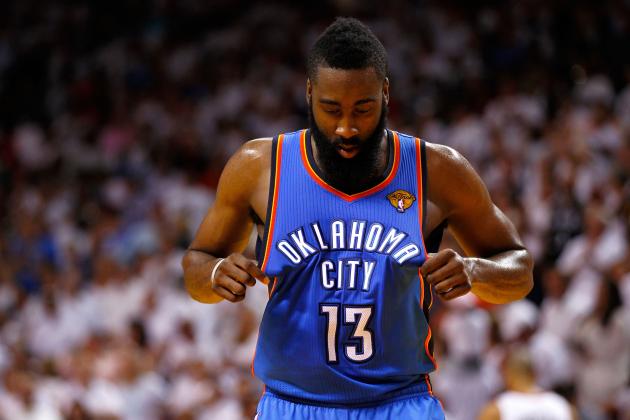 Mike Ehrmann/Getty Images

Despite losing a star, the Thunder fared pretty well by getting a veteran in Kevin Martin, a young potential guard in Jeremy Lamb, two first round picks and a second round pick.
However, this article poses other potential deals the Thunder could have conceivably proposed that would have attempted to fill the void left by Harden.
Like I said, for what was out there, the Thunder fared well. I know Harden is currently playing out of his mind in Houston, but they weren't going to get market value for him. By getting the combination of a potential future star, a bigger contract to average out the deal, and picks, Oklahoma City prepares themselves well for the future in any of these deals.
We'll see how Martin and Lamb play this year, but it's still interesting to think about what Klay Thompson, Bradley Beal or Gordon Hayward would look like in a Thunder uniform.