New Orleans Hornets star Eric Gordon has been sidelined with mysterious soreness in his right knee. That is the same knee that caused him to miss all but nine games last season.
Gordon had arthroscopic surgery to repair the injured knee back in February but has recently begun to suffer from soreness.
There are theories swirling that Gordon is displeased after the Hornets matched the maximum offseason contract offer from the Phoenix Suns and that he's holding out by not playing as a result. However, recent reports from CBS Sports have confirmed that Gordon is not seeking a trade despite his perceived displeasure with being retained in New Orleans.
From late last night, @kbergcbs reports that Eric Gordon has NOT requested a trade. Surgery not ruled out.cbsprt.co/Ryd4rw

— Eye on Basketball (@EyeOnBasketball) November 2, 2012
As for the medical situation, he's been ruled out indefinitely by the Hornets' coaching staff as of Friday, according to CBS Sports Senior Blogger Matt Moore.
Doctors have all but cleared him physically, citing no structural damage to his knee.
What, then, is the cause for Gordon's current absence from team activities?
Whatever it is, Gordon's missing some serious action on a new-look Hornets team that just may have what it takes to contend in the talent-rich Western Conference. Not in the distant future, but now.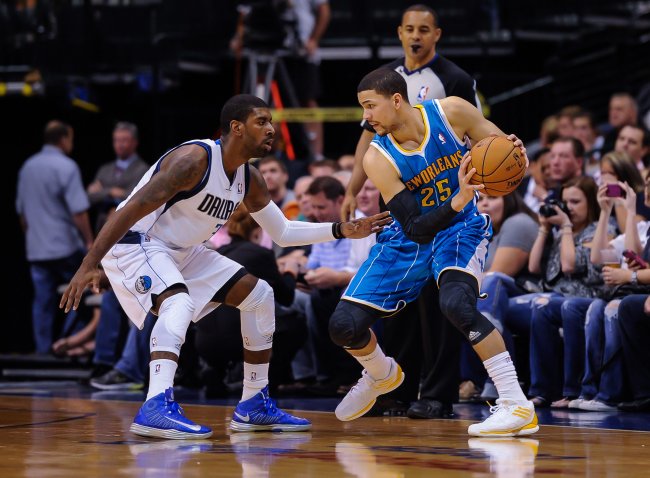 Jerome Miron-US PRESSWIRE
The team's opening-night loss to the San Antonio Spurs saw a young team come together to put the veteran Spurs on the brink.
There's no telling what could have been had their star shooter been in on the action.
While losing Gordon may hurt initially, it's not all sour apples for the Hornets.
The team will be better and deeper as a result of working through this early-season setback. Getting their youngsters on the court and giving them game experience is critical for a young and rebuilding franchise.
Will Eric Gordon play again this season?
IF, for some reason, this injury requires further surgery and Gordon misses the entire season, they'll certainly struggle without their only max-contract player on the roster. However, the learning that will take place will be invaluable and the team will be set up to contend next season.
Depth and continuity are integral factors for any winning NBA franchise. Without the effective play of role players in Miami, the team lost in its first NBA Finals appearance since winning the title in 2006.
I'm not saying the Hornets are the next Heat, but they've certainly got a strong and budding nucleus that has exponential potential.
Adding the dynamic skills of Gordon into the mix eventually will help them take off to the next level.