One more game until the wait is over.
Mark Sanchez' struggles are well-documented (over-documented, really, as every sports happening in New York is).
Unless Sanchez channels Dan Marino against the Seahawks (highly unlikely under all circumstances, and impossible against an elite defense at the best home stadium in the NFL), the Jets will be 3-6 going into Week 11.
At that point, the public clamor will be impossible for Rex Ryan to ignore, and he will have to make a change at quarterback.
He's been waiting for Week 11 to do it.
In four of their five losses, the Jets have lost to the teams ranked in the Top 10 in Bleacher Report's Week 9 NFL Power Rankings: #2 (HOU), #4 (SF), #6 (NE), and #10 (PIT). The fifth loss was to Miami (#11), who the Jets already beat once. Furthermore, in terms of average yards allowed per game, San Francisco, Pittsburgh, and Houston are ranked one, two, and three. Of course Sanchez looks awful.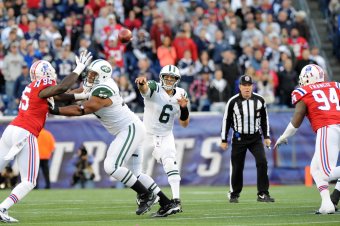 Bob DeChiara-US PRESSWIRE
The Jets faithful do not care about any of this. The Jets faithful care about wins and losses. They want a better record than 3-6, and they want Tim Tebow.
After the game at Seattle, the schedule eases considerably. Starting with Week 12, here are the Jets' opponents through the end of the season, with their B/R Power Ranking noted parenthetically:
at St. Louis (27)
vs New England (6, but the defense is ranked 26th)
vs Arizona (15 and dropping)
at Jacksonville (32)
at Tennessee (25)
vs San Diego (24)
at Buffalo (23)
Who would be a better QB for the Jets over the last 7 games?
The legend of Tim Tebow is positioned perfectly. If Ryan makes the switch, Tebow will go 5-2 against those seven teams.
So if you thought you heard a lot about Tim T. already, just you wait.
And if you're a Tebow hater, here's one bone I can toss you: Mark Sanchez would go 6-1 against that sorry seven.