Philadelphia Eagles vs. New Orleans Saints: Live Score, Highlights and Analysis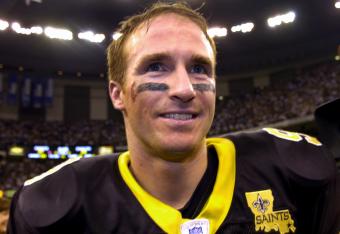 A. Messerschmidt/Getty Images
The New Orleans Saints defeat the Philadelphia Eagles, 28-13, in Week 9's installment of NFL Monday Night Football. Both teams now have identical 3-5 records, and will look to sneak into the playoffs.
For a recap of how we got to our final score, read below.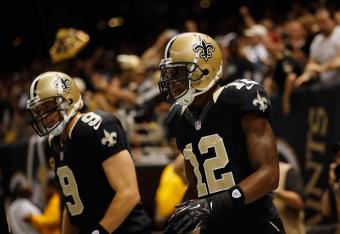 Final Thoughts:
- Philadelphia's offensive line was inconsistent throughout the game. They opened holes in the middle and did enough on the edge to give LeSean McCoy and Bryce Brown running room. However, they were absolutely terrible in pass protection and allowed the Saints to sack Michael Vick seven times. To compound a pressing issue, Todd Herremans was forced out of the game early due to injury. For this Eagles team, the problems start up front.
- In comparison, the Saints offensive and defensive lines did an outstanding job all night. The protection did allow two sacks, but for the most part, gave Drew Brees plenty of time to go through his progressions. Brees finished the game completing 21 of 27 passes for 239 yards and two scores. He managed the game extremely efficiently and kept Philadelphia off-balance all night.
- Both teams dominated the other in the run game. But it was Brees and the Saints who were able to use it to their advantage. Chris Ivory, Pierre Thomas and Mark Ingram ran over and through Eagles' defenders, setting the tone for the entire team and igniting a hostile home crowd.
- For this contest, the game ball goes to the Saints. This was a complete and collective effort put together by a desperate team. Patrick Robinson scored the first points of the game on a 99-yard interception return, and the offense cruised to a lead that the defense would end up maintaining.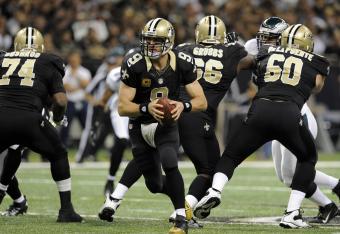 Final Score: Eagles 13, Saints 28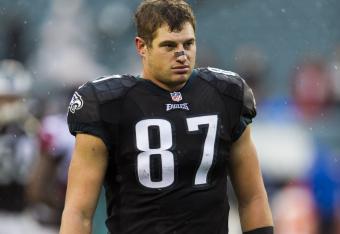 A catch-and-fumble ruins another trip to the red zone. Both of Philadelphia's giveaways have come off the hand of Brent Celek. Costly night for him.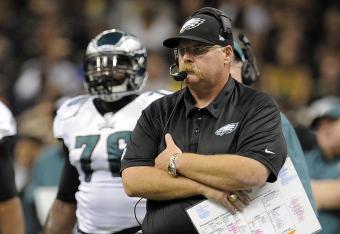 Cameron Jordan gets his third sack of the night. AGAIN, the Eagles line up with an empty backfield—which by the way is probably the fourth or fifth time I've mentioned this offensive package in a negative manner.
Stubborn play-calling here by Reid.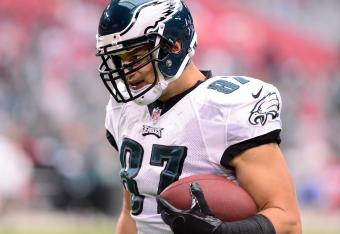 Great job by Vick on third-and-five after a neutral-zone infraction. First, he looked into the end-zone, found no one, made his progression into the flat and resisted a pass to LeSean McCoy. If McCoy caught that pass, chances are that he gets tackled before moving the chains. Instead, Vick finds Celek over the middle of the field.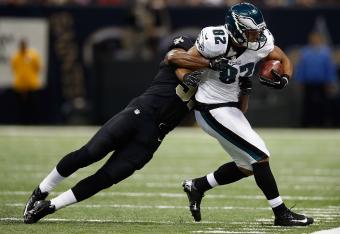 If the Eagles don't score on this drive, this game might be over.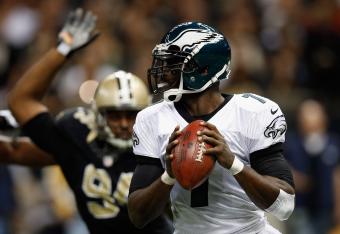 Both Cameron Jordan and Will Smith have sacked Michael Vick twice tonight. As a team, the Saints have five sacks and have knocked Vick down at least a dozen times.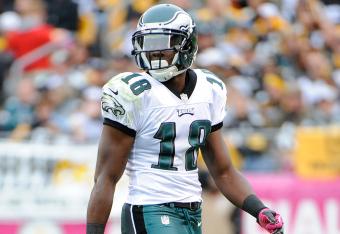 End of 3rd Quarter
Vick hangs tough in the pocket and converts a third-down pass out of his end-zone to Jeremy Maclin before the period ends.
Philadelphia enters the final period down 28-13.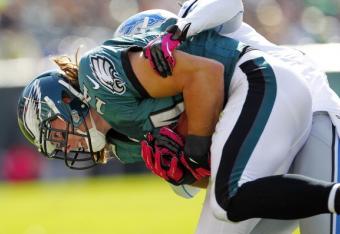 Special teams coach Bobby April gets creative and calls for a lateral on the kickoff return. Unfortunately for the Eagles, instead of traveling backwards, the ball went forward and Riley Cooper's touchdown-run was called back.
Mental mistakes have crippled Philadelphia's playoff hopes all year long. And really, that's the fault of leadership.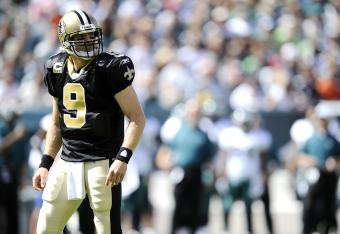 3rd Quarter 1:20
Eagles - 13, Saints 28
Mychal Kendricks' bad series comes to an end as the rookie over-pursues as he attempts to chase Jimmy Graham down in the flat and misses the tackle.
Don't forget guys, he's still a rookie.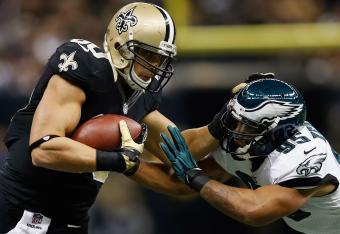 Mychal Kendricks gets caught holding Lance Moore's jersey on third-and-seven and extends a long Saints' drive. The rookie has held his own in coverage this season, but gets caught red-handed here.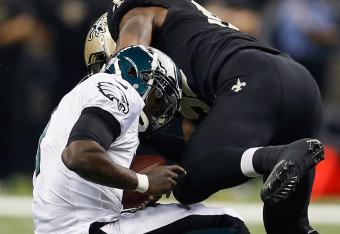 3rd Quarter 7:00
Eagles - 13, Saints - 21

Terrible pass protection leads to another Vick sack. Again, the Eagles line up with no one in the backfield, and again, the Saints brought pressure.
Eagles settle for a 37-yard field goal.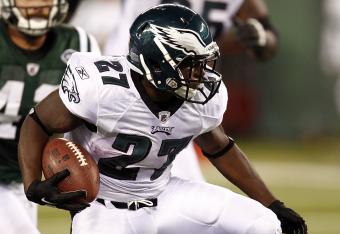 On the ensuing kickoff, Philadelphia is able to force a fumble—one that Brandon Hughes is able to recover. Momentum has swung in the Superdome. It'll be interesting to see if the Eagles can capitalize.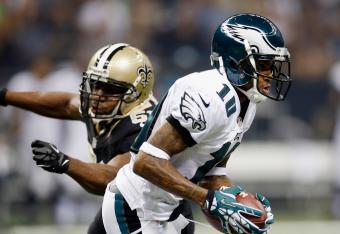 3rd Quarter 8:42
Eagles - 10, Saints - 21

Vick finds DeSean Jackson wide open down the field. After running around two defenders, Jaccpot makes his way into the end zone.
This quick-hit score is exactly what Philadelphia needed after forcing a turnover. Huge play for the Eagles.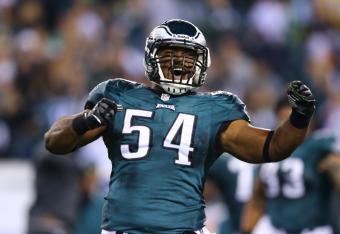 Of course, seconds after my last post, the Eagles are able to collapse the right side of the offensive line and hit Brees. Brandon Graham, who has been little-used all season long (and deserves more snaps), comes up with a huge fumble recovery.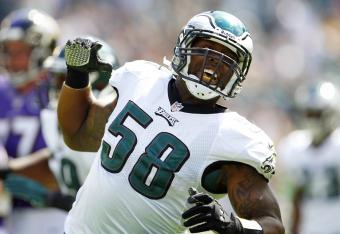 The Eagles are generating no pressure with their defensive line and haven't been able to contain Saints' running backs either. For a unit that recorded an NFL-leading 50 sacks in their first year under Jim Washburn, this group is simply not getting the job done.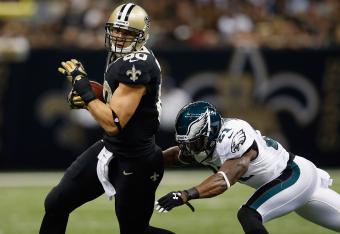 David Sims is filling in for an injured Nate Allen and New Orleans is wisely attacking him with Jimmy Graham.
Expect to see plenty more of this as the game wears on.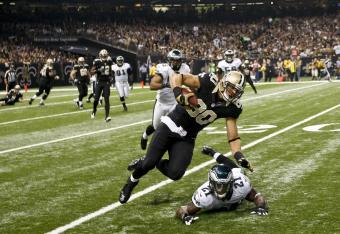 Halftime
Eagles - 3, Saints - 21

Analysis:
Both teams have established their rushing attacks and are exploiting poor tackling by the opposing defense. LeSean McCoy and Bryce Brown have combined for 150 rushing yards on 17 carries, while the Saints' three-headed attack of Pierre Thomas, Mark Ingram and Chris Ivory have amassed 106 yards and a touchdown on 10 carries.
The Saints have been able to pressure Michael Vick all night by bringing extra bodies, while Philadelphia's defense has left Drew Brees relatively untouched.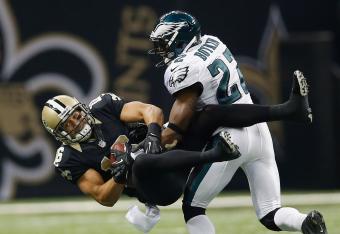 The Saints will get the ball back before the first-half ends, looking to extend their 18-point lead. They have one timeout left.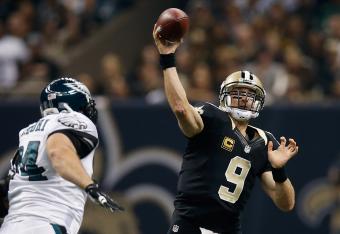 2nd Quarter 1:13
Eagles - 3, Saints -21
After running the ball down the field, Brees hits Marques Colston on a play-action rollout in the back of the end-zone for a one-yard score.
With that pass, Brees extends his NFL record for consecutive games with a touchdown pass (51).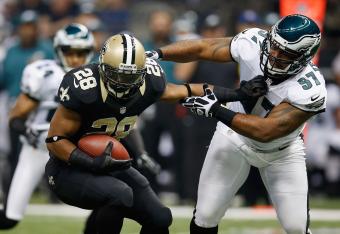 So far, Nnamdi Asomugha has done a good job in coverage, but has missed at least two arm-tackles. The 10-year veteran needs to wrap-up better.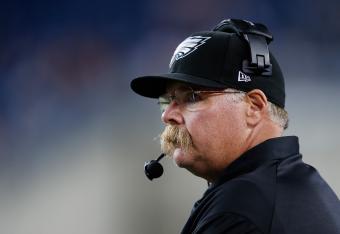 The Saints have blitzed all night when the Eagles go empty backfield and are faced with third-down. Vick needs to get rid of the ball much quicker for Philly to maintain possession. A screen pass to McCoy should contain the Saints' aggression.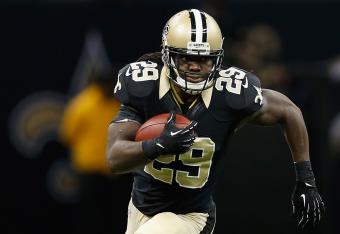 2nd Quarter 8:33
Eagles - 3, Saints - 14
New Orleans establishes the ground game and goes on a seven-play 76-yard drive for a touchdown. Physical, downhill runs by Mark Ingram and Chris Ivory make Philadelphia tacklers look silly and just adds another dimension to a pass-happy Saints offense.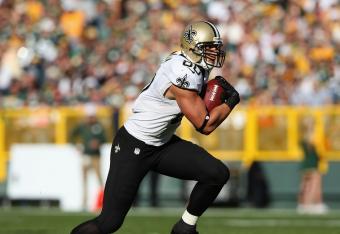 Drew Brees continues to exploit his mismatch with Jimmy Graham. Graham, an All-Pro will be covered by the likes of rookie linebacker Mychal Kendricks and backup safety David Sims all night.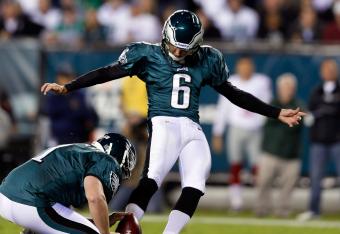 2nd Quarter 12:03
Eagles - 3, Saints - 7
Alex Henery converts from 22 yards out, cutting the Philadelphia deficit to four.
Even with the Eagles' offensive line in shambles, the Saints are still giving up huge gains on the ground. Hopefully, Reid is noticing this and continues to milk the run.
This article is
What is the duplicate article?
Why is this article offensive?
Where is this article plagiarized from?
Why is this article poorly edited?

Philadelphia Eagles: Like this team?