Grading Oregon's New White Vapor Uniforms for Matchup vs. USC Trojans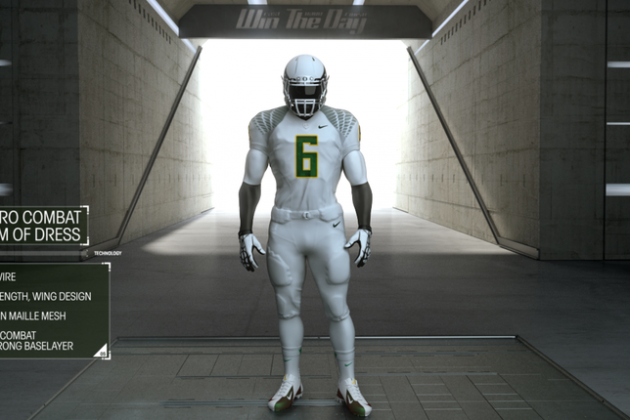 Image Credit: http://nikeinc.com
You knew it was coming.
Oregon has decided to release another brand new uniform design for this weekend's game against the USC Trojans. The school that changes its apparel more than any other absolutely had to be dressed to impress for the big occasion.
With the new look designed by Nike, Oregon will wear its "White Vapor" uniform, which may catch many fans by surprise. It is not the typical look that people are used to seeing this school come out of the tunnel wearing, but it's just as neat-looking as the rest that have come before it.
As you get prepared for the big Pac-12 showdown that will have an impact on the BCS rankings, let's take a look at the newly designed Oregon Ducks uniform.
Begin Slideshow

»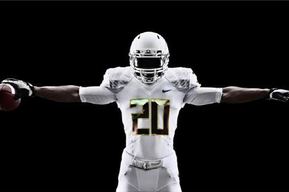 Image Credit: twitter.com/willbrinson
If you were expecting to a see those bright and flashy colors that the Ducks usually wear, you have come to the wrong place. Oregon has finally decided to switch things up this weekend, as the team will wear an all-white uniform for the first time.
Nike labelled the look "White Vapor."
Oregon seems to have an unlimited amount of uniform combinations, so it is a little bizarre that the school chose such a basic design for such a big-time game. After seeing lime green, yellow and many other colors that you wouldn't expect to see anywhere else but Oregon, a plain old white look is what you get for Saturdays game.
Still, as Oregon does with all of its looks, the Ducks still found a way to make this uniform pop.
I'm just glad that the game is being played on the West Coast and not somewhere in the country where it's snowing at the moment.
Grade: B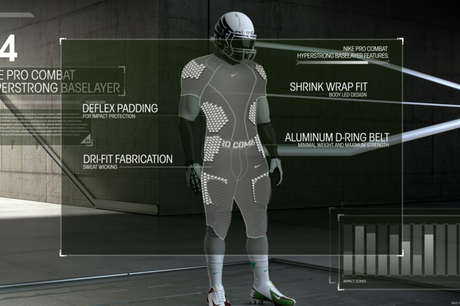 Image Credit: http://nikeinc.com
According to Nike, this is the lightest and fastest uniform the Ducks have worn yet.
Don't believe me? Just see what Todd Van Horne, Nike's Creative Director for Football, had to say about the new look:
The White Vapor uniform has zero distractions, making the players feel and look faster. The all-white colorway creates a foundation that highlights the uniform's innovation. With the integration of Chain Maille Mesh into the jersey as well as the functional winged pattern on the shoulders, this is truly the lightest, fastest and strongest football uniform we've ever made.
Chain Maille Mesh has been used in the jersey and pants, which is a lightweight and breathable material that's supposed to make the uniform feel lighter and make the player feel faster on the football field.
Maybe no one told the people at Nike that Oregon doesn't need anything to feel faster on the football field. For a team that averages over 50 points a game, I would think a school such as Auburn or Kentucky could use this material a little bit more.
Still, you have to love how technology is advancing these days. Although, I'm sure USC will consider this some type of competitive advantage.
Grade: A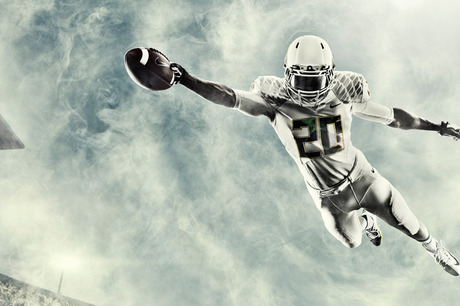 Image Credit: http://nikeinc.com
Like I said in the previous slide, you simply don't think of a white uniform when it comes to Oregon. This is a team that likes to be as flashy as its offense, which averages over 500 yards a game. The Ducks want everybody to see them on the football field when they break off 50-yard touchdown runs.
Uniforms like this and wardrobes like this are just some of the looks that we expect to see from one of the more exciting teams in college football each week.
While an all-white look will be a nice change of pace for the fans, it does come as a shocker to see a non-colorful look for this team.
But then again, do you except anything normal from the one program that has a new uniform for every other week?
Grade: B
According to this video, Oregon had plenty of offers on several different helmet designs. The school eventually picked the "White Storm" helmet, and you're now looking at the lid that the Ducks will wear during the big game.
It is your typical white helmet that will feature silver wings on the side, which include carbon fiber inside the design. Really an awesome look, and the white of the helmet really makes the logo pop on the side.
But the coolest thing about the design is that you can see your reflection when you get a good look at the helmet. While I'm not sure opponents who are trailing speedsters such as Kenjon Barner and De'Anthony Thomas will appreciate this, it is pretty neat and something you don't see every day.
Grade: A
It is okay to bash Maryland's new and tasteless uniforms every chance you get, and you can even pick on the Notre Dame helmets until the cows come home.
However, it is not cool to pick on what Oregon wears each Saturday.
The Ducks are the only team that's able to change up its wardrobe each and every week and actually get away with it.
Why?
Because Oregon does it right.
This school has yet to release a bad-looking uniform, and every other school should take notes. Or they could do us all a favor and stop trying to be like the school that can seemingly do no wrong when it comes to fashion.
Grade: A