5 Reasons the Anaheim Ducks Are Still a Defensive Team
Jeff Gross/Getty Images

There was a point in time when the Anaheim Ducks possessed enough physicality and defensive experience on their roster to keep Chris Pronger on the second pairing. With Scott Niedermayer at the helm, the Ducks built their identity as a defensively suffocating hockey club.
However that time has come and gone, and the Ducks have reached a point where they no longer have a clear identity, nor are they considered one of the more physical teams in the league. Ever since trading Pronger and the retirement of Niedermayer, it has been perceived that the exodus of those two players would be too much of a loss in terms of blue line skill to continue to have a solid defense.
I want to make the case that having Niedermayer and Pronger on their roster was a luxury, and that their absence from the Ducks roster doesn't mean the Ducks are no longer a defensively competitive squad. There are plenty of excellent defensive teams who don't have two hall-of-fame certainties leading the way.
If you look at the Ducks current roster you see no lack of defensive depth. In fact it is their offensive lineup that comes off as lacking, with little or no help behind the top line and Teemu Selanne.
So can we conclude that Anaheim is still a defensive team, and if so, a good one? I would say yes, for this and several other reasons.
Begin Slideshow

»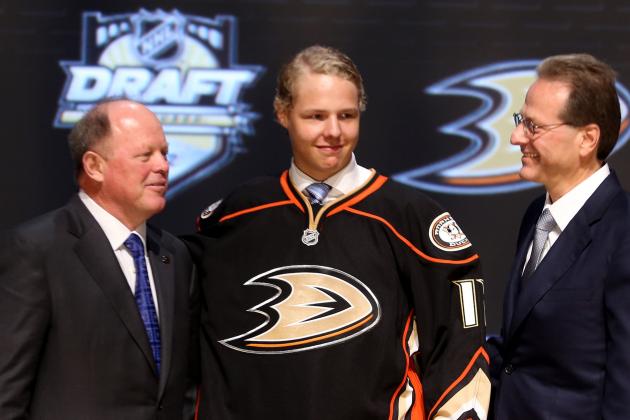 Bruce Bennett/Getty Images

By using two of their last three first round draft picks to select defensemen the Ducks have gone a long way in solidifying their blue line, both immediately and for the future.
Cam Fowler has had an immediate impact and is already one of their top defenders in terms of ice-time. While his production slipped slightly last year compared to his rookie campaign, he continues to be Anaheim's most valuable defensive asset.
On the other side, Hampus Lindholm will likely be given a year or more to develop, before having a real shot at making the team coming out of training camp. Having him and Fowler both at the NHL level is an encouraging prospect for Ducks fans.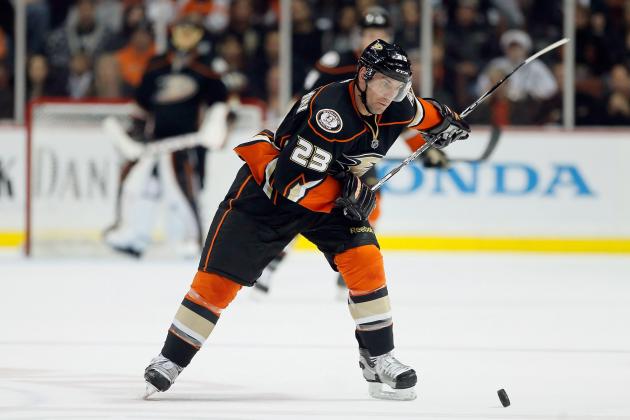 Jeff Gross/Getty Images

Francois Beauchemin was an integral part of the Niedermayer defensive pairing, and his steadying presence was greatly missed in Anaheim during his tenure with the Toronto Maple Leafs.
The Ducks had to give up defensive prospect Jake Gardiner to re-acquire Beauchemin, but the value of his presence can't be overstated. He also brings back a certain element of grit that was such an integral part of the 2006-2007 Anaheim team.
Ronald Martinez/Getty Images

Almost all of the Ducks' offseason moves were devoted to their blue line, which I suppose could be interpreted as addressing a weakness on the defensive side of the puck, but I would contend that they've simply bolstered an already solid group.
Sheldon Souray is a tough physical defender with a strong shot from the point, and Bryan Allen is known for his shot blocking ability, something the Ducks have struggled to do in recent years.
What makes these additions so compelling is that the two players give the Ducks three solid defensive pairings with no glaring weaknesses. While the makeup of those pairings isn't certain, it's clear that, barring injuries, that Ducks will have enough talent on their blue line to keep reliable defenders on the ice for a full 60 minutes.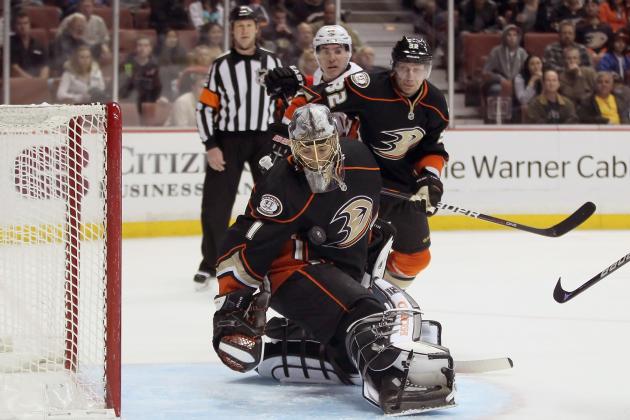 Jeff Gross/Getty Images

Jonas Hiller looks to be at full health again, after struggling during 2010 with vertigo symptoms, and spending the first half of last season shaking off some obvious rust. Additionally, he ended up playing in an astonishing 73 games last year, and looked to be in excellent form during the Ducks' second half surge.
He's a solid goaltender for Anaheim and is certainly one of their greatest strengths looking at the team as a whole.
Jeff Gross/Getty Images

Randy Carlyle built an offensive scheme that centered around solid defense and tough, physical offensive attacks. Anaheim's most prolific scorers are almost all classified as power forwards and are every bit as defensive as they are offensive. While Bruce Boudreau is likely to implement a more speed focused offensive approach, he will certainly continue to allow his star players to play within their strengths.
While they've gotten smaller on the second and third lines, their first and fourth lines are still heavy and hard-hitting. From Ryan Getzlaf, all the way down to Devante Smith-Pelly, the Ducks forwards are still very capable when it comes to the defensive side of the puck.
Add that to Hiller's goaltending and a more than solid defensive lineup, and you have a team that is not just respectable defensively, but has the potential to be every bit as suffocating as the Stanley Cup winning Ducks team of 2007.
Don't sell yourselves short Anaheim. You don't need Neidermayer and Pronger in order to play good defense.