10 Things We Learned from the Philadelphia 76ers' First Week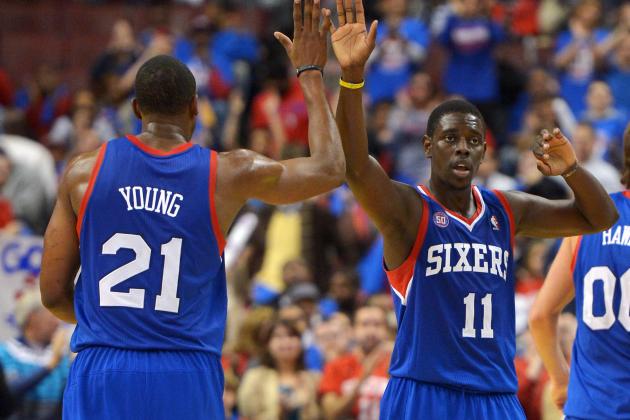 Drew Hallowell/Getty Images
The Sixers looked sharp in their first game
The first week of the NBA season is almost over, and we learned a lot about the Philadelphia 76ers.
No team has ever gone undefeated for the whole season, but it looks like Philly might be the first.
Yes that's right, 82-0.
Okay, they won't win all of their games, but they do look like a very good team.
It's important to remember that the game against the Denver Nuggets is all of the information that we have to go off of right now. Still, though, the game gives an insight in to what we might see for the next 81 games.
Let's take a look at 10 things we learned from the Sixers in their first week.
Begin Slideshow

»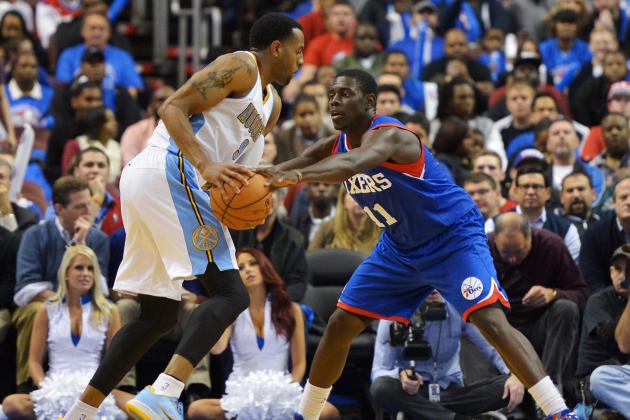 Drew Hallowell/Getty Images
Philly locked up Iguodala and the Nuggets all night
The 2011-2012 Sixers finished third in the NBA in points given up, allowing just 89.4 per game.
This year's team could be even better than that.
Last year's Nuggets averaged a league-best 104.1 points per game. They brought in Andre Iguodala as their big-name player and didn't lose anyone that was very valuable toward their offensive production.
Denver's game against the Sixers resulted in 75 points. The NBA has had 35 games so far, and the Nuggets' 75 points are a league low.
Philadelphia got out to open jumpers, collapsed on balls in the paint and made sure to stay out of foul trouble.
The most impressive aspect of the defensive display is that they integrated their offseason additions into the system exceptionally quickly. On top of that, they did it without Andrew Bynum—a great defensive player.
Defense will be crucial to a good year, and all signs point toward the Sixers being a team that can dominate on the defensive end of the floor.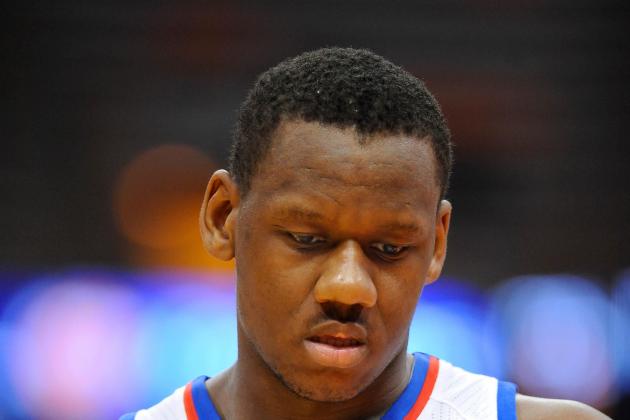 Rich Barnes-US PRESSWIRE
Lavoy Allen can't be the team's starting center for too long
Lavoy Allen was the tallest player in Philadelphia's starting lineup against the Nuggets.
He's only 6'9".
The other four players were 6'8", 6'7", 6'6" and 6'4".
That is simply too small.
The Sixers were out-rebounded by seven for the game, but more importantly, they gave up 16 offensive rebounds.
Giving up 48 points in the paint also doesn't help to prove that playing small will always work.
There will be disadvantages to it, and teams will eventually take advantage of them.
Playing small will be able to work for a short amount of time, but it won't be long before the Sixers are both dominated inside and subjected to jokes about how little they are.
Let's be honest: Nobody wants that, right?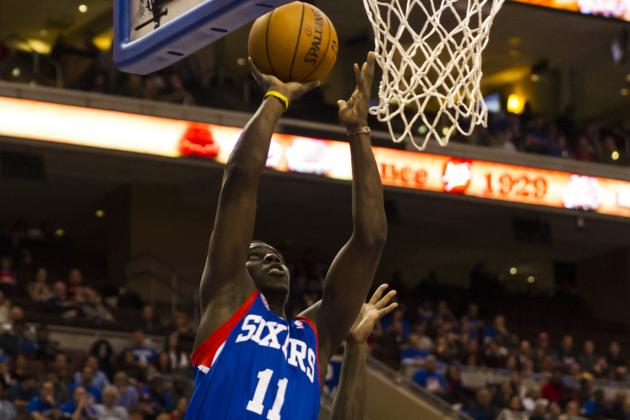 Howard Smith-US PRESSWIRE
Holiday could end up being an all-star this year
How does 14 points, 11 assists and 6 rebounds sound?
Jrue Holiday had a big first game, and it needs to be recognized.
Getting better at different skills over the offseason is always good, but that's not where Holiday made his biggest leap.
It looks as though his fourth season has come with being comfortable on the floor. He finally looks confident and composed when he plays.
Sure, he only shot 5-of-13 and missed all of his three-point shots, but that doesn't mean much in the grand scale. It's nice to see Holiday comfortable enough to shoot four threes in a game, even though it won't always be in the Sixers' best interest.
Keeping a close eye on his time on the floor will be important for the Sixers' coaching staff. He racked up the most minutes out of anybody at 41, and it's unrealistic to assume that he'll be able to keep that up all year.
Holiday can really be a star in this league. He plays defense, passes well and can score at a moderate level. His athleticism is also perfect for the new speedy point guards.
He'll definitely be fun to watch as the season continues.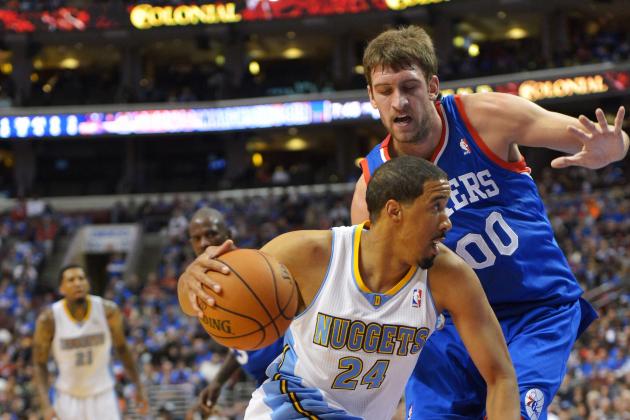 Drew Hallowell/Getty Images
Hawes controlled the paint against the Nuggets
John Mitchell of the Philadelphia Inquirer reported on Spencer Hawes' season opening night. He interviewed head coach Doug Collins on how his center did off the bench:
"Spencer should be thinking about being the sixth man of the year," Collins said. "He's in a great spot now, and he really relishes what he's doing. He feels very good about his role with that second unit. He's shooting the ball and not hesitating. I think sometimes with that first unit he was looking to maybe make the play. Sometimes when he took the shot he took it out of rhythm."
Hawes recorded 16 points, 12 rebounds and 5 blocks in 31 minutes of action. He also brought perimeter shooting to the table, connecting on two of three three-point attempts.
It wouldn't even be too surprising to see his numbers increase when players return from injury and get back into the swing of things.
The majority of championship-contending teams have a great sixth man.
Philadelphia has one too.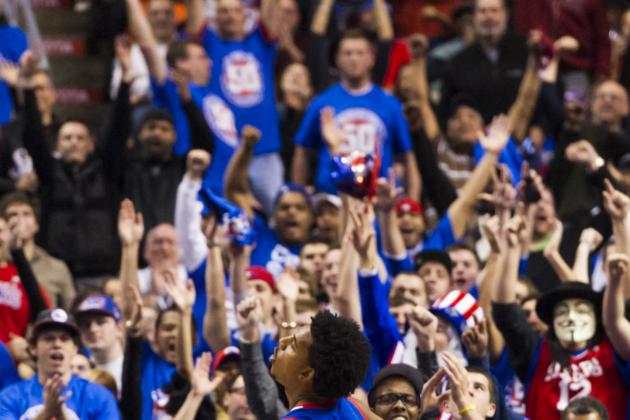 Howard Smith-US PRESSWIRE
Young will excite the Philadelphia crowd more than enough times this year
Dorell Wright and Nick Young were brought in over the offseason to provide scoring off the bench.
Guess what, everybody? That's exactly what they're going to do.
The Sixers lost Lou Williams to the Atlanta Hawks over the summer. Last year he came off the bench and averaged a team-high 14.9 points per game.
Don't look too soon, but it looks as though Philadelphia's replacements in Wright and Young could actually end up producing more than Williams did.
Both Wright and Young are three-point specialists and will be looking to simply produce offensive numbers when they're on the floor.
Well, Mr. Wright and Mr. Young, on behalf of the city of Philadelphia: "Score and score a lot."
Their additions could end up being the biggest of all season. And yes, that is including Bynum.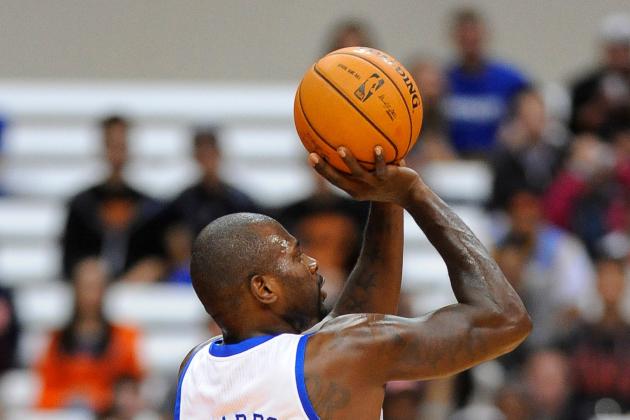 Rich Barnes-US PRESSWIRE
Richardson, along with the rest of the team, will need to shoot better moving forward
Philadelphia's poor perimeter shooting has been the team's Achilles' heel for years now. Their performance from beyond the arc in the game against Denver only proves that the team still has some work to do.
Philly shot 7-of-25, 28 percent from the three-point line and it has to be at least a little concerning.
Not being able to knock down threes will allow for defenses to sag down and cover the easier shots. There's also not much of a bigger momentum shift than that of hitting big threes in big moments.
It's simply something that the Sixers haven't had for the past few years.
The addition of Jason Richardson, Wright and Young will definitely help, but they can't start the season out in a slump.
That's what Philadelphia has done, and they were saved by a great defensive performance.
As much as you want to, relying on defense isn't plausible, so hitting deep shots will be necessary to win.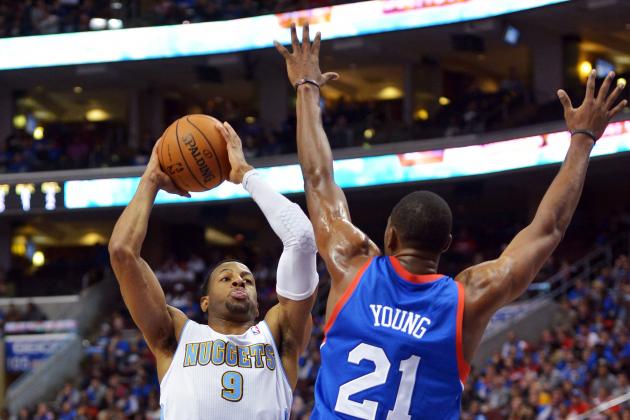 Drew Hallowell/Getty Images
Young had the Sixers best plus/minus
Thaddeus Young has one of the most unique skill sets in the NBA, and it looks like the Sixers could be using him a little differently than in years past.
The 6'8" small/power forward is too fast for undersized power forwards and too big for shorter small forwards. His athleticism also makes up for his lack of polish that comes with getting a lot of minutes.
After only starting two games in the past two years, Young was given a shot to start against the Nuggets.
None of his stats were eye-popping except for one: His plus/minus was plus 18. That means that Philadelphia scored 18 more points than Denver whenever Young was on the floor.
Having a starter who's capable of producing like that is invaluable.
The successful move of Hawes to the sixth-man role should give Coach Collins all of the confidence in Young's position as a starter.
Plus, Young did enough himself to prove that he's ready to make that switch.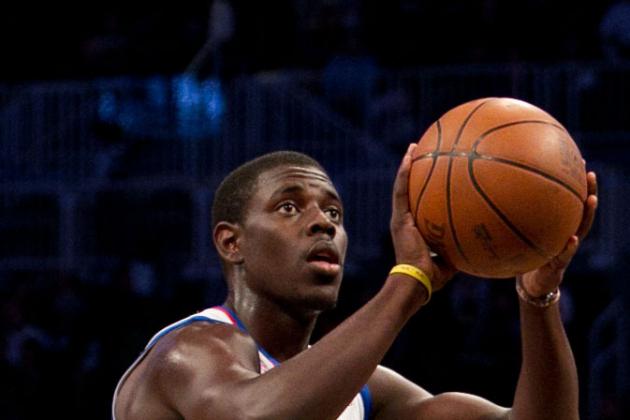 Debby Wong-US PRESSWIRE
The Sixers will win a lot of games if they consistently get to the free-throw line
There's not much to this one besides the obvious.
Philadelphia needs to be the more aggressive offensive team night in and night out.
The most important result of this will be trips to the free-throw line.
It wouldn't be out of the question to say that Philadelphia beat the Nuggets because of how many more free throws they attempted and ultimately made.
Denver only shot 5-of-11 whereas the Sixers shot 17-of-21.
Ten more free-throw attempts and 12 more made couldn't be more important in a game that was decided by eight points.
Philadelphia will need to stay aggressive and attack the hoop so that there's an advantage in free-throw attempts as the season continues.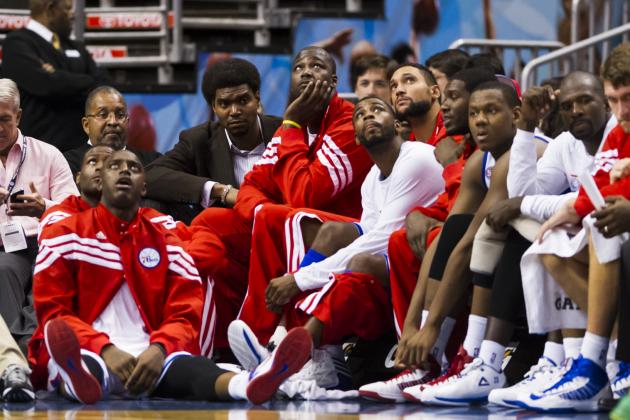 Howard Smith-US PRESSWIRE
The new additions didn't take much time getting acclimated to playing for the Sixers
Richardson, Wright and Young were all able to come into the first game of the season and make an impact.
There's no reason to believe that Bynum's introduction will go any different.
Will there be bumps in the road? Of course there will be—players aren't going to just let him back on the floor and make things easy for him.
The key is that he's been able to watch from the sidelines and pick up what's going on in the Sixers' system from a different perspective. Sometimes it's easier to recognize certain intricacies from the bench. It's a new view, and you're able to see the game in a different way.
Bynum's time there should help him jump into what the Sixers are doing relatively quickly.
There's really no reason for him to take much time in coming back strong.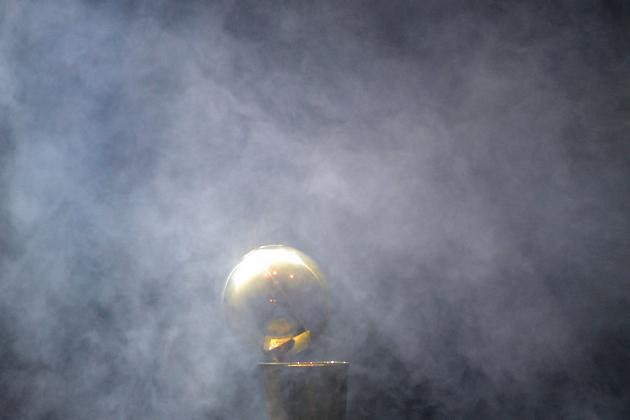 Steve Mitchell-US PRESSWIRE
The Sixers can win it all...no they really can
The Philadelphia 76ers could actually win the NBA Championship.
It feels amazing to type that, but it couldn't be more true.
They have all of the ingredients for success, and all that's left to do is to put them together.
Of course, injuries or trades could throw everything off, but if everything runs as planned, then Philly is in a good spot.
Chances are that they will have to eventually go through the Miami Heat in the playoffs, but we'll tackle that obstacle when we get there.
For now, let's be excited about this season and all that it could bring. It should certainly be a fun one.