Big Ten Football: Game-by-Game Predictions for Week 10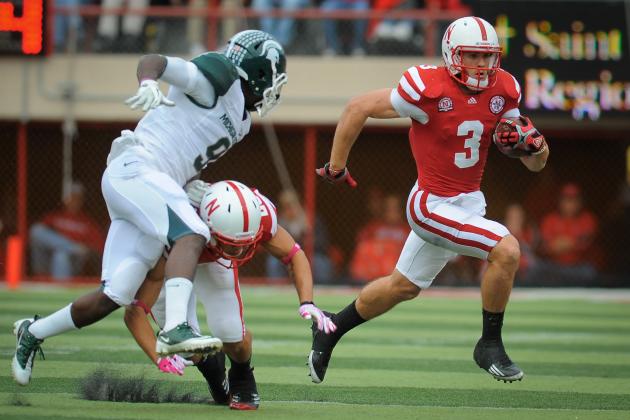 Eric Francis/Getty Images
Seconds before we saw Isaiah Lewis' feet flying up in the air.
Welcome to "A November To Remember!" That's what we're going to call this final month of the Big Ten football regular season, even though it can't possibly be true—because the Big Ten is bad at football, you see. Don't know if you've heard anything about that yet this year.
Anyway, the first week in "A November To Remember" gives us a stellar matchup in Nebraska going to Michigan State, plus there's also...um...hey, Spartans and Huskers, going right at it.
Actually, that's neither fair nor kind. The other four games all have something to watch for. Less so, mind you, but there's something for everyone.
Onward!
*All times ET
Begin Slideshow

»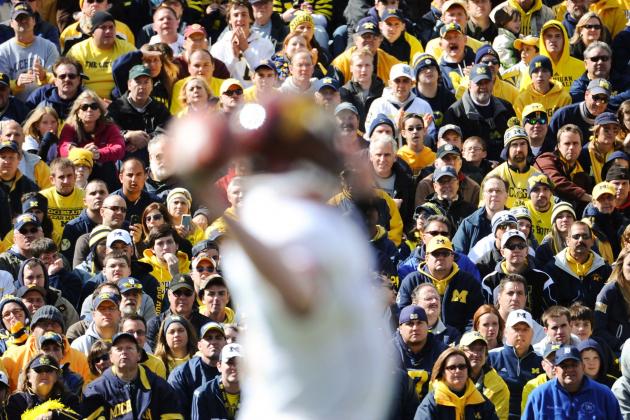 Tim Fuller-US PRESSWIRE

That picture is the perfect wire-service photo. "Sure, there's a Minnesota player doing something...but check out all the Michigan fans!"
We realize the Big Ten Blog doesn't have a ton of room to criticize others about selective team coverage, but at least we'd have the decency to focus the lens on the guy holding the football.
We digress.
Michigan at Minnesota is the only noon game of the entire weekend for the Big Ten, so if you're a conference diehard (and you should be!) this will be on your television by default. But it's really worth keeping an eye on all the same, because there's the potential for disaster and ruin.
We don't know who's starting this game at quarterback for the Wolverines. It could—nay, should—be normal starter and putative team MVP Denard Robinson, but he left last week's game with an injured ulnar nerve that affects his ability to throw the football. He has practiced some this week, but despite Brady Hoke saying Robinson is expected to start (per the Detroit Free Press), we'll believe it when Shoelace is actually out there.
If this is another feint from Hoke, it could be Russell Bellomy, who came in for Robinson after the injury. But Bellomy turned in a disastrous 3-16, three-interception performance that submarined Michigan's hopes and was one of the worst quarterbacking performances the conference has seen in a good long while.
It could also be Devin Gardner, who moved to wide receiver before the season then saw most of the snaps in practice at quarterback this week. But Gardner wasn't great while he was at quarterback, and he looked far worse than Bellomy at the spring game.
So if Michigan can't get quality play from its QB position, there's a real possibility of a Minnesota win if the Gophers even rack up, say, 17 points. We think Robinson will give it a go (even as Hoke hasn't done much to engender trust in his pregame statements this year), however, and because of that we're calling this one for Michigan.
Final Score: Michigan 31, Minnesota 19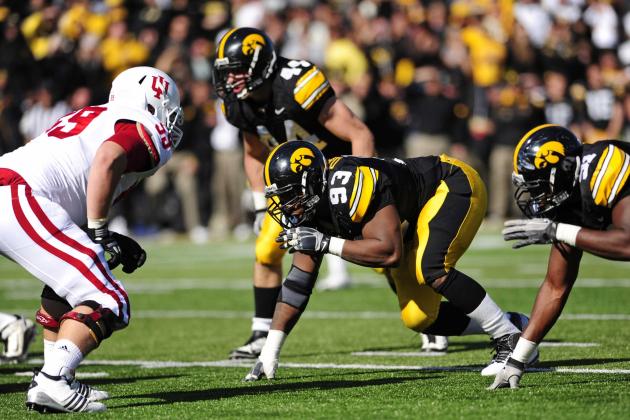 Byron Hetzler-US PRESSWIRE

CODE CRIMSON. CODE CRIMSON. This is not a drill, folks: Indiana is favored in a Big Ten game. This is the first such game since Indiana was facing Northwestern in 2007. Indiana lost that game, of course.
But the Hoosiers are making their way from "punching bag" to "punching back" on the strength of an aggressive passing game under the tutelage of Kevin Wilson. They appear to be going in a much different direction than the Iowa Hawkeyes, who are struggling with several key injuries and an extraordinarily inefficient new offense.
Indiana's defense is bad, which is the only reason Iowa still has a chance in this game. Many teams have cured their offensive woes for a week by facing the Hoosiers, who are giving up 36 points a game against teams not named Indiana State or Massachusetts.
The main engine of Iowa's offense was RB Mark Weisman running behind LT Brandon Scherff, though, and both men are out of this week's game—with substandard replacements. It's very difficult to see where enough production comes from for Iowa to win this game.
Final score: Indiana 24, Iowa 13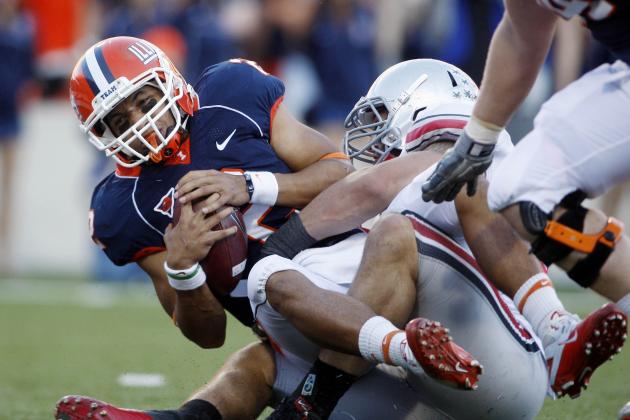 Jerry Lai-US PRESSWIRE

It's both easy and accurate to say that Illinois is just terrible at football this year, however it might not be wise to automatically assume that means a Buckeyes blowout is coming.
In fact, you have to go back to 1998—when the competing head coaches were John Cooper and Ron Turner—to find the last time Illinois lost to Ohio State at home by more than 11 points.
That said, this isn't the past, and Ohio State is considerably more talented than Illinois. Ohio State should have some difficulty running the ball against a surprisingly talented front seven for the Illini, who give up 152 yards per game and can give opposing offensive linemen fits.
But there's really no telling where Illinois' points are supposed to come from in that mess of an offense, and if the Illinois defense has to spend 40 minutes chasing Braxton Miller, getting hit by Carlos Hyde and trying to keep up with the Buckeyes' big-play wideouts, it's going to wear down well before the final gun.
Expect a game that's close for a quarter or two, but don't expect the Illini to scare Ohio State here.
Final score: Ohio State 38, Illinois 9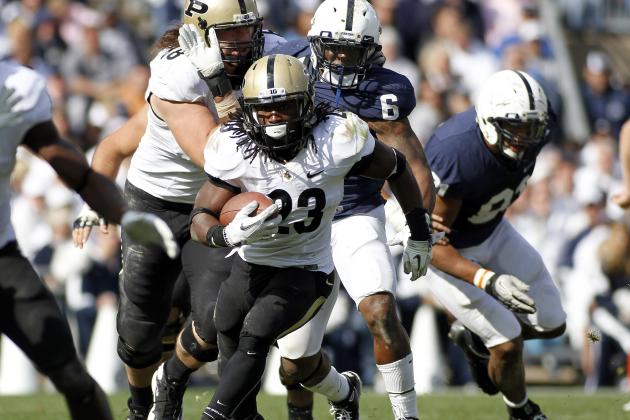 Justin K. Aller/Getty Images

If you want to see two teams defying expectations in substantial ways, be sure to turn on Penn State and Purdue on ESPNU.
There, you'll see a Penn State team that was devastated by sanctions and the loss of its legendary coach, starting 0-2 only to reel off five straight wins and sit on the verge of securing a .500 season both overall and in the Big Ten with three games left.
Then there's Purdue, who stood poised to make a run at a Big Ten Championship berth with Ohio State and Penn State out of the picture for the year and Wisconsin struggling mightily in the early going.
The Boilermakers have utterly collapsed in Big Ten play, however, losing in blowouts to Michigan, Wisconsin and Minnesota and choking away a monumental upset against Ohio State.
If there's any hope at salvaging the season and a bowl bid for the Boilermakers, it's by coming away with a home win here. Robert Marve is getting the start, and when healthy, he's looked the sharpest at QB for Purdue this year. And there's some definite offensive firepower around Marve, so don't expect a complete mashing by Penn State.
You should expect a victory for the Nittany Lions, though, and despite a jarringly close line from Vegas (currently at Penn State minus-3.5 despite huge action on Penn State's side), this doesn't look like an especially close matchup.
Final score: Penn State 27, Purdue 17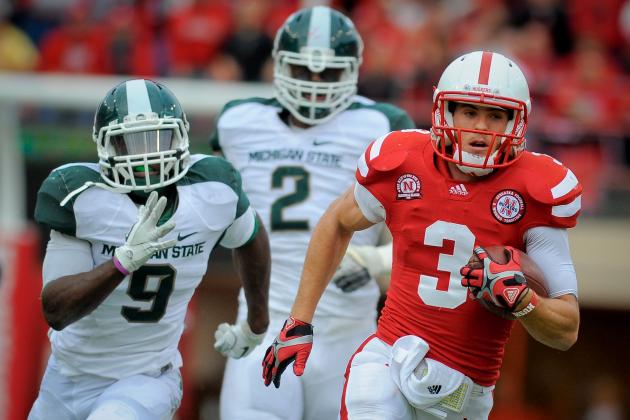 Eric Francis/Getty Images

The marquee matchup of the weekend is Michigan State hosting Nebraska, in a game that should be more evenly matched than the 24-3 beating Nebraska put on MSU back in 2011.
Nebraska will likely be without the services of Rex Burkhead yet again this week (which is too bad, because we found a pretty choice picture of Burkhead from last year's game in the wire photos), which means it's going to be a steady diet of Ameer Abdullah and company from the Huskers backfield.
Michigan State should be well-prepared for that, though, if last week's win over Wisconsin is any indication. The Spartan offense is still anemic, but it should keep things close by forcing Taylor Martinez to throw—which he still struggles to do against good secondaries.
This game should be very, very evenly matched.
A bouncing ball or some other 50-50 play either way could very well decide it. As it stands, look for Michigan State to ride LeVeon Bell, hold serve at home and keep its ultra-faint conference title hopes alive with a hard-fought victory here in "A November To Remember."
Final score: Michigan State 21, Nebraska 20