The Miami Heat force opponents into playing at speeds they're typically not comfortable. This starts with pressure on the defensive end of the floor and often ends with high percentage shot opportunities in transition.
As a result, the Heat finished amongst the NBA's top four teams in terms of overall field-goal percentage last season.
But even though they do play that fast-breaking, pressure-defense, drive-and-kick style of basketball better than anyone else in the league, the Heat can still be beat at their own game. It's not easy of course, but it is possible.
Doing so starts by exploiting Miami's three biggest weaknesses as a team while also encouraging it's two best players to settle for long jump shots.
Defend the passing lanes and convert Heat turnovers into points.
Heat turnover on pass to Bosh leads to Durant dunk in NBA Finals.
The Heat finished in the bottom third of the NBA last season in terms of turnovers committed as well as total assists as a team. They turned the ball over more than 21 other teams while also finishing 20th overall in total assists.
During the Thunder's Game 1 victory over the Heat in the NBA Finals, Kevin Durant finished off a play highlighting both of these inefficiencies.
The Thunder's defensive pressure led first to a mishandled pass intended for Chris Bosh. This then led to a fast-break scoring opportunity by Kevin Durant, which he easily converted.


Turn rebounds into transition baskets.
Thunder rebound leads to transition dunk by Westbrook.
The Heat also finished in the bottom third of the NBA in total rebounds as a team last season. During that Game 1 NBA Finals win by the Thunder, they were collectively out-rebounded 43-35.
The ability to win these battles on the glass led to increased transition opportunities for the Thunder throughout the series—like this finish by Russell Westbrook on the outlet pass in Game 2.
Crash the offensive glass.
Russell Westbrook dunks off rebound.
Miami's weakness rebounding the basketball can also be exploited on the offensive end of the floor. The Heat lack a traditional center. Their small forward, LeBron James, was also the team's leading rebounder.
This lack of depth on the frontcourt can lead to additional scoring chances on the offensive end. Russell Westbrook crashed the glass on this particular play and converted the putback dunk. He looked like LeBron James flying through the air in the process.
Force LeBron James and Dwyane Wade to settle for long twos.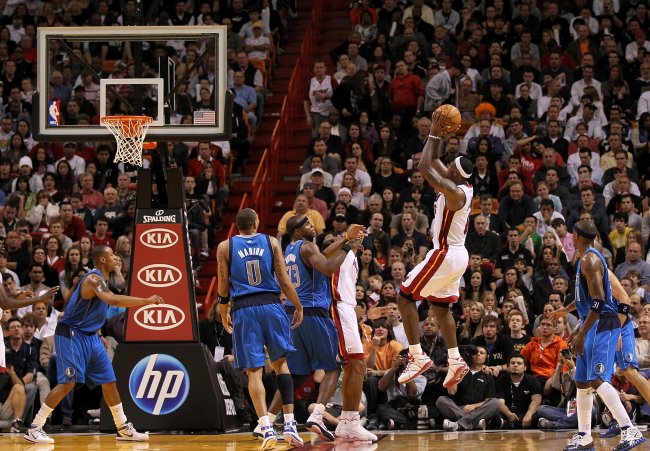 Mike Ehrmann/Getty Images
Missed jump shots lead to long rebounds. Long rebounds lead to transition points. Keep this in mind while also considering the fact that James and Wade typically miss long jump shots.
At least more than they miss any other shot of the basketball court.
From 16-23 feet out, both superstars shoot a worse percentage than they do from any other area on the floor. LeBron took an average of 5.6 field goals from this range last season and made only 39 percent of those attempts. Dwyane Wade attempted 4.3 from this distance and made 37 percent of his attempts.