Assessing the NFL's Top 100 Players, Midseason Edition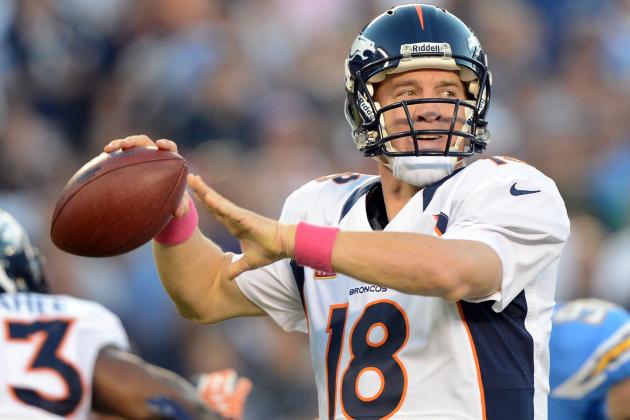 Harry How/Getty Images

Now that it's midseason of the 2012 NFL season, it's time for rankings—rankings of everything, but most importantly, players.
This isn't a simple ranking of the best players in the NFL, though. Without taking previous seasons into account, this is a ranking of the best players in 2012. Period. No other season matters.
Position wasn't a huge factor; it's more about who was the best at his position. This is not a midseason MVP list. However, don't expect to see too many kickers or long snappers.
So which players are standing out the most in 2012 (in a good way, that is)? There's only one way to find out.
Begin Slideshow

»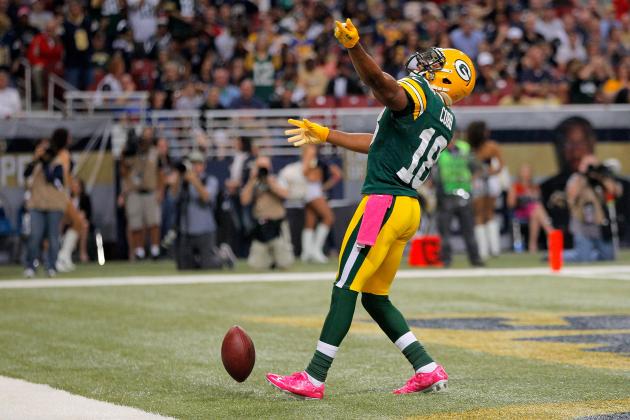 Doug Pensinger/Getty Images

An explosive athlete, Randall Cobb has contributed both as a receiver and a return man. He is a constant presence on the field, and even as a secondary target for Green Bay, he demands attention. If you ignore Cobb, you will pay for it.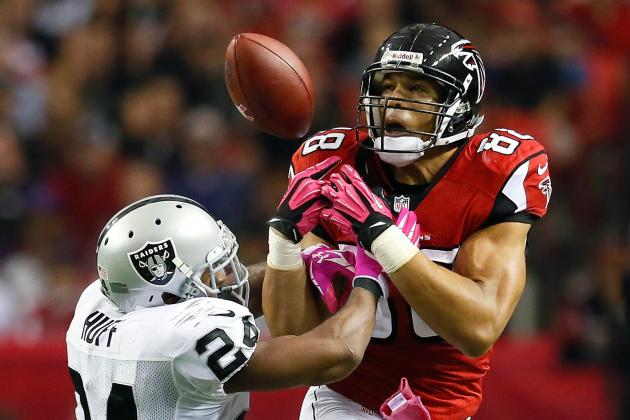 Kevin C. Cox/Getty Images

Now 36 years old, Tony Gonzalez remains one of the NFL's best tight ends. He is a legitimate safety net for Matt Ryan but is still capable of making plays. Gonzalez is still an underrated blocker at tight end as well.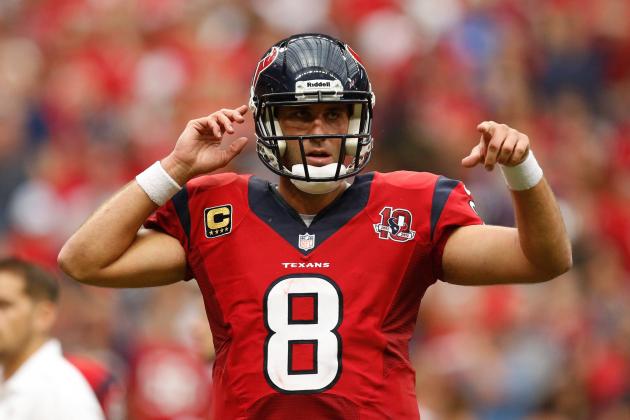 Thomas Campbell-US PRESSWIRE

Consistently solid but rarely great, Matt Schaub has helped lead a balanced Texans offense in 2012. The former Falcon has few weaknesses and is good at avoiding costly mistakes. With the talent on Houston's offense, Schaub is more than capable of leading the team to victory.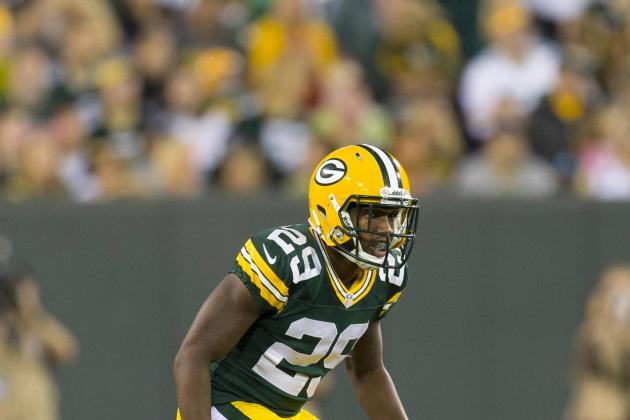 Jeff Hanisch-US PRESSWIRE

A second-round pick out of Vanderbilt, Casey Hayward already has four interceptions on the season. He has been excellent helping replace Charles Woodson and has actually been a strong point of Green Bay's defense. Few rookie cornerbacks contribute like Hayward has.
Timothy T. Ludwig-US PRESSWIRE

Because he has struggled with injuries, Sebastian Vollmer hasn't been able to make much of an impact prior to this year. In 2012, however, Vollmer has done a great job protecting Tom Brady and opening up holes for Stevan Ridley. Vollmer has been the NFL's best right tackle.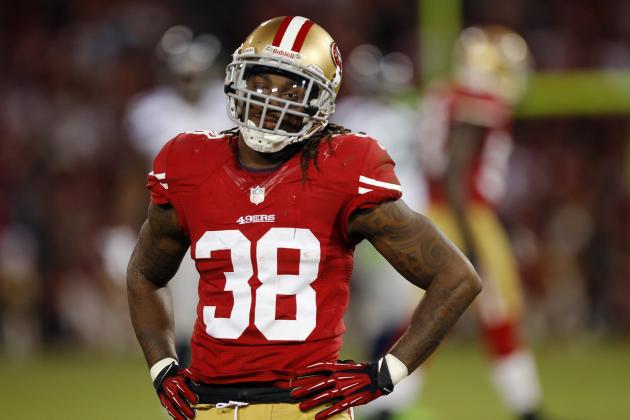 Brian Bahr/Getty Images

Frequently underrated, Dashon Goldson has finally started to receive the attention he deserves as San Francisco's defense emerges as the elite force it is. Goldson's stats don't stand out too much, but he rarely makes mistakes and is frequently around the ball. He is a reliable presence.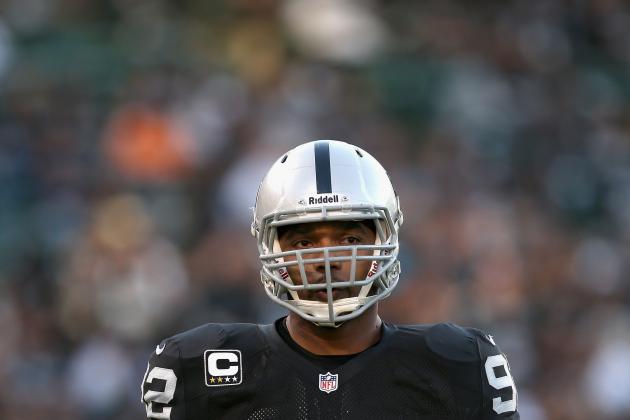 Ezra Shaw/Getty Images

At age 33, Richard Seymour isn't quite the player he used to be, but he's still better than all but a few. In fact, Seymour is one of the only players on Oakland's defense who consistently makes an impact. His three sacks at defensive tackle are impressive given his strength against the run.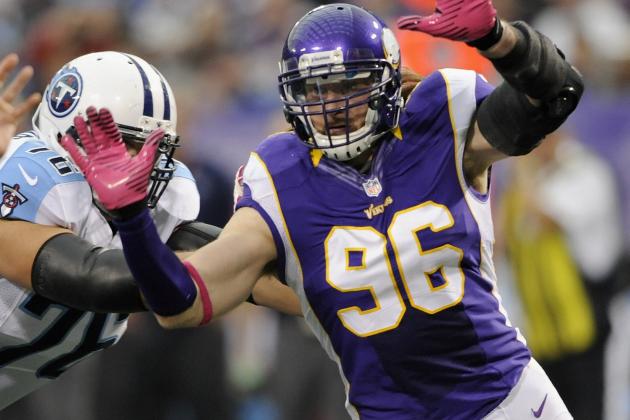 Hannah Foslien/Getty Images

Brian Robison's game against Arizona makes up a significant portion of his 2012 stats, but he has still impressed opposite Jared Allen. Robison has made an impact rushing the passer but has stood strong against the run as well. Playing opposite a bona fide star, Robison is good enough to star for many teams.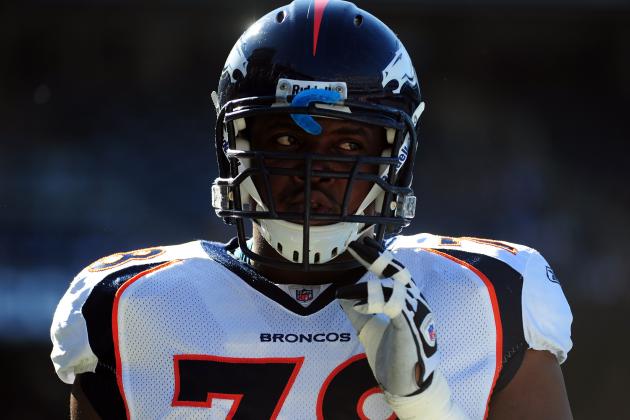 Harry How/Getty Images

An incredible athlete, Ryan Clady excels in pass protection but occasionally struggles in the run game. Now protecting Peyton Manning, Clady is looking better than ever. For the first time in years, Manning has a legitimate blindside protector.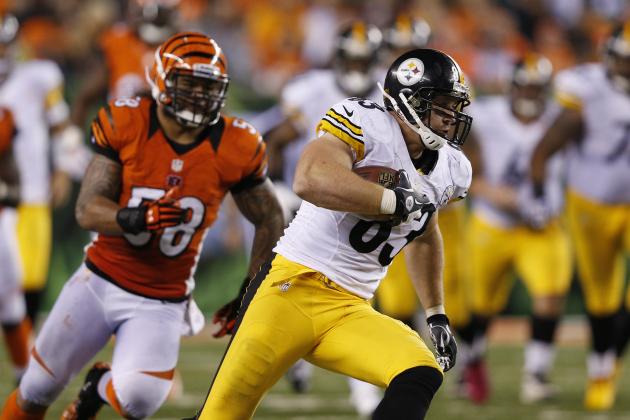 Joe Robbins/Getty Images

Heath Miller is frequently highlighted as an underrated player, but many fail to realize just how good he is. A great blocker, Miller contributes heavily to the run game, but he's also a solid receiver. He may not be Rob Gronkowski, but any team would love to have Miller at tight end.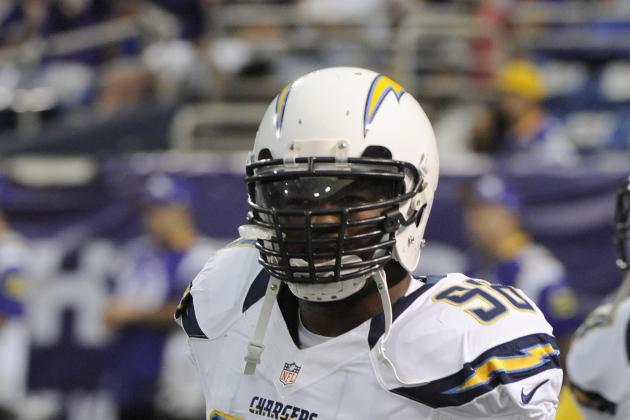 Hannah Foslien/Getty Images

After a largely unnoticed 2011 season with the Saints, Aubrayo Franklin is back in a 3-4 defense making plays. The nose tackle is great at plugging up the run and is a perfect fit in San Diego's defensive scheme. The Chargers found a cheap gem in free agency.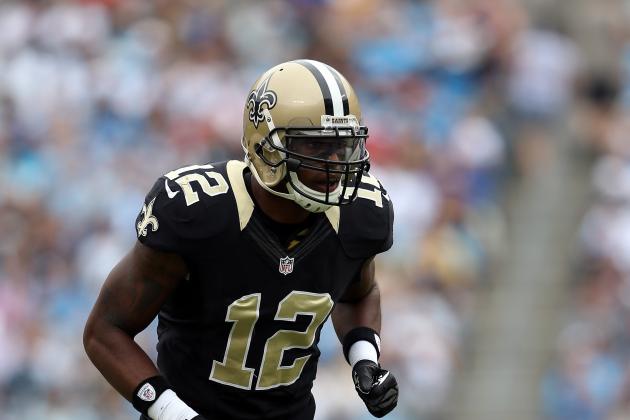 Streeter Lecka/Getty Images

Marques Colston is consistently one of the NFL's few wideouts to break 1,000 yards, and he seems likely to do so yet again in 2012. No one will mistake Colston for Calvin Johnson, but he is a reliable target capable of making some plays. Drew Brees wouldn't be nearly as effective without the big wideout.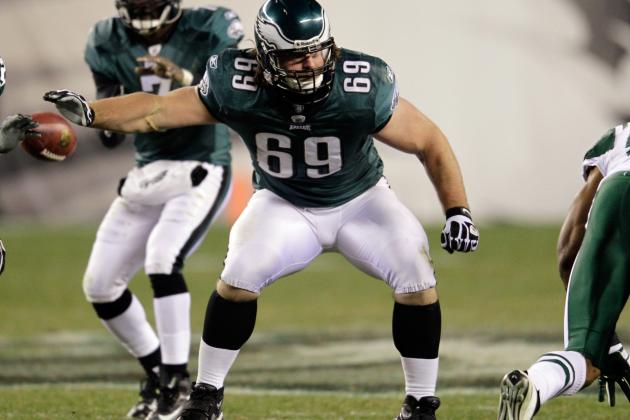 Rob Carr/Getty Images

An athletic but slightly undersized guard, Evan Mathis is a perfect fit in Philadelphia's offensive scheme. In many other offenses, he wouldn't be as dominant, but with the Eagles, few are better. He has a huge impact on Philadelphia's rushing attack and helps keep Michael Vick's jersey clean.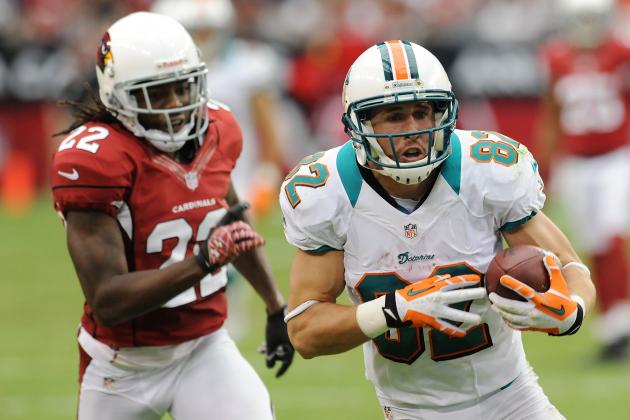 Norm Hall/Getty Images

Before this year, few would have called Brian Hartline a legitimate starting wide receiver. Now, Hartline is on pace for over 1,000 yards and is Miami's one legitimate receiving target. In a few weeks, Hartline should break his career highs as he continues to break out.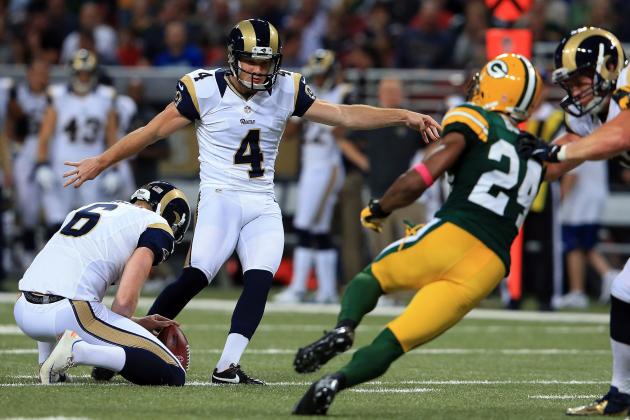 Doug Pensinger/Getty Images

Few kickers have ever played as well as Greg Zuerlein currently is, and none of them were rookies. The sixth-round pick has made five of his seven kicks from over 50 yards and has been incredibly consistent from under that range. He has provided a significant boost to the St. Louis offense.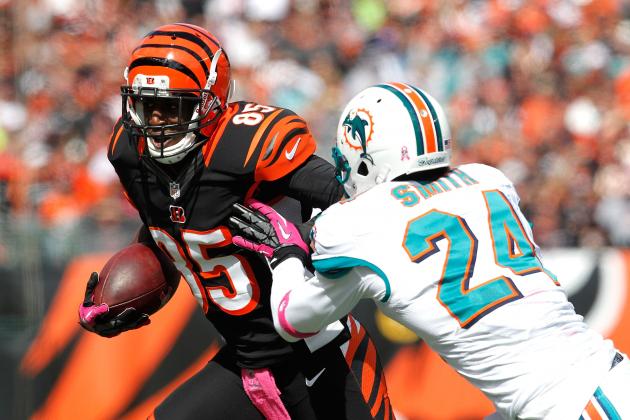 Tyler Barrick/Getty Images

Currently sixth in the NFL with 10 pass deflections, Sean Smith is finally breaking out. He's always had the physical ability but is just now capitalizing on it and performing at a high level. Miami hasn't missed Vontae Davis at all.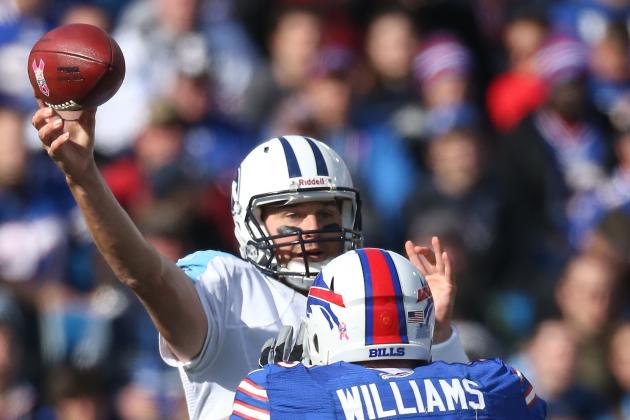 Tom Szczerbowski/Getty Images

Kyle Williams already has 4.5 sacks from the defensive tackle position and is doing a great job against the run as always. Few players are more overlooked than Williams, who dominates year in, year out. Buffalo's defensive struggles are not because of Williams.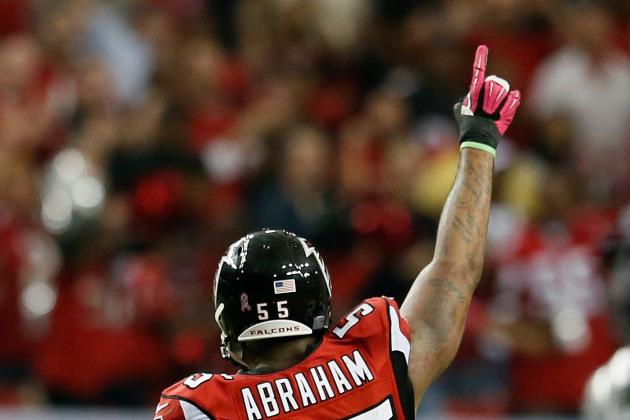 Kevin C. Cox/Getty Images

John Abraham still has it. He's now 34 years old, yet he already has seven sacks in the 2012 season. And he's doing this as Atlanta's lone pass-rushing threat. Offensive lines know who to key in on, and they still can't stop him.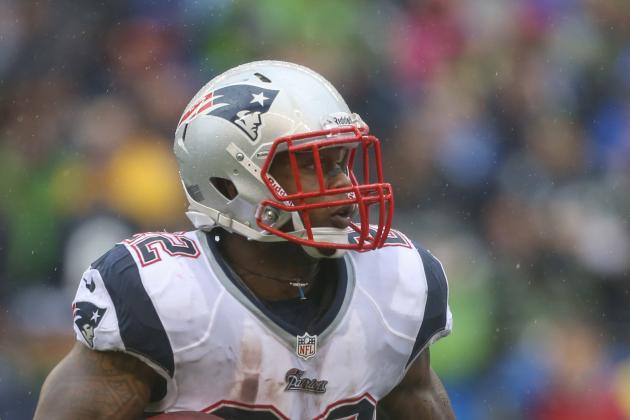 Otto Greule Jr/Getty Images

In one of 2012's biggest surprises, Stevan Ridley has been nearly unstoppable on the ground, rushing for 716 yards through eight games. New England's offensive line helps, sure, but Ridley has earned many of those yards himself. He has been one of the game's top running backs this year.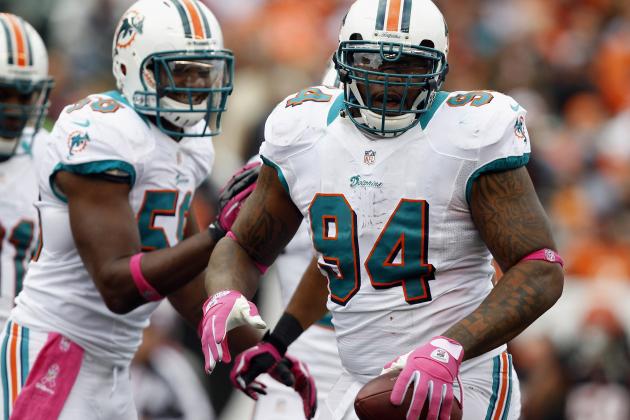 Matt Sullivan/Getty Images

Playing in a 4-3 for the first time in years, Randy Starks hasn't skipped a beat, amassing 3.5 sacks in seven games. He has been a constant presence in the backfield, affecting opposing rushing and passing attacks. Miami's defense owes much of its success to Starks, who is consistently overlooked in defensive tackle rankings.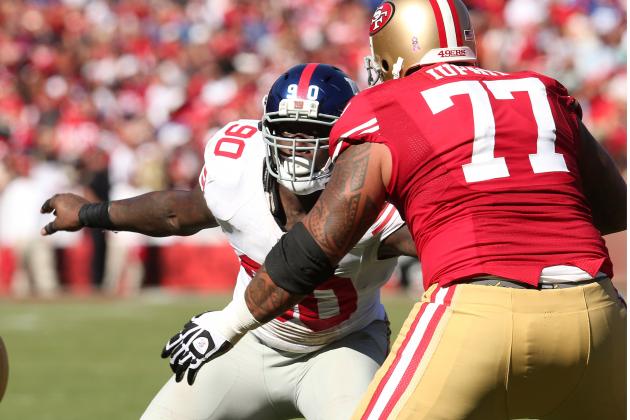 Stephen Dunn/Getty Images

The No. 17 overall pick in 2010, Mike Iupati was one of the most highly-ranked guard prospects in years. He is living up to that billing, as he is now one of the league's best guards. Iupati is an absolute force in the run game, and he's not at all bad in pass protection either.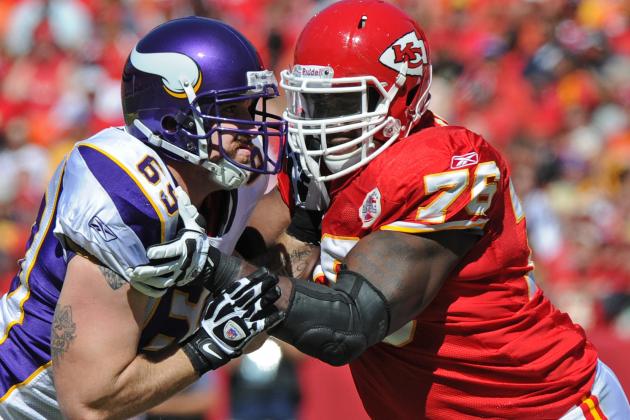 Peter Aiken/Getty Images

Largely because of the team he plays for, Branden Albert is never considered a premier left tackle. He has always been above-average, though, and in 2012 he's been elite. A great athlete, Albert can play in space or overpower defenders at the point of attack. If only he had a decent quarterback to block for...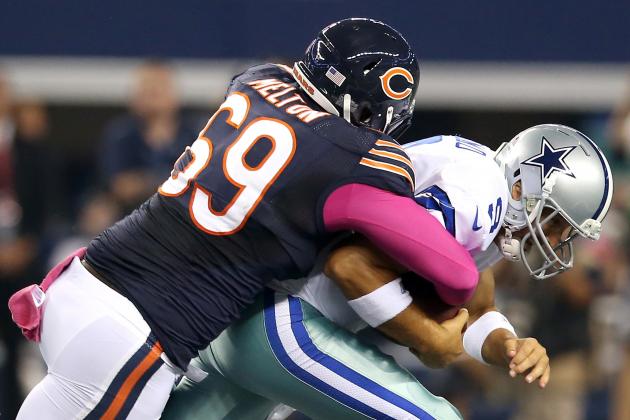 Ronald Martinez/Getty Images

Chicago's defense has been incredible in 2012, and Henry Melton's emergence is a big reason why. The 26-year-old has racked up five sacks and two forced fumbles while consistently interrupting plays in the backfield. For now, Melton remains underrated, but people are starting to notice him.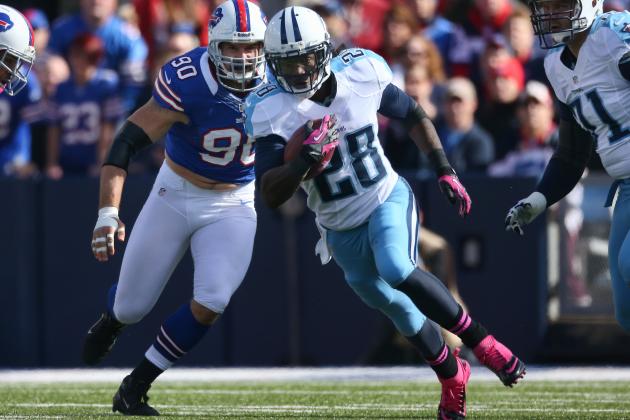 Tom Szczerbowski/Getty Images

Chris Johnson got off to a horrible start in 2012, but he has since rebounded and is actually having a good year. The always explosive Johnson can bust out big runs like no one else, though he still struggles to consistently gain yards. Either way, Johnson's playmaking ability is pertinent to Tennessee's offensive success.
Al Bello/Getty Images

Few running backs have had more statistical success than Alfred Morris, but like any Mike Shanahan running back, his success should be taken with a grain of salt. Morris looks good, sure, but it's hard to know how much is him and how much is the scheme. Either way, he's having a terrific 2012 campaign.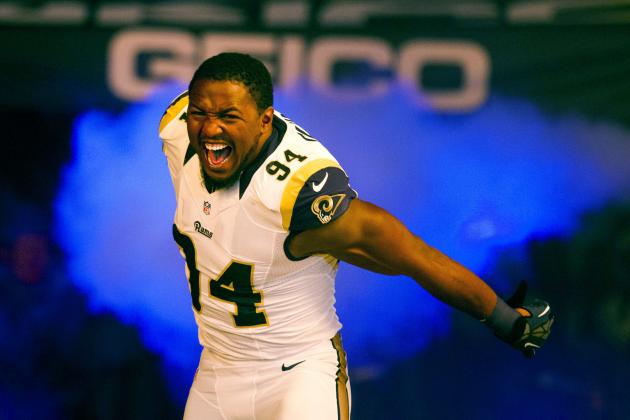 David Welker/Getty Images

As a rookie, Robert Quinn racked up five sacks. Through eight games in 2012, he already has seven and is consistently pressuring the quarterback. Playing opposite Chris Long helps, but Quinn has been an explosive force off the edge.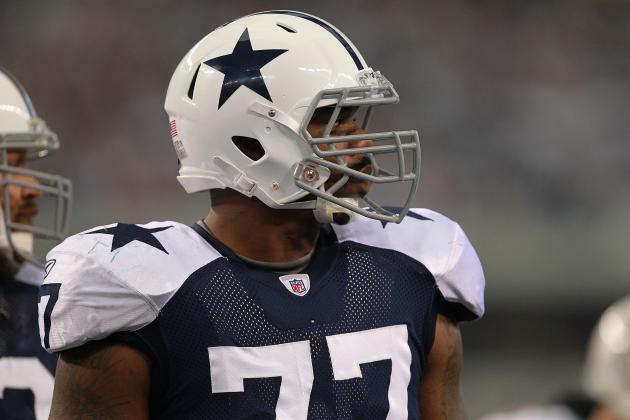 Ronald Martinez/Getty Images

An incredible athlete, Tyron Smith has all the ability of a franchise left tackle. He was great as a rookie, but he's really stepping up in his second season, even as the Dallas offense struggles. Smith has been one of the NFL's best linemen this year.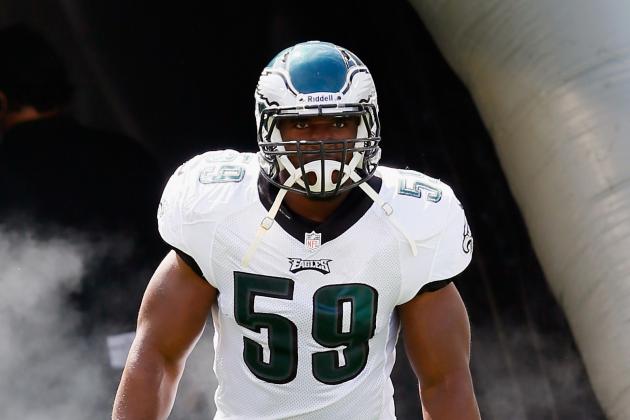 Rob Carr/Getty Images

When Philadelphia traded for DeMeco Ryans, the team knew what it was getting. Ryans has been better than expected, however, as he's made more plays in the backfield than usual. The Eagles' above-average defense would likely be below-average if not for Ryans' play.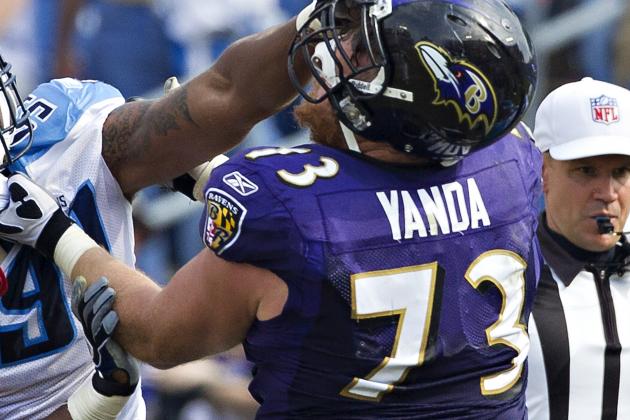 Wesley Hitt/Getty Images

Marshal Yanda gives nastiness a new definition. He is a fierce run-blocker with the athleticism to excel in pass protection as well. In fact, Yanda is athletic enough to kick outside to tackle, where he is still above-average. At guard, however, Yanda is simply dominant.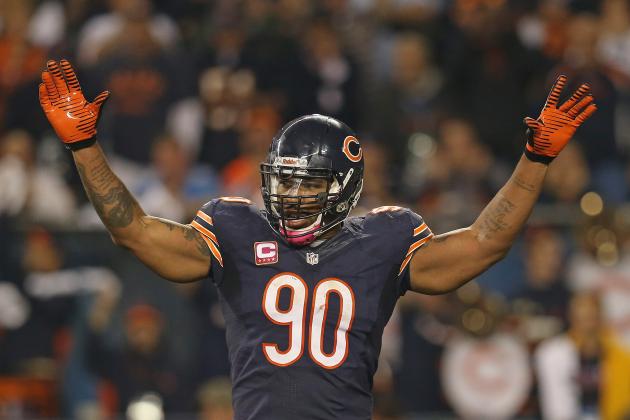 Jonathan Daniel/Getty Images

Even when he doesn't produce stats, Julius Peppers is a force, making plays all over the field. In 2012, he has five sacks but is still dominant against the run. There may not be a defensive end who contributes more in every aspect of the game.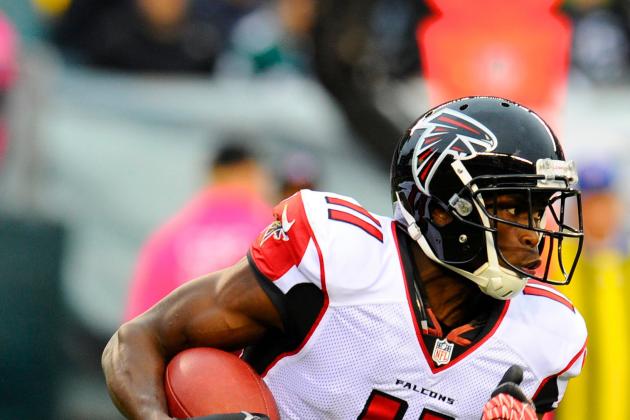 Dale Zanine-US PRESSWIRE

Despite some issues with drops, Julio Jones is having a solid season, especially for a second-year wideout. Jones is on pace for over 1,000 yards and 10 touchdowns, which is a good year for anyone. If defenses don't pay constant attention to Jones, he'll burn them.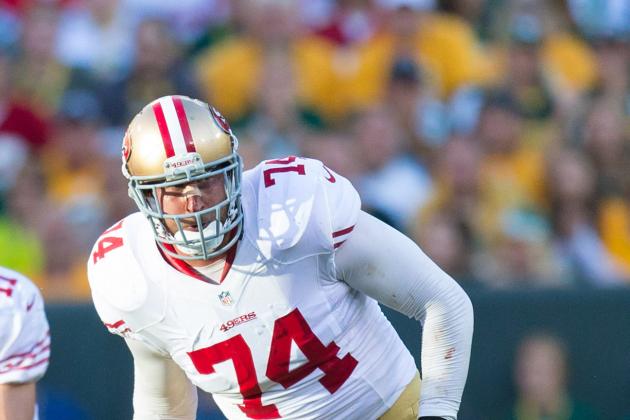 Jeff Hanisch-US PRESSWIRE

On the surface, Joe Staley doesn't seem like anything special. However, he is difficult to beat and gives the word reliable a new definition. Few linemen are smarter, and Staley can pass-block, block in line or block in space. He is complete and versatile.
Rick Stewart/Getty Images

Until late in 2011, C.J. Spiller was widely seen as a bust. Now, in 2012, he's continued his emergence, consistently demonstrating just how explosive he is. Few running backs have Spiller's type of burst and playmaking ability. Defenses live in constant fear of the big play when Spiller is on the field.
Brian Bahr/Getty Images

When the Seahawks drafted Bobby Wagner, they thought they were getting a versatile, athletic linebacker who would contribute on special teams. As a rookie, though, Wagner has dominated in pass coverage while playing well against the run. Few linebackers across the NFL have been better, but for a rookie, Wagner has simply been incredible.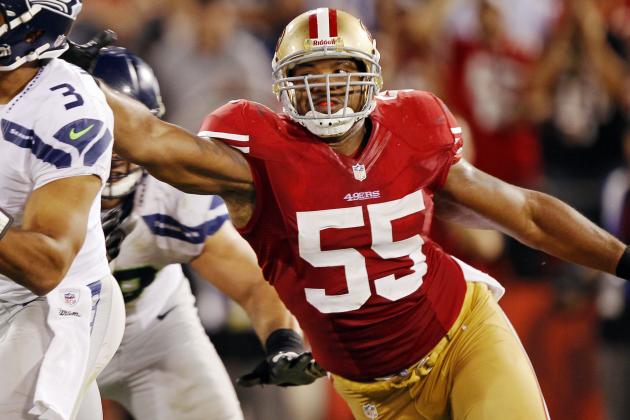 Brian Bahr/Getty Images

Ahmad Brooks isn't necessarily a pass-rushing demon, though he does have four sacks in 2012. He is, however, a complete outside linebacker who can play in coverage and is fantastic in run support. Opposite Aldon Smith, Brooks is the complete player San Francisco needs.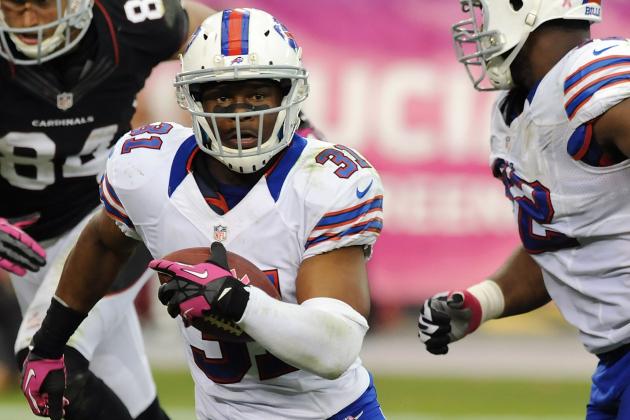 Norm Hall/Getty Images

Known best as a playmaking safety, Jairus Byrd has earned this reputation in 2012. He has forced three fumbles already while reeling in another three interceptions. Byrd isn't often beaten in coverage, and his tendency to force turnovers makes him even more valuable to the Buffalo defense.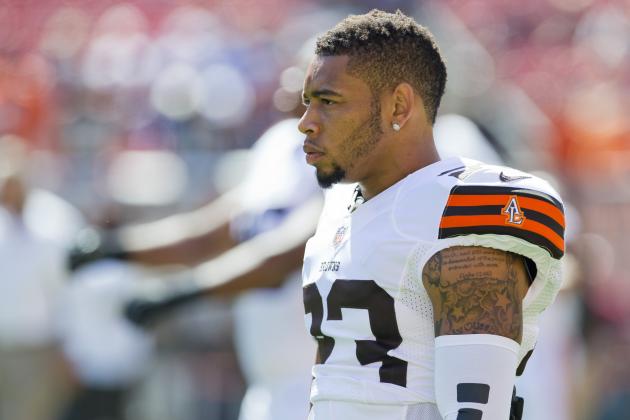 Jason Miller/Getty Images

The only reason Joe Haden isn't higher on this list is because of the four-game suspension he already served. When on the field, Haden has been dominant and perhaps the NFL's best cornerback. His physical play and athletic ability give opposing wideouts fits.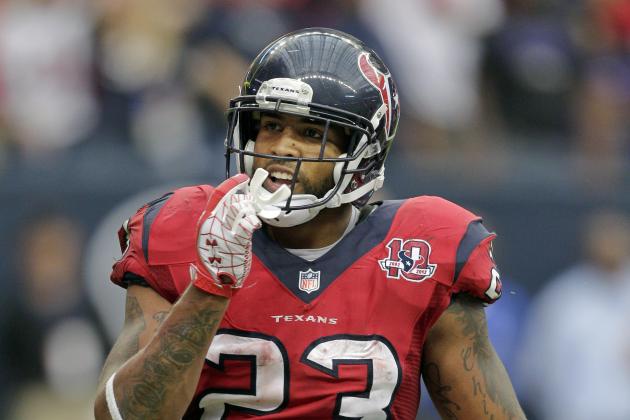 Bob Levey/Getty Images

Though his stats are down (just 3.9 yards per carry), Arian Foster is still playing quite well. The problem isn't Foster but rather the Houston offensive line. Foster is still running hard, showing good vision and catching the ball. He remains an elite running back.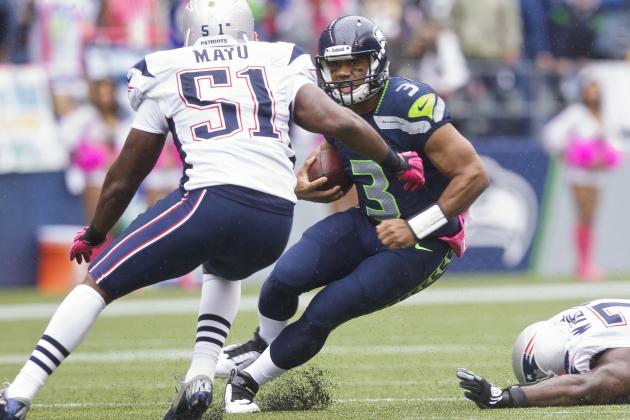 Stephen Brashear/Getty Images

Jerod Mayo has occasionally struggled with injuries, but when he's healthy, he's an explosive linebacker who makes plays all over the field. This is what's happening in 2012, as Mayo is playing sideline-to-sideline with ease. His three forced fumbles and one interception show how valuable he is to the New England defense.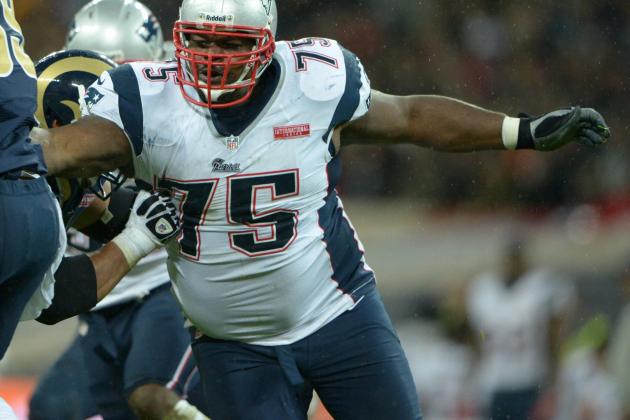 Kirby Lee-US PRESSWIRE

For years, Vince Wilfork has been among the NFL's elite nose tackles. Even as he moves around the defensive line, Wilfork continues to give no ground, often penetrating the backfield himself. He may not be a pass-rusher, but Wilfork takes stopping the run to a new level.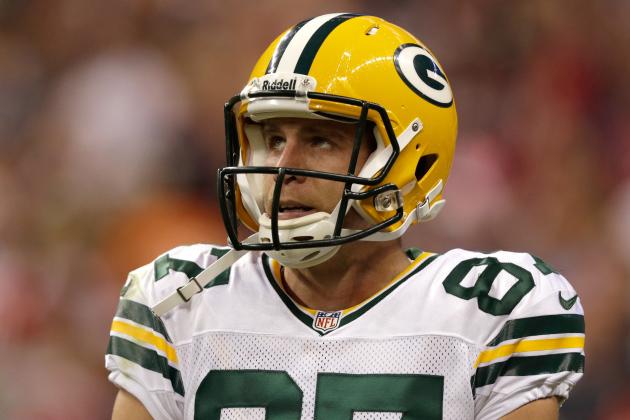 Scott Halleran/Getty Images

In Greg Jennings' absence, Jordy Nelson has stepped up as Aaron Rodgers' primary receiver. Nelson hasn't been quite as explosive as he was in 2011, but he is hauling in catches and making plays. Without Nelson, the Packers would really be struggling offensively. He is the team's one upper-level threat.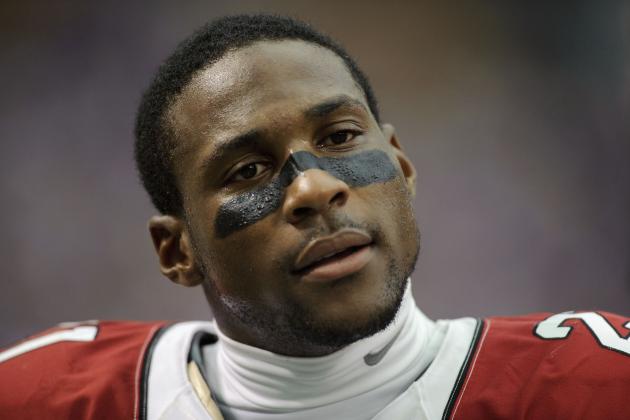 Hannah Foslien/Getty Images

An incredible talent, Patrick Peterson is starting to combine his natural skills with improved technique. He has established himself as a legitimate No. 1 cornerback and is continuing to improve. Even elite wideouts struggle against the second-year cornerback.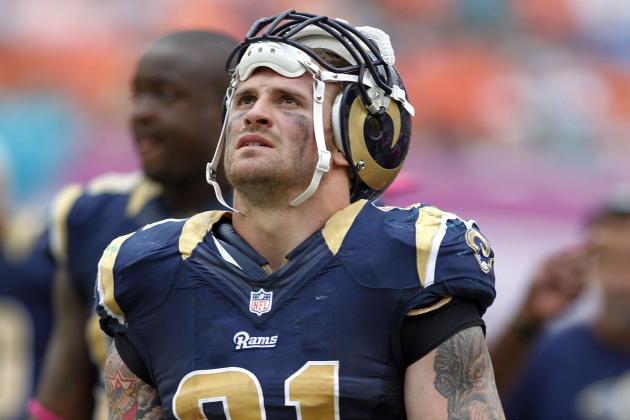 Robert Mayer-US PRESSWIRE

Chris Long may be the most overlooked elite defensive end in the NFL. In 2011, Long picked up 13 sacks and dominated against the run. He hasn't been quite as effective rushing the passer in 2012, but he remains an incredibly complete defensive end.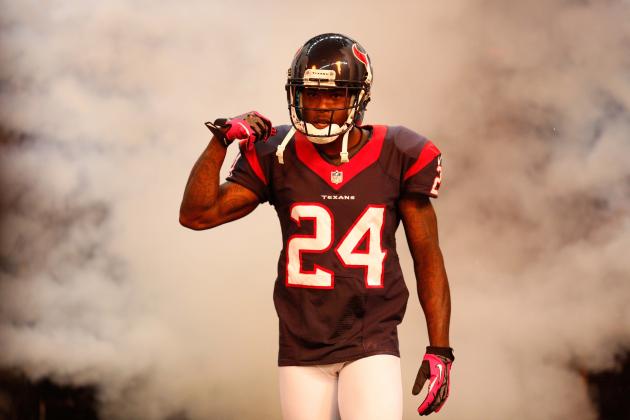 Thomas Campbell-US PRESSWIRE

When Houston signed Johnathan Joseph in free agency, the team was desperate for cornerback help. Joseph has lived up to his massive contract, though, and transformed the unit. There aren't many better cornerbacks in the league, and Joseph can go toe-to-toe with any wideout.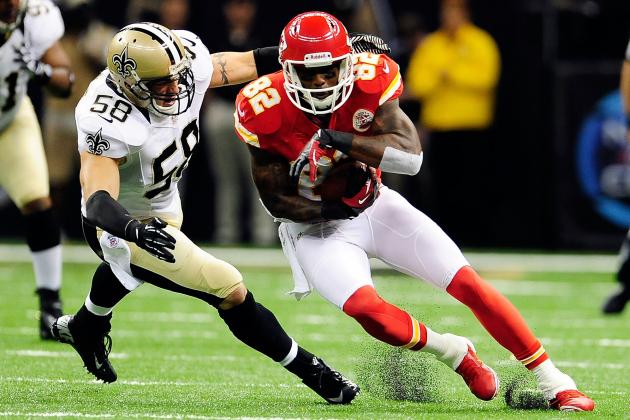 Stacy Revere/Getty Images

Even with Matt Cassel at quarterback, Dwayne Bowe is on pace for over 1,000 yards. Bowe is a great talent who can attack all levels of the field. He isn't among the league's truly elite wideouts, but his production has been impressive.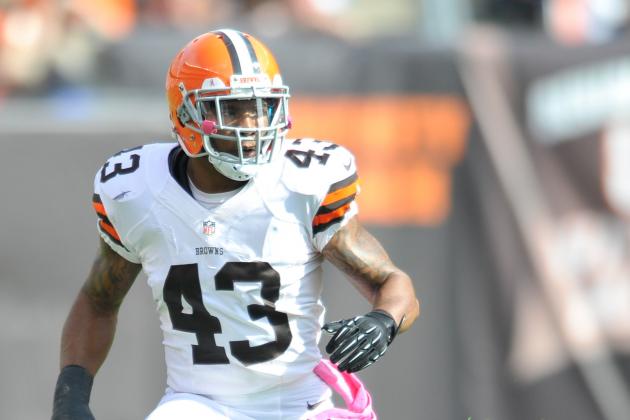 David Richard-US PRESSWIRE

Primarily known as a run-stopping safety, T.J. Ward has also been quite strong against the pass in 2012. He frequently makes plays near the line of scrimmage for Cleveland while allowing few big plays. He's simply an all-around awesome safety.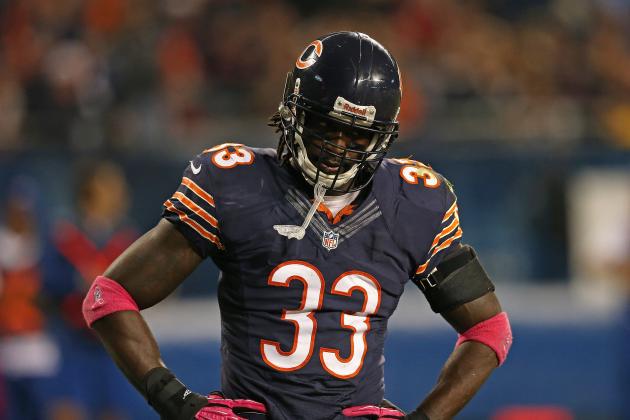 Jonathan Daniel/Getty Images

Chicago's defense hasn't been this good because of one player, and Charles Tillman is just one of many Bears to have stepped up in 2012. Tillman has always been good, but he has been brilliant this year, allowing few receivers to beat him.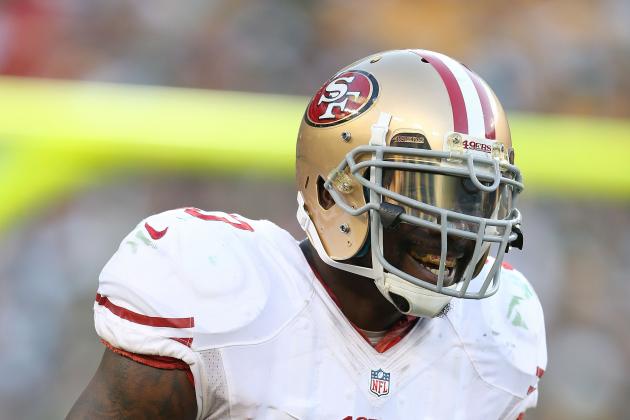 Andy Lyons/Getty Images

Even playing next to Patrick Willis, NaVorro Bowman makes plenty of plays. He is all over the field, making plays anywhere, including in the backfield, as his two sacks indicate. There is no reason for Bowman to ever come off the field, as he's a truly complete player.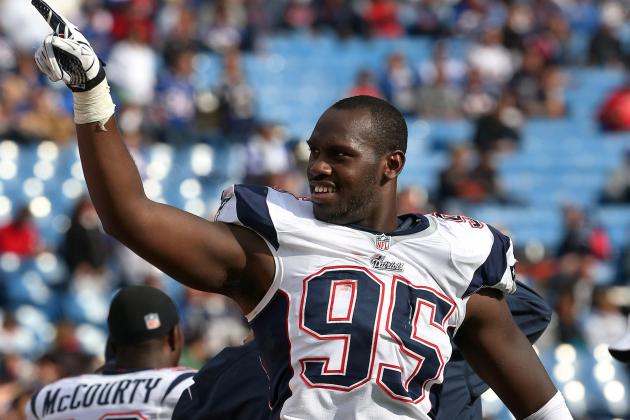 Tom Szczerbowski/Getty Images

Chandler Jones' six sacks and three forced fumbles have had a huge impact on New England's defense. As well as getting to the quarterback, Jones has also been effective against the run. The Syracuse product has exceeded all expectations as a rookie, already establishing himself as a force to be reckoned with.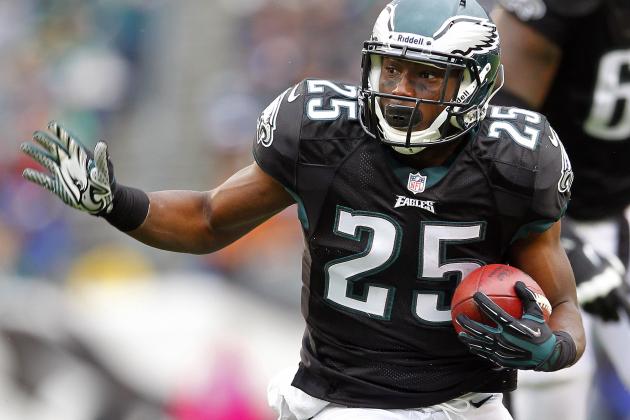 Rich Schultz/Getty Images

LeSean McCoy's numbers are down in 2012, but he has been as effective as ever. The Philadelphia offense and scheme have hindered him; McCoy's play hasn't changed at all. The star running back would be the focal point of many offenses but is unfortunately stuck in Philadelphia.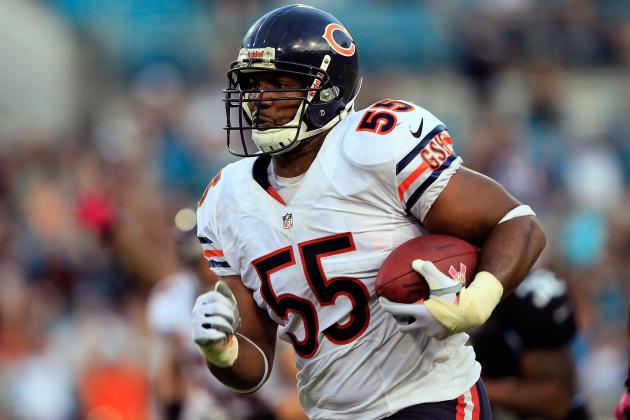 Sam Greenwood/Getty Images

Lance Briggs has always been a well-above-average player, but his dominance has been more noticeable than ever in 2012. He has racked up tackles and made plays, picking up two forced fumbles and two interceptions through seven games.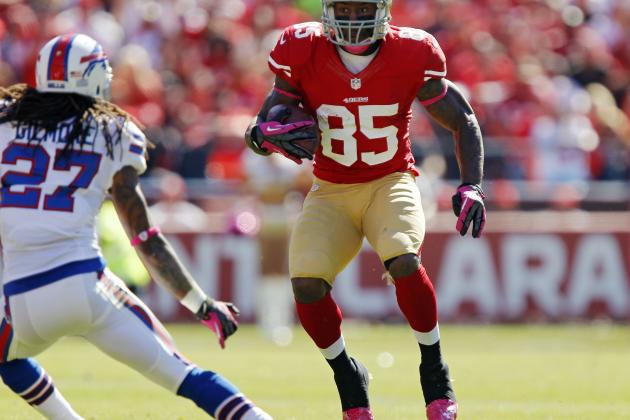 Brian Bahr/Getty Images

An always great blocker, Vernon Davis is constantly making an impact on San Francisco's offense. When he isn't blocking, though, Davis uses his brilliant athleticism to make plays of his own. Davis' 374 receiving yards and four touchdowns are both impressive numbers, and they would be even better in many other offenses.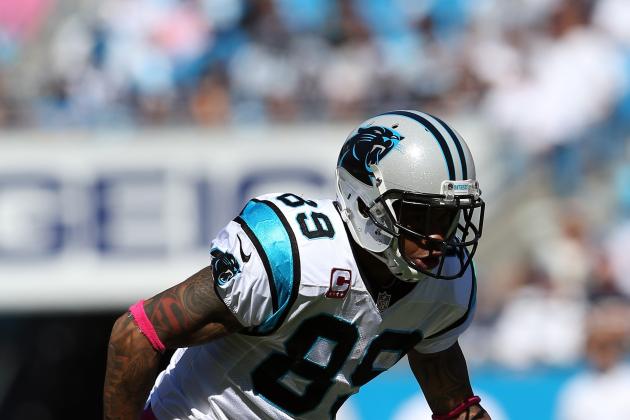 Streeter Lecka/Getty Images

Many are saying Steve Smith is in the midst of a down year, but he's still on pace for more than 1,000 yards. Smith's explosiveness and playmaking ability are as apparent as ever, and he's Carolina's lone dynamic receiving threat. The veteran wideout clearly still has something left in the tank.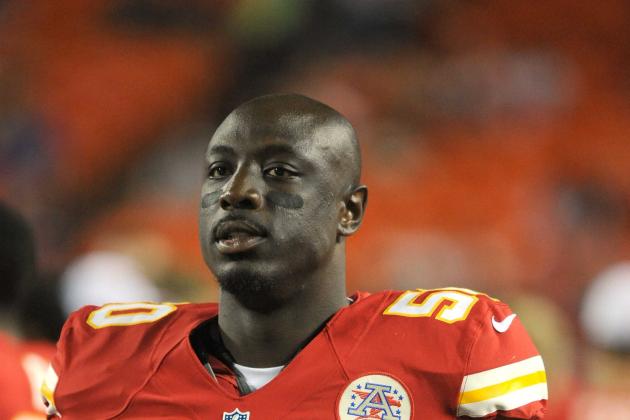 John Rieger-US PRESSWIRE

A third-round pick in 2011, Justin Houston is already establishing himself as a complete outside linebacker. Houston's six sacks combine with above-average run defense. Tamba Hali is the famous outside linebacker in Kansas City, but Houston is outplaying him in 2012.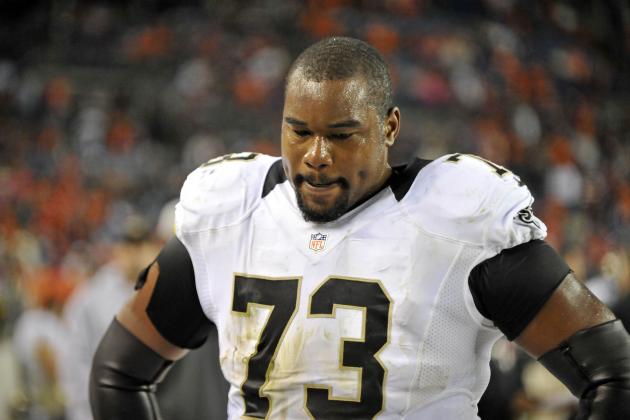 Ron Chenoy-US PRESSWIRE

Well known for his dominant play, Jahri Evans is expected to make no mistakes and overpower defenders on every play. He doesn't quite meet these outrageous expectations, but he is still a brilliant guard. There may not be a better interior offensive lineman in the game, and there hasn't been in 2012.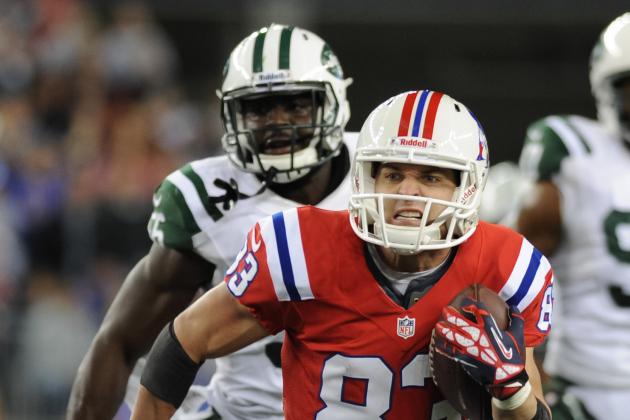 Bob DeChiara-US PRESSWIRE

Wes Welker hasn't received his usual level of publicity, but he's once again leading the NFL in receptions with 60 catches. The Patriots star is also gaining his fair share of yards.
Though the numbers are great, a large part of Welker's success comes from the team he plays for, so he doesn't deserve full credit here. He's a good player, sure, but he isn't as dominant as the numbers imply.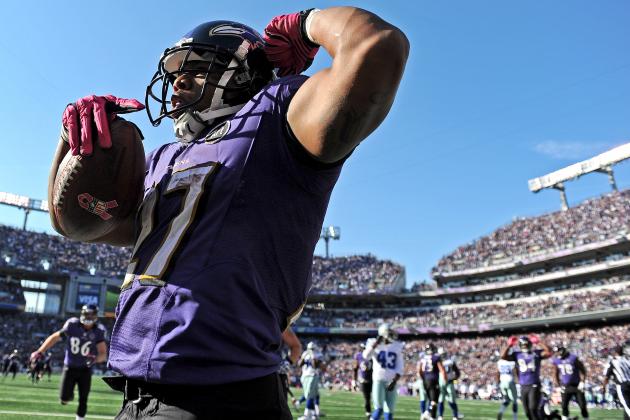 Patrick Smith/Getty Images

Though his receiving numbers are down a bit, Ray Rice's yards per carry are up in 2012, and he's running the ball better than ever. The star running back often isn't fully utilized, but he's still crucial to Baltimore's offensive success. There may not be a running back who contributes so much in every aspect of the game.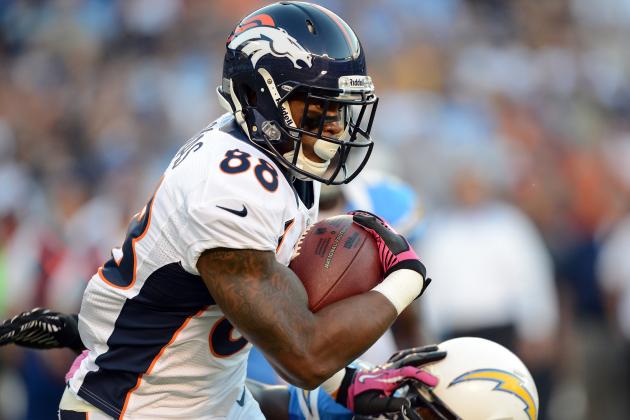 Harry How/Getty Images

Demaryius Thomas was showing signs of breaking out in 2011, but it's finally happened with Peyton Manning at quarterback. Thomas' 679 yards have come on just 39 catches, showing how truly explosive he is. The wideout is a terrific athlete and a fantastic playmaker out wide.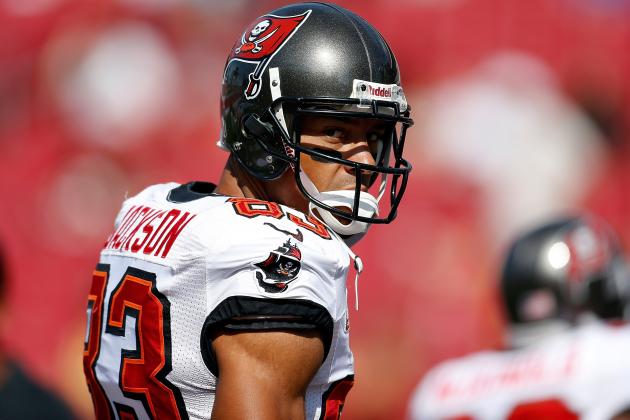 J. Meric/Getty Images

In his first season away from San Diego, Vincent Jackson isn't skipping a beat. He has just 29 catches, but his 626 yards are among the NFL's most for a given player. Without Jackson, the Tampa Bay offense would be much less dynamic and would lack a dominant scoring threat.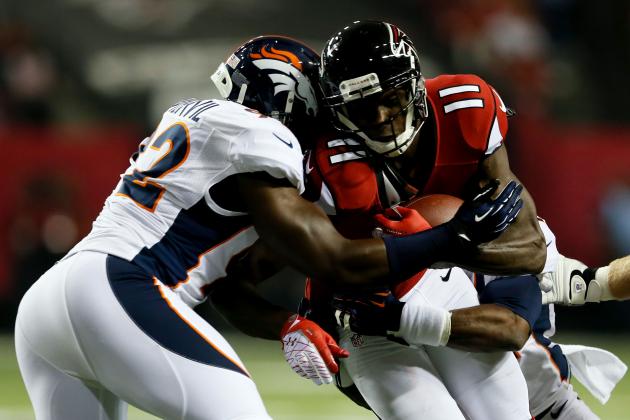 Kevin C. Cox/Getty Images

As usual, Elvis Dumervil is getting after the quarterback and making plays. His five sacks aren't overly impressive, but his four forced fumbles certainly are. Dumervil may be one-dimensional, but he is amazing at that one dimension. He is crucial to the Broncos' pass defense.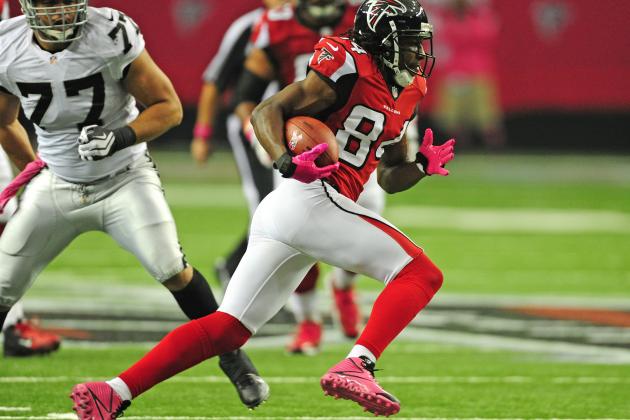 Scott Cunningham/Getty Images

Roddy White is currently on pace for his sixth consecutive 1,000-yard season. The wideout is having a brilliant season, as Matt Ryan and the entire Falcons offense are tearing up the field. Many expected Julio Jones to take over as the team's best wideout, but White has continued to play at an elite level.
Dustin Bradford/Getty Images

Even in a down year, Drew Brees is among the best talent the NFL has to offer. Brees' completion percentage has suffered a significant drop, but his overall numbers are still far better than most quarterbacks'. In the midst of a difficult situation, Brees has continued to play well.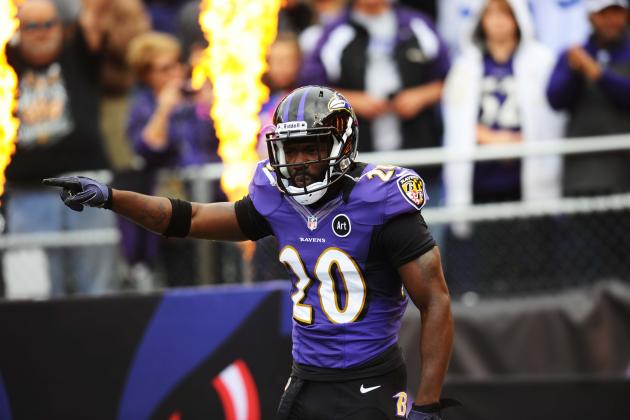 James Lang-US PRESSWIRE

Even as he begins to decline, Ed Reed is an elite safety. His two interceptions aren't overly impressive, but he adds seven pass deflections and overall shutdown coverage from the safety position. Baltimore's defense is going downhill, and Reed is too, but the 34-year-old remains a terrific player.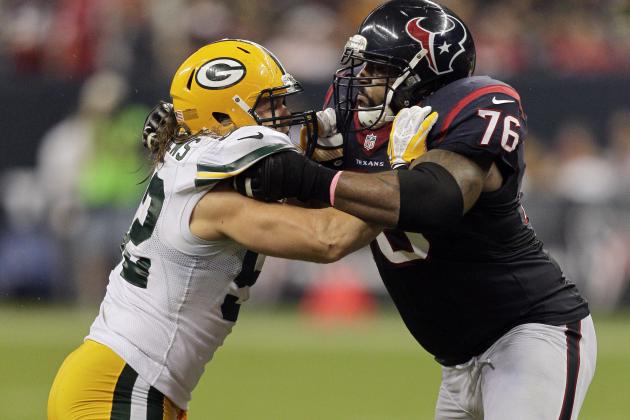 Bob Levey/Getty Images

Duane Brown hasn't allowed a sack since 2010. As this stat suggests, Brown is best known for his pass-blocking ability, but he is also an adept run-blocker, especially in space. The left tackle is the NFL's best offensive lineman in 2012, and his complete play is a big reason why.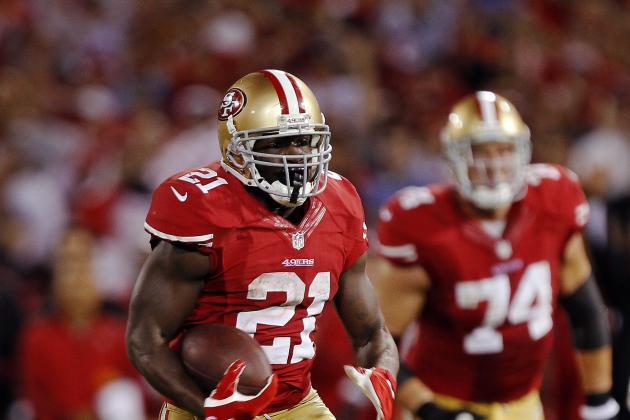 Brian Bahr/Getty Images

Every year, analysts and fantasy football players expect a drop-off from Frank Gore, but it hasn't happened yet. In fact, 2012 is quickly looking like the former Miami Hurricane's best season yet, as he is gaining 5.5 yards per carry. He is the focus of the 49ers offense, and opposing defenses simply can't stop him.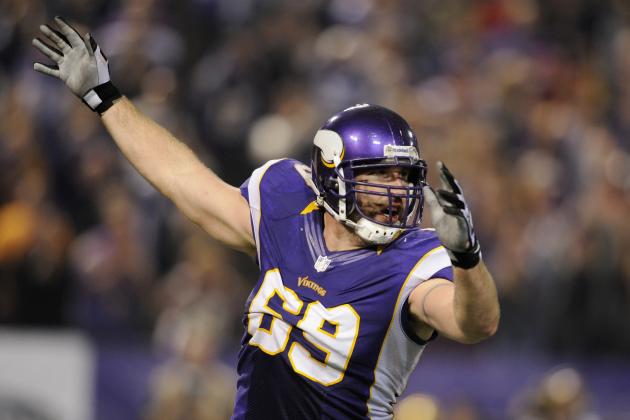 Hannah Foslien/Getty Images

Jared Allen may not end up with 20 sacks again, but his seven sacks are far from a bad number. Perhaps the NFL's premier pass-rusher, Allen is capable of beating any offensive tackle for a sack. He is only decent against the run, but his ability off the edge more than compensates for any possible weakness there.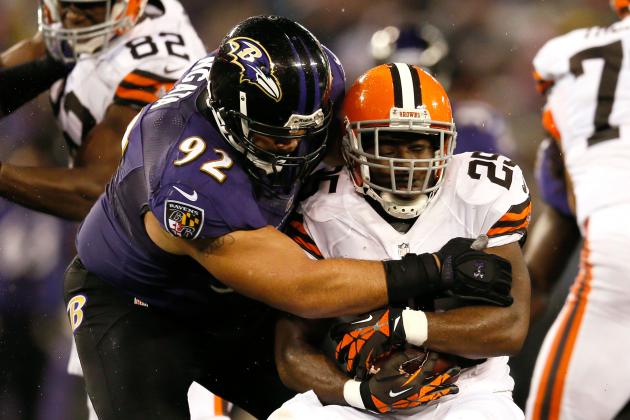 Rob Carr/Getty Images

Consistently among the NFL's best defensive linemen, Haloti Ngata has, as always, done a great job of stopping the run. Unlike some other years, though, Ngata is rushing the passer at a high level and already has three sacks on the season. That's impressive for a 340-pound run-stopper.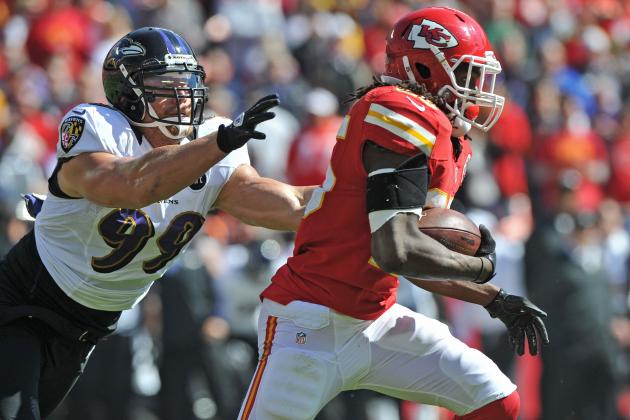 Peter Aiken/Getty Images

Coming off a torn ACL, Jamaal Charles has shown his characteristic explosiveness in 2012. He hasn't had a ton of carries, yet he is among the league's leaders in rushing yards due to his 4.8 yards per carry. Charles isn't completely back yet, but he is still better than nearly every running back in football.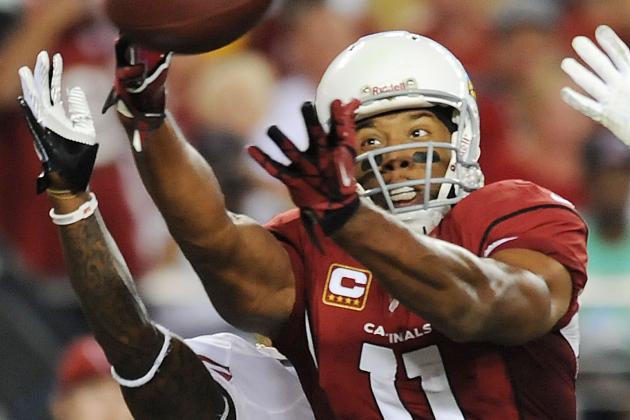 Norm Hall/Getty Images

Don't blame Larry Fitzgerald for the blah production. No wide receiver could produce at a high level given Arizona's dreadful offensive talent at both the offensive line and quarterback positions. Even with this glaring lack of talent, Fitzgerald is on pace for more than 1,000 yards and is consistently making plays.
The wide receiver is simply incredible.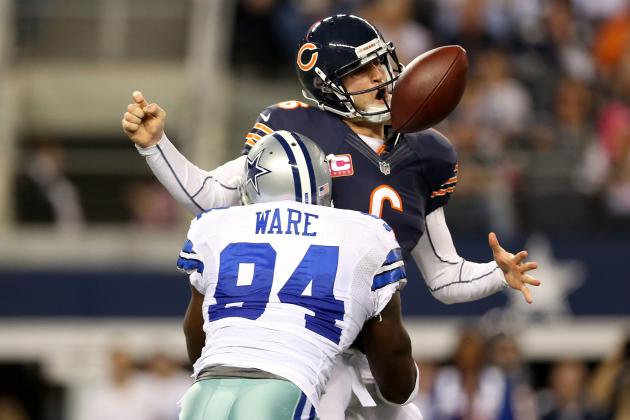 Ronald Martinez/Getty Images

With 7.5 sacks and three forced fumbles, DeMarcus Ware is continuing to make plays in the backfield and force turnovers.
As a premier pass-rusher, Ware's overall play is often overlooked. The linebacker is excellent in coverage and against the run and really has no weaknesses. He is a dominant player in all situations.
Otto Greule Jr/Getty Images

No defense is afraid of Seattle's passing attack, and the team frequently runs the ball. Despite this, Marshawn Lynch is gaining 4.8 yards per carry and continues to carry the Seattle offense.
Lynch demonstrates great power but can also show super playmaking ability and bust a long run. There really isn't anything Lynch can't do, and he has dominated in 2012.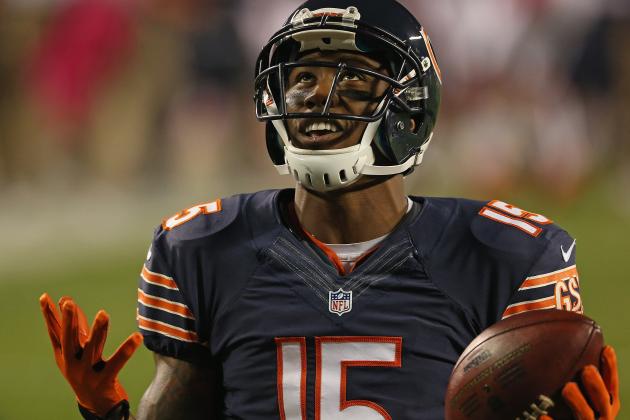 Jonathan Daniel/Getty Images

Chicago's offense hasn't been great by any means, but Brandon Marshall certainly has been. Through seven games, Marshall has 50 catches for 675 yards and four touchdowns.
Marshall is one of Chicago's few true offensive weapons, and defenses routinely key in on him, but he continues to produce. No amount of defensive attention has slowed him down in 2012.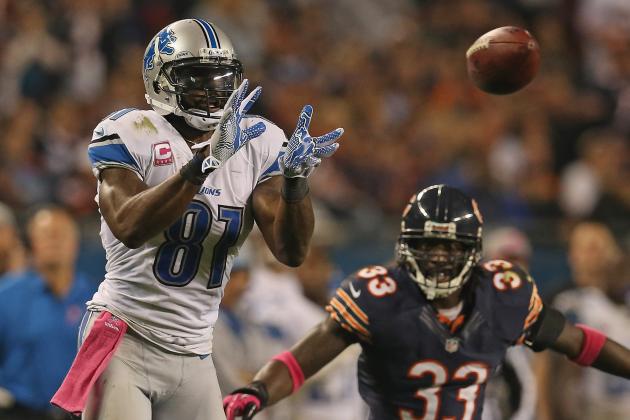 Jonathan Daniel/Getty Images

By all means, Calvin Johnson is having a down year. Yet he is still the No. 28 player in the NFL. Think about just how good that means Johnson usually is.
Even in a "down" year, Johnson is seventh in receiving yards across the NFL. As well, the physical freak constantly garners extra attention, freeing up the rest of the Detroit offense.
Sure, Johnson isn't as good as he has been, but he's still an elite wideout.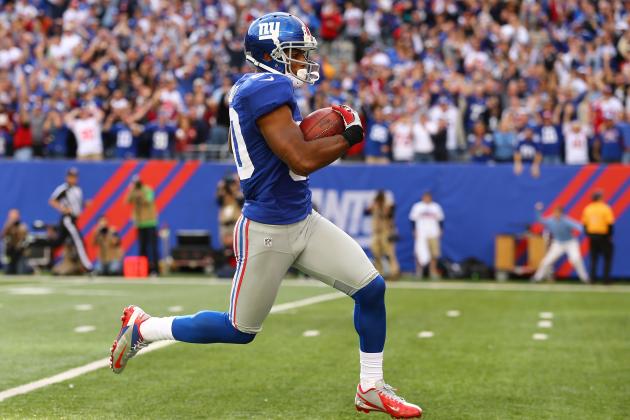 Al Bello/Getty Images

Some thought that Victor Cruz's breakout 2011 season was a fluke. His continued success in 2012 proves this was not the case.
Cruz currently stands with 52 catches, 650 yards and seven touchdowns, near the top of the NFL in all three stats. Simply put, Cruz has continued to succeed despite defenses' knowledge of him and preparation for him.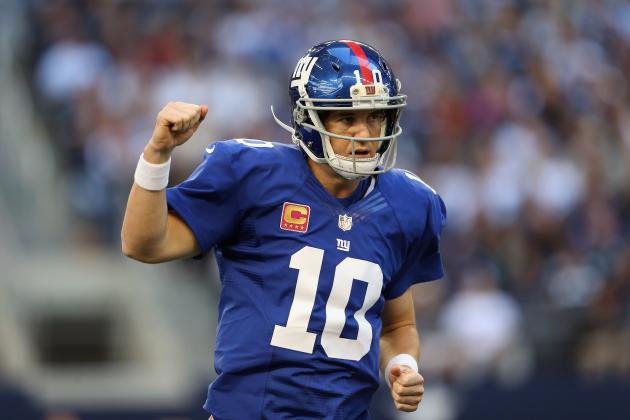 Ronald Martinez/Getty Images

Over the past few years, Eli Manning has been an excellent quarterback. This hasn't changed in 2012, as Manning continues to lead the NFL's No. 4 offense.
None of Manning's numbers really stand out as amazing, but combined, they are impressive. More impressive, though, are Manning's poise and ability to hold the New York offense together. There's no overrating him in this area.
Jamie McDonald/Getty Images

Rob Gronkowski simply dominated in 2011, gaining over 1,300 yards and catching 17 touchdowns. The Gronk hasn't been quite as brilliant in 2012, but he's still an offensive force.
Gronkowski is more than just a receiver, though. He's also a premier blocker who makes an impact on every play, regardless of whether it's a run or pass.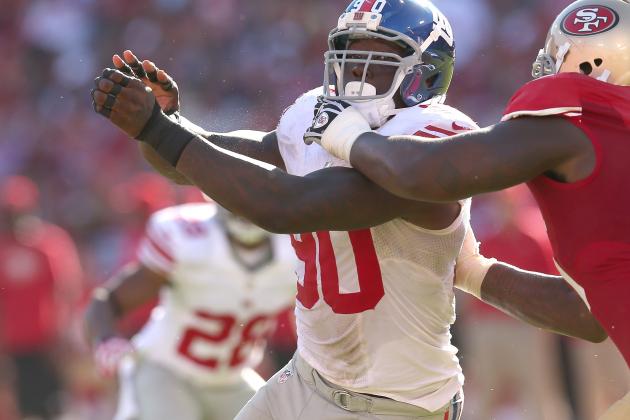 Stephen Dunn/Getty Images

Even as Jason Pierre-Paul's numbers appear to take a slight dip, he dominates opposing offenses. JPP requires constant double-teams and added attention from offensive lines, or he will take over the game.
There is no way to stop Pierre-Paul, but he can be contained somewhat. Regardless, the Giants star has a constant impact and is a phenomenal playmaker.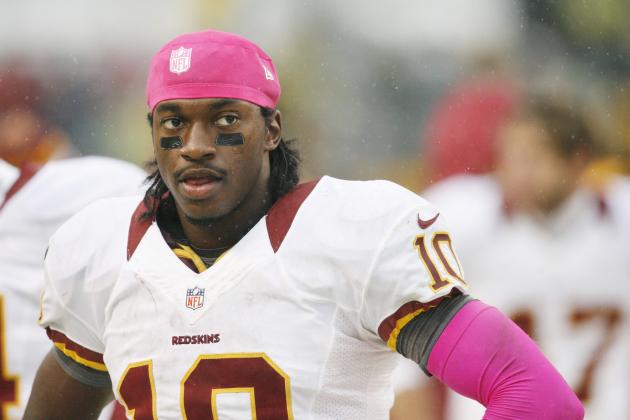 Charles LeClaire-US PRESSWIRE

Few rookies have busted onto the field like Robert Griffin III has. RG3 has been unbelievably accurate, but his main success has been his playmaking ability.
Griffin is a threat to score at any time, regardless of where he is on the field. At any moment, RG3 could either throw or run for a touchdown.
There's no way to contain him, and in time, he could be atop this list.
Kyle Terada-US PRESSWIRE

Though he hasn't been the NFL's best defensive lineman, Justin Smith continues to dominate. Few 3-4 defensive ends have ever made the impact Smith does, and he is a huge part of the 49ers' defensive dominance.
Surprisingly, Smith doesn't yet have a sack in 2012, but he continues to overpower offensive linemen and make plays against the run. Double-teams do nothing, as Smith continues to wreak havoc in the backfield.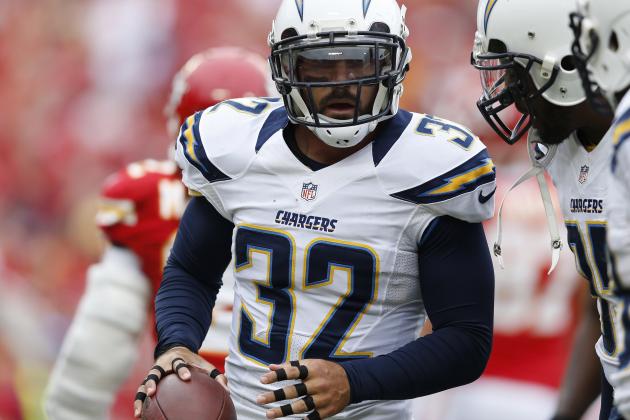 Joe Robbins/Getty Images

Perhaps the NFL's best safety, Eric Weddle is as complete as they come. The San Diego defender routinely makes plays back deep in coverage and up close to the line of scrimmage in run support.
Few safeties are capable of playing the run and pass like Weddle does. He's among the NFL's best in both areas, and his impact is felt on nearly every play.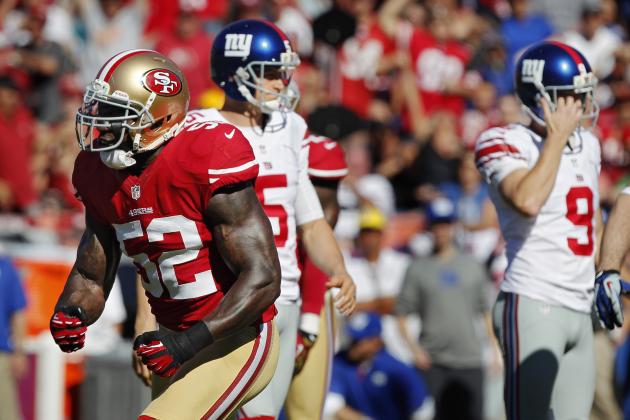 Brian Bahr/Getty Images

Long considered the NFL's best inside linebacker, Patrick Willis doesn't make a ton of plays, but he is constantly around the ball. Few linebackers make tackles like Willis does.
Willis is a thumper along the inside of San Francisco's defense, and he is difficult to run at. He won't be too present in the backfield, but he won't let runners get past him either.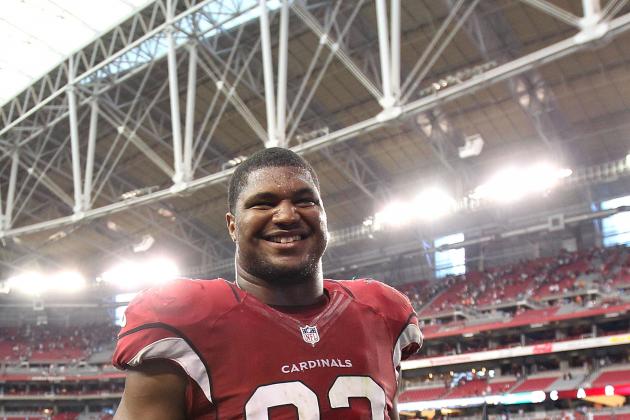 Christian Petersen/Getty Images

A freakish defensive end, the 6'8" Calais Campbell makes plays against the run and pass. Most 3-4 defensive ends are limited to stopping the run, but Campbell is not afraid to get after the quarterback.
The Arizona star clogs up the run and demands double-teams, sure, but he makes plays in spite of the added attention, as his three sacks in 2012 suggest. He simply won't be neutralized.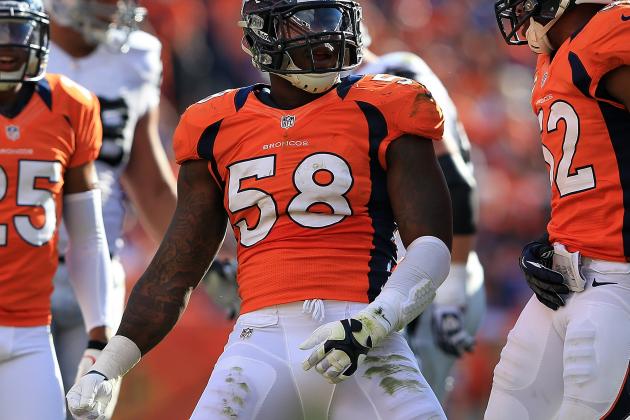 Doug Pensinger/Getty Images

Last year's Defensive Rookie of the Year, Von Miller is the rare pass-rushing linebacker to play in a 4-3 defense. Though he can play the run and drop back in coverage as well, Miller is best at getting after the quarterback.
Despite not rushing the passer as often as defensive ends, Miller has six sacks through the season's first seven games. His explosive play keeps offensive linemen and quarterbacks on edge, yet he still beats them on a regular basis.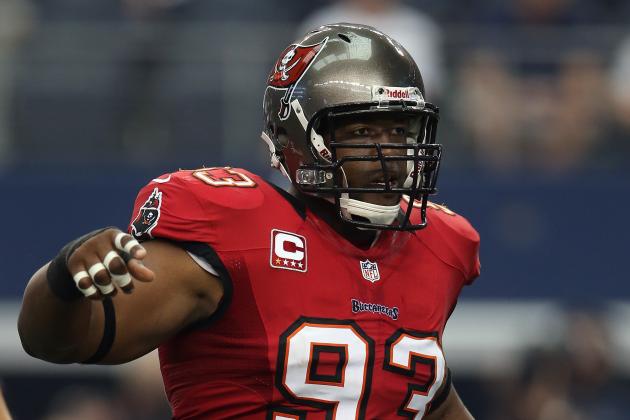 Ronald Martinez/Getty Images

Finally healthy, Gerald McCoy is taking over games. The former No. 3 overall pick has already racked up three sacks and is a constant presence in the backfield.
Though he is primarily a penetrator, McCoy refuses to give ground against the run. He has developed into a complete defensive tackle who makes an impact regardless of the situation.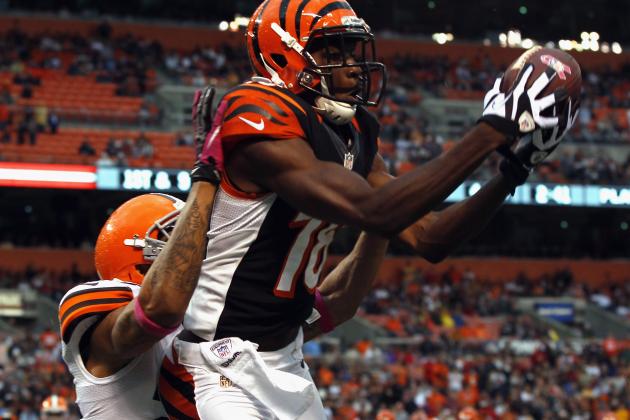 Matt Sullivan/Getty Images

Andy Dalton isn't necessarily a bad quarterback, but A.J. Green makes the Cincinnati offense run. The wideout has already picked up 44 catches, 636 yards and seven touchdowns on the year.
Green rarely misses a catchable pass, and he often comes down with incredible grabs. He makes plays and is reliable. In another year or two, he could be the NFL's best wide receiver.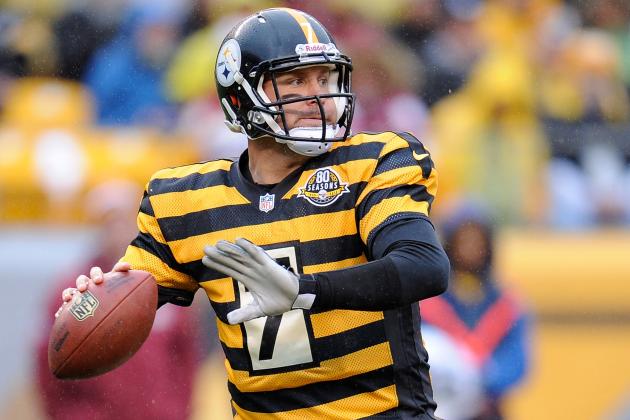 Joe Sargent/Getty Images

With no run game to speak of, the Steelers have turned to Ben Roethlisberger to carry the offense, and he has. Roethlisberger is putting together one of his best years yet, as he has picked apart opposing secondaries.
Roethlisberger's numbers are impressive regardless of the situation, but he has produced despite opposing defenses not respecting Pittsburgh's rushing attack at all. It is often said that a player has carried his team, but Roethlisberger really has.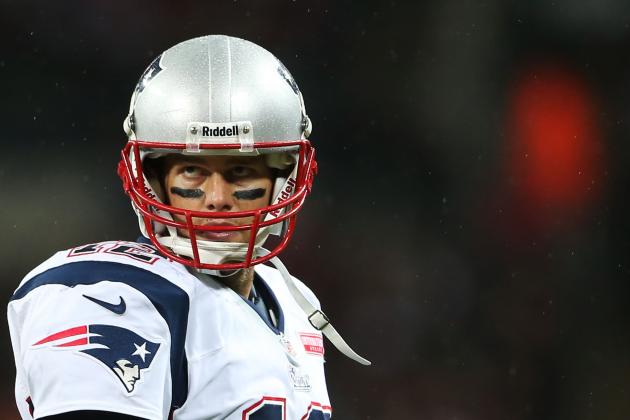 Scott Heavey/Getty Images

Usually one of the NFL's truly best players, Tom Brady is experiencing a bit of a down season. Though he hasn't made many mistakes, Brady simply hasn't dominated like he has the past few years.
However, the star quarterback is certainly having a great year and is the key to the Patriots offense. He is a legitimate MVP candidate, but he isn't a contender for 2012's best midseason player like he usually is.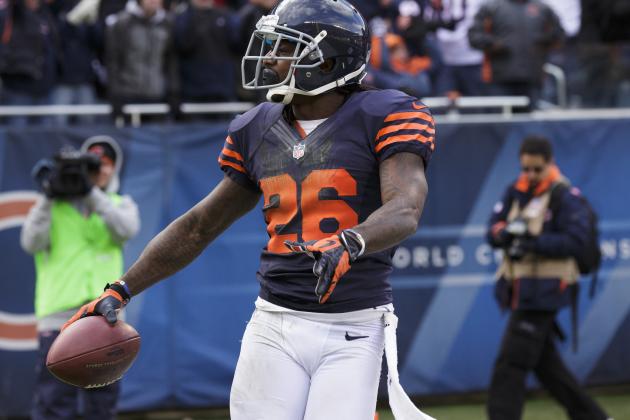 John Gress/Getty Images

Raise your hand if, before the season started, you thought Tim Jennings would make this list.
Regardless of who he's faced, Jennings has shut down his opposing wide receiver. Jennings leads the NFL with 13 pass deflections with six interceptions to boot.
Jennings hasn't allowed much to opposing receivers, and he's made plenty of plays himself. It's hard to ask for much more from a cornerback.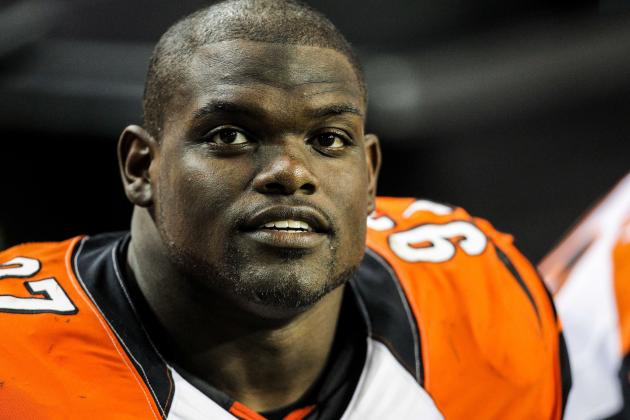 Daniel Shirey-US PRESSWIRE

It's rare for a defensive tackle to be as explosive as Geno Atkins is. The star lineman already has an incredible seven sacks, and he is a force against the run as well.
Cincinnati's defense isn't that great, but it would be a ton worse without Atkins. The 24-year-old simply cannot be stopped, regardless of who he's going up against.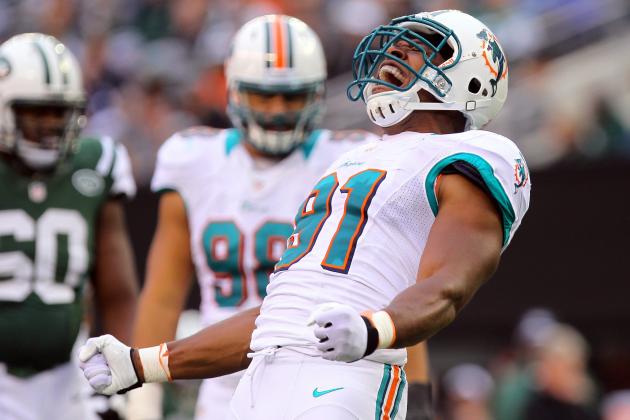 Ed Mulholland-US PRESSWIRE

Now playing defensive end, Cameron Wake has been around the quarterback just as much as ever. The 30-year-old end already has 7.5 sacks and has added many more hurries.
Wake has caused fits for every offensive line he's faced and required extra attention. It's impossible to leave him alone and not regret it.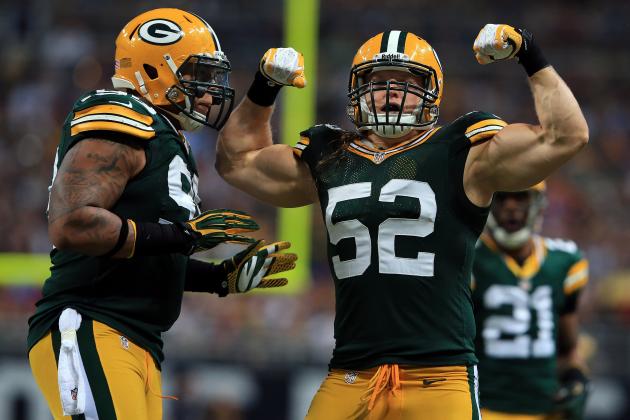 Doug Pensinger/Getty Images

An excellent pass-rusher, Clay Matthews already has nine sacks. It's not just this that makes him so special, though. It's his overall play.
Matthews is clearly great at getting to the quarterback, but he is also great in coverage and more than adequate at stopping the run. All three of these combined make for a dominant weapon.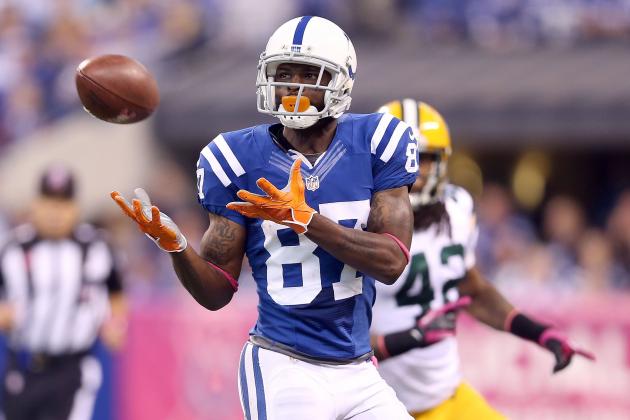 Andy Lyons/Getty Images

Already with 757 yards, Reggie Wayne is on pace for quite the season. And he's doing this with a rookie quarterback, albeit a pretty special one in Andrew Luck.
For years, analysts and fans alike have seen Wayne as a great player, but not really a dominant one. He's changing this stigma in 2012 as he lights up opposing secondaries, showing no signs of slowing down.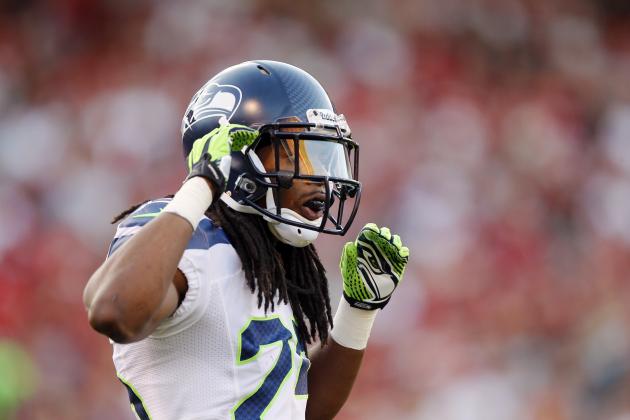 Brian Bahr/Getty Images

In 2012, no cornerback has been better at shutting down opposing receivers than Richard Sherman. The star defensive back has allowed few big plays while defending 11 passes and picking off three.
Sherman has been left on an island all year long, shutting down players such as Calvin Johnson. His self-proclaimed Optimus Prime nickname is deserved.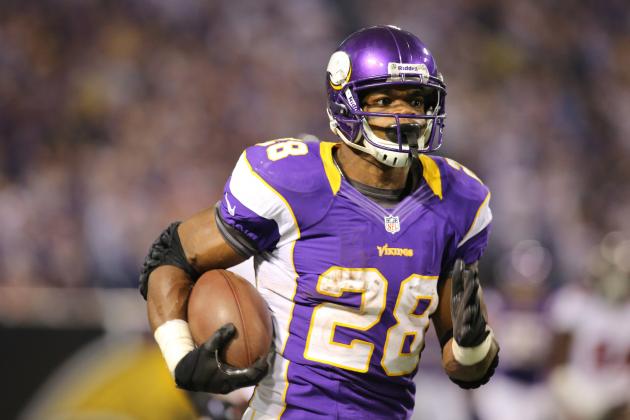 Adam Bettcher/Getty Images

Less than a year after tearing his ACL, Adrian Peterson is back as the NFL's best running back. With 775 rushing yards on just 151 carries, Peterson has been almost unstoppable.
The star running back has at times carried the Minnesota offense to high-scoring games. Defenses have to stack the box to limit him to his incredible production, freeing up the rest of the Vikings offense.
He is simply the best.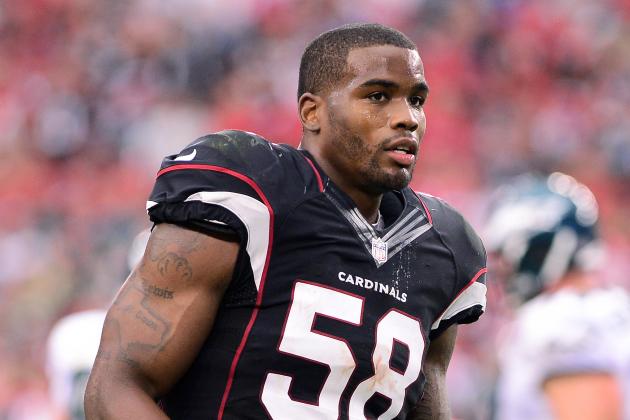 Jennifer Stewart-US PRESSWIRE

Daryl Washington is in the midst of a truly incredible season. Prior to 2012, Washington wouldn't have made many top-100 lists, but now he is a must-include. Why?
Because he's an inside linebacker with eight sacks.
It's impressive for a defensive end to have eight sacks at this point. For an inside linebacker to have that many is simply insane. Washington is good at every other aspect of the game as well, but his pass-rushing ability is special.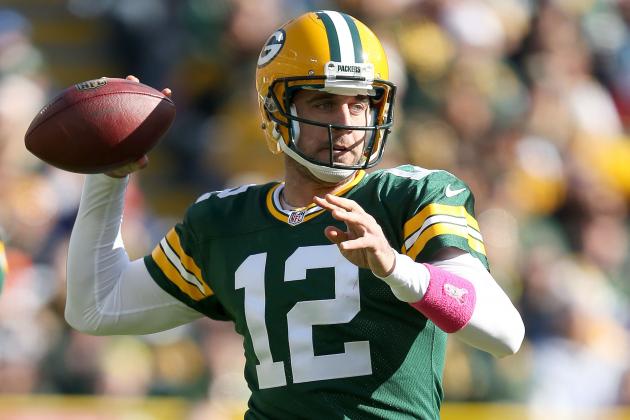 Andy Lyons/Getty Images

After getting off to a slow start, Aaron Rodgers has rebounded and is now a legitimate MVP candidate. As he did in 2011, Rodgers is carrying the Packers to each victory, as the team has little run game to speak of.
The 28-year-old quarterback continues to impress in ever fact of the game, utilizing his athleticism, intelligence, accuracy and arm strength. If he continues upon his current upward track, Rodgers could well reclaim the top spot on this list by the season's end.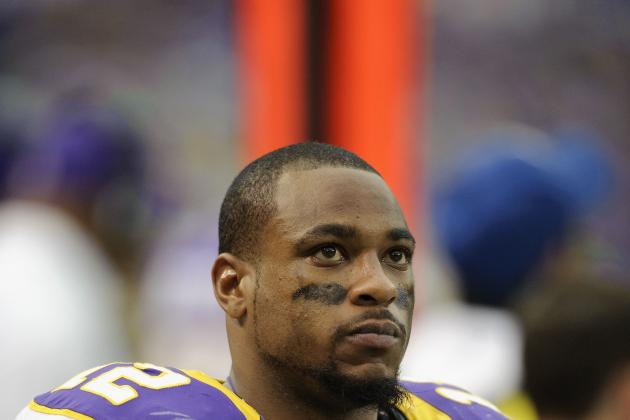 Hannah Foslien/Getty Images

Percy Harvin is a juggernaut. That's the best word for it.
With 60 catches for 667 yards, Harvin is clearly making his impact as a receiver. He also has 72 yards on the ground.
In addition to this, though, Harvin has returned 15 kicks for a staggering 535 yards, providing Minnesota with prime field position. Simply put, Harvin has contributed in a variety of ways for the Vikings, and defenses can't prepare for him.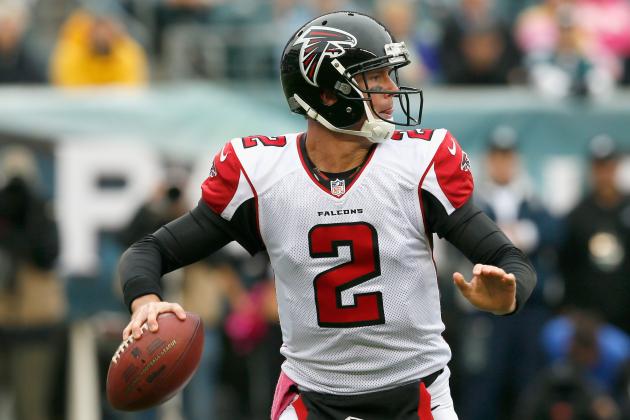 Rob Carr/Getty Images

Since entering the NFL, Matt Ryan has been a good quarterback. However, it is just in 2012 that he has become an elite signal-caller.
Ryan has led the Falcons to an undefeated record with little ground support. The former No. 3 overall pick has done a terrific job of spreading the ball around to his various weapons and finding the open receiver.
Looking purely at the numbers, Ryan may not be the No. 2 quarterback. The numbers rarely tell the complete story, though, as Ryan has dominated.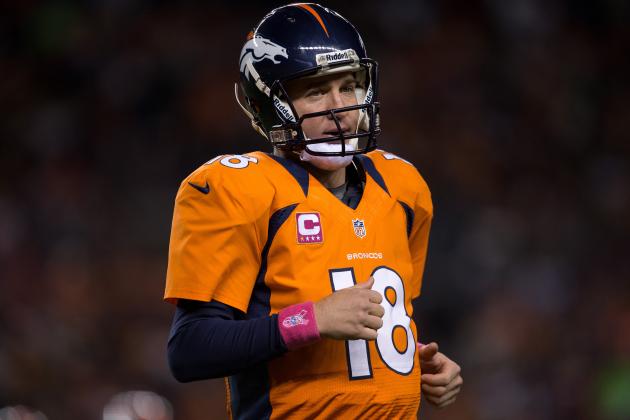 Justin Edmonds/Getty Images

Yes, Peyton Manning is back.
Denver's offense has some talent, sure, but there's a reason the unit has jumped from No. 23 to No. 3 in total offense in a year's time. It's all Manning.
Manning may not be as physically impressive as he was before, but his mental ability and accuracy are the same. His 68.5 completion rate and 17-4 touchdown-to-interception ratio make this clear.
Even after multiple neck surgeries, Peyton Manning is the best.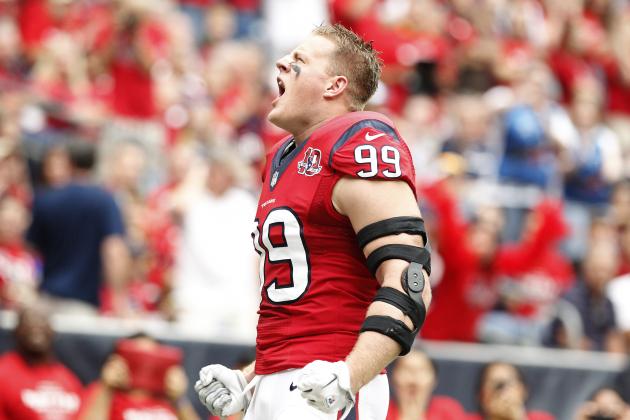 Thomas B. Shea/Getty Images

The best player in the NFL this year, regardless of position, has clearly been J.J. Watt. There isn't even an adjective dazzling enough to describe his play.
As a 3-4 defensive end, Watt is primarily expected to take up space and clog up the run game. Yet Watt leads the entire NFL with 9.5 sacks through just seven games.
Watt is also sixth in the NFL in pass deflections, where he is surrounded by cornerbacks, not fellow defensive linemen.
There is no known way to stop Watt, as he makes plays against the pass and run. He is a huge part of Houston's defensive success, and he has been the NFL's most dominant player by a long shot.