I don't know if you are aware of this fact, but Michael Bisping really wants a shot at the UFC middleweight title. Then again, it seems as if there's not a week that passes that Bisping is not calling out one fighter or another in the UFC's 185-pound division.
No matter what your personal opinion of the outspoken Bisping there's a reason behind his frequent call-outs, and that reason is that he simply wants to work and work often—and by work, I mean fight inside a cage.
Bisping has fought twice in 2012, losing a unanimous decision to Chael Sonnen in January and winning a unanimous decision against Brian Stann in September. At this point, unless something incredibly strange happens, he will not fight again before 2012 comes to an end.
Having only two fights per year is not something that sits particularly well with Bisping. In a recent interview with ESPN, he expressed his interest in fighting three or four times per year. A reasonable request for a fighter that is in his prime earning years and seems to be taking a turn from being a much-hated figure to becoming a fighter that fans love in a somewhat begrudging manner.
Bisping has options. He has heard his name linked to a potential bout against Vitor Belfort in January, but that fight is just a rumor at this point. There's also speculation that he would face the winner of the December 29 clash between Tim Boetsch and Chris Weidman.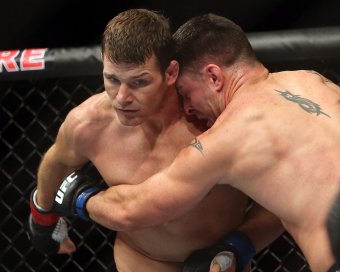 Tom Szczerbowski-US PRESSWIRE
Of those two possible scenarios Bisping admitted that the smart decision would be to sit and wait to face the winner of the Boetsch versus Weidman scrap, as a win in that bout would raise his stock in the division and quite possibly line him up for the title shot he's been crowing about. However, the smart decision is not what Bisping is interested in; he just wants to fight.
As he told ESPN, "So if I played it smart I'd wait for them to fight at the end of the year, maybe fight the winner in March/April, but I'm not prepared to do that. This is the way I make a living and I want to fight."
Don't misread that statement as Bisping looking to avoid Weidman or Boetsch, as he made it clear that he believes he would defeat both men, saying he would knock out Weidman, and as far as Boetsch, "He's just a tough bastard. I'd have my way with him all day."
For now Bisping sits and waits, hoping to fight early in 2013. As far as who he fights, that seems to be of little consequence to Bisping, as long as he's fighting someone. And if he loses that fight? "I'll take my chance," Bisping said. "If I win, great. If I lose, I don't deserve a title shot anyway."
That type of talk is refreshing and will most likely win Bisping even more fans, even if it is begrudgingly.