Where Do Kansas City Chiefs Rank Among Worst 6 Teams Ever?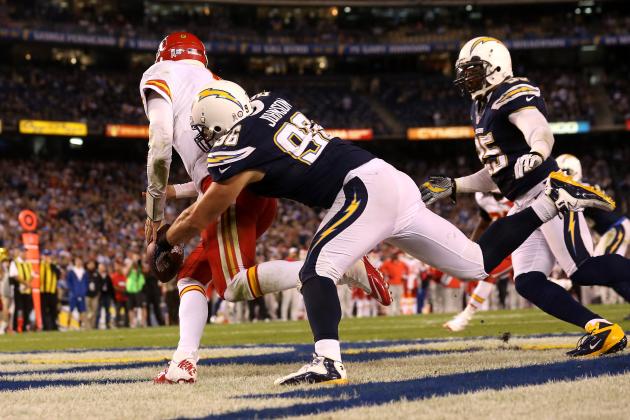 Stephen Dunn/Getty Images

When you see a headline like that, then you know you're looking at a terrible team. The 2012 Kansas City Chiefs are a terrible team.
Picked by some to be a playoff contender at the start of the season, the Chiefs now stand at 1-7 and hold the ignominious stat of not holding a lead in regulation at any point during the 2012 season.
Their one stroke of luck was being able to score on one of the worst defenses of all time in overtime to beat the New Orleans Saints. Since then, it's been more of the same for the Chiefs.
But where do they rank in the annals of NFL history as one of the worst teams in NFL history? Is this season's Chiefs team any worse than the 2008 Detroit Lions, 2007 Miami Dolphins or even the 1976 Tampa Bay Buccaneers?
Let's take a look at the teams considered one of the worst in history, then at the end we'll rank them so that we may see where the Chiefs rank.
Begin Slideshow

»
Dilip Vishwanat/Getty Images

There is a good chance that the Kansas City Chiefs might not even be the worst team of 2012.
Right behind them in the race for worst team of the season is the Jacksonville Jaguars, who currently stand at 1-6.
Unlike the Chiefs, the Jaguars can at least say they have held a lead in regulation of a football game, and they even did it on the road against a potential playoff team too (Jacksonville defeated the Indianapolis Colts 22-17 in Week 3).
But Jacksonville's offense is beyond putrid, as they're ranked last in the league in both points per game (they've scored on average 14.7 points per game) and yards gained per game (they've gained an average of 250.8 yards per game).
This is to be expected by a team whose quarterback competition is between Blaine Gabbert and Chad Henne, which is probably a worse quarterback combination than Matt Cassell and Brady Quinn.
It's likely that with a tougher schedule ahead of them (one more game against Indianapolis and Houston, plus games against more potential playoff teams like Miami and New England) that the Jaguars could finish with a worse record than the Chiefs.
But if they do finish with the same record, can we get these two teams to play each other the week before the Super Bowl? It would be a better matchup than the Pro Bowl.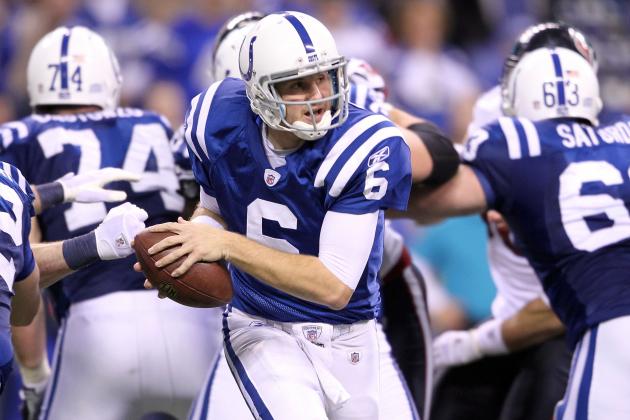 Andy Lyons/Getty Images

Before the Indianapolis Colts became a potential 2012 playoff team, they were lost doormats of 2011, without a quarterback and seemingly without hope.
The 2011 Colts were terrible on both sides of the ball, to the point where one wonders if Peyton Manning would've only meant a 6-10 season instead of a 2-14 season. They were ranked 28th in the NFL in points allowed, allowing 26.8 points per game. They didn't score much either, as they only managed to average 15.2 points per game.
Their point differential for the season was -187, but one thing they do have going for them is that their Pythagorean record indicated they were a better team than their record would indicate.
Better by one game, as their Pythagorean record was 3.3-12.7.
This team was terrible, but last season was a very competitive year for the NFL. While they were the worst team of 2011, they're far from being the worst team of all time. But they do belong on this list, likely behind the 2012 Chiefs though.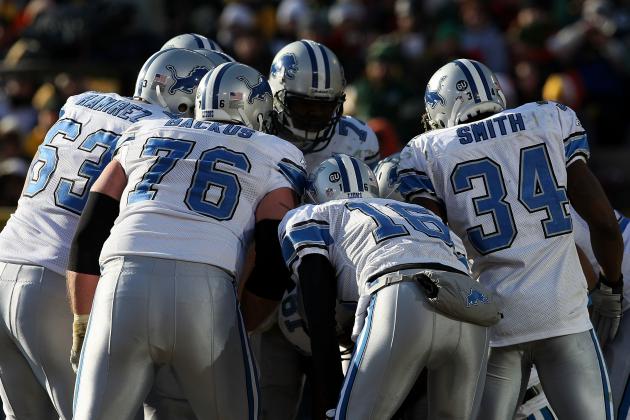 Jonathan Daniel/Getty Images

Can it get any worse than 0-16?
No seriously, can it? The Detroit Lions did at least hold the lead at times during their season of terror, so that should count for something.
Detroit finished last in the league in total defense and last in points allowed. Their offense wasn't exactly one that lit up the opposition either, and their point differential was also a league worse.
Their turnover ration was -9, and trotted out three different starting quarterbacks throughout the course of the season (Jon Kitna, Daunte Culpepper, and Dan Orlovsky).
The Lions' Pythagorean record however actually shows a team that should've gone 3-13 (when rounded up, the real mark was 2.8-13.2). To go winless takes a lack of luck, and the 2008 Lions were filled with that.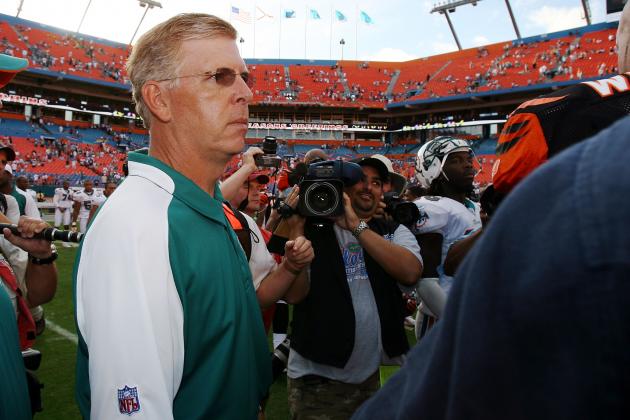 Doug Benc/Getty Images

The 2007 Miami Dolphins had the worst point differential in the NFL in 2007, and had an offense ranked 26th in points scored (average of 16.7 points per game), and a defense ranked 30th in points allowed (27.3 points per game).
Like many of these bad teams, the 2007 Dolphins were better than their record indicated according to the Pythagorean record (3.8-12.2), but their point differential of -170 sticks out like a sore thumb among terrible teams.
Cam Cameron would find himself only beating one team in 2007, the Baltimore Ravens—a team he continues to haunt to this day as their offensive coordinator forgets that he has Ray Rice on his team.
The Dolphins (like every other team on this list, including possibly the Chiefs and Jaguars of 2012), would wind up cleaning house in the offseason, despite having a first-year head coach.
How did legendary Tampa Bay Buccaneers coach John McKay feel about the execution of his football team in 1976?
"I'm in favor of it," he told the press in one of his most infamous quotes of all time (per tampabayfootball.net).
The execution of the Buccaneers was awful in the sense that this team couldn't score. They were shut out five times during their winless season (which would only be the first 14 games of a 26-game losing streak), and scored an average of 8.9 points per game.
The defense was abhorrent too, allowing 29.4 points per game, leading to a point differential of -287 for the season. Their Pythagorean record for the season wound up at 0.8-13.2.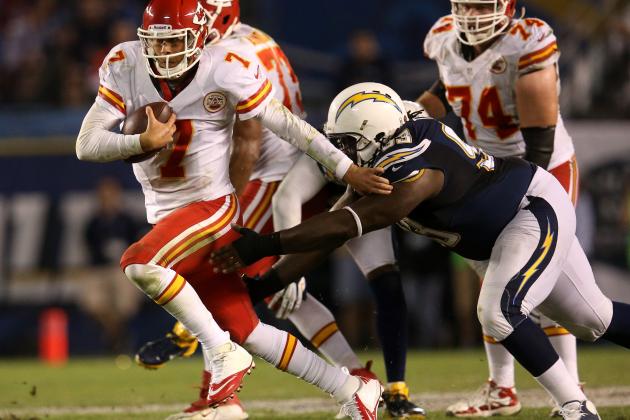 Stephen Dunn/Getty Images

We've already mentioned how the 1-7 Kansas City Chiefs haven't held the lead at any point in the 2012 season, but there's more to their story than that.
The Chiefs offense is one of the worst in the NFL, despite the fact that they run the ball well. They average 149.9 yards per game on the ground, but their passing offense almost negates their ground game by averaging only 207.6 yards per game.
Turnovers kill the Chiefs more than anything, as they have a turnover differential of -20, which is the worst in the NFL thus far. It would actually be much worse, except Kansas City's defense has forced 11 turnovers so far.
This could rank among one of the worst offenses of all time, but even if they finish at 1-15, I wouldn't put the 2012 Chiefs as the worst team of all time. They actually fall under a team where you could easily just say "just add quarterback", and you will have a decent team once said quarterback is added.
It should also be stressed that the Chiefs aren't even the worst team of 2012. The stat of not holding a lead at any point this season will eventually end and seems more of a fluke and a product of bad luck than ineptitude (and yes, this team is inept on offense), and this team could very well win another game or two.
It's the end of the Romeo Crennel-era (and possibly the Scott Pioli-era), but as far as bad football teams, this version of the Kansas City Chiefs isn't even close to reaching the levels of the 2008 Lions, 2007 Dolphins or 1976 Buccaneers.
They're a better version of the 2011 Indianapolis Colts. Now the Jaguars of this season, that's a team on its way to being one of the worst of all time. The Chiefs? I'd probably even rank them outside of the top-10, not even close to the top-5.