5 Biggest Boom or Bust Prospects in the 2013 NFL Draft
Jamie Sabau/Getty Images

Perfectly encapsulating the meaning of a "boom or bust" prospect, former Penn State rush linebacker Aaron Maybin excited scouts and fans with his dominant pass-rushing skills at the college level, only to disappear as a pro, due to his lack of size and inability to develop his skill set further.
While there isn't an Aaron Maybin-type prospect in this slideshow, there is one important thing to note in regards to scouting players for the NFL draft: No matter what type of production a player may or may not have had at the college level, there still must be a projection of skill sets to the NFL level to accurately assess a player's talent.
Production can be an excellent way to support an opinion or evaluation, but must never be utilized as the be-all and end-all.
An Estonian track star with minimal football experience, Margus Hunt at SMU is still learning football, and he may be more difficult than any player in college football to accurately project his success at the next level. In terms of leverage and instincts, will he ever be ready for the NFL? Those and other questions still have yet to be answered with Hunt.
On the other hand, big-time SEC safety Robert Lester has an All-Conference First Team selection and national championship ring under his belt at Alabama, leading some to overlook his lack of elite talent and speed.
His experience in a pro-style defense and propensity to pick the ball off in big-time games have to be major plus-marks for NFL scouts; however, can that translate to a faster, more disciplined and fundamentally sound level of play?
Players like Hunt and Lester have the chance to be excellent pro players, but require ideal situations and the right coaching staffs.
Read along for a further explanation of some of the "boom or bust" prospects eligible for the 2013 NFL draft, and be sure to leave a comment below.
For all of your NFL Draft scouting needs, visit OptimumScouting.com and follow us on Twitter @OptimumScouting
Begin Slideshow

»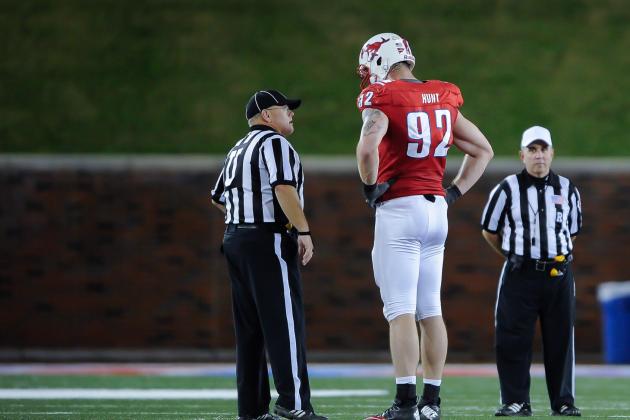 Jerome Miron-US PRESSWIRE

Bringing unheard-of physical traits to the NFL, with seemingly endless potential, Margus Hunt, a 6'8", 285-pound freak of nature, is capable of becoming a dominant five-technique.
The problem with this upside, however, is his lack of football experience and raw fundamentals.
With zero organized-football experience prior to 2009, Hunt will have just four years of football experience after this season. Whether Hunt can pick up the hand-placement techniques to fully maximize his plus-size and strength remains to be seen.
Through 10 weeks of play, Hunt has flashed a surprising burst off the line and dominating hands to collapse the pocket, but never consistently. Not knowing how to set up rush moves yet and not showing consistency in placing his punches, Hunt is a still-developing prospect that will need time to fine-tune his game.
In his scouting report, scouts will be keen to notice three particular struggles in Hunt's game: pad level, motor and football instincts. Whenever he fires off the line with low pad level, Margus flashes the quick-twitch ability to work his hands inside on the chest plate and shed into a position to make a play.
Though that's the case on a handful of plays, Hunt more consistently has struggled to get off the line of scrimmage due to very high pad level and a lack of developed hand usage to counter an initial punch.
Furthering concerns is the fact that Hunt will often give up on the play or take snaps off, being frustrated by his lack of involvement and production.
Looking forward, as a soon-to-be NFL rookie at the age of 26, Hunt is an older prospect than his 2013 draft counterparts. From a ceiling perspective, it's easy to notice the upside of Hunt, but on the flip side, where is his floor?
The fact that he will have the option to pursue track events in later years may limit the length of contracts and years for NFL teams to possess him.
To that point, as a physical freak still new to the game of football and needing time to develo, being an older prospect and having Olympic talent as a discus- or shot-put-thrower, Hunt's situation will put a number of NFL teams in a quandary of whether to take the risk.
"If he puts it all together" or "If he figures it out" may be a one-liner you'll hear a few times during the draft process.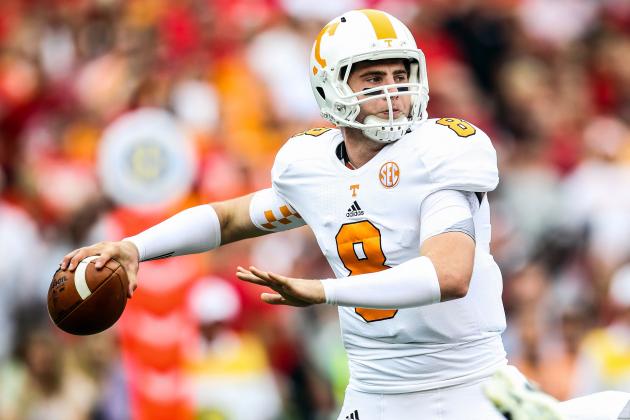 Daniel Shirey-US PRESSWIRE

The hot topic of 2013 NFL draft talk, Tennessee quarterback Tyler Bray has not lived up to his preseason billing as a potential early-round pick.
While I voiced my concerns over the summer based off of 2011 evaluations, I still held out hope that with the return of All-American wide receiver Justin Hunter and new addition of junior college star Cordarrelle Patterson, Bray could produce like the quarterback he is capable of being.
Not exactly the case through 10 weeks of play.
Bray continues to make mistakes when under pressure; he guides the football to his intended target but fails to pull the trigger with consistency. Tall, long and gifted with tremendous arm talent, there's not a throw Bray can't make.
Having a quick and explosive release, Bray can snap off throws from any footing, arm angle or pocket setting to all areas of the field. Also, by virtue of his delivering one of the best looking 9-route throws in the country, Bray showcases natural touch and feel for the deep passing game.
But taking the gunslinger approach with this talent, Bray too often misreads the coverage pre-snap and post-snap, forcing the ball to his deep target without locating the safety.
Under pressure, Bray seems to choose between either launching passes deep downfield into double coverage or making a quick, obvious check-down calls that lead to near or actual turnovers.
This type of erratic decision-making has ultimately cost Tennessee some crucial conference losses, and cost Bray style points with NFL decision-makers.
The problems in 2012, as have been the case with the Vols QB throughout his career, are his inconsistent mechanics and decision-making, both of which have led to turnovers, missed throws, and hit-or-miss offensive play.
Disconnected from his lower half, and delivering the football either off a straight front leg or while falling off his back foot, Bray's varied launch-point has been the main culprit for accuracy woes.
And although the pressure applied on Bray has neared harassment at times, his inability to slide laterally, maintain a solid throwing base and step to the target line have only exaggerated his lack of pocket mobility, overall mechanics under pressure and decision-making as a whole.
Still very much a raw thrower with the frame to pack on an additional 10 or so pounds, Bray needs a lot of work before he'll be ready to start at the next level.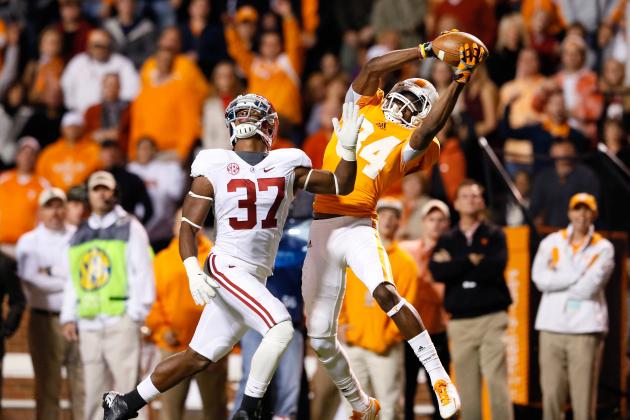 Kevin C. Cox/Getty Images

Most would be quick to assume that a three-year starter under Nick Saban, an All-American and a productive defensive player for a dominant Alabama defense in the SEC would warrant a high-round draft pick.
Think again.
Lester, who started next to top-10 pick Mark Barron (and out-produced Barron in terms of interceptions), is not the elite athlete one would expect him to be. Lester's plus-ball skills, risky and aggressive style of play in the back half and overall length as a defensive back enable him to come away with impressive interceptions.
However, there's more to a book than its cover.
Standing 6'2" and just over 210 pounds, Lester possesses more than ideal size, but combines his frame with only average closing burst and straight-line speed that leaves something to be desired, likely timing in the 4.6 range at the NFL combine.
Even more concerning however, is that Lester's game-speed in general is hampered by poor pursuit angles and hesitant run/pass reads.
Against Tennessee, Lester's combination of average speed and poor pursuit angles showed. Assigned deep-third responsibility in a Cover 3 zone, Lester closed too shallow on a simple burst route underneath by tight end Mychal Rivera, resulting in a poorly missed tackle and big gain for the Volunteer offense. Here's a link to the exact play I am referring to...
Having teammates and a scheme so fundamentally sound through and through, as Alabama does, it is shocking to see a safety prospect play as undisciplined as Lester does in coverage.
Whether it's Cover 1 or Cover 3, Lester has the mentality of "interception or bust", dramatically undercutting routes, anticipating poorly thrown passes and not respecting opposing quarterbacks able to drive the football to the deep half of the field.
The production of Lester at Alabama has been undeniable, with 13 interceptions over the previous three seasons.
The question for NFL teams is: Can he keep making plays with this type of technique and athletic ability?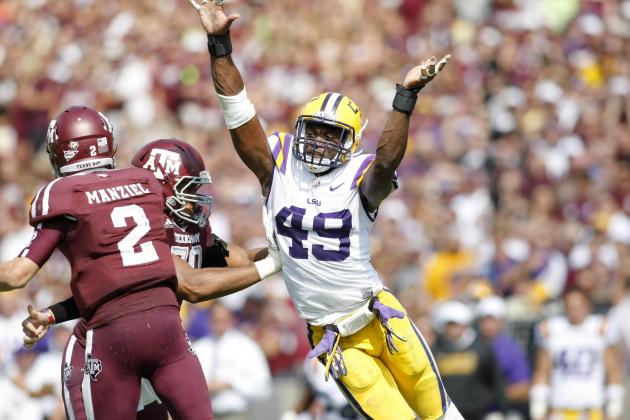 Brett Davis-US PRESSWIRE

Pegged as "the next Jason Pierre-Paul" entering the 2012 season, and considered as one of the rare, high-upside prospects eligible for the 2013 draft class, Barkevious Mingo faced a great deal of pressure in attempting to maximize his elite potential.
Having rare length, first-step quickness, off-the-line burst and lateral explosiveness to turn and run to the sideline in an instant, Mingo certainly looks the part of an elite-level prospect.
Remarkably gifted and athletic, Mingo can bend and adjust his pass rush better than any defensive end in this class. Due to his body control and overall raw talent, Mingo can be counted upon to make his fair share of "splash plays" each and every time you turn the tape on.
Still, all positive athletic ability and upside aside, the production has not been there for the gifted end.
In characterizing Mingo's play against Texas A&M's right tackle Jake Matthews, the two words that continually crept into my notes were "influenced" and "lost." Texas A&M's offense worked a variety of screens and draw plays, and Jake Matthews did a wonderful job of directing the overly aggressive Mingo up the field and out of the play.
Not reading and reacting to the level scouts hoped he would, Mingo does not appear to be progressing in terms of football IQ and feel for the position.
Having a two-way go, essentially, with room to the inside or outside for the dip-and-rip, inside-swim move, or low-bending speed rush, Mingo failed to showcase his elite capabilities as a pass-rusher.
Lacking a go-to move or improved decisiveness in his rush movements, Mingo was fairly easily contained by the athletic Matthews, who mirrored and stymied each move.
Mingo has the talent, motor and elite-level stamina to play nearly every single down, yet the inability to finish out rushes or consistently win with hand-fighting is not good.
At this point, Mingo would only be selected in the top 10 based off of upside, talent, body type and athleticism, because his tape does not warrant a top-10 grade.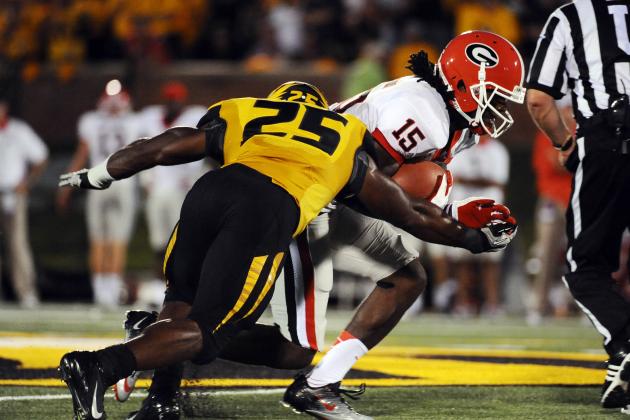 Dak Dillon-US PRESSWIRE

One of the big disappointments this season has been the lack of improvement in Missouri linebacker Zaviar Gooden's play.
An elite-level athlete possessing the size, speed and strength needed at the next level, Gooden has a 6'2", 230-pound frame of pure muscle, looking lean, toned, and physical.
Gooden has very long and well-defined arms to keep blockers away, wrangle down ball-carriers or deflect an oncoming pass. From head to toe, this player more than looks the part of an NFL linebacker.
Timed in the 40-yard dash at a blazing 4.36 during Missouri's 2012 pro day, Gooden also brings rare speed to the table. I fully expect this backer to put up one of 2013's top NFL combine performances, barring injury, as his pure physical ability is hard to ignore.
In evaluating Gooden prior to the 2012 season, my concern centered on whether he could consistently take on and defeat SEC blockers, and to this point he has failed that test.
Sprinting up-field into his run fits without locating the football or using his hands to stack and shed, Gooden continually runs himself out of the play and into the waiting arms of opposing blockers.
Gooden is unfortunately reverting to his 2010 sophomore season's style of play, rather than building upon a strong 2011 performance. Until he figures out how to properly read and react to the football, Gooden will struggle to be a consistent run supporter.
He must attack his run fits with better control, ball-locating skills and hand use to keep clean in pursuit.
Also, the major selling point for Gooden, his athletic ability and speed, has not led to the type of production one would expect.
In the open field and when chasing from the backside, Gooden has been hesitant to click and close to the football, generally not trusting his eyes and instincts as a player.
A huge boom-or-bust prospect that could end up being a better pro than college player, expect Gooden to blow up the combine and be drafted higher than he should based on his college tape.