Players on the Hot Seat in Week 10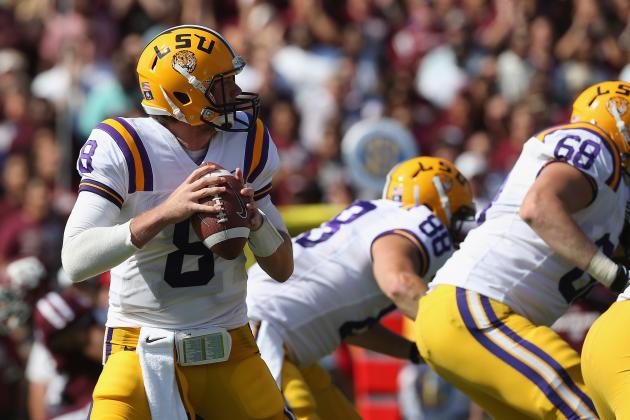 Ronald Martinez/Getty Images

We're entering the home stretch of the 2012 college football season, and a slip up now could be deadly to any program's BCS chances.
With so much on the line, the scrutiny for each individual player is higher now than at any other point this year, and several college football players are teetering on the edge.
Teetering towards what may vary, but there's no doubt that these college football players will be feeling this heat, which is why they're on our player hot seat list for Week 10.
Follow David Luther on Twitter!
Begin Slideshow

»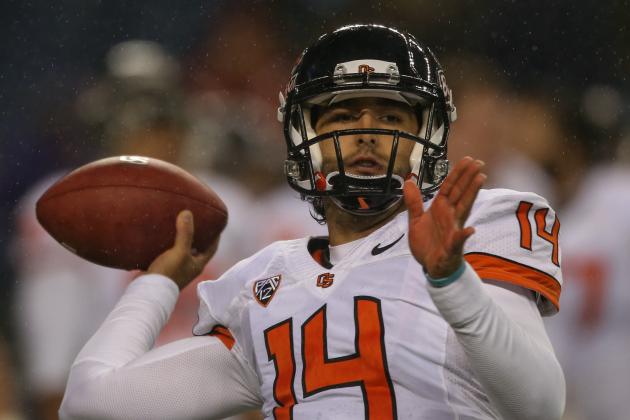 Otto Greule Jr/Getty Images

After Sean Mannion went 18-of-34 for 221 yards and one touchdown—and four interceptions—Cody Vaz attempted to lead the Beavers in a comeback effort that fell just short.
Vaz has since been named the starting quarterback for this week's game against Arizona State, a game which the Beavers desperately need to win to cling to any hopes of a Pac-12 title this season.
Vaz has been solid in his three appearances this season for the injured (and apparently not fully recovered Mannion), completing over 62 percent of his passes, including four touchdowns. Perhaps more importantly, he has yet to throw a pick.
Head coach Mike Riley will need more solid performance down the stretch, and it appears he's not very particular about who gives it to him.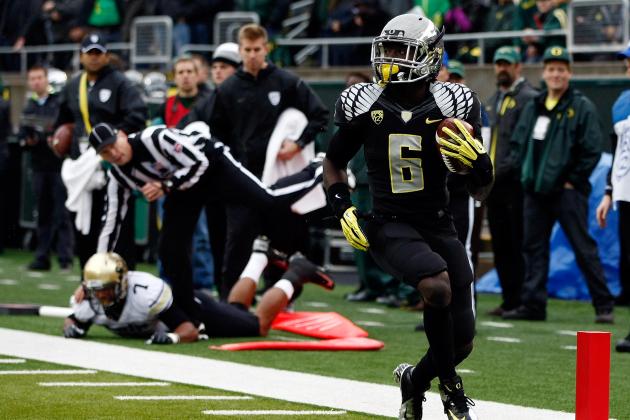 Jonathan Ferrey/Getty Images

In what is unquestionably the most important non-SEC game this weekend, Oregon travels to USC in what is likely a make-or-break game for the Ducks when it comes to national championship consideration.
It's also a make-or-break game for the Trojans, and that's only talking about a Pac-12 South Division title.
USC already has two conference losses this season, and a third would likely drop USC into a tie for third or fourth place in the six-team division, and Arizona already holds the tie-breaker against the Trojans.
So what puts DeAnthony Thomas on the hot seat this week?
There's little question that Thomas is the backbone of the potent Oregon attack. There's also little doubt that this weekend will undoubtedly be the toughest test yet for the Ducks, and every person who has a vote in any poll anywhere in the nation will be keeping a close eye on this game.
To put it bluntly, the pollsters need a reason to put the Ducks so far ahead of Kansas State and Notre Dame to make Oregon the preeminent favorite for a trip to Miami this year. And so far, we haven't seen it.
Will a shellacking of USC on its home turf be enough?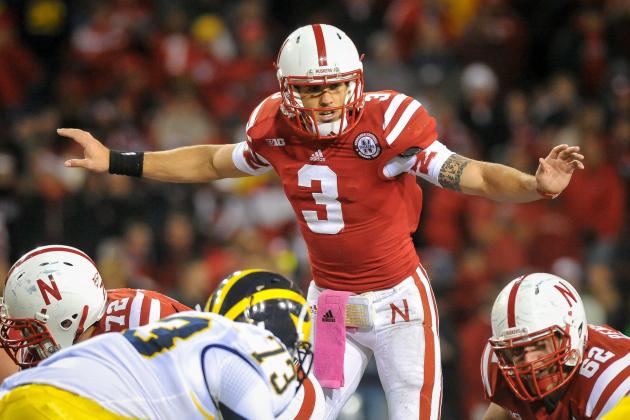 Eric Francis/Getty Images

Thanks to a win over Michigan last week, Nebraska now holds the lead in the Big Ten Legends Division.
That could all come to a quick end this weekend if the Nebraska offense can't find a way to crack the Michigan State defense in the always hostile Spartan Stadium.
Say what you will about MSU, the defense isn't a problem in East Lansing. In fact, the Spartan defense is still ranked fifth in total defense in the nation—and that's with four losses.
Martinez, a much-lauded quarterback that still hasn't quite impressed anyone outside of Lincoln, has certainly improved this season.
But if he and his Cornhuskers are to be taken seriously in the Big Ten, now is the time to take a stranglehold on the division.
Leon Halip/Getty Images

Since we mentioned how great Michigan State's defense is, it's only fair to note how terrible the MSU offense has been in 2012.
Defense wins championships, but points win games, and the Spartans are a case study of how a great defense doesn't matter if you can't score points.
To go along with one of the stingiest defenses in the nation, the Spartans are fielding the 97th-ranked offense in the FBS.
Ouch.
Junior quarterback Andrew Maxwell has struggled this season as the full-time starter and has thrown five interceptions while balancing that against just nine touchdowns.
Is it any wonder he's languishing in obscurity with a 113.4 passer rating?
If the offense doesn't turn around soon, Michigan State can not only wave bye-bye to a January bowl, they might even have to forget about any bowl game this season.
Quite a precipitous fall for the defending Legends Division champions that knocked off mighty Georgia last January in the Outback Bowl.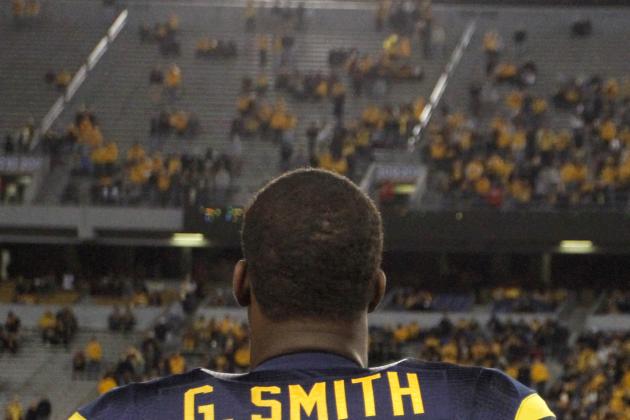 Justin K. Aller/Getty Images

We now know a couple of things about West Virginia.
First, the Mountaineers will not be winning a national championship this season, nor a Big 12 title.
Secondly, the Mountaineers have played Geno Smith out of Heisman contention.
That's not to say Smith isn't still having a stellar season. His 74.2 percent completion ratio is still among the best in college football, and his 2,414 yards and 26 touchdowns are the major reasons behind WVU's 5-2 record to this point.
But with Kansas State taking absolute control of the conference through nine weeks, there's little left for West Virginia to do but finish out the schedule and see where the chips falls.
But Smith—and really the whole rest of the Mountaineers team—is firmly planted on the hot seat this week as they face TCU at home in Morgantown.
TCU, also new to the Big 12, is no pushover team. The Horned Frogs also have five wins on the season, and it wouldn't be a bad bet to put money on one of these teams making it to a coveted January bowl game.
Just not both of them.
And this game will likely decide which team is lost in the December shuffle and which team is rewarded with a prime bowl game after the ball drops.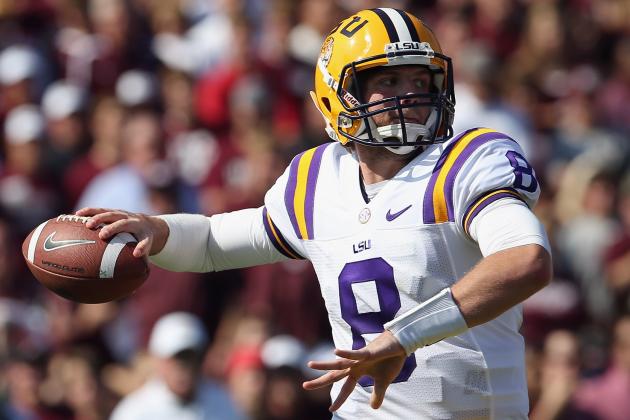 Ronald Martinez/Getty Images

Earlier, we said Oregon-USC was the biggest non-SEC game of the week.
Well, now we can talk about the biggest game of the week—No. 1 Alabama at No. 5 LSU.
Alabama looks to be just as powerful, if not more so than last season. LSU, on the other hand... let's just say the jury is still out.
The Tigers have certainly been solid so far this season, but there's that lingering loss to Florida, plus a couple of lackluster wins that have more than a few people concerned for the Tigers' chances come Saturday.
The last time these two teams tangled, it was for the crystal football at the BCS National Championship Game. Obviously, LSU's quarterback play in that game was woeful, at best, and it clearly cost the Tigers any chance of winning a title.
This year, LSU will be putting all of its championship eggs in Zach Mettenberger's basket.
There is no chance a two-loss LSU team makes the SEC Championship Game this season, much less the BCS title game. And with that vaunted Alabama defense sure to get more than its fair share of stops on Saturday, the real story of the game will be told based on how well Mettenberger can handle the adversity.
There's little to no chance a healthy Mettenberger doesn't take LSU down the stretch this season, but he's included on our Week 10 hot seat list because of the mountain-sized responsibility he's going to shoulder on Saturday against the Crimson Tide.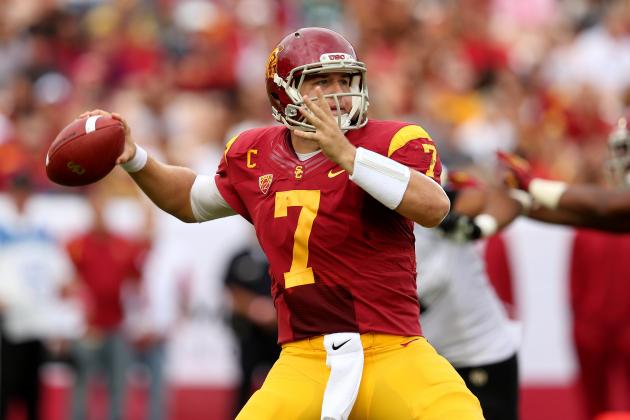 Stephen Dunn/Getty Images

When the season began, USC was a near-consensus No. 1 team, and Matt Barkley was the Heisman favorite—a team of destiny ready to follow their god-like football hero into battle.
Like Hector of Troy, Barkley and the Trojans soon found themselves a bit over-matched.
A couple of losses later, and the Trojans are fighting to keep their heads above the choppy waters of the Pac-12.
As unlikely as it sounds, USC still controls its own destiny in the Pac-12, as the Trojans are currently hold the lead in the South Division with two losses. The other two loss teams—UCLA and Arizona State—are still ahead for USC, so winning out would propel the Trojans into the conference championship game.
That, of course, would require a victory against Oregon on Saturday.
USC isn't the usual underdog, but last season, the Trojans went to Eugene as the dog, and walked out with a win.
Can Barkley do it again this season?
If he has any hope of securing that USC legacy he so covets, he must.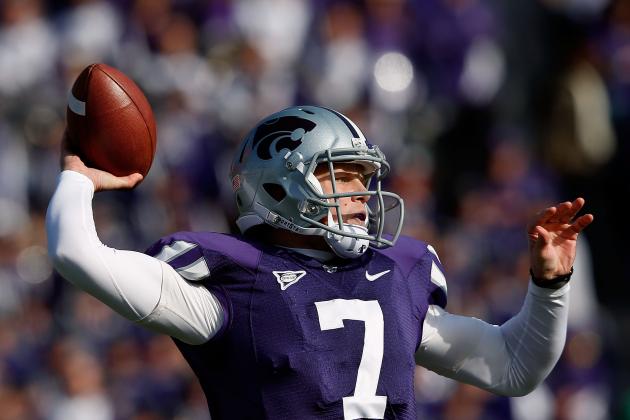 Jamie Squire/Getty Images

How on earth can Colin Klein be on our hot seat list this week?
Well, to be honest, we need an asterisk here. Klein is on the hot seat, not for his slumping play or his team's teetering on the edge of, well, anything. Instead, we've placed Klein on our hot seat list because he is now, clear and away, the frontrunner to win the 2012 Heisman Trophy.
But in a season where there really hasn't been one player that has simply blown the competition away (there are a number of players nipping on Klein's heels), playing for a team like Kansas State can be a bit of a weight around the ankles.
The Wildcats are not a "usual suspect" to have at the top of the BCS Rankings, but there they are at No. 2.
Simply put, as long as Klein continues to play as he has, leading the Wildcats to victory after victory, he'll remain atop most Heisman watch lists.
But if—and that's a mighty big "if"—Klein and the Wildcats slip up, even slightly, you may start to see the "cool kid's" choice of Manti Te'o slide into that top spot.
Interestingly enough, it will likely be Kansas State's defense that will have the biggest impact on Saturday's game against Oklahoma State.
The Pokes can put up points in a hurry, and a win against Kansas State will place the Cowboys in first place in the conference.
Can the Wildcats contain the No. 6 scoring offense in the FBS? Or, more relevantly, can Klein find a way to score more points than the Cowboys?
The answer to that question will likely decide the Big 12 outcome, a BCS berth for either team, and quite possibly, the Heisman Trophy.