5 Keys for the New York Rangers to Be Legit Cup Contenders Next Season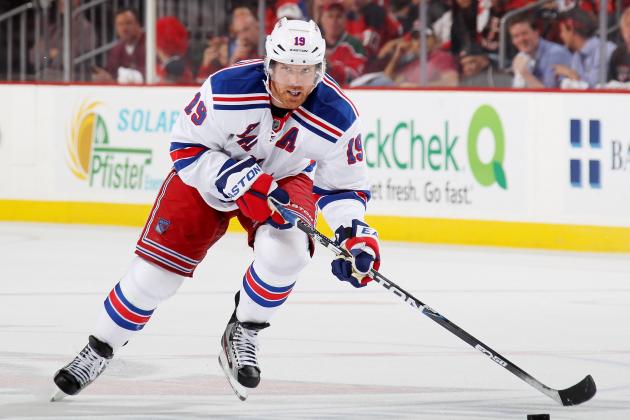 Bruce Bennett/Getty Images

For the first time since the mid-90s, the New York Rangers are considered legitimate Stanley Cup contenders.
But that doesn't mean anything is a given.
Last year's Eastern Conference Finals defeat to the New Jersey Devils showed that there's still much for the team to improve on if they intend on reaching the Stanley Cup Finals next season (whenever that may be).
The Rangers' brass also believes there is room for improvement and took steps to build a better team this season with the acquisition of Rick Nash. And although offense was the team's biggest problem last season, there are several other areas the team should concentrate on if they are to have a shot at glory whenever the NHL resumes.
To further explore what those areas are and what they entail, here are the five keys for the Rangers to be contenders next season.
Begin Slideshow

»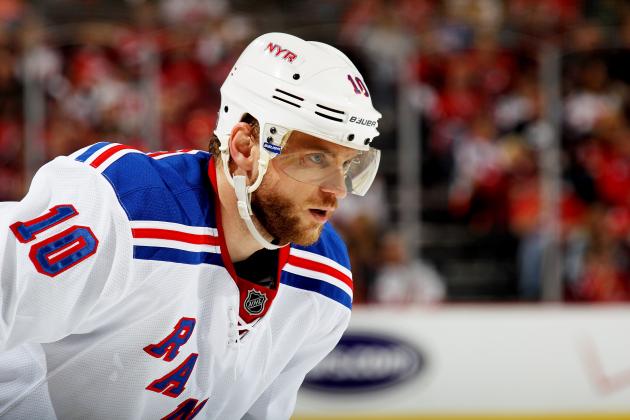 Bruce Bennett/Getty Images

In hockey, health is one of those things you don't have complete control over, yet it is such a vital component to winning the Stanley Cup.
When it comes down to it, you need your top players to be healthy and at the top of their game if you have any plans to win a championship.
So if the Rangers expect to be there in June, they're going to need to stay healthy.
There are plenty of freak accidents and injuries in hockey that players have to deal with. But what players can do to give themselves the best shot at staying healthy during the season is to get in shape and stay in shape.
That's how the lockout could end up helping the Rangers.
If there's a shortened season, several of the team's players will already be game-fit and prepared to play, as they have gotten plenty of game conditioning overseas.
Staying healthy is also something John Tortorella can contribute to.
This is a team built to win, and if a player needs a rest toward the end of the season, Torts should consider giving that player a rest. It could pay huge dividends in the playoffs for players like Marian Gaborik if they have the opportunity to get a few days to recharge their batteries.
Coach Tortorella is very demanding and never likes to promote complacency or laziness, but resting key players toward the end of the season should be something he considers next season.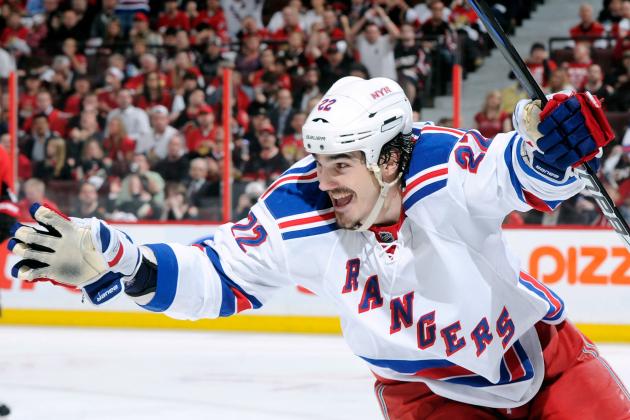 Richard Wolowicz/Getty Images

The biggest change in personnel for the Rangers next season will be on the third and fourth lines.
With the departure of Brandon Dubinsky, Artem Anisimov, Brandon Prust, Ruslan Fedotenko and John Mitchell, newcomers Arron Asham, Jeff Halpern and Taylor Pyatt, as well as last year's vets Mike Rupp and Brian Boyle, will be looked upon to play a sound defensive game while also contributing on the scoreboard.
To win a Cup, a team needs warriors on their bottom two lines.
Guys who give their all with the little amount of ice time they're handed.
Every year these players make a name for themselves. Last year, it was players like Jarret Stoll and Ryan Carter who stepped up with clutch goals and hard work, and both players helped their teams earn Stanley Cup Finals appearances.
In the NHL, championship teams don't consist of one or two strong lines and two weak ones; you need a complete team if you have Stanley Cup aspirations.
For the Rangers, a lot of their bottom line success will depend on how the new guys can fit into the system. Arron Asham and Jeff Halpern are not spring chickens, and if they can't work in Tortorella's uptempo system, then general manager Glen Sather may have to adjust his roster and bring in players who could effectively contribute on the checking lines.
Brian Boyle is also another big question.
What player are we going to get?
The one who looked like a stud in the first round of the playoffs against Ottawa? Or the cement-in-the-skates, stone-handed player we saw for the majority of the regular season?
Boyle will be a consistent third-liner this season, and he's going to have to contribute offensively.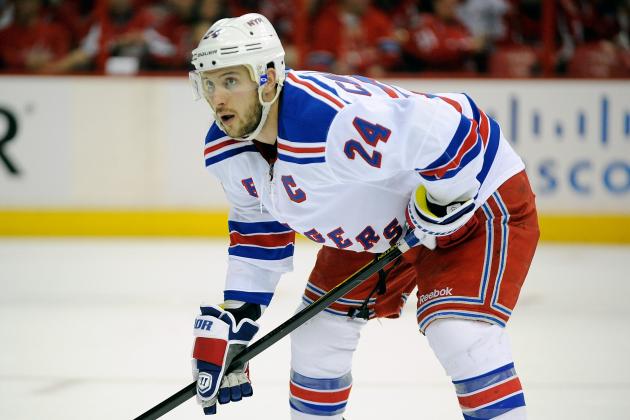 Greg Fiume/Getty Images

John Tortorella would certainly agree that a major key to success for his team would be to maintain their identity as a hardworking, no-nonsense team.
Their style of play was a major reason for their success last season.
And although the offense was a struggle and Rick Nash was brought in to address that problem, it doesn't mean they need to go and blow up the whole system. Nash, as well as the entire team, are going to have to find away to create more offense within the existing system.
Throughout last season, the Rangers were at their best when they were fore-checking hard and not allowing their opposition any room when trying to break out of their own zone.
They were able to create a good amount of offense that way, and it also forced their opposition to play to the Rangers' strengths. Abandoning that mindset could have serious repercussions, especially if there's a shortened season, as 40 games isn't an ideal amount of time for a team to re-find its identity.
Staying the course, with regards to style of play and identity, is vital for this team's success.
If there are some players who begin to lose that sense of identity, they should look no further than Ryan Callahan for inspiration. There's a reason he was named captain, and it's because he embodies everything this team is about: Hard work and two-way hockey.
Cally's lead-by-example style will be invaluable in maintaining this team's identity next season.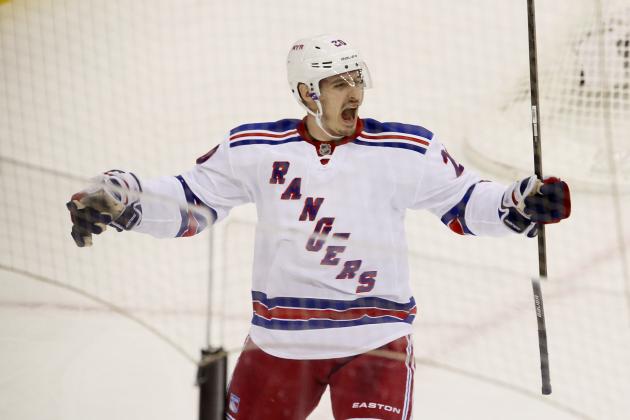 Jim McIsaac/Getty Images

The biggest improvement this team needs to make from last season is in the offense department.
The Rangers scored 226 goals last season.
At first glance, it may not seem like the end of the world—especially considering the Cup Champs only potted 194—but anyone who watches the team on a nightly basis knows that the Rangers are famous for scoring in bunches some nights and then following up those performances with two goals in three games type droughts.
And anyone who watched the playoffs last season knows on some nights, beating your head against the wall is more satisfying than watching the Rangers' offense.
That's why it's so important for the team to get it sorted out next season.
It was their only consistent problem last campaign, and if they can tweak their game a bit, without opening it up too much that they play outside of their strengths and identity, it'll be huge.
With Rick Nash and Chris Kreider jumping into the mix, they'll finally have the personnel to make it happen, but with Torts it's easier said than done.
He's going to make the team play defense first, and it will probably take some time for the team to figure out how they can successfully transition from defense to offense so that scoring goals is not an issue.
That being said, Brad Richards and Marian Gaborik will need to pick up where they left off last season, and Derek Stepan will have to find a way to gel with with his wingers so the team can roll two first lines.
Due to the team's style of play, they probably won't get the amount of scoring opportunities a high-powered offensive team like the Penguins will get, so that makes finishing all the more important.
All players, new and old, will have to make the best of their opportunities around the net.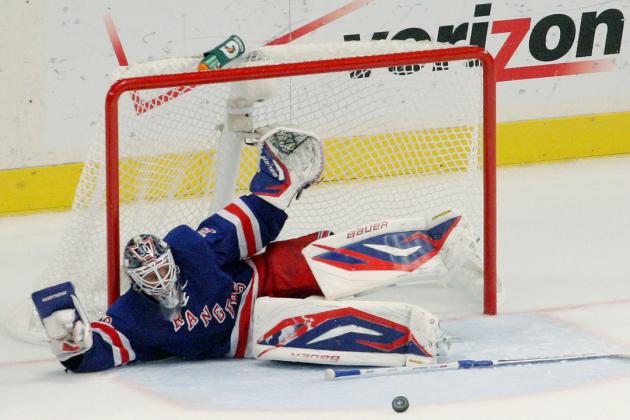 Bruce Bennett/Getty Images

To win a Stanley Cup, a team will have to sort their way through the better part of 100 games.
There will be the obvious ups and downs throughout the campaign, but it's the teams that can deal with those ups and downs and maintain a high level of consistency that see the end of the road.
Last season, the Los Angeles Kings had a far from perfect regular season.
But the fact of the matter is that they dealt with the adversity and shortcomings and were consistent enough to earn a spot in the playoffs. Once they got there, they didn't take their foot off the pedal for a second.
Their consistency in the postseason was impeccable.
There are so many games in the NHL that a team's performance cannot be absolutely consistent. Mistakes and mishaps are going to happen; not even the best players and teams are exempt.
Teams are going to struggle to score, but just because a team goes five games and only scores five goals, their offensive consistency will not be questioned if they put up 260 goals on the season.
A consistent hockey club is one that performs well over the vast majority of a season.
For the better part of last season, the Rangers were a consistent team. It may have been hard to watch them at times, but they stuck to their system and played hard every night. Despite their anemic offense, they always seemed to find a big goal by giving everything they had.
At the end of the season, everyone knew the Rangers were a hardworking team and it was that hard work that got them the top spot in the Eastern Conference. Unfortunately, their consistency went out the window in the Eastern Conference finals.
The team was exhausted and their work ethic and offensive production took a significant dive.
Consistency may be the biggest key for the Rangers next season because it encompasses all of the other keys to success.
There is no merit for those teams that play well during the regular season and then grow inconsistent once the playoffs roll around. So if the Rangers want to be legitimate Cup contenders, they'll need to receive consistent offensive production from all four lines, while also staying healthy.
It's a long season, and they cannot afford to lose their identity again when the playoffs arrive.