Demian Maia vs. Nick Diaz: Head to Toe Breakdown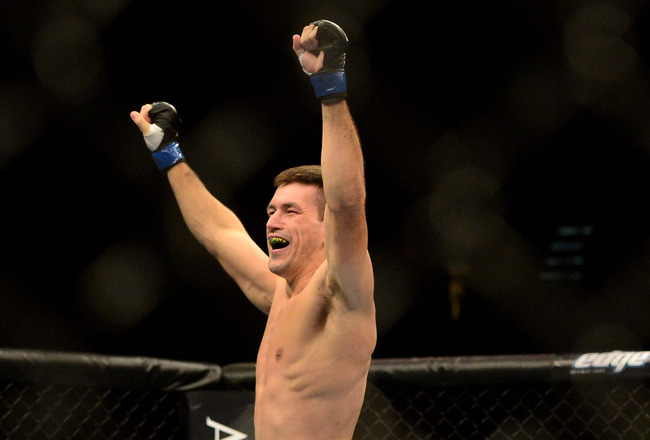 Mark J. Rebilas-US PRESSWIRE
Although a Josh Koscheck-Nick Diaz bout seems to be where both parties are heading, Diaz has a number of top contenders available if/when he decides to return to the UFC.
Names like Koscheck, Jon Fitch and Demian Maia are all possibilities that would be a big-time fight for Diaz's return. The Stockton-based fighter is well-versed in all areas of MMA, but how would he stack up against Maia?
The Brazilian is the definition of a jiu-jitsu wizard in MMA and has the grappling equivalent to a knockout punch with his BJJ. Could Diaz hang with Maia on the ground, or would he look to keep it on the feet? You look at the tape and decide for yourself.
Striking
Kelvin Kuo-US PRESSWIRE
Nick Diaz takes a bit of criticism from MMA fighters and fans for his "pity-pat" style of punches that don't appear to have any power behind them. But just ask anyone who has stepped into the cage to face Diaz, and I'm sure any of them (other than Frank Shamrock) will tell you they hurt.
Even if they won't admit it, Diaz's MMA record speaks for itself. His boxing isn't based on precise technique, but rather throwing so many punches at his opponent that they're unable to respond. It's a formula we've seen countless times: Diaz corners his opponent against the cage and rips punches to the body and head.
Demian Maia is well-known for his jiu-jitsu, but has seemingly fallen in love with his striking in recent memory. It's nothing special, but Maia's striking is improving as he progresses through his MMA career.
With that said, there's no doubt that Maia would look to avoid any extended striking exchanges with Diaz. And for good reason, as Diaz would likely be able to walk through any Maia strikes to return the favor.
Advantage: Diaz
Grappling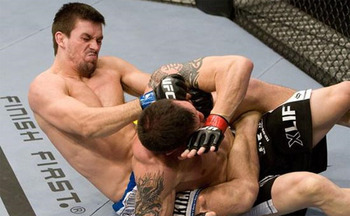 cagepotato.com
Demian Maia needs no introduction when it comes to talking about grappling. He's by far one of the most accomplished BJJ practitioners to ever step in a cage. An ADCC winner in 2007 and a second place in 2005, Maia has fought some of the best in the world on the jiu-jitsu mats.
His jiu-jitsu skills have translated very well to MMA as well, with nine of Maia's 17 victories resulting from submission. Maia's triangle of Chael Sonnen remains perhaps his most graceful tap out of his career.
Nick Diaz is no slouch on the ground either. Diaz is a BJJ black belt under Cesar Gracie and has won eight MMA fights via submission. The biggest highlight of Diaz's submission skills has to be his gogoplata victory over Takanori Gomi.
Still, Diaz has never faced a guy with the quality of BJJ like that possessed by Maia. It would very interesting to see the scrambles on the mat, and you could arguably go either way with picking who has the advantage.
I'll stick with Maia given his BJJ accomplishments and how great his technique is.
Advantage: Maia
Conditioning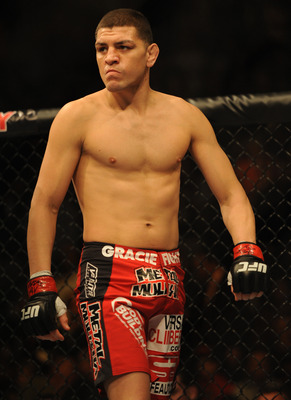 Kelvin Kuo-US PRESSWIRE
When you have a style that revolves around volume punching, cadio is key. Just as one would think, nobody has ever questioned Nick Diaz's conditioning.
He seemingly never gets tired throughout a fight no matter how much damage he's received or dished out. His good cardio allows Diaz to throw the mass volume of punches without losing any steam as the rounds wear on. Diaz also holds the record for most strikes thrown in a single round of MMA action.
Demian Maia, on the other hand, didn't look all that great in his final days of competing at 185 pounds. His fight with Chris Weidman was ugly, as both men tired, but Weidman at least had the excuse of taking the fight on short notice.
However, the drop to welterweight seems to have paid off for Maia. He's looked great thus far, but we haven't seen if the weight cut will affect his stamina after the first round. Maia has only been in the cage for a total of three minutes and 17 seconds.
You have to believe that although Maia is in better fight shape after dropping a weight class, but there are very few fighters in the world that can hang with Diaz in the later rounds.
Advantage: Diaz
Final Prediction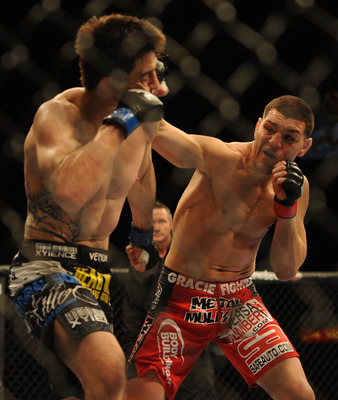 Kelvin Kuo-US PRESSWIRE
Demian Maia has looked great thus far into his welterweight career. It's very rare that a guy can compete at an elite level in multiple weight divisions, and it's a feat Maia seems well on his way to accomplishing.
However, Nick Diaz has been competing at an elite level at 170 pounds for years.
Diaz is the better overall fighter, possessing both solid striking and grappling. Maia's striking continues to improve, but I have a hard time envisioning him being able to withstand the flurry of Diaz strikes and answering back with much of his own offense.
On the mat is where I think the fight becomes a toss-up. Maia is on a different level than most MMA competitors once the fight gets on the mat, but I'm not sure he'll be able to get Diaz on the mat. Diaz has had issues with his takedown defense in the past, but was also facing very good wrestlers. Good takedowns are not a trait I'd associate with Maia.
If Maia can get the fight to the ground, he'll have a chance due to his grappling prowess, but I see Diaz being able to stuff the takedown attempts and using his trademark punches in bunches strategy.
Winner: Diaz
Keep Reading