Buccaneers vs. Raiders: 10 Keys to the Game for Tampa Bay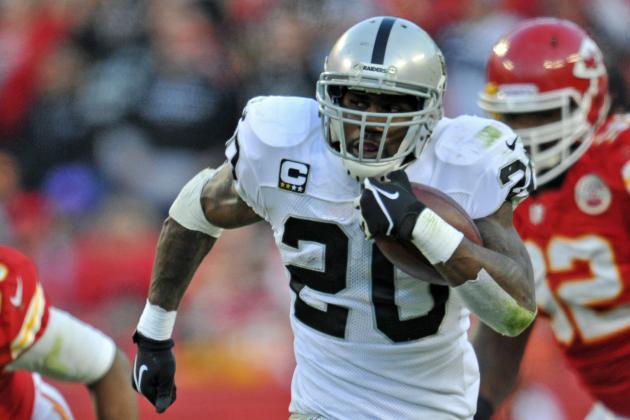 Peter Aiken/Getty Images

On Sunday, the Tampa Bay Buccaneers will travel to Oakland to face off against the Raiders.
Both teams currently sit at 3-4 and the winner will stay in playoff contention, while the loser will most likely be out of it.
With that in mind, it's time to look at the keys for Tampa Bay to come out with the "W."
Begin Slideshow

»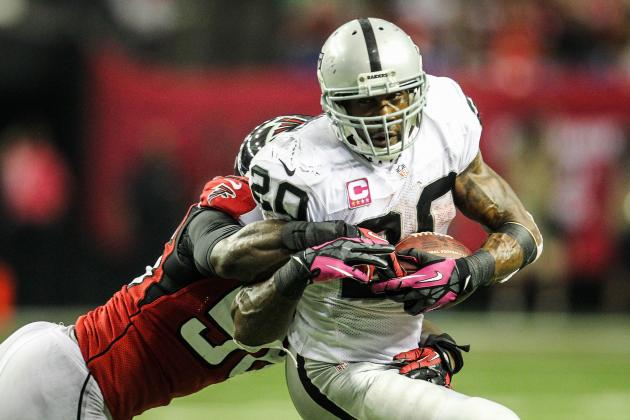 Daniel Shirey-US PRESSWIRE

You thought I could go one slide without mention the amazing Darren McFadden?
It's sad to think that McFadden might actually be one of the best running backs in the league, and that his offensive line is so bad it limits him to just a season average of 3.3 yards per carry and 64.57 rushing yards per game.
To keep Run DMC out of the game, all the Bucs have to do is do what they do normally. They are, after all, giving up the fewest yards per rush in the league (a three-way tie still counts as the fewest).
As long as the Bucs keep doing what they're doing, Oakland's ground attack will be nonexistent and the team can focus on taking down Carson Palmer.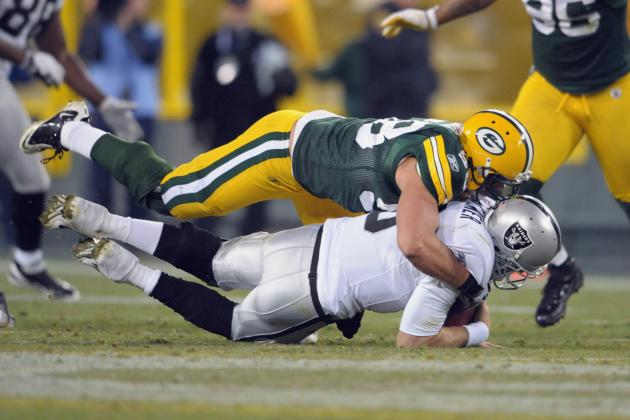 Kirby Lee-US PRESSWIRE

All season long the Bucs have struggled to sack the quarterback. Their grand total of eleven ranks as the fourth-lowest in the league.
One can blame injuries to defensive ends Adrian Clayborn and Da'Quan Bowers for that, but now that Bowers is back from his Achilles injury and interim starter Daniel Te'o-Nesheim has begun to come into his own, it's time for Tampa Bay to bring the heat and throw Palmer to the turf.
It might not be easy, as the Raiders have only given up 12 sacks on the year, but if the away team can make him feel pressured, the Bucs chances of victory increase exponentially.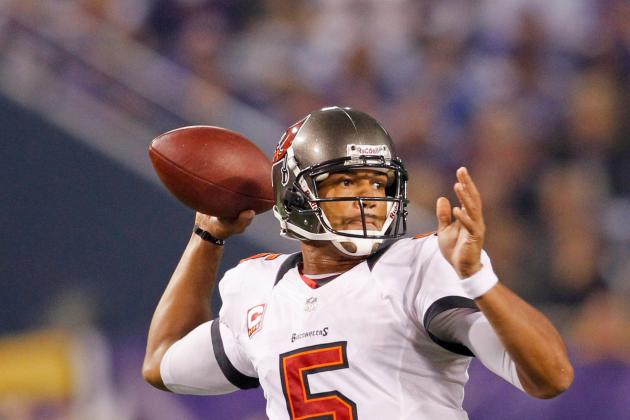 Bruce Kluckhohn-US PRESSWIRE

Ready for an absolutely-crazy observation on Josh Freeman's 2012 season?
He does better when he doesn't throw interceptions.
No, I do not mean that not throwing interceptions is a side-effect of better play. I mean that Josh Freeman plays better because he does not throw interceptions.
Over the last three games, Freeman has thrown just one interception,which came on the opening drive of the first game of the trio.
Since then, Free has thrown three passing touchdowns each game, passed for 1010 yards, and averaged 9.71 yard per attempt.
We've seen a dramatic improvement in his on-field performance, as well as in his confidence in making difficult throws into tight spaces. One of his worst habits—leading the receiver too far away from the coverage—has magically disappeared.
Avoiding turnovers will not only boost Freeman's game, but it will also keep the ball with the Bucs, rather than the hands of the Raiders.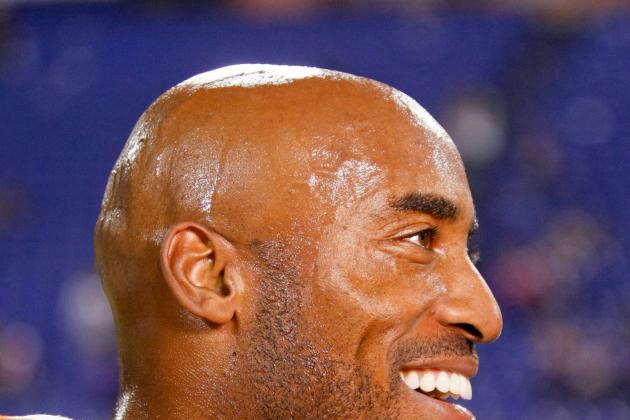 Bruce Kluckhohn-US PRESSWIRE

Don't feel alone if you are wondering how Ronde Barber's legs have not fallen off of his decrepit old carcass yet.
The man's 37-years old, after all.
In any case, Barber is playing some pretty good football as a free safety. In the last three games, he has two interceptions and a forced fumble. One of those interceptions he returned for a touchdown.
When the veteran forces turnovers, it shifts the momentum and sets the pace for the defense.
It would be pretty darn nice if he could work some of that "Fountain of Youth" magic on Sunday.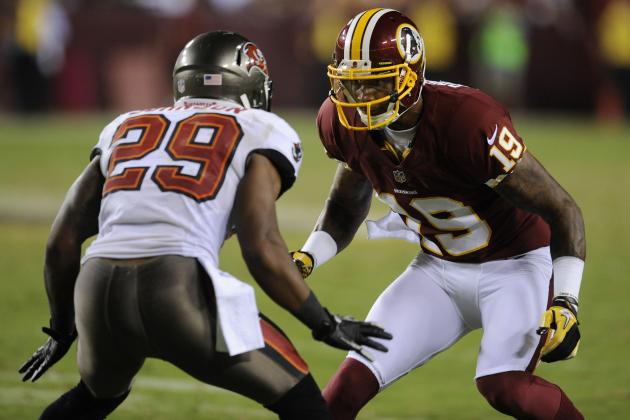 Rafael Suanes-US PRESSWIRE

Even if Eric Wright didn't face a suspension for Adderall , it would still be likely for him to miss the Raiders' game with an Achilles injury.
And even if the Bucs hadn't traded Aqib Talib away, he'd still have one game left to serve on his own Adderall suspension.
In the absence of the two starting cornerbacks, it'll be up to the backups to step up on defense.
This means extensive playing time for the likes of E.J. Biggers, Brandon McDonald, Leonard Johnson, Myron Lewis and new acquisition Danny Gorrer.
The new starters will have to play their very best football to compete with the speedsters who make up the Oakland receiving corps, but I'm confident that they can get the job done.
If not, Ronde Barber and Mark Barron will have to bail them out.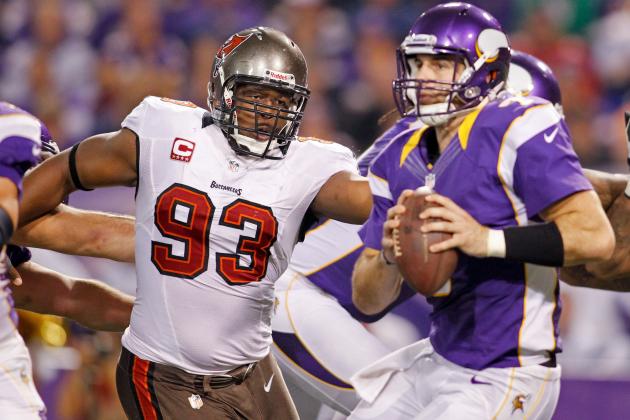 Bruce Kluckhohn-US PRESSWIRE

Gerald McCoy is one of the Top Five defensive linemen in the NFL.
If you don't believe me, believe ProFootballFocus, who ranked him as one of their Mid-Seaon All-Pros.
Admittedly, McCoy's excellence at defensive tackle does not translate onto the stat sheet. He has just 13 solo tackles and three sacks on the year.
But when you consider that he faces double and triple teams on a consistent basis, those numbers look a whole lot more impressive.
McCoy plugs up the rushing lanes so well that he forces the running backs to run right into other defenders, which is a big part of why the Bucs only give up 3.5 yards per rush.
The third-year man can also generate pressure up the gut, which is near impossible for a quarterback to ignore.
McCoy putting together another great performance will be key to the Bucs beating the Raiders.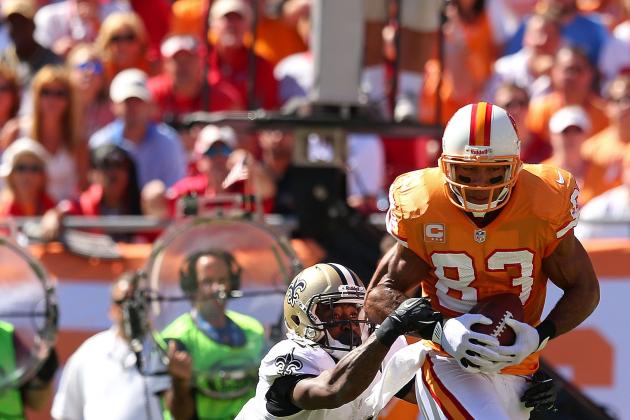 Mike Ehrmann/Getty Images

Vincent Jackson's stats over his career as a Buccaneer:
Seven games, 29 receptions, 626 receiving yards, 21.6 yards per reception, five touchdowns, 27 first downs.
Need I say more?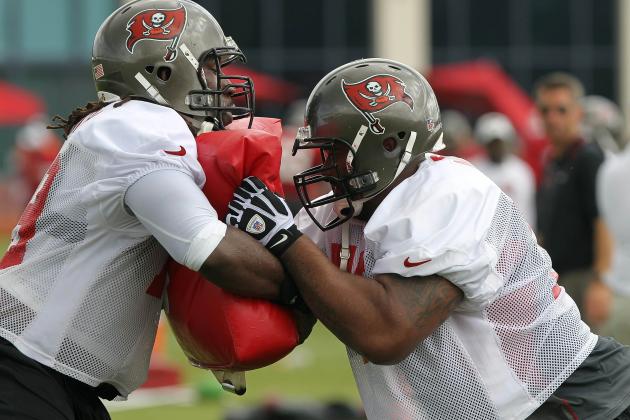 Kim Klement-US PRESSWIRE

Now that the Bucs have lost two Pro Bowlers at the offensive guard position, it'll be up to the backups to handle the starting jobs going forward.
Hey- didn't I just write a very, very similar sentence a few slides ago?
Well, this time the roster situation looks a lot more bleak. At right guard, we have Jamon Meredith.
At left guard, we may have anyone, ranging from Ted Larsen, who was benched for Meredith earlier this season, to Jeremy Trueblood, a converted right tackle who was benched for Demar Dotson earlier this season.
Hopefully, the backups can pick up where the Pro Bowlers left off.
I didn't say it was likely, but it is important that they play well.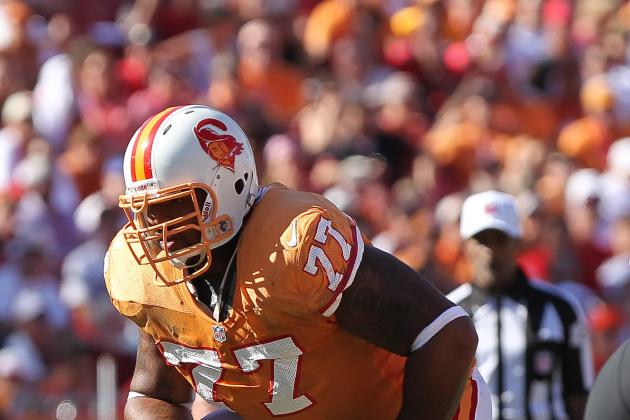 Kim Klement-US PRESSWIRE

Key players on the Bucs injured reserve:
-Carl Nicks
-Adrian Clayborn
-Davin Joseph
The team has lost two Pro Bowlers and one future star at defensive end.
Ouch.
Tampa will have to stay healthy—not just if it wants to win this game, but in order to keep its very slim chances of a wildcard berth alive.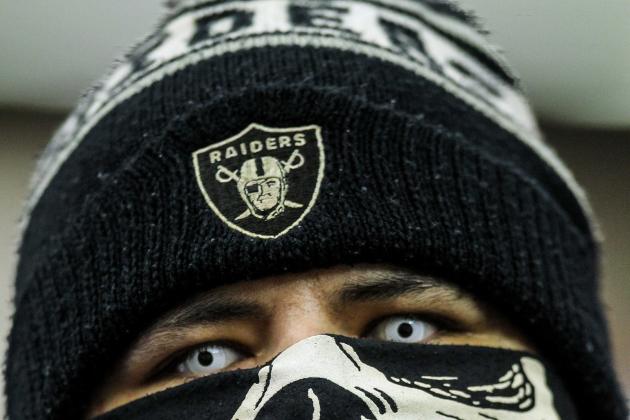 Daniel Shirey-US PRESSWIRE

Raiders fans may be scary as hell, but the Bucs cannot let themselves be frightened.
Halloween's over, children.
In that vein, Tampa Bay must make the flight across the country and not suffer a drop-off in play as so many young teams do.
A huge part of this game will be decided by whether the Bucs can carry the momentum gained from last week's rout of the Vikings all the way to Oakland.
So show up pumped, and no matter what, don't get sucked into the Black Hole.