Oklahoma City Thunder vs. San Antonio Spurs: Live Blog, Analysis and More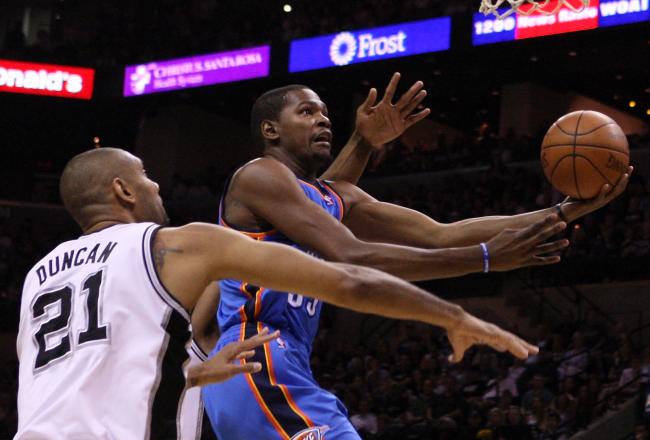 Maxx Wolfson/Getty Images
Thanks to a 22-foot buzzer beater by Tony Parker, the San Antonio Spurs move to 2-0 with an 86-84 victory over the Oklahoma City Thunder.
The Thunder drop their season opener despite 23 points, 14 rebounds and five assists by Kevin Durant. Russell Westbrook was aggressive as usual (21 shots, most of any player), finishing with 18 points, eight rebounds, five assists and a game-high six turnovers. In his Thunder debut, Kevin Martin finished with 15 points on 4-for-10 shooting.
Tim Duncan led the Spurs with 20 points and 8 rebounds, while Parker finished with 14 points and 11 assists. San Antonio was able to pull out the hard-fought victory despite being outrebounded by OKC 48-39.
Keep it locked right here as Bleacher Report provides you with the best coverage of the NBA all year long.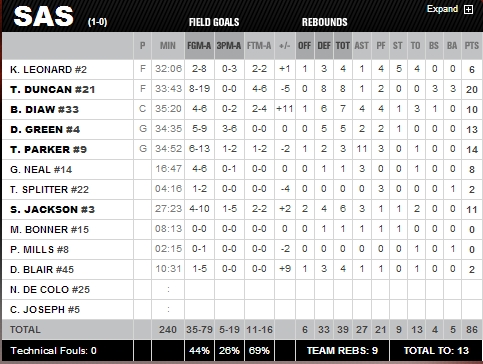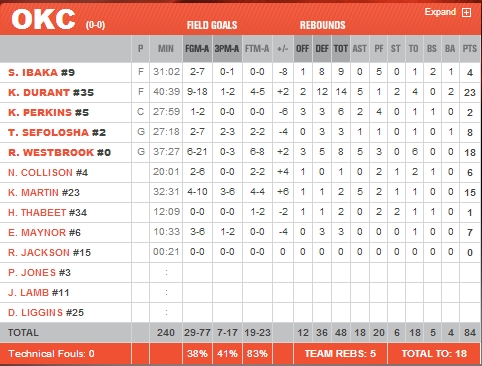 Final box score from Thunder-Spurs...
Spurs 86, Thunder 84 - Final: San Antonio inbounds the ball to Danny Green (who almost slips/travels) who then feeds Tony Parker who BURIES a 22-footer at the horn. Two nights and two clutch shots by Parker give the Spurs two victories. Amazing finish.
Kevin Durant (23 points) was a +2 on the night, as was point guard Russell Westbrook. Kevin Martin led the Thunder with a +6 in 32 minutes off of the bench.
Boris Diaw (10 points, seven rebounds, four assists) led all players with a +11, while Tim Duncan (20 points, eight rebounds) was a -5, and Tony Parker (even with his late game heroics) finished with a -2.
Thunder 84, Spurs 84 - 0:5.9 left in 4Q: OKC tries to get the ball to Durant at the top of the key for the game winner, but Kawhi Leonard breaks up the pass for this fifth steal of the game. Spurs' ball with just under six seconds to go.
Thunder 84, Spurs 84 - 0:28.3 left in 4Q: A HUGE corner 3 by Tony Parker ties the game up for the Spurs. Parker (12 points) is now the fifth Spurs' player in double-figures.
Thunder 84, Spurs 81 - 1:26 left in 4Q: According to Reggie Miller, Westbrook "sells" a foul (as in "doesn't flop") and converts both free throws to give OKC a three-point lead.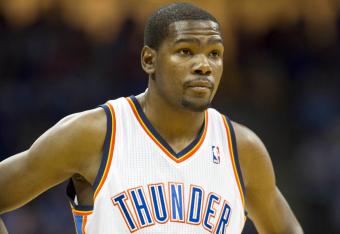 Spurs 81, Thunder 80 - 2:12 left in 4Q: Considering the fact that Oklahoma City is shooting 39 percent on the night, they probably shouldn't even be in the game, but the Spurs haven't been able to put them away yet. Durant is having a stellar game (23 points, 11 rebounds, 5 shots), but has deferred to his teammates for the most part down the stretch.
Spurs 81, Thunder 80 - 3:12 left in 4Q: Kevin Martin is silently having a decent game off of the bench (15 points on 10 shots).
Spurs 80, Thunder 77 - 3:51 left in 4Q: Westbrook is still forcing shots to mixed results (6-for-18), but the Thunder are still hanging around thanks to 10 offensive rebounds.
With 23 points on the night, Durant is officially at 10,001 for his career. He is the second-youngest person in NBA history to go over the 10K mark in scoring. The youngest? Some guy named LeBron.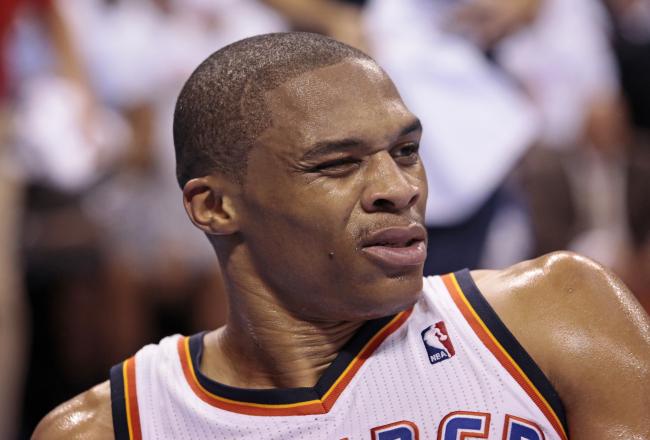 Spurs 77, Thunder 71 - 7:08 left in 4Q: Westbrook checks in and immediately forces an awkward right-handed layup (there was contact, but no foul was called). For those who thought that Westbrook would abandon his "shoot first, ask questions later" mentality, that simply isn't the case so far tonight.
Spurs 75, Thunder 69 - 8:20 left in 4Q: An 11-0 run gives the Spurs an eight-point lead with most of their starters on the bench...
Spurs 73, Thunder 69 - 9:30 left in 4Q: The Maynor shot seemed to give OKC a bit of juice until Stephen Jackson hits a huge 3 over the outstretched arm of Durant. The last time the two of them were in the same place, they made this fantastic song...
Video of the Maynor buzzer-beater...
Westbrook takes a seat on the bench just before the end of the third quarter, clearly frustrated with his play (5-for-14, 12 points, 5 assists, 5 turnovers). By comparison, his counterpart (Tony Parker) has 9 points, 11 dimes and only one turnover.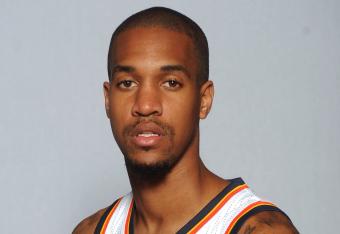 Thunder 66, Spurs 66 - end of 3Q: Eric Maynor throws up a prayer from about 55 feet at the buzzer and it hits nothing but net! The teams are tied at 66 for what promises to be an exciting fourth quarter...
Spurs 65, Thunder 61 - 1:00 left in 3Q: The two Kevins (Durant and Martin) cut the Spurs' lead to two before Tony Parker Eurosteps all over the Thunder D to stop the OKC run.
Scott Brooks and Kendrick Perkins share a moment...
Spurs 61, Thunder 54 - 3:36 left in 3Q: The Spurs were able to get four shots on a single possession, but failed to convert on any of them. A Durant 3-pointer settles down the frenetic pace and cuts the San Antonio lead to 7. Durant has 15 points and 8 rebounds so far, while Duncan has 16 points and 6 boards.
Spurs 61, Thunder 51 - 4:33 left in 3Q: Spurs ridiculously efficient on offense tonight with 22 assists on 26 made baskets. They're getting it done on the defense end as well as Duncan gives Durant a hard foul as the lanky forward tried to put the Spurs' big man on a poster. Durant promptly misses both free throws.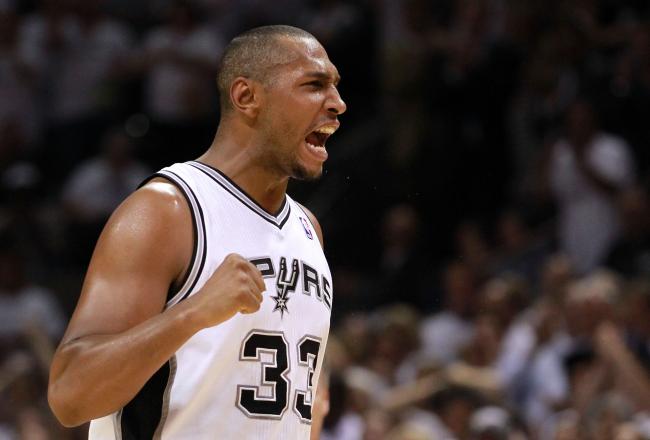 Spurs 55, Thunder 49 - 7:13 left in 3Q: The Thunder - and not the Spurs - are looking like the team playing the second half of a back-to-back tonight. Boris Diaw is getting in on the action (8 points, 4 rebounds, 3 assists) as the Spurs' starting bigs (Diaw, Duncan) have outscored Ibaka and Perkins 20-2.
Spurs 51, Thunder 46 - 8:40 left in 3Q: Two long jumpers by Danny Green give the Spurs a five-point lead. Sefolosha has no answer for the Spurs' shooting guard, who has 11 on the night.
Thunder 46, Spurs 46 - 9:39 left in 3Q: Westbrook converts an pretty And-1 to break a small scoring drought for the Thunder, and on the next possession, Sefolosha knocks down a corner three to give Oklahoma City the lead. During the play, Ibaka gets a little too reckless with his left elbow and picks up a Flagrant 1. Boris Diaw converts 1-of-2 two free throws to tie the game once again.
Despite the five-point deficit, Oklahoma City is outrebounding San Antonio 24 to 18. Serge Ibaka leads all players with six rebounds, but is 1-for-5 from the field.
Spurs 45, Thunder 40 - Halftime: As the Spurs take a five-point lead into the locker room, Kevin Durant and Tim Durant lead all scorers with 12 points apiece. Russell Westbrook has 9 points, 3 assists and 3 rebounds for Oklahoma City and Kevin Martin has 7 points (1-for-4 from the field) in his first game for the Thunder. Tony Parker has 4 points and 5 assists for the Spurs, who have 15 assists on 19 made baskets.
This article is
What is the duplicate article?
Why is this article offensive?
Where is this article plagiarized from?
Why is this article poorly edited?

Oklahoma City Thunder: Like this team?