UFC in 2013: 10 Bold Predictions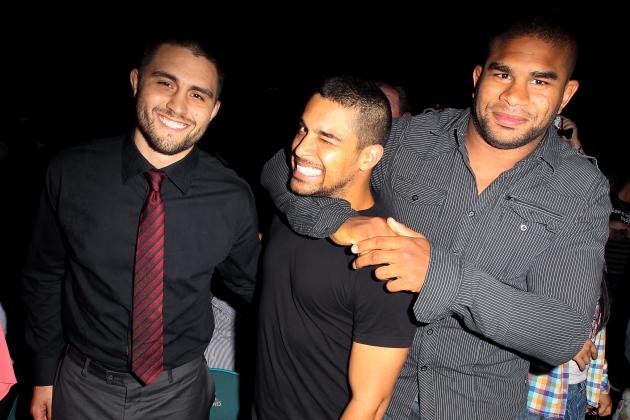 Jeff Bottari/Getty Images

2012 has been a tumultuous year for the Ultimate Fighting Championship. Injuries have called halt to more amazing bouts than can be counted, Brock Lesnar, one of the UFC's largest financial draws, opted to remain retired from MMA after heavy rumors took flight of a potential return. Failed drug tests, shelved champions, horrendous officiating, we've seen a little bit of everything this year.
2013 sure as hell isn't guaranteed to be a superior year, but logic says that 2013 probably can't get too much worse. Advancements in regards to drug testing are occurring before our eyes, new "danger" clauses are being inserted into contracts and, as of today, the majority of the promotion's champions are healthy.
There is hope.
Outside of specific fight picks, I personally tend to steer clear of outlandish predictions, but I've got a funny feeling about the forthcoming year. So, I'm going to give it a go and toss out some extrapolations to mull over.
Begin Slideshow

»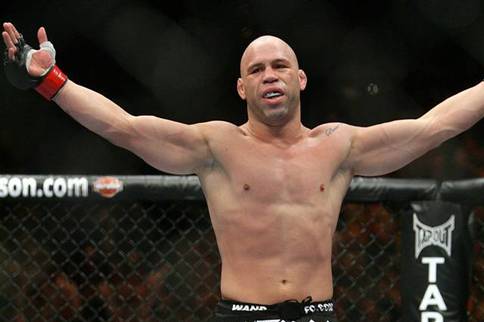 The last thing I want to see is "The Axe Murderer" exit the game. However, Father Time has officially ensnared the man in a cleverly-placed trap. Six years ago, Silva was decapitating foes to the delight of Japanese audiences. Nowadays, he's struggling to exit the cage with a W.
Since September of 2006, Silva has put together a dismal 3-7 record. A pair of losses to Rich Franklin have ensured he won't ever again flirt with title contention, and a 27-second knockout loss to Chris Leben really confirmed that the man just isn't as durable as he once was.
It's time for Wanderlei to take his health into consideration. Inside that 10-fight stretch just mentioned, he's been rendered unconscious four times. That doesn't bode well for mental longevity.
I believe Silva takes one final fight in 2013. Win, lose or draw, I say he hangs 'em up.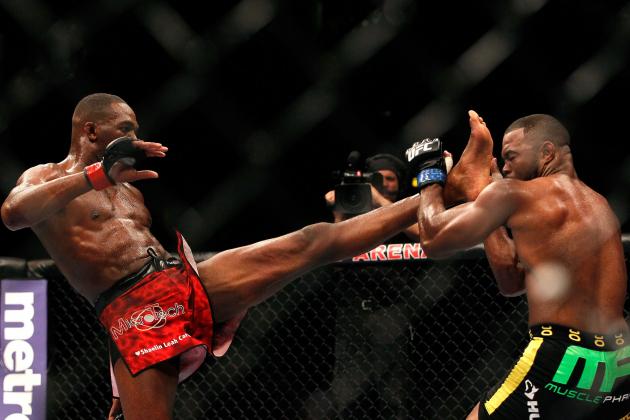 Kevin C. Cox/Getty Images

This prediction really isn't all too absurd considering the fact that Jon's openly stated he plans on making the move to heavyweight in 2013. That said, making a statement and making a statement a reality are two different things.
It's conceivable that Jones is talking heavyweight simply to dispel the idea of a Jones/Anderson Silva matchup. It doesn't seem Jon wants any part of that whirlwind of terror, and this could be a ploy to distract Dana White.
That noted, my gut says Jones avoids "The Spider" for the bulk of 2013, retains his title in two bouts with Alexander Gustaffson and Lyoto Machida (there's a few bonus predictions for you) and makes his heavyweight debut as 2013 comes to a close.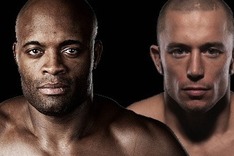 No matter how bad Dana White wants to see Jones tangle with Silva, it's not going to happen. What is going to happen, however, is the caving of GSP, who's long been hounded on the topic of a super fight with the current middleweight kingpin.
St. Pierre is a proud man, and I believe him to be a pretty courageous fellow as well. He's wise enough to know a fight with Silva presents more danger than he's ever faced, but I don't believe he's afraid of taking the fight.
After Jones/Silva fails to materialize and Georges has defended his belt another time or two, he's going to sign the dotted line, and we're finally going to see "Rush" meet "The Spider" in the cage.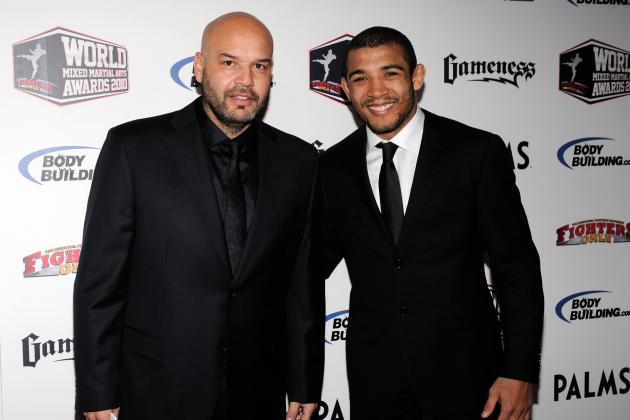 Ethan Miller/Getty Images

Jose is a massive, massive 145-pounder. His trouble making weight is well-documented and his days at featherweight are numbered.
A fight with Frankie Edgar is about the only genuinely captivating fight that remains for Aldo, and he knows it. After he brings the suspense to a close and outworks Edgar (another bonus prediction) at UFC 156, he's making the move to lightweight.
Given his amazing run as a professional, I don't foresee any warmup fights for the Brazilian at 155. He'll battle Nate Diaz, who will have by then become lightweight champion by defeating Benson Henderson, and he'll win.
Nate's an astounding product, but Aldo's leg kicks are a feared commodity, and they'll break Diaz down over the course of 25 minutes.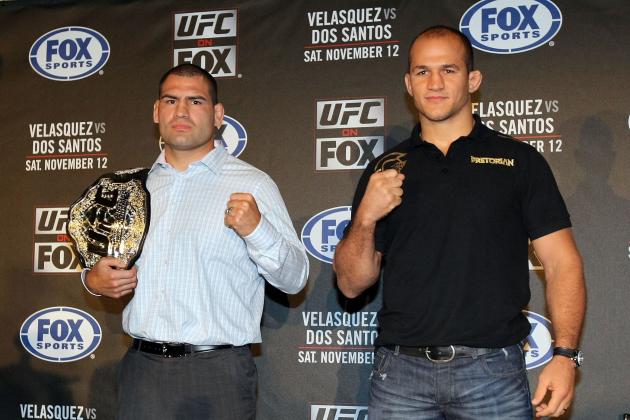 Victor Decolongon/Getty Images

Junior has a rough road ahead of him. He's got to once more knock Cain Velasquez from contendership at UFC 155, and he'll be forced to slug it out with the aggressive Dutchman Alistair Overeem after that.
The line of worthy contenders to Junior's strap is dwindling, and I only see one more fight that looks truly stimulating: a fight with Daniel Cormier.
Junior will battle Cormier as 2013 fades after Cormier's managed a successful promotional debut, which is nearly a guarantee (outside of JDS, Velasquez and Overeem, I don't see a better heavyweight competing today), and yes, he'll emerge victorious.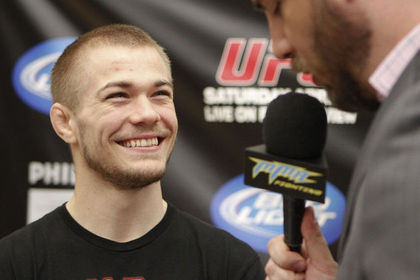 I expect to see Cruz cruise right past Renan Barao (it won't necessarily be that easy) midway through 2013. That amazing footwork and unorthodox striking should take him to victory lane, where he'll spark up a fresh romance with his shiny belt.
But there are emerging threats at 135 that Dominick must keep an eye on, and Michael McDonald is one of them.
With four UFC wins under his belt already, including a knockout stoppage of one-time pound-for-pound considerate, Miguel Torres, "Mayday" only needs to secure one more impressive win to position himself for a title shot.
When that happens, Cruz is going to eat a punch he never sees coming.
There's no denying the fact that Lombard botched his UFC debut. He dropped a decision (that I felt he actually won despite how lethargic he appeared) to Tim Boetsch at UFC 149, and one "Lightning"-fast hype train was suddenly derailed.
But Lombard isn't done.
Hector will benefit from a wonderful stylistic matchup in his next UFC outing when he meets Rousimar Palhares at UFC on FX 6. Everything (save for heel hooks) that Palhares does well, Hector does better. He's an excellent grappler with a sound knowledge of submission defense, and his striking is technically superior—far superior—to Palhares'.
A quick finish for Lombard and all the steam behind this monster returns.
A subsequent title eliminator will be announced, and Hector will be a part of that match, which will only work to settle the unease Dana White's had since that dreaded performance back in July.
Lombard wins the eliminator and challenges you know who to close out 2013.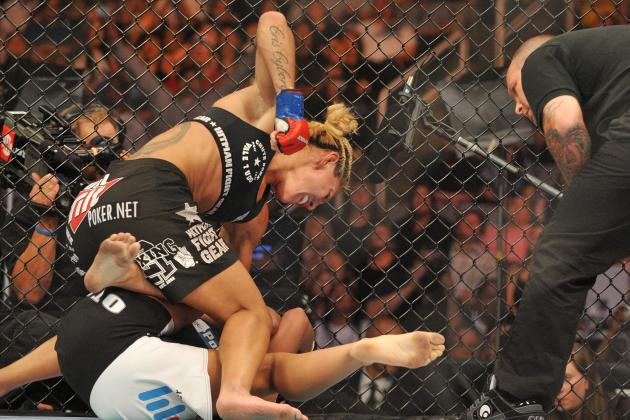 Jon Kopaloff/Getty Images

Cyborg looks like a…cyborg, and Ronda Rousey rips limbs off like a…cyborg. Of course these two are going to fight.
Dana's all but made it clear that he aims to see Ronda fighting in the UFC before too long, and I'm certain he's not oblivious to the fact that there's only one woman worthy (at this point) of challenging the Strikeforce champ: the heavy-handed Santos.
It's no secret that TUF's ratings have been dwindling. That issue will be temporarily repaired when Jon Jones and Chael Sonnen coach opposite one another on the 17th season of the reality show, but what happens from there?
How does FX maintain high ratings?
By showcasing the first female coach pairing, that's how. Besides, what better way to introduce the world to the two baddest women competing today?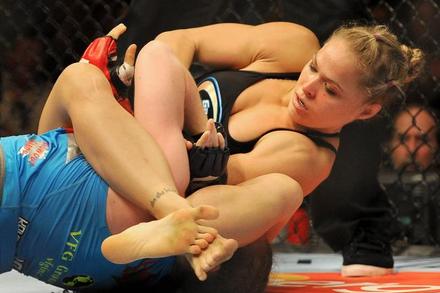 Yes, I do think we'll witness TUF: Rousey vs. Cyborg next year, and yes, I do think it will draw some damn respectable numbers.
I don't anticipate female competitors showcased on the show, but that won't matter much. Typically, fans prefer to see men compete over women. But it's going to be the coaches that pull the viewers in regardless.
Cyborg was chiseled from stone and Ronda is smoking hot with a fire tongue. Brutality and sex appeal sells; these two cover both bases.
Overeem knows his career is reaching a peak. He also knows Dana White's not going to put up with any more outrageously high epitestosterone to testosterone levels from "The Reem".
Alistair won't be winning a UFC title next year, but he'll be wise enough to avoid any banned substances.
The MMA world will likely let out a collective gasp in genuine shock.
If you'd like to hurl any personal insults at me, you're always welcome to follow me on Twitter.