Virginia Tech vs. Miami: Live Scores, Analysis and Results
Joel Auerbach/Getty Images
Final Score: Miami 30, Virginia Tech 12
Even though the Miami Hurricanes were dominated by the Virginia Tech Hokies from a statistical standpoint, Miami came out on top, knocking off its conference rival in dominating fashion.

The Miami defense was very opportunistic, forcing three Logan Thomas turnovers and also blocking a punt in the first quarter.
With that win, Miami is now in the driver's seat to win the Coastal Division and play in the ACC title game on December 1.
Virginia Tech on the other hand is now guaranteed its first season of less than 10 wins in eight years. The Hokies are also on the bowl bubble as they will have to win two of their remaining three games to become bowl eligible.
Miami running back Duke Johnson was dominant on offense and special teams. He had 217 all-purpose yards, including an 81-yard return on a kickoff.
He also had 99 yards rushing and a touchdown on 12 carries, including a 65-yard scamper.
Here is a link to the post-game write up. Thanks for following along all night.
http://bleacherreport.com/articles/1393563-virginia-tech-football-10-things-we-learned-from-the-hokies-loss-to-miami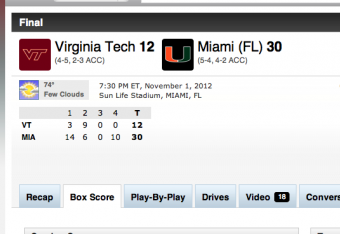 Final: Miami 30, Virginia Tech 12
It is all over in Miami as the Hurricanes move to 5-4 and the Hokies fall to 4-5.

Another Logan Thomas interception and this one is now over as Miami is winding down the clock.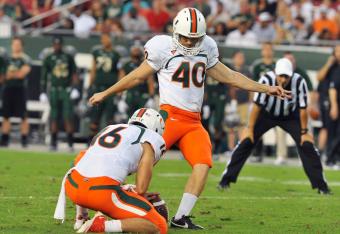 Miami 30, Virginia Tech 12 -- 2:54 4th Quarter
A 37-yard field goal by Jake Wieclaw widens the margin and makes it a three-possession game with less than three minutes to go.
That officially sealed the fate of the Hokies.
The Virginia Tech faithful are certainly not happy at all about this one.
Frank Beamer is gonna have to take long look in the mirror after this one. Pitt might've been worse, but expected a lot more out of bye.

— Hokies Journal (@HokiesJournal) November 2, 2012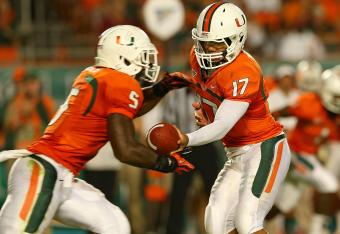 With how beat down Virginia Tech looks right now, Miami might just be able to run out the clock.
Mike James and Duke Johnson look as fresh as ever.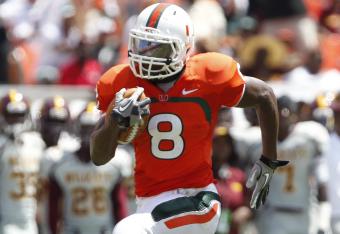 Duke Johnson is a man. Enough said.
The young, inexperienced Miami defense that a lot of people though would wear down, is doing just the opposite. The group has gotten stronger in the fourth quarter.
Miami is doing everything right and it is only a matter of time before this one is in the books.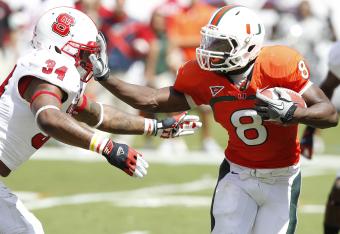 Miami 27, Virginia Tech 12 -- 7:38 4th Quarter
Touchdown Hurricanes as Duke Johnson pounds his way into the end zone for the score. That might be the knockout blow the Hurricanes are looking for.
A nice trick play by the Hurricanes as Morris throw it backwards to Dorsett who then throws it back to Morris.
Miami is now knocking on the door, inside the 10-yard line.
On a third-and-12 from its own 29-yard line, the Hurricanes come up with a huge gain to get into Virginia Tech territory and convert its first third down of the game.
Here is some more social media for viewers delight.
Coastal champ = 100-point dog in ACC title game.

— Aaron McFarling (@aaronmcfarling) November 2, 2012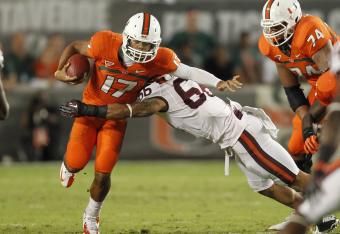 Another three-and-out for Miami as the Hurricanes are yet to convert a third down all game.
Bruce Smith and Warren Sapp would cringe at this tweet.
There hasn't been a sack in this game. #VTvsMIA

— Damian Salas (@vthokie) November 2, 2012
Thomas overthrows a wide open Joey Phillips on fourth-and-one. Miami takes over at its own 40-yard line with 13:46 remaining.
Big fourth down coming up as the Hokies are going for it on fourth-and-one near the Miami 40-yard line.
After a Miami timeout, we will be looking at the biggest play of the game coming up.
Miami had three yards of offense in the third quarter and somehow maintained its eight-point lead.
After three quarters, Virginia Tech has run 69 offensive plays to only 33 for Miami. The Hokies have the ball once again and are nearing midfield.
Virginia Tech kicker Cody Journell misses wide left on a 47-yard field goal and the Hurricanes defense holds once again.
Virgina Tech is doing everything it can to give this game away.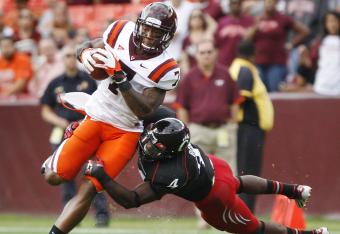 There is a Marcus Davis sighting, as the Virginia Tech stud receiver makes only his second catch of the game.
This one good for 24 yards and the Hokies are quickly driving once again.
Miami is unable to capitalize on the turnover. The Hurricanes do however get out of their own end zone, courtesy of a pass interference penalty.
Injuries are continuing to pile up for the Hurricanes.
ESPN reporting Miami LB Denzel Perryman out with an ankle injury and S Deon Bush out with a shoulder injury.

— CBSSportsACC (@CBSSportsACC) November 2, 2012
Thomas drops the snap on third-and-goal at the one-yard line. He appeared to have recovered the ball, but was pulled out of the pile by a Miami defender.
Huge play for the Hurricanes defense. That is likely to be the difference in the game.
Virginia Tech is taking advantage of the excellent starting position.
It is now first-and-goal inside the five-yard line.
Officials are reviewing the catch by Demetri Knowles. Hard to tell from the angles shown whether he caught it or not.
It would put the ball inside the Miami 40, but would have to be overturned for that to happen.
Defense is the name of the game in the second half as neither team can get much going on the offensive side of the ball.
Virginia Tech however will take over inside Miami territory after an excellent punt return. This is the best starting field position all night for the Hokies.
Big drive for both teams coming up.
This article is
What is the duplicate article?
Why is this article offensive?
Where is this article plagiarized from?
Why is this article poorly edited?