Progress Report on Miami Heat's Players Under 26 Years Old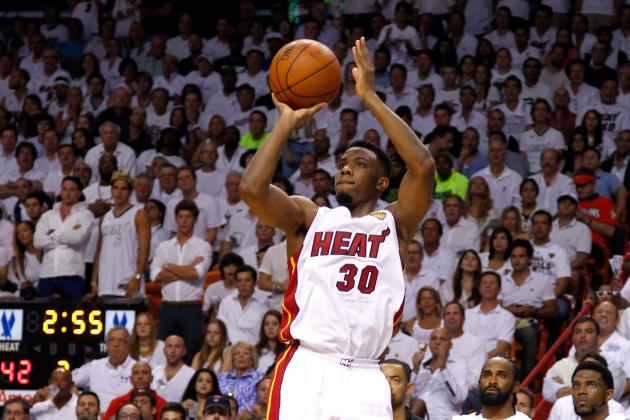 Mike Ehrmann/Getty Images

In attaining LeBron James and Chris Bosh two years ago to play alongside Dwyane Wade, the course and personnel of the Miami Heat moved from the future to the present.
As a result, most of the faces you see adjoined to the team's nucleus in crunch time are proven veterans with the kind of experience and pedigree it takes to play for a championship contender, much less a franchise entrenched in a veteran-friendly culture established by Pat Riley long ago.
Be that as it may, there are stylistic attributes about how the Heat play that may invite a more prominent role for its younger players, such as:
1. emphasizing speed and athleticism via an up-tempo, full-court offense
2. spacing the floor with shooters surrounding LeBron James and Dwyane Wade
3. and adapting to the tight defensive rotations that help Miami generate so many of its infamous fast-break points.
With the season one game in for the Heat and its next matchup set for Friday in New York against a banged-up Knicks team, here is a progress report on the Heat's under 26-year-old players
Begin Slideshow

»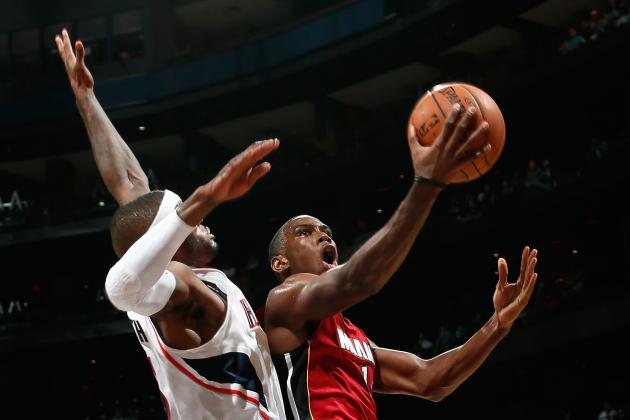 Kevin C. Cox/Getty Images

Background
Harris played sparingly for Miami last season and recently beat out Garrett Temple for the last roster spot before sitting out the entirety of the Heat's first game against the Boston Celtics.
Positives
Harris has been a fixture on the team's roster because he always remains active on the court. Whether it be through playing tenacious defense, boxing out for rebounds or hustling down the court for easy points, Harris has earned the reputation of being a blue-collar worker in a system that values work ethic very highly. This is a Pat Riley-led franchise after all.
Negatives
Because of his size and skill set, the best chance Harris has of cracking the rotation is by improving his outside shooting. Last season, Harris' three-point shooting percentage was 20 percent. During the preseason, that percentage remained at .20. Until this number increases, Harris will struggle to play meaningful minutes.
Report Card: C-
Comments
The addition of Ray Allen and steady emergence of Norris Cole only figures to make it that much harder for Harris to squeeze into the rotation this season. Luckily, however, the opportunities for him to shine will be there on those nights when Miami blows out its opponent after only three quarters of play and needs guys to fill out garbage minutes.
It also wouldn't hurt if he developed a kind of mentoring relationship with Allen during practice to improve his game.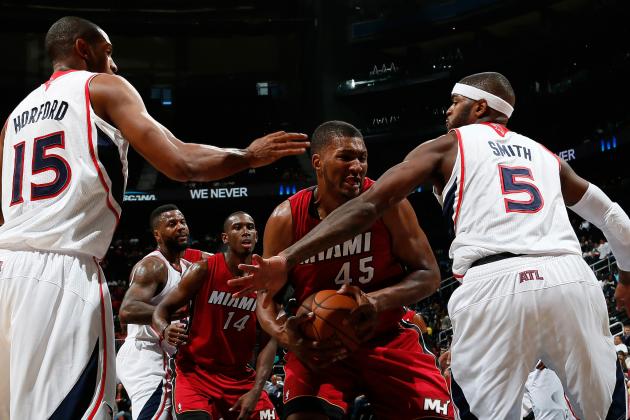 Kevin C. Cox/Getty Images

Background
Like Harris, Dexter Pittman seemingly has hit a ceiling with his progress, as shown by his underwhelming performance during Summer League.
Down to the last year on his three-year rookie contract, Pittman recognizes the fork-in-the-road implications of the upcoming season and why he will need to show marked improvement if he plans to remain a pro in this league.
Positives
Pittman came into camp at his lowest playing weight in three years, down to 275 and 12.5 percent body fat.
Negatives
Pittman's offensive numbers during the preseason (3.0 ppg) were actually lower than the number he produced during his rookie season (3.5 ppg). The only improvement shown was a slight bump in rebounding at 4.0 this preseason as compared to the 1.8 he averaged in his first year.
Report Card: D-
Comments
The same statement about garbage time previously used for Harris also applies with Pittman. He will have his opportunities every so often. The question is whether or not it may be a bit too little, too late, as second-year player Josh Harrellson may have surpassed him in the garbage minutes department.
Either way, no player on the Heat is at as much of a career crossroads as Pittman. Perhaps that will be enough to light a fire in the third-year player.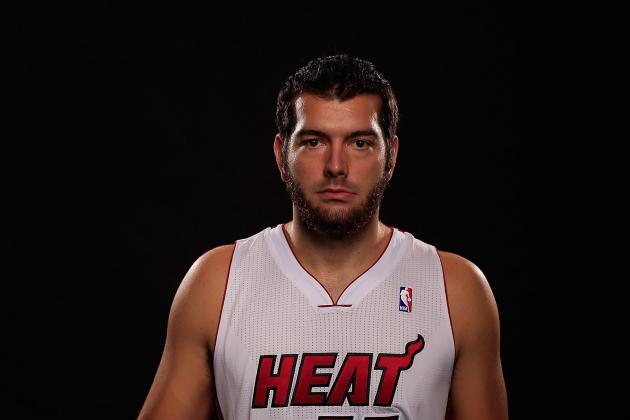 Chris Trotman/Getty Images

Background
In two games and 22 minutes of play for the New York Knicks last preseason, Harrellson averaged seven points per game, 6.5 rebounds and shot 38 percent from beyond the three-point line. During this year's preseason, he averaged five points and 3.8 rebounds per game in only 14 minutes of play.
The issue, though, was that his three-point shooting was not exactly impressive, at 27 percent. As we all learned during the Heat's first game of the regular season, their rotation is already pretty deep with the additions of Ray Allen and Rashard Lewis. Nevertheless, in a conference that features a bevy of centers, the Heat will rely on whatever big bodies it has to throw at its opponents.
And you can imagine that Harrellson figures to be among the top on that list if he can continue to provide timely rebounding and establish himself as a threat from the outside, thereby forcing opposing big men to get out of the lane to guard him.
Positives
Because the Heat seem committed to a position-less lineup, Harrellson's outside shooting and size will inevitably come in handy.
Negatives
Harrellson has yet to make a strong impression thus far beyond outshining the disappointing Pittman. And it certainly doesn't help his case that his outside shooting hasn't been as advertised.
Report Card: Incomplete
Comments
If Harrellson wants to avoid the same kind of go-nowhere road that Dexter Pittman seems to find himself on, he will need to work on his shooting and rebounding. Because at this point, he has only made it this far based on his potential.
Mike Ehrmann/Getty Images

Background
Like his haircut, Cole has managed to stand out among his peers, with the Heat recently exercising the third-year option on the guard weeks ago.
Last season, he averaged 6.8 points per game and two assists and followed it up with 8.0 points and 2.0 assists per game in 21 minutes of playing time in the preseason, including an impressive 9-of-11 shooting from beyond the arc.
Meanwhile, in six minutes of play against the Celtics on opening night, Cole finished with three points on 1-of-2 shooting and one assist.
Positive
Cole has showed signs of improvement on his outside shooting and will continue to be a staple in the rotation due to his energy, outside shooting and ability to make the offense more up-tempo, a style of play that accentuates Miami's strengths.
Negative
Cole is still erratic with his ball-handling and, at times, looks like a chicken with its head cut off when trying to lead the offense.
Report Card: A-
Comments
Thus far, Cole has been a diamond in the rough for Miami. If he can continue to improve his ball-handling, it would only be a bonus for Miami. But at this point, the team has to be more than pleased with his progress. And it appears as though he will only build on his rookie season with an even more productive second year.