Ryback's Survivor Series Debut: Comparison with 8 Past Superstars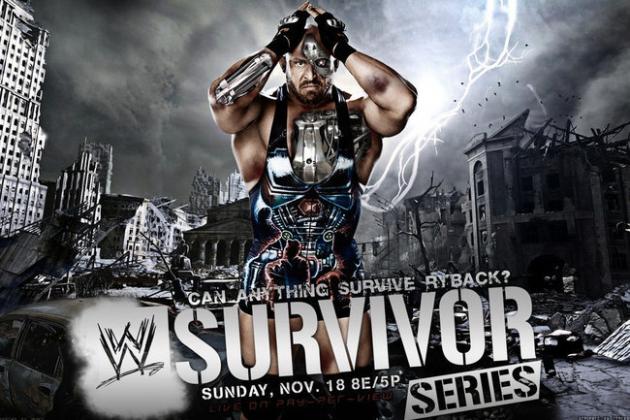 Credit: WWE.com
[Author's note: I began writing this article prior to Monday Night RAW, and had finished 80 percent of it, since it was originally set for ten superstars. When I started writing it, Ryback was still scheduled for the traditional Survivor Series match. After Monday Night Raw, I thought I might have to scrap this article completely.
However, it was 80 percent complete, and the information seems just as relevant. Rather than re-write the entire article, I decided to keep it mostly as it was, and not complete the final 20 percent. Some parts may not make as much sense anymore. Please keep that in mind as you read.]
In less than three weeks, Ryback makes his first appearance at Survivor Series. Since he returned to WWE television with his updated moniker, attitude and push, Ryback has taken the WWE by storm.
He headlined last month's pay-per-view, and despite the fact that he did not walk away with a victory or the WWE Championship, he came out looking stronger than Punk in the end.
Since Ryback wasn't featured at SummerSlam, this year's Survivor Series will mark his first appearance at one of WWE's "Big Four" as Ryback.
The Survivor Series has always been a fun event, and has been shrouded in controversy seemingly every year since the Montreal Screw Job. How Ryback performs at Survivor Series will be a test to see if he can handle the spotlight.
In that same vein, let's take a look at eight WWE Superstars (some past, some present) and how things turned out for them at their first Survivor Series appearance.
Begin Slideshow

»
The 1990 edition of Survivor Series is easily my favorite of all time. I could go on for hours telling you everything I liked about that pay-per-view, but one of the most important events in WWE history took place that night: the debut of The Undertaker.
Ted DiBiase was the captain of the "Million $ Team," up against Dusty Rhodes and his "Dream Team." The Million Dollar Man announced that he would have a mystery partner. No one knew what to expect.
When The Undertaker was introduced (led to the ring by his short-lived manager Brother Love), the children in the audience looked genuinely scared. Go back and listen to it. I don't think anyone could have sold it better on commentary than Roddy Piper.
The Undertaker had a fairly successful debut. He eliminated two members of Dusty's "Dream Team," including Koko B. Ware and Dusty Rhodes himself. No one was able to pin the Dead Man, but he was eliminated by count-out after chasing Rhodes post-elimination.
I could definitely see Ryback receiving similar treatment, eliminating multiple members of Punk's team before being counted out or disqualified.
(Of note: The Undertaker captured his first WWF Championship one year later by defeating Hulk Hogan in the first-ever title defense at Survivor Series).
(Also of note: This wasn't technically Undertaker's debut. Three days prior, he recorded a match for Superstars, in which the ring announcer calls him "Kane the Undertaker").
Seven years after The Undertaker debuted, his kayfabe little brother Kane made his first November pay-per-view appearance.
Upon his debut (and still to this day), Kane was (and is) as much of a monster as Ryback. He may not have had the impressive undefeated streak, and his matches may be at a more methodical pace, but they are both men of few words who seem to love inducing pain upon their opponents.
Still early in his career, Kane got a big win over Mankind in a singles match at Survivor Series 1997. Will the monster Ryback have as much luck?
Speaking of Mankind, one year before he battled Kane at Survivor Series, Mick Foley took on Kane's older brother The Undertaker at Survivor Series 1996.
Although Ryback and Mick Foley have very little in common, Foley did select Ryback to captain his team this year. In the world of kayfabe, that would be considered a little risky, since Ryback has no Survivor Series experience.
Foley's debut was not successful, as he lost to The Undertaker in a singles match. But then again, Foley never had good luck at Survivor Series. As we already saw, he lost to Kane the next year, and got screwed in the finals of a WWF Championship tournament in 1998.
In case you didn't remember this on your own, Paul Bearer was stuck in a cage above the ring. The idea is that Undertaker would get to pound his former manager if he beat Mankind. A funny visual that makes it worth checking out the video clip, if you hadn't already planned on it.
For the sake of Team Foley, I hope Ryback's turn is more successful than Foley's first three attempts at the Survivor Series.
What about the WWE Champion that Ryback faces this year, CM Punk?
He made his Survivor Series debut six years ago, long before dropping pipe bombs and being considered one of the best in the company (if not the entire industry).
In 2006, CM Punk was selected to be a part of Team DX, co-captained by Triple H and Shawn Michaels. Their team of five (which also included Matt and Jeff Hardy) faced Team Rated-RKO, co-captained by Edge and Randy Orton.
Team DX absolutely dominated, with every single member of their team surviving. Along the way, CM Punk eliminated "Johnny Nitro" (John Morrison) with the Anaconda Vice.
Punk would love to repeat that victory this year, with all five members of his team surviving. But Ryback may prove a bigger obstacle than Randy Orton, Edge or anyone else from Team Rated-RKO.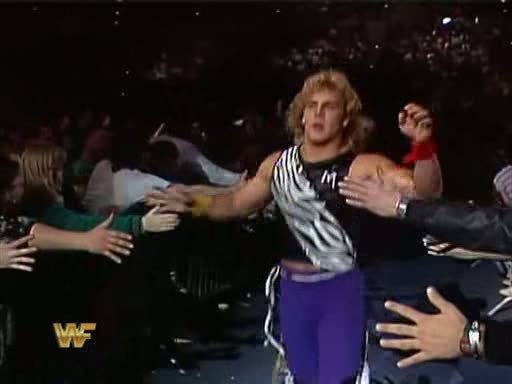 Image retrieved: http://wrestlemaniaparasiempre.blogspot.com/2011/06/survivor-series-1988.html
The Heartbreak Kid may have co-captained a team in 2006 that came away with a perfect Survivor Series victory, but that was far from the Showstopper's first appearance.
For Shawn's inaugural Survivor Series match, we have to turn the clock way back to the second edition in 1988.
This was back in the day when all of the matches on pay-per-view were elimination-style tag matches. Most of the matches were set up like Team Foley vs. Team Punk: two teams of five.
But for the first two years of Survivor Series, they also had a giant 10-on-10 elimination match featuring two sides made up of five tag teams each. An additional stipulation was added to these matches: both members of a tag team were eliminated if either of them were on the losing end of a fall.
In 1988, Shawn's original tag team, The Rockers, sided with the Powers of Pain, British Bulldogs, Hart Foundation and Young Stallions to face the opposition of Demolition, the Brain Busters, The Bolsheviks, the Fabulous Rougeaus and Los Conquistadores.
In this 20-man tag match, Shawn's partner Marty Jannetty pinned Boris Zhukov to eliminate The Bolsheviks. Before Shawn had a chance to match his partner's accomplishment, the Rockers were eliminated along with the Brain Busters for brawling in the ring and refusing to leave.
Shawn's team would go on to win after his elimination (with just the Powers of Pain surviving), but Michaels' impact was minimal.
You can bet the farm that Ryback's debut at Survivor Series will be anything but minimal.
HBK's debut may go back as far as 1988, but Hulk Hogan made his Survivor Series debut at the inaugural event in 1987.
Few wrestlers (if any) have impacted the WWE like Hulk Hogan, and few pay-per-views have impacted WWE like Survivor Series. So how did the first meeting of Hogan and the November PPV go?
Hogan was still in the middle of his feud with Andre the Giant over the WWF Championship. Vince McMahon put on this event after the success of WrestleMania III as a build-up to WrestleMania IV.
Hogan captained a team that included Paul Orndorff, Don Muraco, Ken Patera and Bam Bam Bigelow. Andre recruited One Man Gang, King Kong Bundy, Butch Reed and Rick Rude.
In the match that headlined the first Survivor Series, Hogan got off to a hot start, scoring the first fall by pinning Butch Reed. That would be his only elimination of the evening, as he was eventually counted out while trying to deal with both King Kong Bundy and One Man Gang.
In the end, Andre the Giant was the sole survivor. Hogan left that evening with the WWF Championship, but he would eventually lose it to Andre the Giant, and go on to be eliminated along with the Seventh Wonder of the World in a WWF Championship tournament at WrestleMania IV.
Hogan's career would see him win the WWF/WWE Championship five more times in his career, along with six World Heavyweight Title in the WCW. Andre would never have a legitimate title run.
That actually seems like a plausible outcome for Ryback: coming up with the short end of the stick on the evening of Survivor Series, but eventually having the last say in the feud.
WWE had to know that Ryback would be seen as a Goldberg clone when they decided to book a bald, muscle-bound, man-of-few-words for a long undefeated streak, squashing opponent after opponent.
So what about Bill Goldberg at Survivor Series?
Given Goldberg's short tenure with WWE, he only participated in the Survivor Series one time. That was in 2003, when he was involved in a feud with Triple H. At the time, Triple H had the backing of Evolution.
During the match, in which Goldberg defended the World Heavyweight Championship, Hunter did not shy away from using his friends to his advantage.
Despite the fact that Batista, Flair and Orton got involved in the match, Goldberg won the match in typical Goldberg fashion, a spear followed by the Jackhammer.
I think it's entirely plausible that Ryback could find himself in a 4-on-1 situation at Survivor Series, and like Goldberg before him, I think it's entirely plausible that they would book Ryback to overcome those odds.
It should be noted that Goldberg ran into Brock Lesnar backstage at this pay-per-view, foreshadowing their match at WrestleMania six months later. I think it would be a great idea if Ryback started up a fresh feud at Survivor Series, taking his attention off of WWE Champion CM Punk for a while.
Many people feel that Ryback's push is too much, too soon.
They argue that he hasn't "paid his dues" and shouldn't be rocketed past other superstars who have been solid workers for several years. One imagines that some of those wrestlers aren't exactly pleased to sit back and watch Ryback soar past them.
Dolph Ziggler could definitely be one of those guys.
After shuffling back and forth between Ohio Valley Wrestling and WWE in 2004 and 2005, he finally found a spot in OVW as a member of the Spirit Squad, which debuted on RAW in 2006. After playing the role of male cheerleader Nicky, we were introduced to Dolph Ziggler on WWE television in fall of 2008.
He's been working his way up the ranks ever since.
On his way to the top, Ziggler's first appearance at the Survivor Series came as a member of the Spirit Squad, when four of them took on a team of WWE Legends that included Ric Flair, Sgt. Slaughter, Dusty Rhodes and Ron Simmons.
The Spirit Squad took the early advantage when Ron Simmons was counted out. Ziggler, as Nicky, then eliminated Sgt. Slaughter after partner Johnny landed a spinning heel kick.
Nicky Ziggler (no, he didn't actually go by that name) was then eliminated next when he suffered one of Dusty Rhodes' bionic elbows.
In the end, Ric Flair would win it for Team WWE Legends by eliminating the three remaining Squad members.
Somehow, I think Ryback will end up playing a much bigger role than just eliminating one person before being eliminated himself.
It's much more likely he'd pull off Flair's accomplishment from this match, eliminating his final three opponents.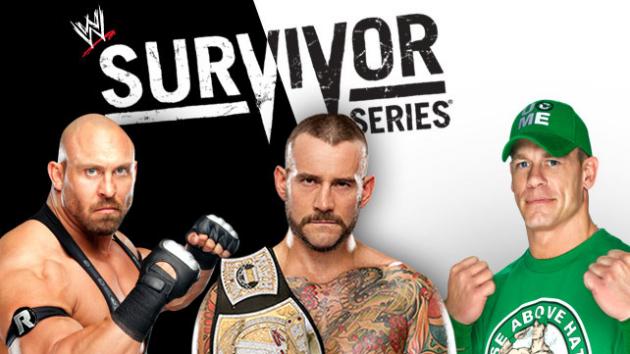 Credit: WWE.com
Now that the main event for Survivor Series has been changed to a Triple Threat Match for the WWE Championship, how do you think Ryback will do at his first appearance at one of the "big four" WWE pay-per-views?
Will he live up to his own hype? Will he manage to leave Survivor Series with the WWE Championship, making his way past both Punk and Cena?
Or will the curse of Survivor Series shenanigans make Ryback its victim, allowing Punk to escape as champion one more time?
Ultimately, the question comes down to this: Is Ryback ready to headline a major pay-per-view like Survivor Series?
We'll find out in less than two weeks.
You can follow Dustin on Twitter, check out his blog or listen to his podcast.