Florida Basketball: Predicting Who Will Lead Gators in Each Statistical Category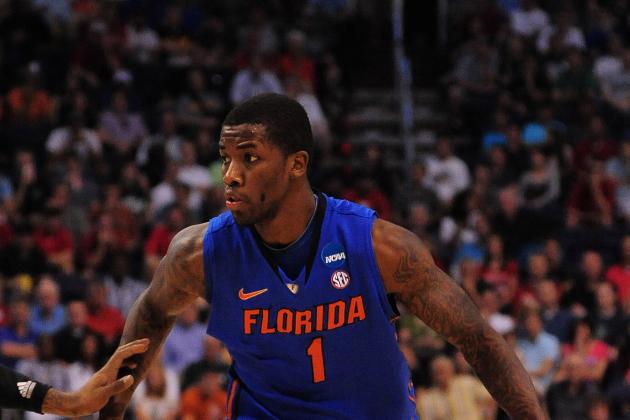 Kyle Terada-US PRESSWIRE

With the talent that the Florida Gators have this year, they could very well be one of the best teams in all of college basketball.
We all know how good the Gators can be, since they have made two straight Elite Eights, but who will lead the statistical categories on this team?
Florida may have lost a couple of big names from last season in Bradley Beal and Erving Walker, but it will still have some star power on the 2012-13 team.
Whether the case, read on to see who will lead the Gators in each statistical category.
Begin Slideshow

»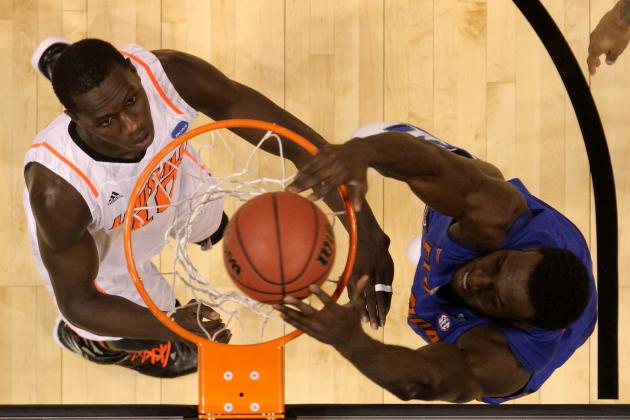 Christian Petersen/Getty Images

Patric Young lead the Gators in field goal percentage last season by shooting 61.8 percent from the field.
Most of Young's points may come from around the basket, but it is what it is.
Young will be getting the ball a lot more in the upcoming season, but his field goal percentage shouldn't take a hit.
As long as Young doesn't jack up any 3's this season, he should be a safe bet for leading the Gators in field goal percentage.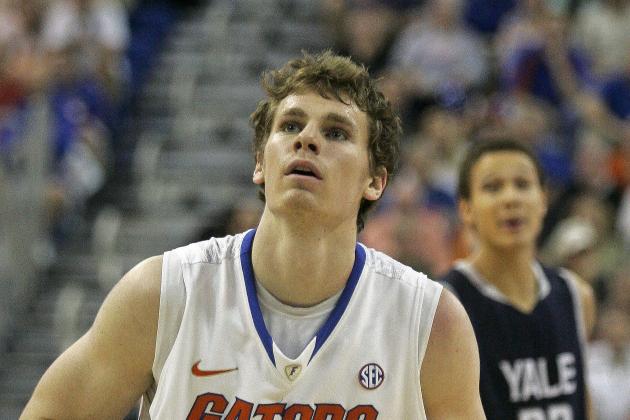 Phil Sears-US PRESSWIRE

Erik Murphy may have only attempted 43 free throws last season, but he still managed to make 35 of them, giving him a 81.4 percent average from the charity stripe.
Kenny Boynton may get to the line much more often than Murphy, but none of that matters.
Murphy is a solid shooter all around and certainly a good one from the free-throw line.
Kim Klement-US PRESSWIRE

Scottie Wilbekin will be taking a lot more than 46 three-point attempts in the upcoming season. That is the number of attempts he had all of last season. He did make 21 of them, and 45.7 percent from behind the arc is solid, no matter who you are.
Wilbekin will start the season off as the field general for Florida, but will be on the court a lot more this season and will be draining from behind the arc all year long.
Kenny Boynton and Braxton Ogbueze may be great from behind the arc, but Boynton can be very streaky and we don't even know how Ogbueze will be used in the system, since he is a freshman.
Murphy has the best chance of beating Wilbekin from behind the arc this season, in terms of three-point shooting percentage.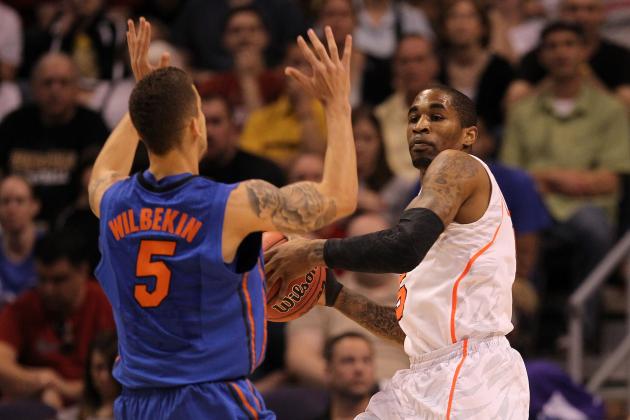 Jamie Squire/Getty Images

Once again, Scottie Wilbekin will be leading Florida in another category.
Wilbekin only averaged 15.2 minutes per game last season, but he still came up with 22 steals on the year.
He is by far the best defending guard that the Gators have and he will show that off all season by racking up the steals.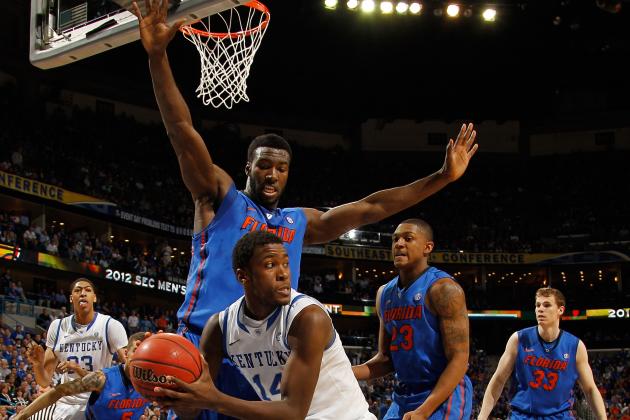 Chris Graythen/Getty Images

Surprisingly, Patric Young had the third most blocks on the team last year, trailing Bradley Beal and Erik Murphy.
However, Beal is obviously no longer on the team and Young will be a force in the paint on both sides of the court in the upcoming year.
Young is very aggressive in the paint, but you could expect that from a 6'9'', 249-pound body.
Expect Young to rack up the blocks this season when playing more than 26.5 minutes per game.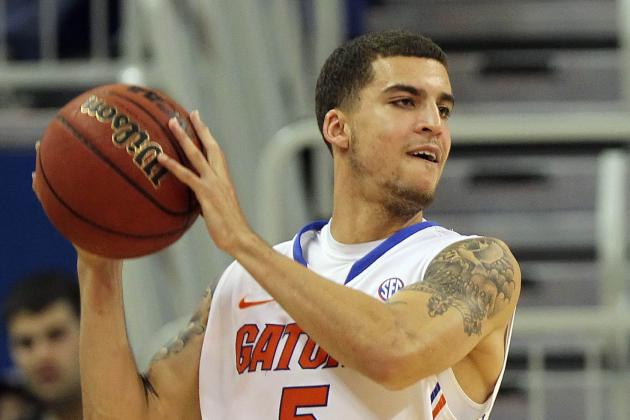 Kim Klement-US PRESSWIRE

As you can see, Wilbekin is going to play a key role for the Gators in the upcoming season.
Wilbekin is a great passer and he will show off his point guard skills when he becomes the starter this year.
Usually, the point guard leads the team in assists, and this will be no different for Wilbekin and the Gators.
In the little time that he played last season, Wilbekin managed to average 1.6 assists per game.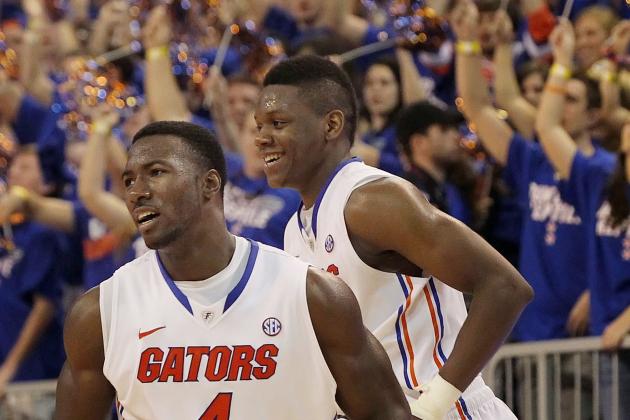 Kim Klement-US PRESSWIRE

If Will Yeguete is not a starter for the Florida Gators, Young will run away with this category.
Young averaged 6.7 rebounds per game, while Yeguete grabbed 6.1 boards per game last year. Keep in mind that Yeguete did go down with a season-ending injury last season.
I am going with Young to lead Florida in rebounds because he is the starting center, but don't count Yeguete out just yet.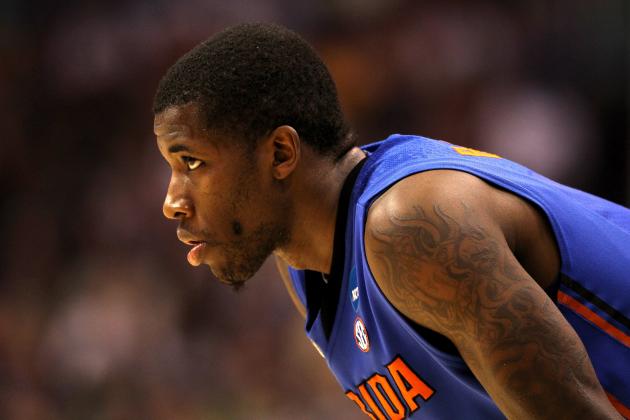 Jamie Squire/Getty Images

Finally, the best player for Florida this year leads the Gators in a statistical category. And this one is a no-brainer.
Erving Walker and Bradley Beal are both gone, which means Boynton is going to have to score a lot of points to make up for those two losses.
Even with those two players on the team last year, Boynton led the team in scoring with 15.9 points per game.
Boynton is one of the best shooting guards in the country this year and everyone is going to see how talented he is.
Being the go-to guy in the upcoming season, you can bet that Boynton will lead the Gators in scoring.
If you're a tweeter, feel free to follow me @TheTrevorLowry.