UCLA vs. Arizona: Full Game Preview, Prediction and More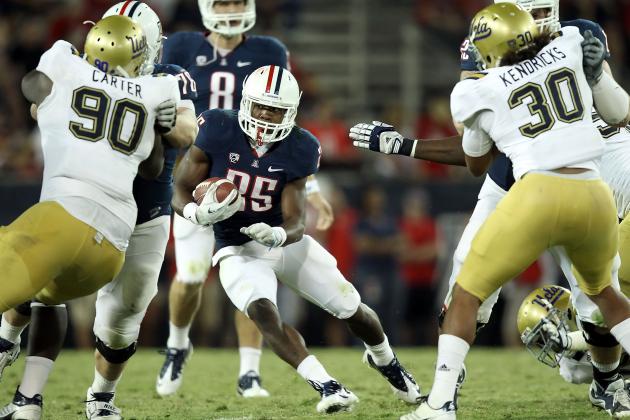 Christian Petersen/Getty Images
Ka'Deem Carey has to be kept in check if UCLA is to win
On Saturday, the No. 25 UCLA Bruins (6-2, 3-2 Pac-12) will welcome the explosive No. 24 Arizona Wildcats (5-3, 2-3 Pac-12) to the Rose Bowl.
Both teams are coming off of emotional and exciting victories. Dually, both have mass amounts of momentum heading into this Pac-12 South tilt.
Last Saturday, Arizona won a 39-36 thriller against the Southern Cal Trojans in Tucson. Similarly, the Bruins won a 45-43 shootout at Arizona State with a 33-yard field goal from true freshman kicker Ka'imi Fairbairn as time expired.
A win here could catapult both programs into prime position to win the Pac-12 South Division.
Let's take a look at a full preview/prediction of the game on Saturday.
Begin Slideshow

»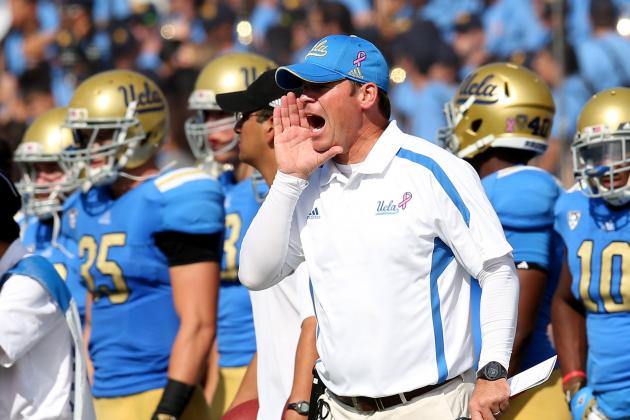 Stephen Dunn/Getty Images
Head coach Jim Mora
Where: Rose Bowl
When: Saturday, November 3rd at 7:30 p.m. PT
Watch: Pac-12 Network
Betting Line: UCLA -3.50, according to Wager Minds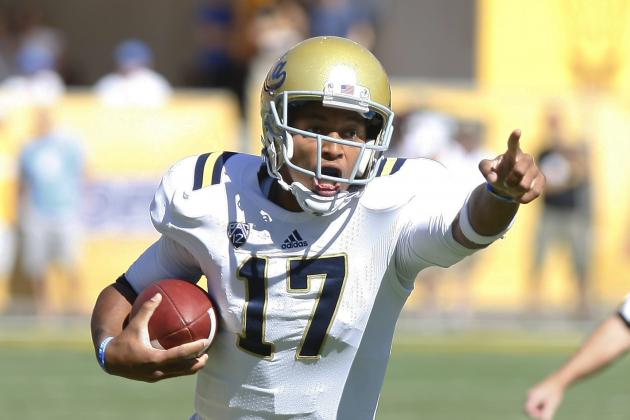 Rick Scuteri-US PRESSWIRE
Hundley was fantastic last week
Staying composed and focused
The game against Arizona will represent a couple aspects that could distract the young Bruins.
First, the revenge angle will surely be present. Last season, UCLA strolled into Tucson and was soundly beaten to the tune of 48-12—and the game wasn't even as close as the score indicated. It was also an embarrassing scene for multiple Bruins, due to a on-field brawl incited by (of all things) a streaker dressed as a referee. It was a strange series of events, and not one that the Bruins want to relive.
Secondly, there will be considerable 'pomp and circumstance' at the Rose Bowl this Saturday—as it's Homecoming weekend. A large chunk of the stadium is sold out, and it should be the biggest crowd thus far in the season.
In addition, UCLA will be debuting an alternate jersey entitled "LA Nights". These uniforms do look pretty snazzy, I must admit.
With all of the above going on, there's undoubtedly distraction presented. It's imperative that Jim Mora can get his young team to focus and not be mesmerized by the aesthetics and extra curricular activities that will occur Saturday night.
Brett Hundley's maturation as a quarterback
The redshirt freshman from Chandler, Ariz. has been playing like anything but a freshman. It's been noted how mature he innately is for a younger player. His play of late on the field has just been furthering that notion.
Against the Sun Devils last week, he beautifully orchestrated a drive with only 1:32 left on the clock, which ultimately led to the game-winning winning field goal.
Hundley is poised in the pocket, calm in the face of pressure (from a literal and figurative sense) and has been improving week by week. Look for him to have a big game this week against his father's alma mater (Hundley's father Brett Hundley Sr. played for Arizona as a defensive back in the 80's).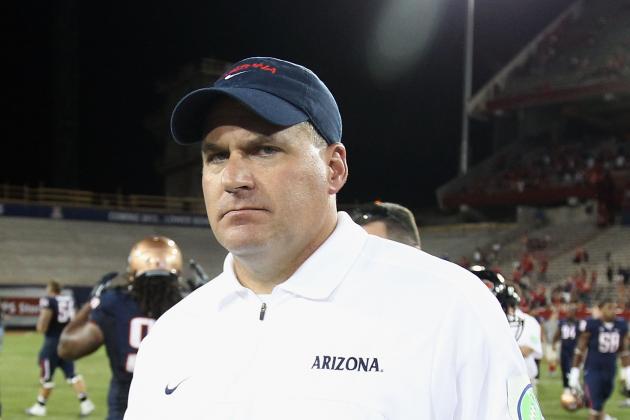 Christian Petersen/Getty Images
Head coach Rich Rodriguez
The startling dichotomy when looking at Arizona
Under the guidance of first year coach Rich Rodriguez, the Wildcats are fourth nationally in offense, averaging 553.6 yard per game.
Defensively, Arizona is 110th in defense, giving up an average of 483.9 yards per contest.
'Zona will put up tons of points (the Wildcats have scored 50+ in three games this year), and will allow tons of points.
In other words, this game will be a shootout.
Matt Scott's health
Quarterback Matt Scott is Arizona's offense.
The senior from Corona, Calif. leads the Pac-12 in total yards with 386 per game. It's vital for Arizona that he's able to stay healthy and play.
Against Southern Cal last week, Scott suffered two vicious blows to the head during the fourth quarter. Immediately after the hit, he seemed disoriented and then proceeded to vomit.
Rodriguez held him in the game for one play, before then taking him out.
I'm not a doctor, nor do I profess to act like one. However, given the recent climate of concussion problems plaguing football on all levels, those symptoms displayed by Scott sure did seem like he suffered a concussion.
Regardless, Arizona has cleared him to play and he will suit up against UCLA. By keeping him in the game, Rodriguez may have opened up a can of worms. If Scott did in fact suffer a concussion, it's absolute negligible behavior and judgment by Rodriguez to keep him on the field.
It was also peculiar that Scott had trouble with the lighting during a press conference at the beginning of the week.
For Scott's sake, hopefully no harmful damage will come of the decision to play this weekend.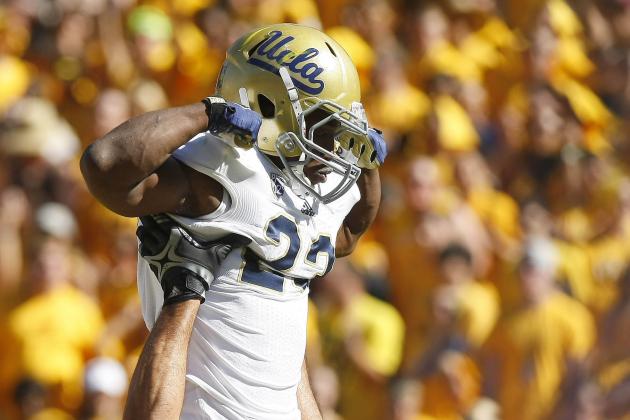 Rick Scuteri-US PRESSWIRE
The Bruins hope to see this celebratory act plenty on Saturday night
A big key for UCLA in this contest is to maintain ball control, and it can do so if Johnathan Franklin gets a bevy of touches.
The senior running back from Dorsey High School is only 21 yards away from setting UCLA's all-time career rushing mark. For the season, he's already rushed for 1,042 yards to go along with six touchdowns.
Arizona has a very small defense in general, relying on quickness rather than sheer size. The defensive line is both undersized and rather unproductive. The Wildcats have only 12 sacks on the season, and relinquish 167 yards on the ground per game.
Arizona is also plagued by the pass—as they are dead last in the conference in pass defense. As a team, the Wildcats are 11th in the conference in sacks, 10th in interceptions, 11th in tackles-for-loss and 110th nationally in total defense.
With that in mind, UCLA should have success with Franklin on the ground. Look for Damien Thigpen to see his workload continue to increase, and the combination of Shaq Evans and Joe Fauria could be effective over the middle of the field on crossing patterns and on slants.
By running the ball the majority of the time, the Bruins can both wear down a small Arizona defense, and keep the vaunted Wildcats' offense off the field.
Matt Kartozian-US PRESSWIRE
Carey is a stellar back
Arizona will be the most potent offense that UCLA's faced up to this point.
Aside from Scott, Arizona has a myriad of impressive skill position players—led by running back Ka'Deem Carey.
The sophomore is a hidden gem in this conference from a national view, and is easily the most underrated back in the country. At 5'10" 197-pounds, he runs with great physicality and balance. The majority of his yards comes after contact.
For the season, Carey has rushed for 961 yards on only 183 carries. He's also accrued 12 touchdowns to go along with his 120 yards per game average.
Last week, wide receiver Austin Hill torched the Trojans 10 catches for an eye-popping 259 yards. He, along with Texas transfer Dan Buckner make up a tall receiving corps (going 6'3" and 6'4", respectively). Hill will surely eclipse the 1,000 yard mark this weekend, and is Arizona's deep threat playmaker.
UCLA has to be careful in this contest. The Bruins don't want to stack the box and blitz often, because it'll leave Arizona's dangerous receivers out on the perimeterer with one-on-one coverage to exploit. It's also noteworthy that the Bruins' secondary has been pretty poor in coverage this season. If they do play heavy zone, it'll leave lots of running room potentially for Carey.
Although Scott is very capapable to run on zone reads and busted plays, I'd imagine he might not be doing that too often Saturday night due to the game last week.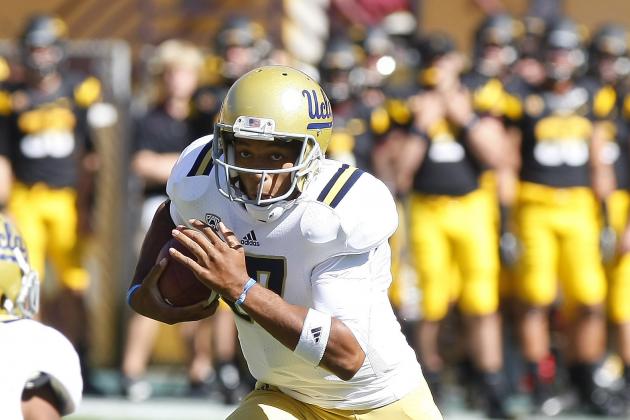 Rick Scuteri-US PRESSWIRE
Hundley's legs will help to secure a victory
Yes, the Wildcats have beaten the Bruins six of the past seven meetings (including five in a row). Arizona's schedule has also no joke—as the FBS opponents that it's faced this year have a combined record of 43-12.
Ka'Deem Carey and Matt Scott is perhaps the most lethal quarterback-running back duo in the entire conference. Arizona is fourth nationally in total offense, while UCLA's defense ranks 76th in terms of effectiveness.
All of those examples should manifest itself in an Arizona victory Saturday night at the Rose Bowl.
However, this is a new UCLA program right now. This team is starting to not only gain confidence, but also play with consistency. It's been a while since a UCLA team has started 6-2. It's also been quite some time since a Bruins' squad has fielded an explosive—in some cases competent— offense.
The dynamic around the program is seemingly changing. Furthermore, there's an excitement within both the fan base and roster, and the idea of a mentally soft football team seems to be eradicated due to Mora.
This game could truly go either way, and a decision for either side won't come as a surprise. One can expect to see explosive plays in droves, and putting up points won't be a problem.
The combination of playing at home, having the 'hoopla' surrounding Homecoming weekend and the momentum of the team's current play makes me think that the Bruins eek out an extremely close and competitive game.