Is DeAngelo, Bowe or Tebow More Likely to Be Moved at NFL Trade Deadline?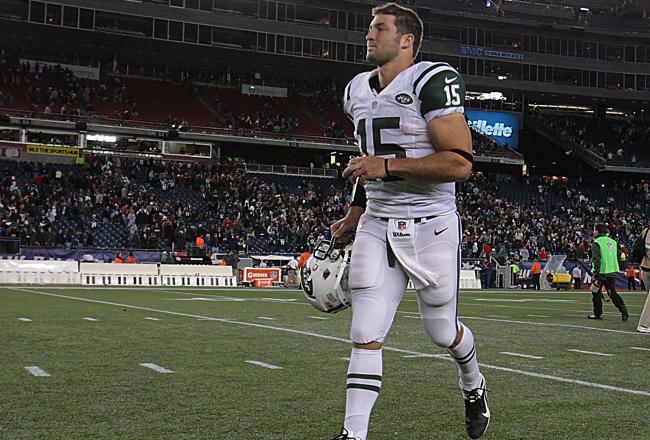 Jim Rogash/Getty Images
DeAngelo Williams, Dwayne Bowe or Tim Tebow: Take your pick.
With the NFL trade deadline closing in fast, it's easy to get tied up in what may or may not happen based on a team's specific needs. These three players have been a part of the trade realm of 2012, but that doesn't necessarily mean all three will be on the move.
Then again, all three teams—the Carolina Panthers, Kansas City Chiefs and New York Jets—are basically out of the postseason running.
Now yes, none are technically eliminated yet. Still, they combine for a dismal 5-17 record halfway through this season.
Here we look at each player's scenario and decipher who is most likely to be dealt before the deadline reaches.
DeAngelo Williams: RB, Panthers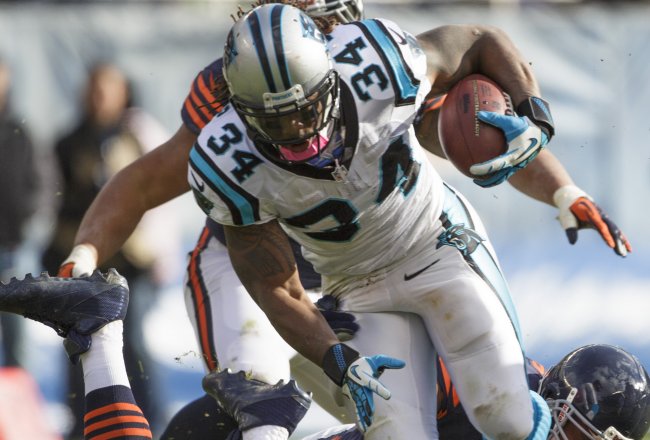 John Gress/Getty Images
According to Steve Reed of the Associated Press:
For those curious, there's nothing shaking on the DeAngelo Williams trade front and, as of right now, no deal is expected.before deadline.

— Steve Reed (@SteveReedAP) November 1, 2012
This comes as somewhat of a surprise considering that Williams is 29 years old and the Carolina Panthers are utilizing him sparingly compared to previous seasons. After all, with just 201 rushing yards and two scores on 61 attempts, Williams is averaging only 3.4 yards per carry.
Compared to the rest of Carolina's ground game, he ranks only ahead of Mike Tolbert in average yards per carry (for those with 10-plus attempts).
With several ball-carriers under contract, including Tolbert, Jonathan Stewart and rookie Tauren Poole (although he has no carries), planning ahead must become a priority. The defense remains inconsistent, and Williams' best odds of reviving his career are elsewhere.
With the Panthers being 1-6, parting ways with the veteran back isn't the worst of ideas. That is, unless Williams still has the talent to perform and is simply getting underutilized.
Dwayne Bowe: WR, Chiefs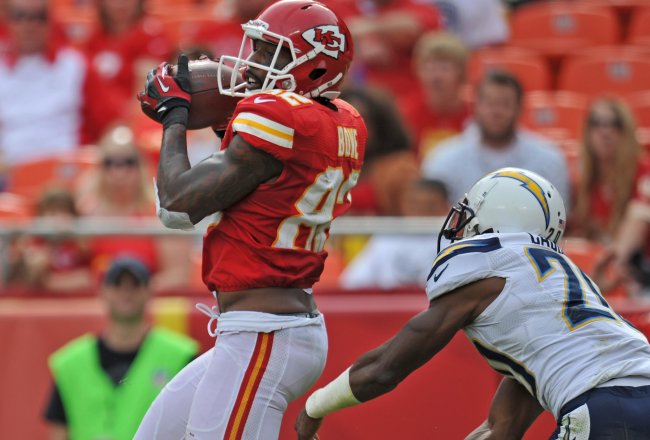 Peter Aiken/Getty Images
Here is the latest on the Dwayne Bowe and Kansas City Chiefs trade front, per Evan Silva of NBC Sports via ESPN's Adam Schefter:
Schefter on Dwayne Bowe trade: "Will not happen ... unlikely, at least. No team is gonna pay ($4.5M) for a player on an expiring contract."

— Evan Silva (@evansilva) October 31, 2012
Considering how bad the Chiefs have been in 2012, they might as blow it up and try to get as much value as they can for Bowe, who is the team's franchise player and not under contract for next season.
Bowe has just 37 receptions and three touchdowns this season. His production has been limited by atrocious quarterback play (which has been hampered by inconsistent offensive line performance).
As the team's No. 1 receiver, however, Bowe needed to step up. Jamaal Charles and the rest of the ground game averages 4.8 yards per rush, so play-action passes are a viable option for K.C. to remain balanced and keep defenses honest.
Unfortunately, the passing game has been dreadful, and Bowe's inability to get open more consistently and raise his level of dependability has been a reason why. Not to mention, it's not like the Chiefs have faced the most ridiculously dominant of defenses on a week-to-week basis.
Tim Tebow: QB, Jets
There is nothing exciting regarding the latest trade rumors for Tim Tebow and the New York Jets. According to Brian Costello of the New York Post:
The Jets are evaluating the best thing to do with Tim Tebow in the second half, but one of those is not trading the popular backup quarterback.

There was a report by a Jacksonville TV station on Tuesday night that the Jets and Jaguars were talking about a trade to send Tebow to his hometown team. A source said that report is not true.
Although this isn't surprising, what is surprising has been Tebow's lack of opportunities throughout the 2012 season. Mark Sanchez has regressed compared to his first few years under center, and Tebow did prove his NFL capabilities during his magical run in 2011.
Also, it's not like the Jets have much to lose right now. With the Miami Dolphins emerging as legit postseason contenders, Gang Green must find anything that will work to move the ball and help the defense.
Tebow at least brings a different dimension to the game. With New York's remaining schedule consisting of tough teams like the Seattle Seahawks, St. Louis Rams and Arizona Cardinals outside the AFC East, the Jets must win those games.
But if New York's plan is to continue playing Tebow only a few snaps per game, the organization ought to get what it can for him via a trade.
So Who is Most Likely to Get Dealt?
DeAngelo Williams, but that doesn't mean he's on the move for sure. It's more a reflection of how unlikely Tebow and Bowe are to be dealt.
The Panthers have depth at running back, which makes the consideration slightly greater. Nevertheless, don't expect Williams to be traded.
Carolina needs him because he still is the Cats' best option at running back.
None of these three players are likely on the move, so anticipate each staying put.
Follow John Rozum on Twitter.

This article is
What is the duplicate article?
Why is this article offensive?
Where is this article plagiarized from?
Why is this article poorly edited?