Kansas City Chiefs vs. San Diego Chargers: Post-Game Recap and Analysis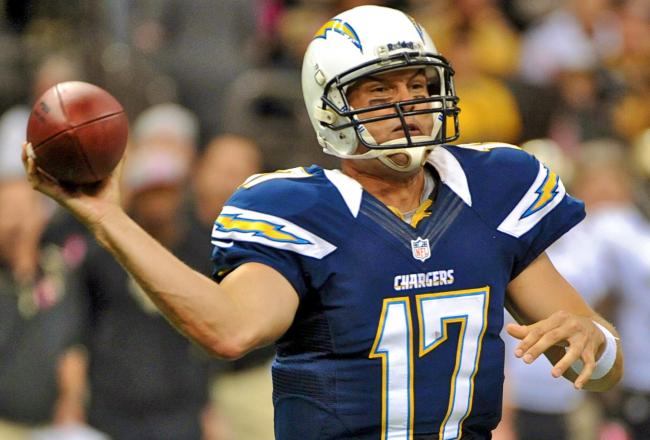 Philip Rivers (18-20, 220 YDS, 2 TD, INT) orchestrated an aerial masterpiece throughout Thursday night.
Time and again, No. 17 carved up Kansas City's vulnerable secondary. His tailback, Ryan Mathews, partially relieved the mountain of pressure sitting atop Rivers' shoulders, sprinting his way for 67 yards on 13 carries.
Kansas City relinquished any hope of winning by committing four turnovers. Matt Cassel (19-29, 181 YDS, INT) dinked and dunked his way to a decent performance, but the much-maligned quarterback only averaged 6.2 yards per completion.
Jamaal Charles was harassed by San Diego's front seven, rushing for a measly total of 39 yards on 13 carries.
The Kansas City Chiefs (1-7) will fly to Pittsburgh for a Monday night matchup with the Steelers (4-3). Next Sunday, the San Diego Chargers (4-4) will travel to the opposite coast and clash with the Tampa Bay Buccaneers (3-4).
Season statistics provided by NFL.com. Box Score provided by ESPN.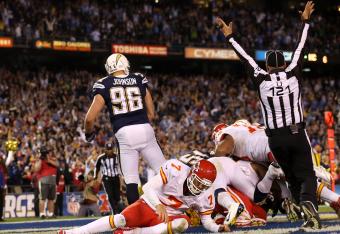 Final Thoughts
Excluding a hair-pulling interception heading into a halftime, Philip Rivers resembled the top-tier quarterback of a few seasons ago.
Only two of his passes fell incomplete—the aforementioned interception and a throw-away—making Rivers the sixth quarterback in league history to complete at least 90 percent of his passes in a single game. Also, the first to ever be booed while doing so.
Philip Rivers completed a team-record 90.0% of his passes tonight, going 18 of 20. Only six QBs to do this in NFL history. #KCvsSD

— San Diego Chargers (@chargers) November 2, 2012
Tonight's performance was a testament to Rivers' talent. He flawlessly executed Norv Turner's offense, in spite of being constrained to only three wide receiving targets.
He had some help.
The home team's defense successfully fortified the end zone. The Chargers were daring Matt Cassel to beat them and the strategy paid off. Jamaal Charles was bottled up and couldn't escape the wrath of San Diego's front seven. Kansas City's homerun hitter was the victim of a Rock 'Em Sock 'Em collision in the second half, forcing him to leave the field after sustaining a neck injury. The Kansas City Star's Adam Teicher tweeted out a sense of relief for Chiefs fans:
Charles said after the game he felt like he could have gone back in but was told he was finished for the night.

— Adam Teicher (@adamteicher) November 2, 2012
Tonight, the Chargers dashed out of the tunnel, fully aware that they were only one win shy of potentially sharing the division lead by Sunday night. But San Diego's defense played like its season was on the line.
The opposite proved true for Kansas City. Collectively, the Chiefs defense looked uninspired and out of sync. Defenders were toyed with, linebackers posed little threat and San Diego's offensive line consisted of five ventriloquists, manipulating Chiefs linemen as they pleased. Kansas City appeared unprepared and showed no hints of synergy between the players and coaches.
As Grantland's Bill Simmons points out, there's more than enough blame to go around:
Stupid Chiefs ran a play-action pass in their own end zone. In "Madden," if you're dumb enough run that play it's an automatic safety.

— Bill Simmons (@sportsguy33) November 2, 2012
The offense consistently stumbled. Cassel was under constant duress in the pocket and rarely threatened the secondary with downfield passes—when he did, the attempts sailed wide of his receivers' wingspans.
Dwayne Bowe has evolved into Kansas City's only reliable source of production. The wideout cradled eight receptions—five more than the Chiefs' second-leading receiver, Jamaal Charles.
Romeo Crennel will swear that his plate isn't too full, but his team's lopsided record begs to differ. In a game of musical chairs between he and Turner, Crennel is left sitting in the hot seat.
Chiefs tickets are selling for a shade below five dollars on Stub Hub (h/t Arrowhead Addict). In other words, game tickets cost less than the first beer you will drown your sorrows in at Arrowhead.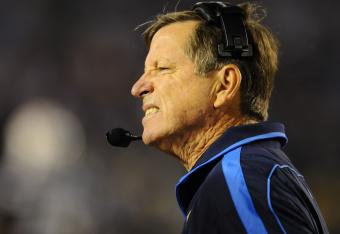 1:44, fourth quarter:
Coming into tonight, a lot of speculation about Norv Turner's job security echoed throughout the media.
Turner just tagged in Romeo Crennel.
5:01, fourth quarter:
Week after week, the same narrative plays out for the Chiefs.
A plethora of mistakes—particularly turnovers and untimely penalties—dig a valley of deficit, and the offense is unable to cross the goal line before the final minutes of the fourth quarter (i.e. garbage time).
7:52, fourth quarter:
Cassel will undoubtedly be scorned for his latest interception, but the blame should fall squarely on the shoulders of Dexter McCluster.
Cassel's pass ricocheted off of the speedy slot receiver's hands. You can change the quarterback, but the outcome, in this instance, would have remained the same.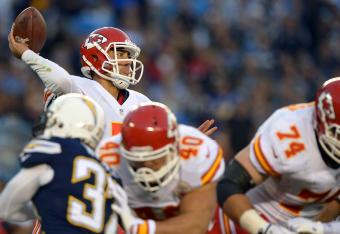 9:27, fourth quarter:
Matt Cassel's last deep ball looked like a wounded duck...that was dodging a parade of bullets after downing a bottle of Jack Daniels.
32 flavors of ugly.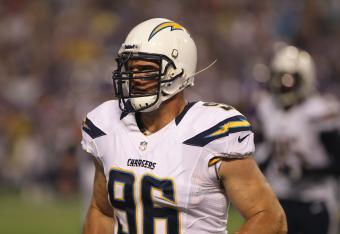 10:33, fourth quarter:
Jarret Johnson just treated Donald Stephenson like a puppet.
San Diego's pass rush has been relentless throughout the night. Johnson just sealed the deal.
11:33, fourth quarter:
San Diego's backfield came through when the team needed it most.
At times, Ryan Mathews beams with brilliance. If he stays healthy, the rusher will quickly become Philip Rivers' new best friend.
The quarterback's best years coincided with the five-year reign of Darren Sproles and 1,000-yard campaigns of LaDainian Tomlinson.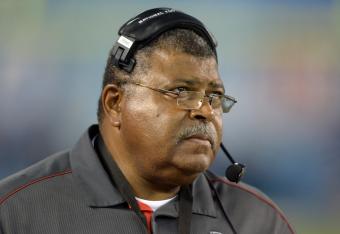 13:47, fourth quarter:
Romeo Crennel will consider this drive a win if the Chargers post another field goal.
If it reverts back to a two-possession game, the Chiefs will likely be doomed.
Kansas City's offense isn't equipped to overcome a double-digit deficit in one quarter.
3:00, third quarter:
It was only a matter of time before Charles broke free from the defensive restraints.
But field goals aren't going to win this for Kansas City.
The Chiefs have only accounted for 10 touchdowns this season—there's no reason to believe that number 11 is just around the corner.
6:35, third quarter:
Considering how ineffective Kansas City's running attack has been, it will be miraculous if the Chiefs manage to tie this.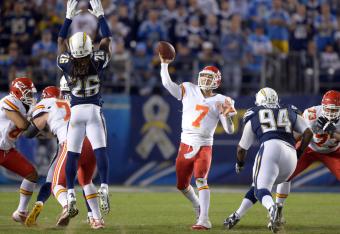 11:18, third quarter:
Cassel's accuracy drastically drops when slinging the ball over 20 yards.
The last incompletion to Bowe was just a matter of two players not being on the same page. But the sideline throw that preceded it was atrocious.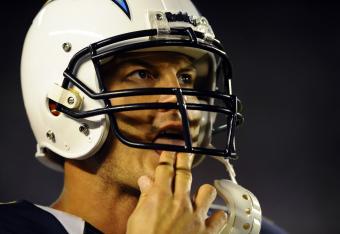 12:47, third quarter:
If Kansas City escapes with a victory, it will need more plays like that fumble recovery.
The longer that Rivers is impatiently waiting on the sideline, the better.
14:35, third quarter:
After being gashed by it in the first quarter, San Diego's defense has adjusted well to Kansas City's use of the Wildcat.
Offensively, the Chiefs are running low on options.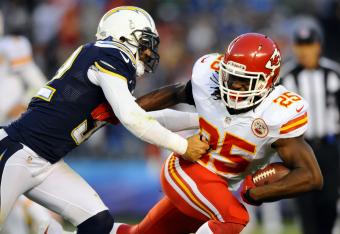 Halftime:
Despite a masterful first-half performance, Philip Rivers (14-16, 179, TD, INT) trotted into the locker room to a soundtrack of boos. His last pass resulted in an interception by Eric Berry and took points off of the board for San Diego.
The Chargers defense suffocated Jamaal Charles, who only managed to gain nine yards on six carries.
Kansas City's secondary was repeatedly torched by Rivers. If the unit's performance is indicative of what to expect in the second half, San Diego will begin to pull away.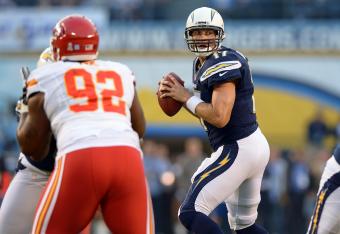 :14, second quarter:
Philip Rivers' final pass of the half was reprehensible.
Instead of leaving the locker room and facing a two-possession deficit, Kansas City will now have a chance to tie in the first drive of the second half.
:42, second quarter:
Kansas City's defense looks completely discombobulated.
The unit's fundamentals are embarrassingly sloppy, and the players miss more assignments than rebellious high schoolers.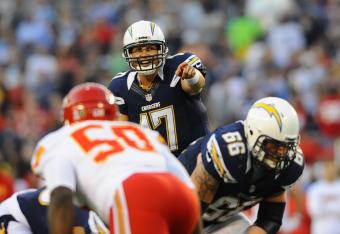 2:00, second quarter:
Watching Kansas City's defensive effort, you wouldn't know that two of San Diego's active receivers were signed last week.
Give credit to Rivers.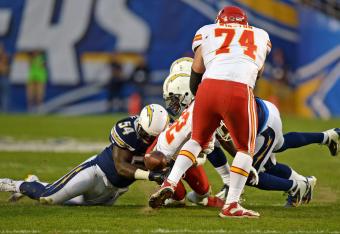 3:00, second quarter:
That third-down stand was huge for San Diego's defense.
The stark contrast between the two defensive lines is blatantly apparent.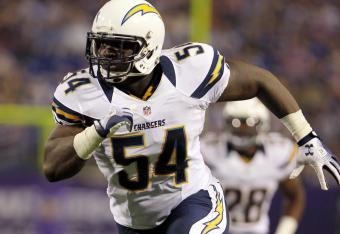 7:43, second quarter:
If San Diego's front seven continues to apply pressure at this rate, time is going to crawl for Matt Cassel.
He's the target of an all-out ambush every other time that he drops back.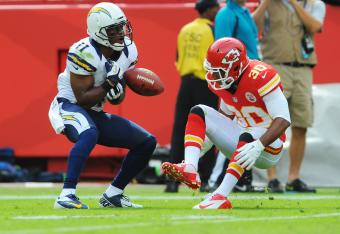 9:05, second quarter:
The regression of Kansas City's defensive coverage is mind-boggling. The Chiefs finished 2011 with the league's No. 6 pass defense.
History isn't going to repeat itself in 2012.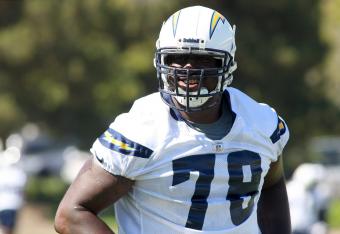 10:17, first quarter:
Jared Gaither didn't pan out during his short stint with the Chiefs.
But he has looked like a different player with the Chargers. The transformation speaks volumes about Kansas City's coaching staff.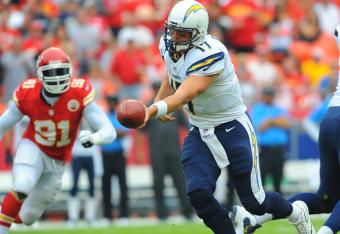 13:40, second quarter:
Rivers is making a mockery of the Chiefs secondary.
If Kansas City hopes to stay competitive, Justin Houston and Tamba Hali will have to become factors. Thus far, San Diego's offensive line has protected Rivers like the Secret Service.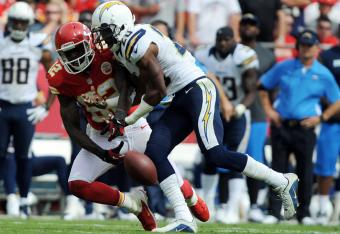 2:15, first quarter:
Once again, the Chiefs turned the ball over.
In other news: the sky is blue.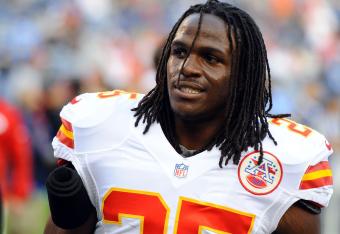 3:00, first quarter:
In Week 4, Jamaal Charles enjoyed success with that stretch play.
After watching the tailback's last carry unfold, it appears that San Diego's coaching staff took notice.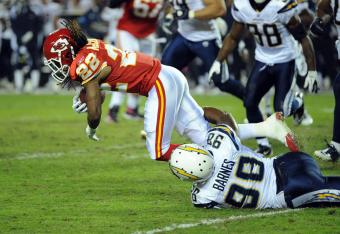 7:39, first quarter:
Regardless of who is under center, running the Wildcat offense screams with desperation. It's actually surprising that the Chiefs waited this long in resorting to it.
A stressed Brian Daboll adds a new wrinkle to the offense—fitting.
This article is
What is the duplicate article?
Why is this article offensive?
Where is this article plagiarized from?
Why is this article poorly edited?