LSU Football: 5 Keys to the Game vs. Alabama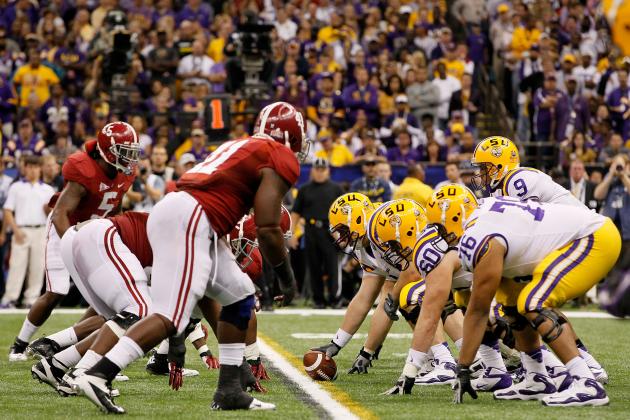 Kevin C. Cox/Getty Images

Can you smell it in the air?
College football's best game is fast approaching, and in less than 72 hours, the college football world should have a better idea of who could be representing the SEC in this year's National Championship Game.
LSU vs. Alabama.
The top two teams in the nation's top conference will square off on Saturday in Baton Rouge.
Last season, LSU defeated Alabama in Tuscaloosa during the regular season in what was an ugly football game. But the Tide gave Les Miles' team some serious payback in the National Championship Game, shutting out the Tigers 21-0.
Now, one year later, these top teams meet again on LSU's home turf.
Alabama is the top team in the country, but does LSU have what is needed to top Nick Saban and the Crimson Tide?
Let's go ahead and break down five keys to LSU's game vs. Alabama.
Bleacher Report Style!
Begin Slideshow

»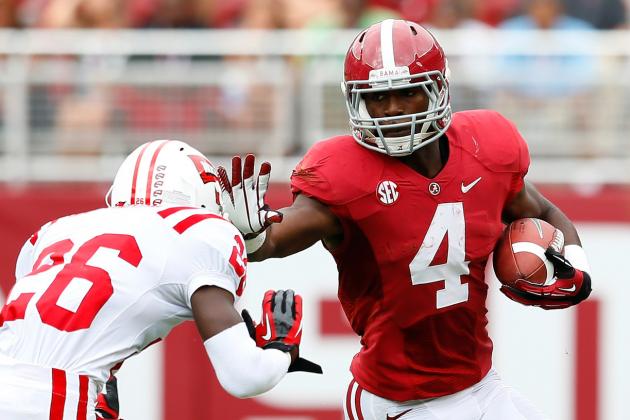 Kevin C. Cox/Getty Images

T.J. Yeldon and Amari Cooper.
Both are freshman and both are extremely dangerous once they touch the ball.
Yeldon and Cooper are Alabama's top two playmakers on the offensive side of the ball, and if LSU is going to win this football game, the Tigers are going to have to find a way to contain this explosive duo.
Yeldon is the Tide's top running back, averaging 7 yards per carry and scoring seven rushing touchdowns through eight games this season. He is arguably the most elusive back in the country who has an explosive initial burst once the football is in his hands. He has great speed and can make anyone miss once he gets that initial burst.
Cooper is the Tide's top wide receiver, having already hauled in 32 catches for 472 yards and five touchdowns. He is quarterback AJ McCarron's go-to target, and uses a combination of speed, great route running and exceptional hands to haul in catches and make big plays for this Alabama team.
LSU must find a way to slow down these two dynamic playmakers if the Tigers are going to win this football game on Saturday.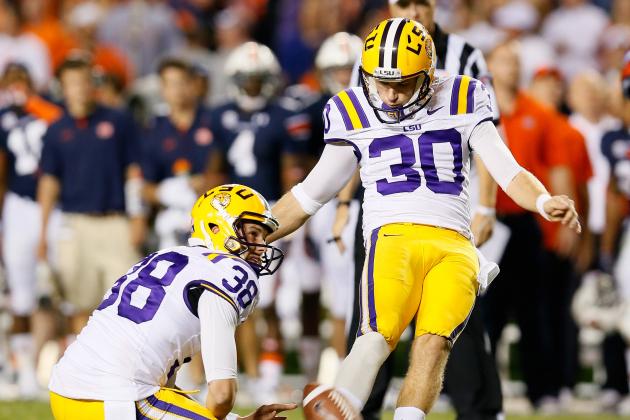 Kevin C. Cox/Getty Images

Chances are that there isn't going to be a ton of offense in this game; just look at the past couple of games between these two teams.
Therefore, this game very well could come down to special teams—specifically field goal kicking.
If you take a look back to last year's regular season matchup between these two teams, they combined for a total of 15 points, all of which came on field goals and resulted in a 9-6 overtime win for the Tigers.
But in that game, LSU kicker Drew Alleman was a perfect 3-for-3 on field goal attempts, while Alabama made just 2-of-6 field goals. That right there ultimately made the difference in the outcome of that game.
Both defenses are exceptional again this season, which should make one believe that once again, field goal kicking will play a huge role in this matchup.
If LSU is going to win, Alleman better be on his "A" game again.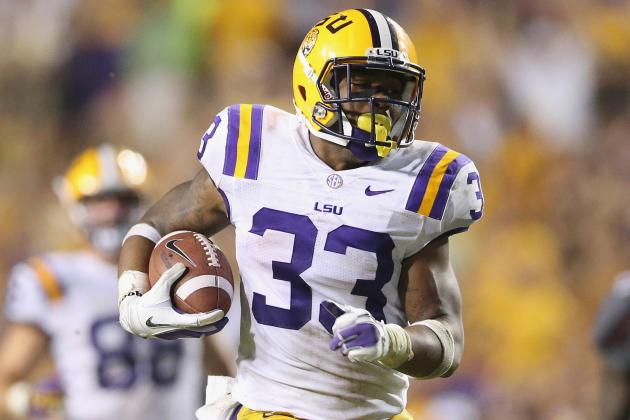 Ronald Martinez/Getty Images

LSU has two strengths: defense and running the football.
If Les Miles' team is going to win this game, they are going to have to play to those two strengths.
As good as this Alabama offense has been this season, it's hard to believe that the Tide are going to put up big points against this LSU defense. But the same can be said on the other side of the ball as well.
LSU's offense has put up some big numbers this season, outside of Florida and Auburn, two teams that were able to contain the Tigers' running game.
LSU has to establish the run in this game, but they can't rely on it 100 percent. Alabama's defense is too good to let that happen and the Tide are going to dare Zach Mettenberger to throw the ball. When he does throw the ball, he has to make sure to make smart decisions with high-percentage passes.
Rely on the run, but mix in the pass as well so you don't become one-dimensional.
Of course it's easier said that done, but if the Tigers stick to that blueprint, then this should be an excellent college football game that could come down to the end.
That's what true fans love to see, am I right?
Ronald Martinez/Getty Images

I know it sounds so generic and simple, but in a game like this, it really is vital.
LSU cannot afford to turn the ball over. Not only will it cost them offensive possessions, but Alabama is the type of team that will make sure to capitalize on those turnovers.
The main culprit of those turnovers has been LSU first-year quarterback Zach Mettenberger. Interceptions have been an issue, but more so, it has been the costly fumbles on pass rushing downs.
Expect Alabama's smothering defense to bring a heavy pass rush after Mettenberger, and he has to hold onto the ball and not make stupid decisions if this LSU team is going to win this game.
Again, it's so simple to say on paper, but if LSU can execute on offense and hold onto the football, then you have to like the Tigers' chances in this game.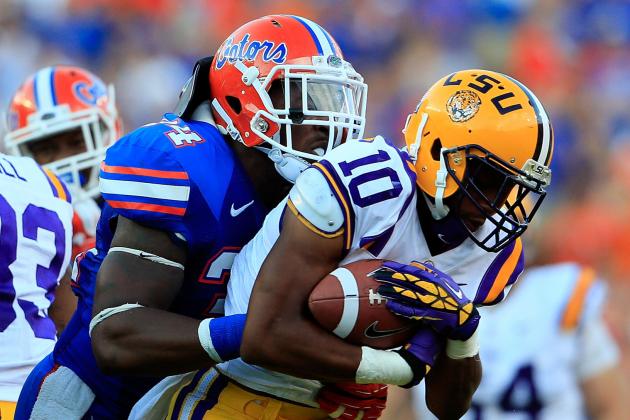 Sam Greenwood/Getty Images

It's Halloween time, so why not throw in some tricks and treats for this huge SEC showdown?
I said earlier that LSU needs to play to their strengths and that means running the ball on offense and constantly flying to the ball on defense.
But at some point, if Alabama is stacking the box against this LSU rushing attack, Les Miles is going to have to call for some type of trick play or something to spark this offense.
Maybe a reverse, maybe a running back pass, maybe a fake punt or field goal.
Any one of those options could catch this Alabama defense by surprise and give LSU momentum.
This is the type of game where one big play could really swing everything.
For the Tigers' sake, hopefully that one big play works in their favor.
My guess is that the Mad Hatter will have something nifty up his sleeve in this SEC classic matchup.