Dustin Poirier vs. Jonathan Brookins Head-to-Toe Breakdown
Rafael Suanes-US PRESSWIRE
Louisiana prodigy and documentary star Dustin Poirier will have a chance to put his career back on the rails in December, after suffering his first loss in the UFC at the hands of Chan Sung "The Korean Zombie" Jung in May.
He'll take on another documentary star, Jonathan Brookins of The Ultimate Fighter reality show, who is looking for his first win after losing to Charles Oliveira in June.
Both featherweights are relatively young in the sport, but Poirier, 23, despite his unfortunate loss to Chan Sung, has been a more promising prospect and is already tipped as a future champion.
But Brookins has plenty of potential himself, despite a rocky start to his UFC career. He shined during TUF season 12, winning the show against the dangerous Michael Johnson.
Here's a head-to-toe breakdown of the two fighters as they prepare to meet at The Ultimate Fighter 16 finale on December 15 in Las Vegas.
Striking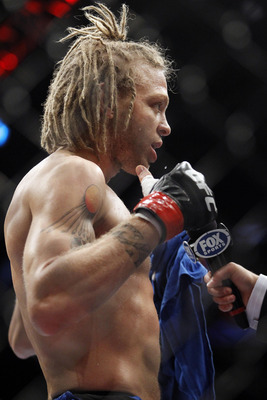 Matt Ryerson-US PRESSWIRE
Both fighters are well-rounded and closely matched in all aspects of the sport, and it's hard to draw a distinction between the two in any one attribute.
Poirier was willing to go toe-to-toe with the pressure fighter Chan Sung in their fight in May, and he acquitted himself well. However, it was clear for much of the match that he didn't have the sharpness or the quickness of his opponent.
But the Korean Zombie was a dangerous striker, and Brookins, despite his skills, does not offer the same threat on his feet.
Advantage: Poirier
Grappling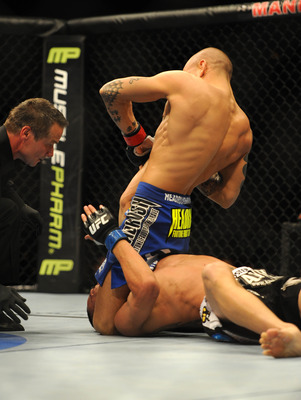 Kelvin Kuo-US PRESSWIRE
Another area of the game where the fighters are quite evenly matched, grappling has been a strong point for both Poirier and Brookins.
We saw during TUF how good Brookins' takedowns were, as he repeatedly put opponents, such as judo specialist Sako Chivitchian, to the mat and kept them there.
Poirier has excellent work in the clinch but was barely able to stop Chan Sung's takedowns in his last match. It is hard to see that he has any advantage over Brookins in this aspect.
Advantage: Brookins
Submissions
Matt Ryerson-US PRESSWIRE
When it comes to ground work, the advantage, from what we've seen in the Octagon, slips to Poirier.
Both fighters are BJJ purple belts, but that doesn't mean much in today's no-gi orientated world of MMA.
Poirier, although he was tapped out by Chan Sung in their encounter, has a lethal submission game. He submitted ground specialist Pablo Garza with a d'arce choke in 2011 and arm-barred Max Holloway in the first round in his next match.
Even against Chan Sung, Poirier showed remarkable transitions in what became a fascinating ground contest between the two fighters.
Brookins, for his part, ran through most of his opponents on TUF with a high-level ground game, before being submitted himself by Charles Oliveira at The Ultimate Fighter 15 finale.
Advantage: Poirier
Intangibles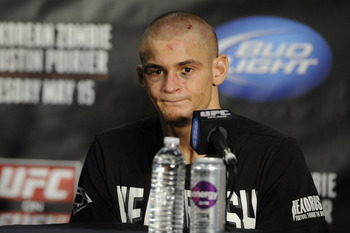 Rafael Suanes-US PRESSWIRE
Before being stopped by Chan Sung Jung, Dustin Poirier had embarked on a remarkable run in the UFC, racking up four straight wins after only a year fighting for the promotion.
It says a lot about Poirier that the Korean Zombie, after defeating him, felt he had earned a shot at featherweight champion Jose Aldo himself. If that match had gone a different way, who knows whether or not Poirier would today find himself being talked of as a title contender.
As it is, he has to fight his way back to contention, and a win over Brookins would certainly do that.
Brookins, despite looking so hot on TUF, has had a rocky start in the UFC, going 1-2 in his last three. But he looked extremely sharp in his fight against Vagner Rocha—who he KO'd in the first round back in February—and will bring plenty for Poirier to think about.
However, Poirier has shown his ability to consistently perform at his best, and we have yet to see that kind of focus from Brookins, who has often looked out of place inside the Octagon. The momentum is definitely on Poirier's side.
Advantage: Poirier
Prediction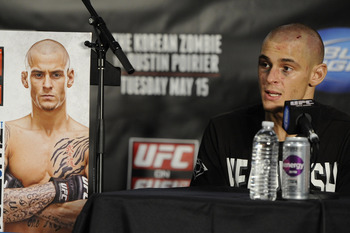 Rafael Suanes-US PRESSWIRE
On paper, Poirier definitely has a slight advantage in this match. He is a better striker and has a more dangerous submission game. He has also performed more consistently in his short career and shown far more promise than Brookins.
However, the fact is that both fighters are pretty evenly matched and have styles that could cancel each other out.
Brookins is likely to try and grapple with Poirier for much of the match, and he will hope to win the fight from the top position. This could lead to a long ground-out victory if he has the skills and stamina to endure 15 minutes of fighting.
That's the one caveat in a match Poirier is likely to finish.
Prediction: Dustin Poirier submits Brookins in the third round
Keep Reading