Boston Celtics: 5 Best Contracts Danny Ainge Has Inked Players to as President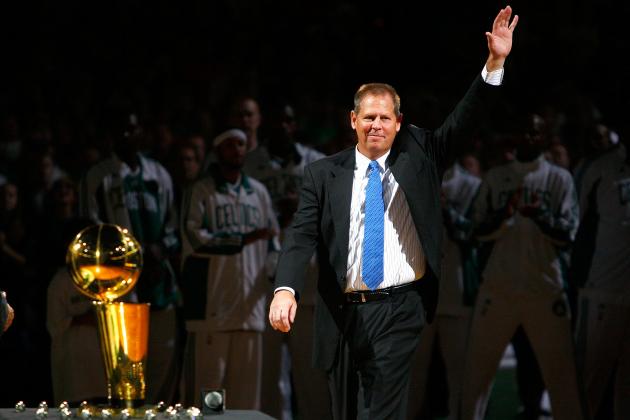 Jim Rogash/Getty Images
Danny Ainge will go down as one of the most successful Boston Celtics presidents in team history.
In 1981, with the 31st pick in the 2nd round of the NBA Draft, the Boston Celtics selected shooting guard Danny Ainge. He had just come off of a senior season at BYU which included the John Wooden Award -- given to the best collegiate player in the nation.
Yet ultimately, like in most of his life, he was unappreciated by the majority of the NBA, except by the Boston Celtics -- An organization which Ainge has helped so much over the past 30 years.
When Ainge takes a bow as team president, just like he did as a player in 1995, he'll go out as one of the most respected men in NBA history, and all the praise was rightfully earned.

As a player, Ainge was a crucial piece in the Celtics 1984 and 1986 NBA championship teams. While names like Larry Bird and Kevin McHale draw most of the attention from fans, Ainge was a key contributor who was never fully appreciated until he left the organization as a player in 1989.

That is, until he returned to the organization as a team executive in 2003.

After a few run-ins with stars Antoine Walker and Paul Pierce and coach Jim O'Brien in the seasons that followed, Ainge was fighting for his job after the Celtics finished with a league-worst 24-58 record in 2006-07.

What he did in the very next offseason, however, turned him into NBA Executive of the Year, and in the process changed the way in which teams are created in the NBA, for better or for worse.
Ainge traded for both Kevin Garnett and Ray Allen in the same offseason, who combined with Pierce to create the "Big Three" in Boston. The team in the 2007-08 season went on to a league-best 66-16 record while winning the NBA championship. The 42-win improvement from the previous season is an NBA record.

Ainge was promoted to team president shortly after that tremendous season had ended.

Unfortunately for Celtics fans, Ainge hasn't been able to repeat the glory of 2008, but he's been able to get the Celtics awfully close. He's found the right talent to keep the Celtics competitive, always in conversation for an NBA championship.

Since becoming team president in 2008, what then are the five best contracts Danny Ainge has inked for the Celtics organization?
Begin Slideshow

»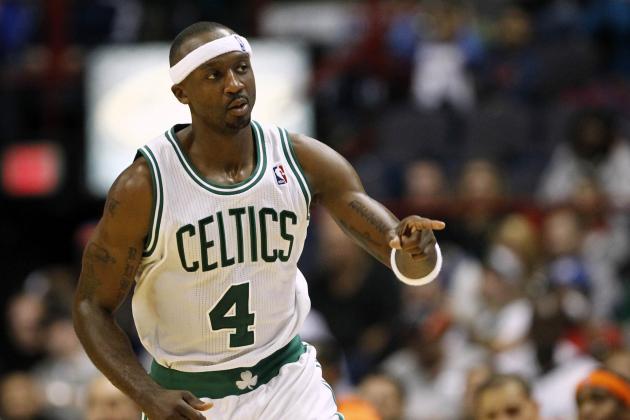 Mark L. Baer-US PRESSWIRE
No Ray Allen? No problem. Jason Terry will give the Celtics plenty of perimeter scoring this season.
With the departure of Ray Allen in the offseason, the Celtics needed to find a shooter to replace him on the perimeter. Danny Ainge found that in Jason Terry.

In July, the Celtics locked up Terry for a three-year, $15 million deal.

Terry averaged 15.1 points and 3.6 assists last season for the Mavericks, while shooting 37.8 percent from three-point range. Terry is fourth on the NBA's all-time list for three-pointers made and a 38 percent three-point shooter for his career.

He's a veteran that will fit in perfectly within the Celtics organization. He's hit the big shots on plenty of occasions in his career, and will do the same if he's called upon over the next three years for the Celtics.

When he left the Mavericks organization, president of basketball operations Don Nelson had plenty of praise for Terry in his departure.

"What Jet (Terry) did for this city and franchise will never be forgotten," Nelson said. "He's one of the greatest clutch performers in the history of our game and an even better person. We wish him nothing but the very best."
Elsa/Getty Images
Avery Bradley (left) was a defensive force for the Celtics last season.
On Tuesday, Danny Ainge picked up the option on Avery Bradley's rookie contract.

This is the first step in what seems to be a long-term plan for Bradley's future with the Celtics.

Bradley is set to make $1.6 million this season and $2.5 million next season.

Bradley is expected to return to action for the Celtics in mid-December, after undergoing surgery on both of his shoulders in May and July.

Before his injuries took place, Bradley was known as one of the NBA's premier defenders. His knack of denying his opposition the basketball gave the Celtics new life toward the end of last season, and had he not gotten injured, the Celtics definitely could have made it back to the NBA Finals.

It's equally as difficult to find an elite defender in the NBA as it is an elite scorer.
The Celtics will be extremely relieved by Bradley's return later this season.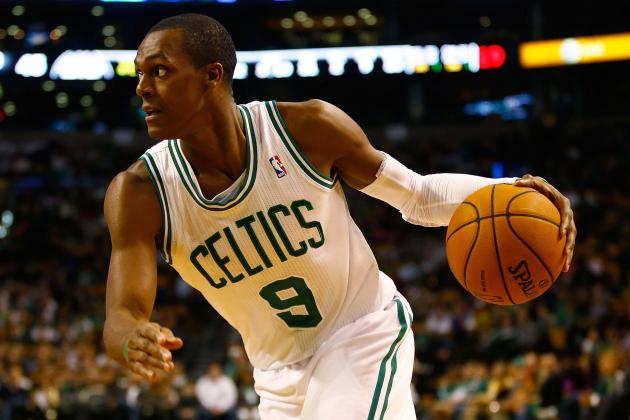 Jared Wickerham/Getty Images
Rajon Rondo is the key to the Celtics future title hopes.
Many argue that the Celtics wouldn't have won the 2008 NBA championship if it weren't for point guard Rajon Rondo.

It's hard to argue with that statement.

Rondo has been the glue that has held together many Celtic egos for the past five seasons, and he's been able to do it remarkably well.

At the start of the 2009-10 season, Rondo was given a five-year, $55 million contract extension by Ainge, and he hasn't disappointed.

Rondo's turned into a top-five point guard in the NBA due to his lightning-quick speed and superior passing ability.

Last season Rondo averaged 11.9 points, a league-leading 11.7 assists, and 1.8 steals while taking the Celtics a game away from the NBA Finals.

When Paul Pierce and Kevin Garnett eventually retire a few years from now, Rondo will be the player around whom the organization will build for the future.
Ainge putting his trust in Rondo with an extension bodes well for a future deal taking place.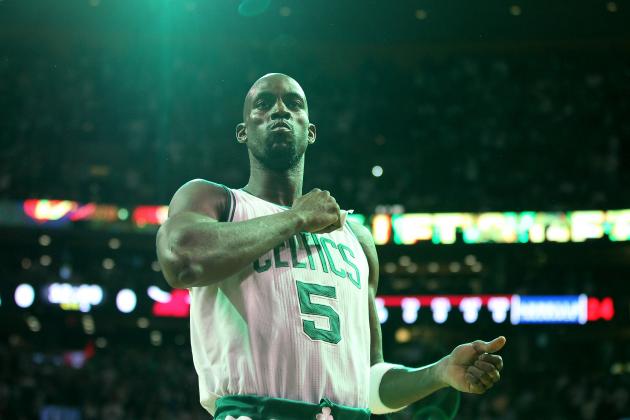 Jim Rogash/Getty Images
Kevin Garnett signed a three-year, $34 million contract back in January.
With a nickname like "The Big Ticket," it's hard to avoid a conversation about Kevin Garnett without talking about money.

That's why it's better to start a conversation about Garnett by measuring his value as a player first.
From the start of his NBA career in 1995-96, KG has always been recognized as a rare talent. Standing at 6'11" and 220 pounds, Garnett is an elite scorer, rebounder, defender and passer. He does whatever his teams need him to do.

Last season, Garnett switched from his natural position of power forward to center for the Celtics, and the team nearly made it back to the NBA Finals. This season he's taking on the same role, yet with much more depth at the position then a season ago.

When he joined the Celtics organization in the 2007-08 season, the team immediately became title contenders. Surely enough, by year's end, Garnett won Defensive Player of the Year honors as the Celtics went on to win the NBA championship.
A lot of time has passed since that title run, but with pieces like Rajon Rondo and Paul Pierce still on the roster, Danny Ainge made sure Garnett would be locked up—least as long as Pierce—at the start of the season last year.
Garnett signed a three-year, $34 million deal in January.
Garnett is a coach's dream on the basketball court. He does all the little things right and gives you his best effort every night.
While there are questions about his attitude off the court, nobody has ever questioned his heart, and heart takes you a long way in the NBA.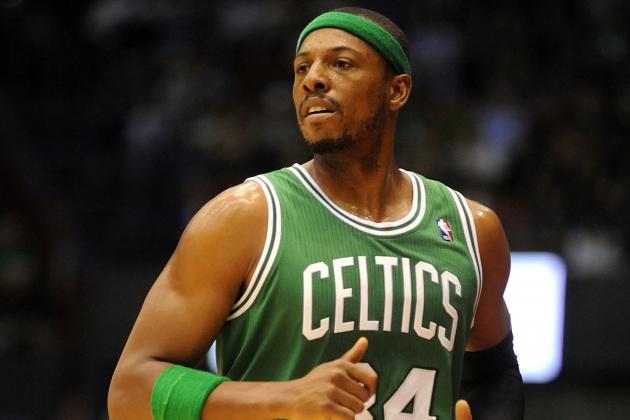 Roberto Serra/Iguana Press/Getty Images
It will be a sad day in Boston when Paul Pierce decides to hang up his number 34.
Make no mistake: the Boston Celtics go when Paul Pierce goes.
Sure, Kevin Garnett and Rajon Rondo play a crucial part to the teams success, but Pierce is the heart and soul of the team. Watching Pierce catch fire shooting the ball at the TD Garden arena is a thrill to watch and sends fans into a frenzy.

In the 2010 offseason, Pierce signed a four-year, $61 million contract extension which will likely make him a Celtic for the rest of his career. It's rare for a player today to spend his entire career with one organization, but Pierce was well aware of that the day he signed the contract.

"I never thought once about leaving the Celtics," said Pierce. "I wanted this team to get better, knowing we didn't win a championship... also, I wanted to ensure that I had a chance to retire as a Celtic."

Statistically, Pierce is still playing quality basketball, and as long as he's on the court, he's a threat to put up 30 points on any given night.
Outside of Kobe Bryant, there's no player in the NBA today that has held up as well as Paul Pierce.

Where Danny Ainge never had the chance to retire as a Celtic, Pierce has the chance to leave his legacy where it started.
For an organization which has won 595 regular season and 70 playoff games since Pierce's entrance into the league is astounding.
He's an all-time great and the city of Boston deserves the pleasure of seeing him in his last years trying to end his legacy on basketball's highest plateau, with an NBA championship.