Philadelphia Eagles Film Study: Grading the Offensive Line After Week 8
Rob Carr/Getty Images
Pictured: The only fans likely still loyal enough to read this.
For the first time since Andy Reid took over, the Philadelphia Eagles lost after a bye week. It's surprising in one sense because it's always surprising when a 13-year-old streak comes to an end. But given the way this season has played out for the Eagles so far, losing a game is never surprising.
The Eagles took a beating from the Atlanta Falcons to the tune of 30-17, and the score doesn't really paint an accurate picture of just how out-classed the Eagles were this past Sunday.
Additionally, this week's grades might not accurately convey just how thoroughly the Falcons defense had their way with the Eagles offensive line. Because Marty Mornhinweg mixed in a lot more quick passes and timing routes, Michael Vick was getting the ball out of his hand sooner than usual and often times bailing the line out from giving up a few more sacks, hits and hurries.
The entire line often looked confused and all out of sorts. Simple stunts and cross-dog blitzes had the entire line running around in circles or caught totally flat-footed.
It's one thing when exotic blitz packages throw off an offensive line, but it's quite another when even basic schemes are causing such chaos.
Per usual, it was hard to re-watch a lot of this. But there's a lot of bad information and analysis floating around regarding this offensive line, so hopefully my little pet project can help change that.
Begin Slideshow

»
Howard Smith-US PRESSWIRE

For the very worst of plays—a penalty committed, a sack given up or any awful play in general—a grade of "minus-1" will be earned.
For a blown assignment, lack of effort and things of that nature, a grade of "zero" will be earned.
For a successfully executed block, a grade of "one" will be earned.
A grade of "two" can be earned for a pancake block or an extraordinary effort.
It's important to note that the extremes will be reserved only for special circumstances, and the majority of the grades given will be "zero" or "one."
Once the game is over, the points are added up and divided by the total number of plays, thus giving us the overall grade.
For reference, the grades break down like this:
100-95 is excellent.
94-90 is good.
89-85 is decent.
84-80 is shaky.
79-75 is bad.
74-70 is bench-worthy.
69 or below is worthy of walking papers.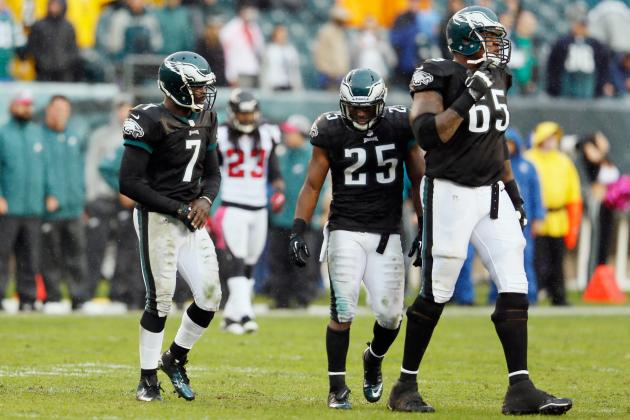 Rob Carr/Getty Images

Grade: 89 percent (Decent)
Would you believe King Dunlap is the highest-rated lineman this week? Well, it's true. Although, it shouldn't be too surprising that "decent" is the high point of this group.
Dunlap missed a few blocks and assignments here and there, but was only charged with one negative play when he missed a block and forced Vick to hurry a pass. Other than that, it looked like his biggest problem was shaking the rust off, which was to be expected.
There was nothing earth-shattering about Dunlap, but he was solid. If he can continue to play at least this well, it's unlikely Demetress Bell will see the field at any point again this season.
Or perhaps ever again as an Eagle.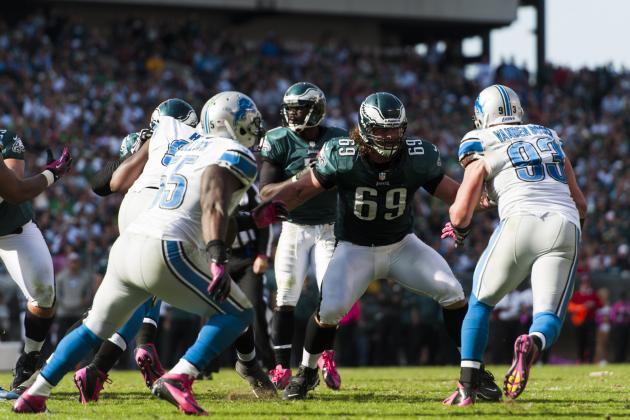 Howard Smith-US PRESSWIRE

Grade: 82 percent (Shaky)
For whatever reason, people love Evan Mathis. Honestly, I just do not understand where it comes from. Every week I do these grades and every week I'm left shaking my head wondering why in the world the Eagles gave him such a hefty contract.
There's a reason this guy was a journeyman before coming to Philly and it shines through each and every game. He just isn't all that talented.
This week, Mathis has the lowest grade of the five linemen and, not surprisingly, also recorded the most negative plays with four. Mathis allowed two sacks—one coming when he was physically overpowered and another when he completely abandoned his zone—and a hit on Vick, and let LeSean McCoy get dropped in the backfield.
When Mathis isn't asked to do too much, he can be effective. But this is a guy who would make a really, really good backup and spot starter—not the All-Pro outfits like Pro Football Focus make him out to be.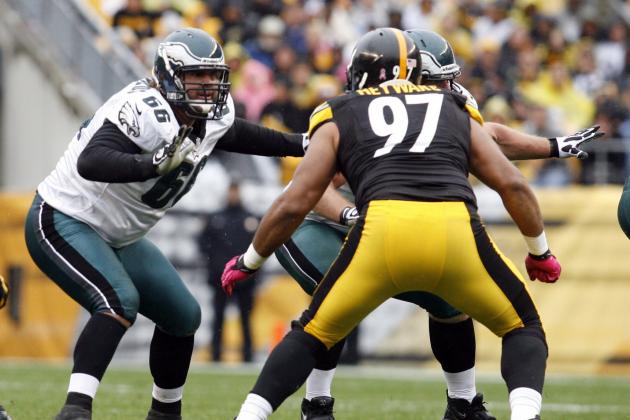 Charles LeClaire-US PRESSWIRE

Grade: 84 percent (Shaky)
I get the feeling watching him that Dallas Reynolds' biggest issue is he tries to do too much. He tries so hard to be everywhere at once that he's constantly caught employing awful technique and is therefore easily beaten.
He's obviously thinking a mile per minute before the ball is snapped, and then gets frantic as soon as the ball leaves his hands. That frantic play is clearly indicative of not feeling comfortable just yet, but that will come with experience.
In the meantime, someone—specifically Howard Mudd—needs to grab him and get him to calm down and just focus on doing what he can.
That being said, Reynolds was charged with just one negative play when he allowed McCoy to get dropped for a loss.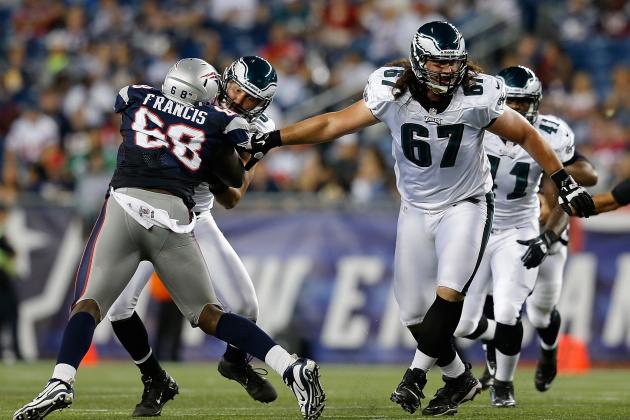 Jim Rogash/Getty Images

Grade: 84 percent (Shaky)
Dennis Kelly got off to a magnificent start in this game. Through the first three quarters, I noticed Kelly missing his assignment only once and charged him with only one negative play, which came when he allowed Vick to take a hit.
The fourth quarter, however, proved too much for the rookie in his first NFL start.
Two negative plays, both coming in the ground game, and two missed assignments really brought his grade down and helped to overshadow what was, all things considered, a fairly impressive debut.
But that does not—and I repeat, does not—mean he should supplant Danny Watkins as the starter at right guard, and I do not believe that's what Mudd or Andy Reid has in mind for Kelly.
There are a lot of theories floating around that the "chronic" ankle issue that kept Watkins out of the Falcons game was really just a cover to get Kelly some playing time and come up with a reason to stick Watkins on the bench for good and proclaim him a bust.
Unfortunately for those who actually believe this, there are too much holes in that theory for it to hold water.
As I've said before, Watkins is the best of a weak group. It makes my head hurt every time I hear talk of how bad he is, when it should be as obvious to everyone else as it is to me that he's the strongest link up front.
Also, Reid has never been quick to yank his picks, especially first-round guys. Watkins has started just over 20 games in his NFL career. Therefore, even if he was truly as bad as the media (and their mindless followers) believe, that's not nearly enough time to give a guy to develop.
And lastly, replacing him with a rookie makes absolutely no sense whatsoever. Still working under the false assumption that Watkins is no good, Kelly is most certainly not an obvious upgrade.
When Watkins is ready, he'll be back in the starting lineup, and Kelly's learning process will have the benefit of some real-time experience.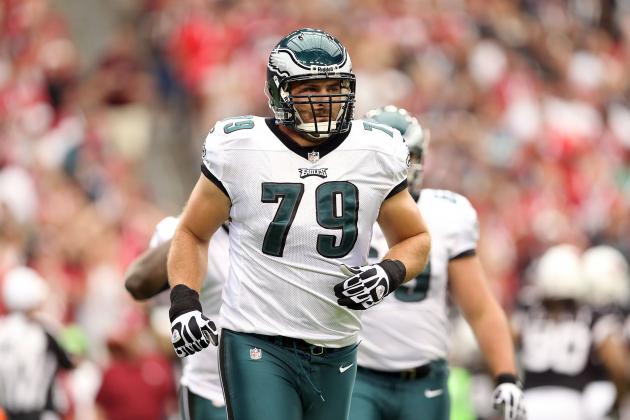 Christian Petersen/Getty Images

Grade: 84 percent (Shaky)
Todd Herremans actually started this game with a perfect first half. There was not one missed assignment or negative play to speak of.
The third quarter saw two missed assignments, but that's nothing to send him to the bench over.
The fourth quarter was enough to send him packing.
On top of missing his assignment three times, Herremans was charged with a penalty and allowing a sack. When it should matter most, Herremans—and the rest of the line, for that matter—are completely crumbling and putting a stranglehold on the offense.
I feel like I say this every time with Herremans, but he leaves me totally baffled. I just have no idea how a guy can look so good at some points and so completely useless at others. The only conclusion I can reach is a lack of effort, and that's worse than just being untalented.
Fortunately for Herremans, he's the obvious choice—for now. After this season, we'll see if that still remains true.