English Premier League: Top 10 "Ones That Got Away"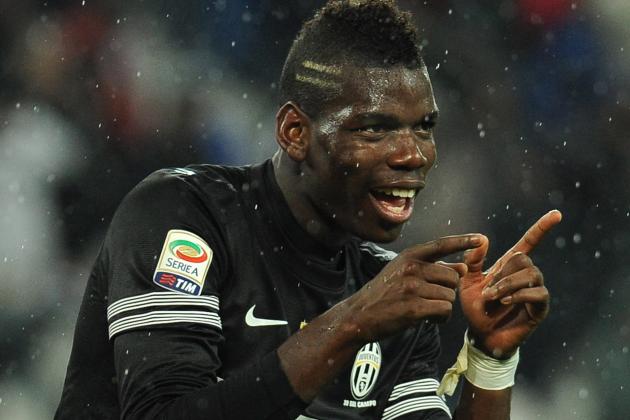 Valerio Pennicino/Getty Images
He told you so Sir Alex!
Remember that girl or guy that you were dating and decided to break up with because they didn't seem like promising relationship material? But after seeing them again a few years later you ended up really regretting it? Yeah, we've all had one or two of those.
Former Manchester United youth star Paul Pogba scored another dramatic winner for Juventus on Wednesday evening against northern Italian rivals Bologna. Sir Alex Ferguson will feel especially peeved with the "Old Lady" of Italian Football for nicking the precocious attacking midfielder from United's grasp toward the end of last season. Despite Fergie's pleas for Pogba to stay, his meager playing time was not satisfying the confident young player who's exploded onto the scene with Juve and looks sets to be a star for seasons to come.
But United are not the only Premier League team who've let players leave only for them to set the world alight elsewhere. Here are the English Premier League's all-time top 10 "ones who got away."
Begin Slideshow

»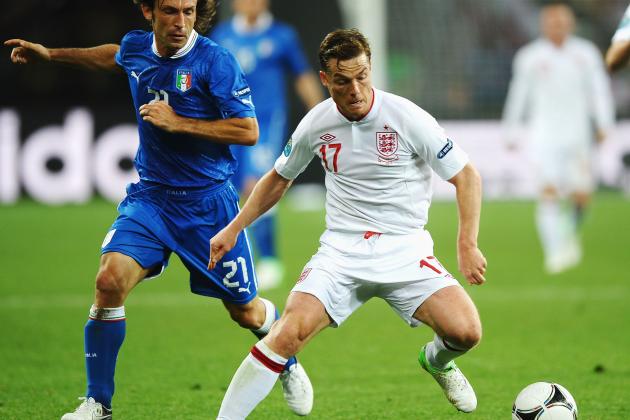 Laurence Griffiths/Getty Images
Parker's left a positive mark everywhere he's been since being released by Chelsea in 2005
Until last season, Scott Parker's massive influence on the pitch had often gone unnoticed. The combative midfielder usually takes care of the dirty work in the middle, but he does so with such aplomb that it's easy to forget his technical ability.
Parker made a name for himself at Charlton Athletic where he won the PFA Young Player of the year award in 2003, thereby establishing himself as one England's top defensive midfielders by the time nouveau-riche Chelsea came calling in 2004. The Blues paid 10 million pounds for then 24 year-old Parker, but envisioned him mainly as cover for Claude Makelele and mostly confined him to the bench in his 15 appearances for the club.
New recruits Tiago and Arjen Robben effectively spelled the end of his time at Stamford Bridge—such is the fate of a solid, though not flashy player in the Abramovic era.
In July 2005, Parker was sold to Newcastle for 6.5 million pounds, where he regained his form and played consistently under managers Graeme Souness and Glenn Roeder.
West Ham came calling in 2007 and it was there that, over four seasons, Parker solidified his reputation as one of England's best and most underrated players. Despite West Ham's relegation after the 2010-2011 season, Parker was named the Football Writer Association's player of the year and earned himself a transfer to Tottenham Hotspur.
After another full season of inspiring performances, Parker was named to the PFA Team of the Year for the 2011-2012 season.
While they may have won Champions league, Chelsea's league form was, to put it mildly, underwhelming. Claude Makelele, Michael Ballack, and Michael Essien may have plugged the defensive gap in the midfield, but none of them lasted as long (and ended up costing a whopping 31.2 million pounds more combined), as the London man. I guess Abramovic didn't truly realize what he had until it was gone...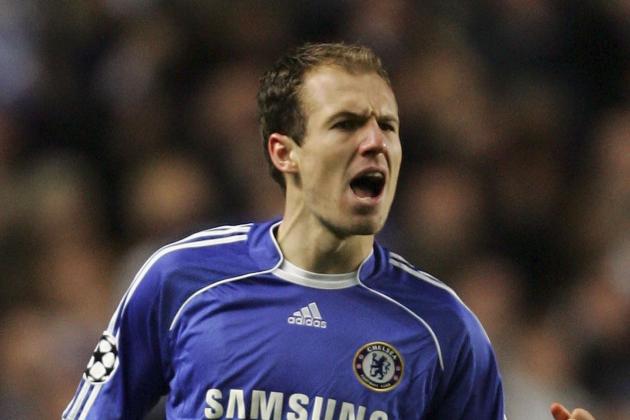 Mike Hewitt/Getty Images
Robben was allowed to leave by Chelsea and then Real Madrid. Funny how no one seems to want a genuinely world-beating winger
How is it that no one wants to keep a proven world class footballer? The curious case of Arjen Robben indeed!
While he has been plagued by constant injuries throughout his twelve-year professional career, the speedy little Dutchman has always been a fierce competitor with an eye for the spectacular. Having already torn up the Dutch league with PSV Eindhoven, Robben joined Chelsea in 2004 for a relatively reasonable sum of 12.1 million pounds. Since leaving in 2007, Robben has set the world alight with Real Madrid and Bayern Munich, where he finally seems to have found a home.
A temperamental player no doubt, but on his day Arjen Robben is unplayable, cutting in from the right side to whip ferocious shots past the most accomplished of keepers, as he's also done time and again with the Dutch National team. Robben has been so good in Germany that with Bayern, he's almost tripled his English goal haul. Chalk this one up as just another casualty of Abramovic's impatience.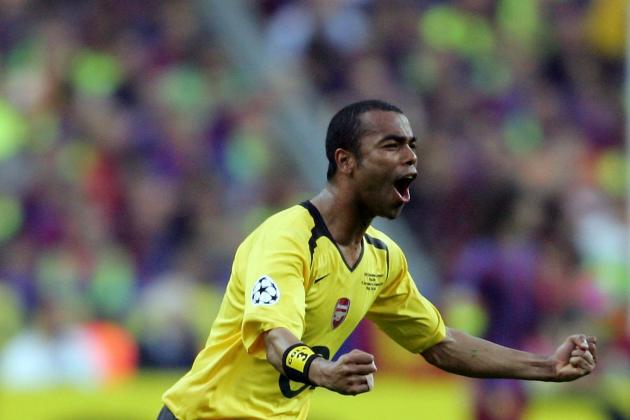 Shaun Botterill/Getty Images
Ashley Cole has been a mainstay for Chelsea and England over the past eight seven seasons
Arsenal have become known as a professional development factory who sell players near the end of their prime, but not so much in recent years.
Gooners often praise manager Arsene Wenger for his ability to develop raw talent (especially at the left back position) into the polished product and for squeezing the best years out of his players (i.e. Patrick Viera, David Seaman,Sylvain Wiltord, Thierry Henry, etc) before selling them for boat loads of money. London native Ashley Cole was no exception in the developmental department, but six years after his sale, he is still very much in his prime.
The Blues may have bought Cole under specious circumstances, but his consistency and dynamism for both Chelsea and England over the past decade make his departure a sore spot for the Gunner faithful. It would seem that even Le Professor makes mistakes too.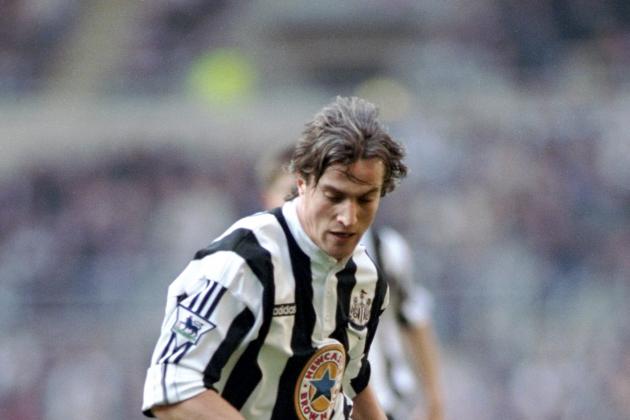 Stu Forster/Getty Images
David Ginola had sweet hair, and even sweeter dribbling skills.
Frenchman David Ginola ruled the Premier League in the mid-late 1990's. He was the silky French dribbler before Zidane became a household name.
Ginola joined Newcastle in 1995 after 10 high profile years in his native France. The Geordies finished second that season to Manchester United, and much of that was down to the awe-inspiring play of their mercurial winger. Despite another second-place finish the following season, Ginola and the Geordies had nothing to show for it. Kevin Keegan left his managerial duties after the 96-97 season and Ginola followed him out the door, eventually signing for Tottenham Hotspur, where he joined former Newcastle teammate Les Ferdinand.
The rest, they say, is history...
Ginola won the PFA Player's Player of the Year, the FWA Player of the Year Award, and his only domestic trophy in England, the Worthington (League) Cup all in the same year—1999. Newcastle was never the same without Ginola and continued a descent down the table, even with the goal-scoring exploits of one Alan Shearer. For a team that's come so close so many times, Newcastle sure know how to shoot themselves in the foot.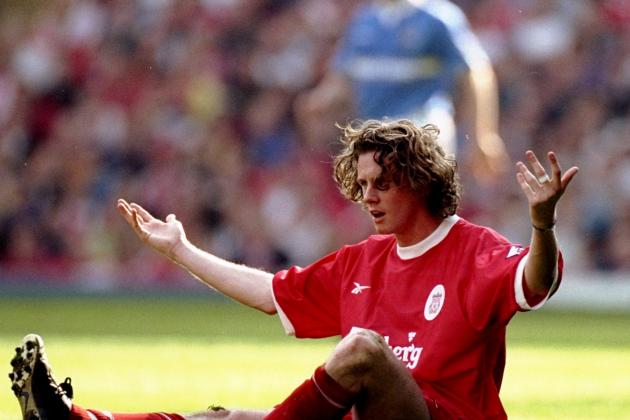 Ross Kinnaird/Getty Images
"What? Ya not gonna give me a new pay packah? Well me's off to sunny Spain then!"
Former "Spice Boy" Steve McManaman will be remembered as one of Liverpool's most technically skilled midfielders who never won a major trophy with the club.
After nine sparkling seasons with the Reds, "Macca" decided to depart for greener pastures. Controversy surrounding the player's contract and off-the-field behavioral issues were enough to force the move through, and he left the club in 1999 to join Real Madrid during the beginning of their "Galactico I" project.
It was with "Los Blancos" that McManaman was able to prove his class to the world. With Real Madrid, Macca became the most decorated English footballer to have played at any foreign club in terms of overseas trophies won. He was also the first British player to win the UEFA Champions League twice and the first English footballer to win the Champions League with a non-English club.
Liverpool's slow loss of world-class talent (Macca, Michael Owen, Robbie Fowler) signaled a dark age for Liverpool until the arrival of a certain No. 8. Even so, Macca remains one that got away from the Scousers.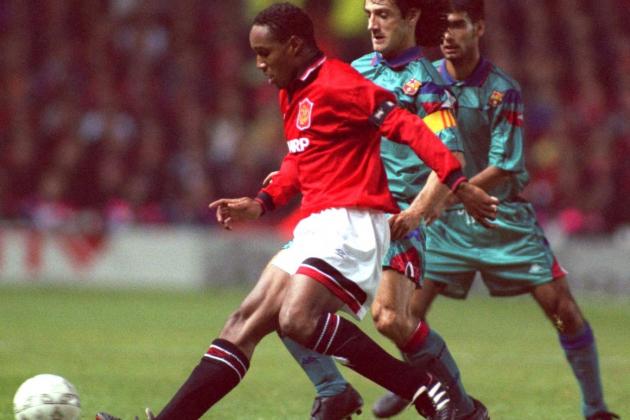 Chris Cole/Getty Images
Ince taking on a legendary Barcelona side in the 1994 Champions League
At age 22, having just completed his third season of professional football at West Ham United, Paul Ince decided to sign for big boys Manchester United in 1989. Ince was as ferocious a midfield general as you will ever see in the English Premier League. In his first season with United, Ince helped the team to an FA Cup trophy.
Through leadership and hard work, the "Guvnah" won over the Old Trafford faithful while helping the club to 10 trophies in six seasons before the Gaffer mistakenly sold him to Inter Milan in 1996.
Never the one to readily apologize for his mistakes, Sir Alex Ferguson recently admitted to having sold Ince too early.
He went on to excel with Inter Milan before committing the no-no of joining Liverpool in 1997. Ince is truly a United legend, but think of what the Fledglings could have done with another proven winner in the clubhouse...a second Treble perhaps? I guess we'll never know, will we Fergie?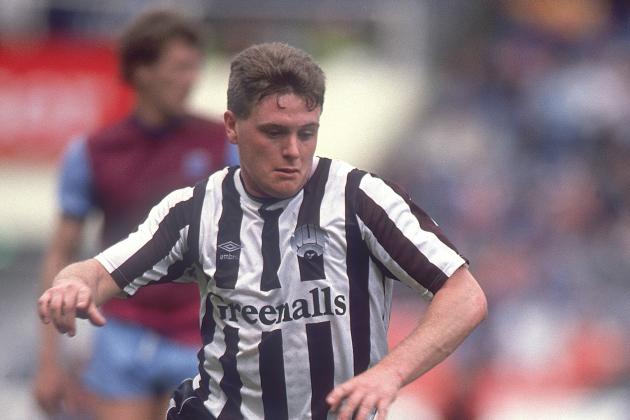 Dan Smith/Getty Images
"You will not keep me from me Mars bar and Brown Ale!"
Paul Gascoigne is one of the finest domestic footballing talents England has ever produced. "Gazza," a Geordie by birth, played spectacular attacking football and wore his heart on his sleeve wherever he went. Long will fans of the Three Lions remember the "tears of a clown," a stiflingly human reaction by Gazza after being sent off in the 1990 World Cup semifinal against West Germany.
But it wasn't just passion that set Gazza apart.
Gascoigne was among the finest dribblers ever to grace the pitches of the English Premier League. Gazza's off-the-field antics were matched by his brilliant game-play, summed up his incredible individual goal (and ensuing celebration) against Scotland at Euro 96.
Gascoigne played only three full seasons with his hometown club, before joining Tottenham Hotspur in 1988 for a then-record 2 million pounds. It was there that he earned his first England call-up and developed into a truly world-class attacking midfielder. Tottenham won the FA Cup in 1991, the same year that Gazza scored a career-best 19 goals.
Newcastle and then-manager Willie McFaul thought they were doing the right thing by selling a player whose behavior had been a frequent distraction off the field, but in the end they let arguably the club's all-time best player walk.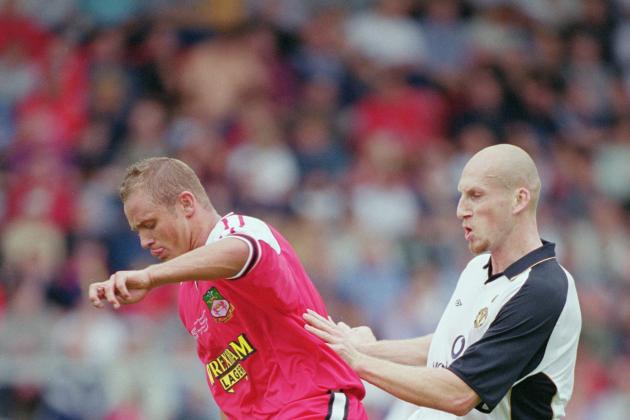 Shaun Botterill/Getty Images
Stam (right) was as imposing a centre back as the Premier League has seen
For having achieved so much, I've surely given Sir Alex Ferguson a lot of flack. But this was truly an egregious (and admitted) error on the part of the old Gaffer.
Jaap Stam was a rare breed of defender, blessed with size, strength, speed, and intelligence. After The Treble, three consecutive Premier League Titles, and one Intercontinental Cup, Sir Alex thought that he had already gotten the best of the then 29-year old Stam, and was also furious that he had revealed certain information about Ferguson and his United teammates in a book. Stam was sold to Lazio in 2001, and United, who went trophy-less the next season, scrambled to find a solid replacement centre back until the arrival of Rio Ferdinand in 2002.
Stam's solid play in five seasons of Italian football, first with Lazio, and then AC Milan, demonstrated that he still had plenty left in the tank. Ferguson later admitted that one of his biggest mistakes was selling Stam when he did. Let that be a lesson to other Premier League managers.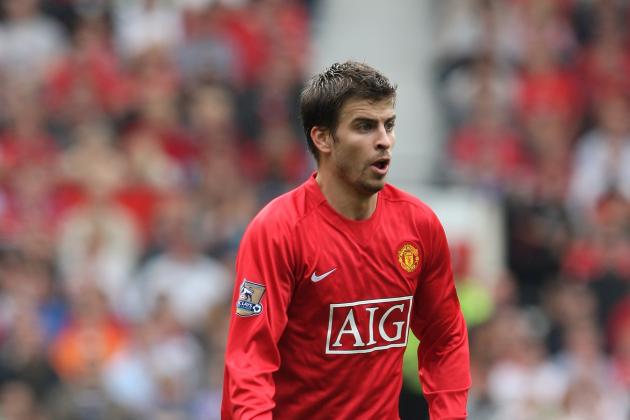 Phil Cole/Getty Images
"Piquenbauer" always looking to play the right pass.
Two UEFA Champions Leagues, three La Liga titles, two Copa Del Reys, two Club World Cup trophies, three Spanish Supercopas, two UEFA Supercups, World Cup Winner, and now a European Cup Winner—these are the accomplishments of an absolute legend. At only 25, Gerard Pique has already achieved these things.
The arrival of Nemanja Vidic signaled the end of Gerard Pique's generally anonymous tenure with Manchester United. Having only appeared 12 times for the club that poached him from his native Barcelona at age 17, Pique decided to return home in 2008. It was none too soon for a club that was struggling to find the ideal foil for Carles Puyol, and Pique was to be the one.
Barcelona paid only 5 million Euro for the central defender, nicknamed "Piquenbauer," for his stylistic resemblance to the German legend. Pique's grace, intelligence, and on-the-ball ability are second-to-none. Now an anchor for club and country, Pique has amassed an astounding 20 team trophies, as well as six individual accolades over his short career.
Imagine the defensive pairing of a healthy Nemanja Vidic and Gerard Pique—opposing teams would quake in their boots at the very sight of such an imposing back-line. Unfortunately for United fans, it wasn't to be and Fergie will forever have to live with the regret of the Pique saga.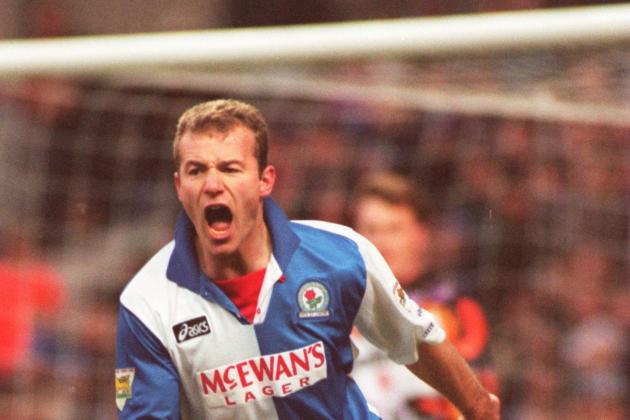 Michael Cooper/Getty Images
Just one of 422 career goals for the master marksman
Officer of the Order of the British Empire and Deputy Lieutenant Alan Shearer is the greatest goal-scorer in English Premier League History, and one of the best strikers of all time. With 260 league goals in 18 seasons, he is simply the benchmark for scoring in the Premier League.
Alan Shearer was the complete centre forward. He could score with either foot, or his head, hold up the ball and link play with his teammates, and simply had the cerebral gift of knowing how to position himself at all times.
So what would compel a team to sell a 21 year-old player who had just scored 21 goals? Or worse—why would a team sell their star player who had just scored 37 goals to a rival Premier League team? Only the football gods will ever know.
Perhaps feeling that the lad wasn't fit for the long haul, then-Southhampton manager Ian Branfoot thought he had made a killing by selling Shearer to upstarts Blackburn Rovers in 1992 for a hefty 3.6 million pounds. That now looks like mere pennies given Shearer's eventual goal return. Shearer's 34 league goals over the 1994-95 season are one of the main reasons that Blackburn were able to snatch a surprise Premier League trophy.
Manchester United and Newcastle fought for Shearer's services after the 1996 European Cup, but Newcastle manager Kevin Keegan eventually persuaded him to join the Geordies. It was there that Shearer made himself a club legend by scoring with alarming consistency, amassing a total of 206 league goals and a further 25 for the English National team.
Why Southampton or Blackburn ever sold Shearer is beyond me, but history demonstrates that he was truly the one that got away—not once—but twice!